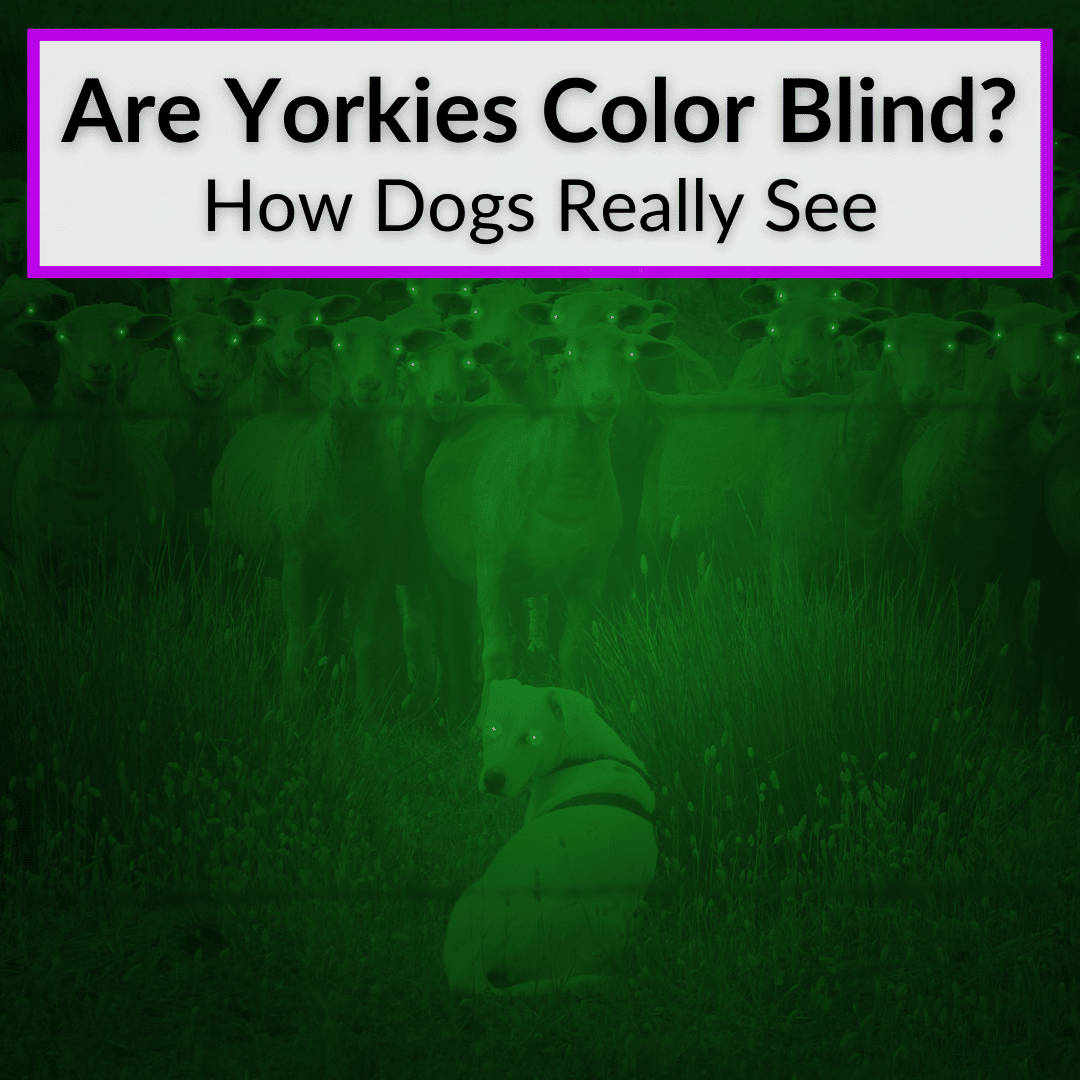 Have you heard this before?
That dogs only see in black and white?
I remember hearing that all the time as a kid. And we even had a dog.
It was a Westie, not a Yorkie, but I always heard neither can see any colors.
So is it true that Yorkies are color blind, if we all heard that dogs only see black and white?
It's not. But they also don't see all of the colors we do.
Their vision is more limited than ours in some ways. But it is also better in other ways.
Keep reading to learn all about Yorkshire terrier vision. It's a pretty fascinating subject. And it can help you choose toys in colors your pup can actually see.
Are Yorkies Color Blind?
No, Yorkies are not color blind. There is a common misconception that dogs can only see black and white. This is not true.
It is true that dogs have a limited sense of color compared to humans. We humans have three color cones in our eyes: red, blue and green. Dogs have two color cones: they are blue and yellow.
Dog Vs Human Vision
The main difference between a Yorkie's vision and a human's is that while we as humans see the true color of an object, a dog may see a different color.
For example, dogs do not have a red color cone. That means that they do not see red objects as red. They appear more brown or black to a dog's eyes.
Your Yorkie's vision also won't be as good as yours, even if you have to wear glasses. Dogs are nearsighted, which means they can struggle to view objects from further away.
Your Yorkie may also be less sensitive to brightness, because it can't perceive bright or vibrant tones.
Even though we humans can see more colors, your Yorkie may have a broader peripheral vision than you. This is because their eyes are wider apart on their head than ours are.
Your Yorkie also has a tapetum which means that it is able to see better in dimmer light than we can. This is why your Yorkie may sometimes have what appears to be a shiny eye.
Colored Dog Toys
Now that you know your Yorkie can only see a certain number of colors, you're probably thinking it would make sense to only buy it toys that it can see.
While I don't think you have to start throwing out every pink and red toy, it may be nice to buy some toys in colors your dog can see.
Your Yorkie would love a bright blue chew toy or even a standard fluorescent yellow tennis ball. Both are colors Yorkies see well.
Can Yorkies See In The Dark?
Your Yorkie can see in the dark. But if you're picturing a night vision goggle scene, you will be very much disappointed.
Dogs have features in their eyes that allow them to see in the dark. The first is the tapetum lucidum. This is a reflective tissue beneath your Yorkie's retina, which can make their eyes shine at night and means they do not need as much light to see.
Yorkies and other dogs also have rod-dominated retinas. This means that their photoreceptor cells are inclined to see better at night rather than during the day.
Their ability to detect motion and shapes is also advanced. This came in especially handy back when dogs lived in the wild and had not yet been domesticated.
Another reason Yorkies find it easier to see in the dark than humans is that they have a larger sized pupil. Pupils are the part of the eye that let light in, so the larger they are the more light can enter.
These larger pupils come in handy when it is dark, because as your Yorkie can have more light enter its pupils than we can, which enables it to see better in the dark.
But it can't see in complete darkness. Even though your Yorkie has these advantages over us in terms of night vision, it does not mean it can see in total darkness or see the same with minimal light as it can during daylight.
It just means it can see better in the dark, but it can't see everything. If your Yorkie is sleeping on its own, it might be nice to add a small night light to the room.
That way, your Yorkie is not stuck in total darkness all night. A small light can help your Yorkie feel safer and more comfortable.
Yorkies Are Not Color Blind: Final Thoughts
Yorkies can see colors. They just can't see all of the colors we see. Specifically, they can't see red, which means that any colors that contain red wavelengths will look different to them. The graphic you saw above illustrated that perfectly.
But dogs have some visual advantages compared to us, too. They have a wider field of vision and they can see better in low light situations. They are also better at picking up shapes and motion than we are. On the other hand, they are somewhat nearsighted, meaning they do not see distant objects well.