I love giving my Yorkie treats.
Seeing him happy always warms my heart.
And few things make him happier than treats.
To keep it easy, I like to feed my pup treats I already have in the house.
And that often means human food. But what human foods can Yorkies eat?
Which ones are not only safe, but also healthy?
Keep reading for a list of 12 common human foods that most Yorkies love. They are also foods that are good for Yorkies, as long as you do not overfeed then, of course.
What Human Foods Can Yorkies Eat?
There are plenty of human foods that Yorkies can eat, as you will see below. But this does not mean that you should just feed your dog human food.
To ensure your Yorkie gets a healthy and balanced diet, you need to feed it quality dog food. Human food should never be more than an occasional treat.
With that out of the way, let's take a look at some human foods you can feed your Yorkie as a snack or treat.
Fruits
Fruits are a great source of vitamins, minerals, and antioxidants for both humans and dogs. But not all fruits are safe. Some fruits that are safe for your Yorkie to enjoy include apples, bananas, blueberries, strawberries, watermelon, and cantaloupe.
These fruits are low in calories and high in nutrients so they can help to maintain your Yorkie's overall health. However, make sure to remove any seeds or pits, because they may be choking hazards for small dogs like Yorkies.
Also, it is important to introduce new fruits in small amounts and monitor your dog's reaction to avoid any potential stomach upset.
Vegetables
Just like fruits, vegetables can also provide essential nutrients for Yorkies. Some safe options include carrots, green beans, sweet potatoes, and cucumbers. These veggies are low in calories and high in fiber, which can aid in digestion and promote a healthy weight.
You can even steam or puree the vegetables to make them easier for your Yorkie to digest.
However, be cautious when giving your dog onions or garlic, because they can be toxic to dogs if consumed in large quantities. It is best to just not feed these to your pup at all, not even in small amounts.
It is always best to consult with your veterinarian before introducing any new vegetables to your Yorkie's diet.
Meats
Protein is essential for a Yorkie's health, and lean meats can be a great source. Options like chicken, turkey, and lean cuts of beef are not only rich in protein but also low in fat.
Before serving, make sure the meat is cooked, boneless, and free from any seasonings or sauces that might upset your pup's tummy.
You can mix meats into your Yorkie's dried food to add some interest and taste to it. This will help keep your Yorkie from becoming bored with its food, which can sometimes put them off from eating it.
Salmon
Salmon is not only an excellent source of protein but also provides Omega-3 fatty acids, which are good for a Yorkie's coat and overall health. Always ensure that the salmon is fully cooked, boneless, and devoid of any added spices or oils.
This is also a great option to add into your Yorkie's main meal. Adding any form of meat or fish will keep your Yorkie's meals exciting.
Rice
Rice can be a soothing and easily digestible food for Yorkies, especially if they have an upset stomach. Plain, cooked white or brown rice can provide temporary relief from digestive issues.
I would avoid feeding your Yorkie any flavored rice as this could cause a stomach upset. Save any spiced or herby servings of rice for yourself!
Peanut Butter
Most Yorkies love peanut butter. It can also be a great source of protein and a way to provide your Yorkie with some healthy fats.
You will, however, want to make sure that the peanut butter doesn't include xylitol. This is a sweetener that can be toxic to dogs.
I would suggest checking the ingredients list before you give any peanut butter to your Yorkie. And make sure you only feed your dog small amounts, since peanut butter is high in calories.
Oatmeal
Oatmeal is a good source of fiber, and it can be beneficial for Yorkies with digestive issues. Cooked plain oats can make a wholesome and soothing meal. Avoid adding sugar or milk.
Oatmeal can be a great food to serve your Yorkie for breakfast, so while you're making some for yourself, add a little extra for your little friend!
Cheese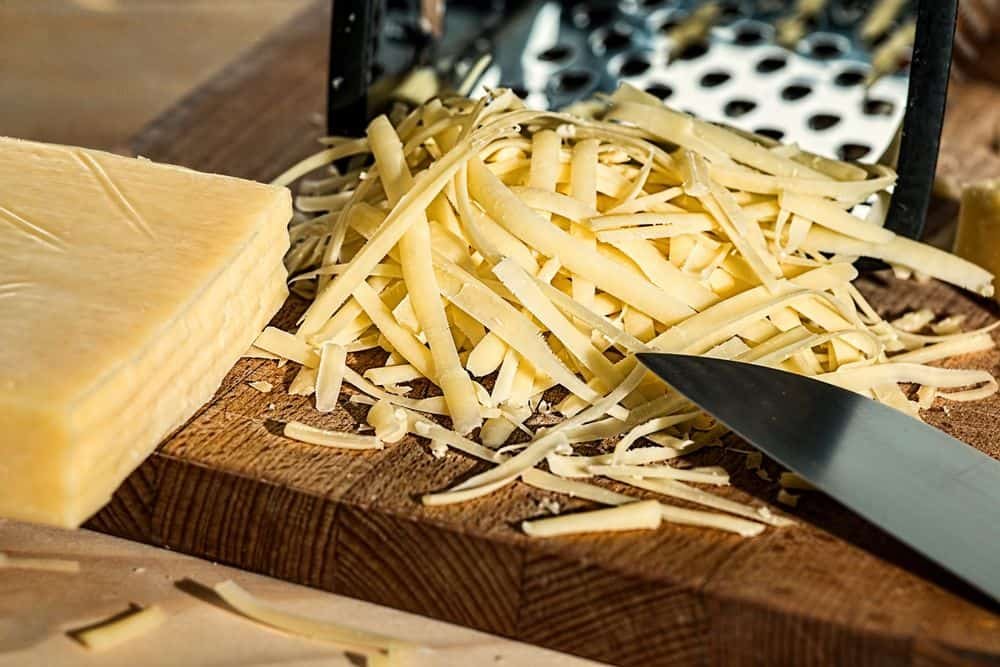 Cheese can be an enjoyable treat for your Yorkie. It's a good source of calcium and protein. However, just as too much cheese is bad for humans, too much is also bad for Yorkies. Only feed them a small chunk at any one time.
Eggs
Eggs are a great source of protein making them a great choice to add to your Yorkie's diet. They're both easy to prepare and serve, so it won't be any extra effort to give a couple to your Yorkie.
Plain, cooked eggs can be a great choice for your Yorkie. You can even scramble them and add them to your dog's main meal for some extra taste. Just make sure you don't season them, because this could cause a stomach upset for your Yorkie.
Cottage Cheese
Cottage cheese is another dairy product that Yorkies can enjoy. It's a good source of protein and calcium. I would recommend feeding this to your Yorkie plain and keeping any seasoning for yourself.
Pumpkin
Pumpkin is rich in fiber and can be beneficial for your Yorkie's digestive health. Plain, canned pumpkin (or fresh pumpkin, if it is in season) is the best kind to feed your Yorkie. It can also help with diarrhea and constipation, so you can think about purchasing some for your Yorkie if it becomes sick.
Peas
Peas are a nutritious vegetable that can be added to your Yorkie's diet. They are a good source of vitamins, fiber, and protein. You should cook the peas and allow them to cool before feeding them to your Yorkie. I would suggest adding them to your Yorkie's dog food to add flavor.
Things To Keep In Mind
While these foods are safe for Yorkies, overfeeding can lead to obesity and other health issues. You should pay attention to portion sizes, and always consider how much your dog has eaten each day.
When preparing these foods, ensure they are plain and unseasoned. Avoid using ingredients like garlic, onions, spices, and excessive salt, since these foods can be harmful to your Yorkie. They can cause lots of stomach upsets, and that's the last thing you want to be clearing up after your Yorkie.
Like humans, dogs can have food allergies and sensitivities. I would recommend slowly introducing new foods to your Yorkie. Eating too much of something suddenly be harmful to your dog.
Human Foods Yorkies Can Eat: Final Thoughts
Yorkies can eat a lot of different foods. But many are not ideal, usually because they are not great for your dog's health. When feeding your pup treats, it is always best to go with something healthy.
Luckily, there are plenty of healthy options that dogs love. This includes many human foods. The list above are all human foods Yorkies can eat, and ones they also love to eat.
At least most Yorkshire terriers do. Some dogs are picky eaters and much more discerning. If you have a picky eater on your hands, check out our article recommending foods to give your picky Yorkie.