Has your Yorkie suddenly stopped eating its food?
Or have you always struggled to find foods your pup likes?
If the change is sudden, there may be a health issue at play. You should probably see a vet to be safe.
However, if your Yorkie is otherwise fine, but simply has specific tastes, try feeding it new foods.
Knowing what to feed a picky Yorkie is not always easy, but there are some foods almost all dogs love.
Keep reading for a list of 8 delicious foods most Yorkies will love. Yours should enjoy at least one of them. And hopefully more. We've included recipes and serving size suggestions as well, to make you life as easy as possible.
What To Feed A Picky Yorkie
The key to feeding a picky Yorkshire terrier is to try numerous foods and slowly figure out what your dog enjoys and will happily eat. There are some foods almost all dogs love, so it makes sense to start there. As a bonus, all of the recommendations below are healthy as well.
8 Foods To Feed Picky Yorkies
If your Yorkie is a picky eater and you have been struggling to find foods it likes, try any of the following eight foods. Hopefully your pup will love at least one of the delicious recipes.
Cheese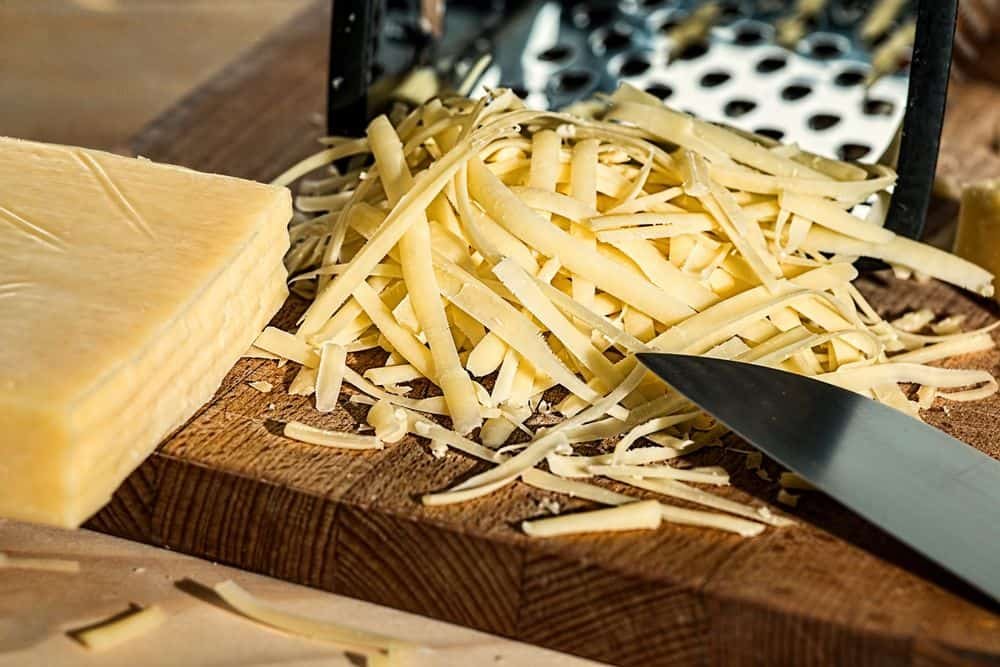 Most fussy Yorkies love cheese and won't refuse it. Unfortunately, certain cheese varieties are extremely high in fat.
But if your Yorkie has not been eating well and is on the skinnier side, then it is OK to feed it cheese in moderation. For many Yorkies, cheese is also a high-value treat and something you can use for training.
You can choose any variety of cheese: Parmesan, cottage, cheddar, etc. Low-fat mozzarella and soft goat cheeses are also great for Yorkies.
Recipe
Lightly sauté a few cottage cheese cubes in a bit of olive oil. Crumble and mix with your dog's food.
You can also grate some cheese over your dog's kibble or wet food to enhance its taste.
How Much To Feed
Feed no more than ½ to 1 tsp of grated cheese to a 7 pound Yorkie.
Eggs
Eggs are a perfect protein source and most Yorkies love them. There are several egg recipes that can stimulate your dog's taste buds and encourage it to eat. You can choose from omelets, scrambled eggs, or boiled eggs.
Recipe
Check out my guide on how to feed eggs to Yorkies.
How Much To Feed
Feed about ½ an egg to a 5 to 7 pound Yorkie.
Yogurt
Yogurt is a delicious and protein-packed food for picky and fussy Yorkies. It is also rich in calcium. You can mix a bit of plain low-fat yogurt with your dog's breakfast to add beneficial bacteria to your pet's gut.
Yogurt will also enhance the taste of bland kibble. Avoid sugary yogurts that tend to contain preservatives and artificial flavors.
Recipe
Mix plain yogurt with some cooked rice, shredded boiled chicken, and mashed pumpkin. This is a wholesome meal for a fussy Yorkie.
How Much To Feed
Feed up to 1½ tsp of yogurt to a 7 pound Yorkie.
Oats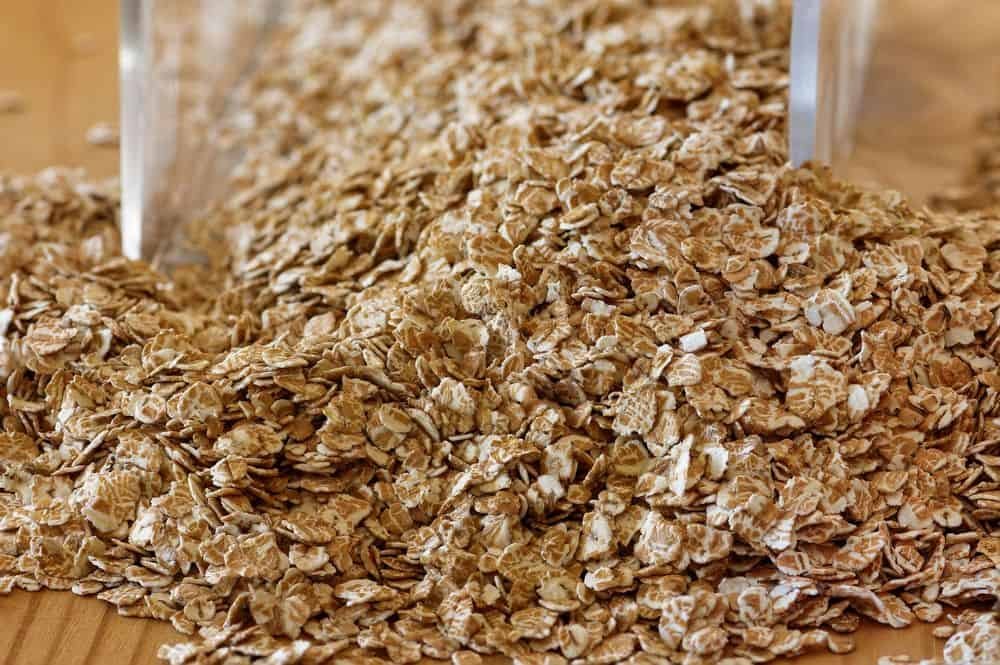 Oats are another great food to feed Yorkies besides dog food. They are an excellent source of fiber, protein, and complex carbohydrates for Yorkies. Use plain, steel-cut, or rolled oats. Avoid flavored oats containing sugar or other condiments.
Recipe
Feed your Yorkie some boiled oats mixed with a couple of dried cranberries (no raisins please!)
You can mix cooked oats with your pet's kibble.
Mix oats with shredded chicken pieces or chopped boiled eggs- excellent food for picky Yorkies.
Make delicious oats pancakes using oats flour, an egg, some mashed banana, shredded carrots, and a bit of honey.
How Much To Feed
Feed no more than 3/4 tablespoons to a 7 pound Yorkie.
Peanut Butter
This snack is sure to get your Yorkie interested in food! It is packed with protein and healthy fats, but please practice moderation while feeding it to your Yorkie.
Peanut butter can also make an excellent Kong stuffing. Make sure to select all-natural Peanut butter free of xylitol or other sweeteners.
Recipe
Mix sugar-free peanut butter with your dog's kibble.
Add it to oats and bake some dog treats or cookies.
How Much To Feed
Give up to a ¼ tsp to a 7 pound Yorkie.
Brown Rice
Brown rice preserves the bran and B vitamins that are stripped off in white rice. Cooked brown rice also has a nutty taste which most dogs cannot resist.
Recipe
Mix cooked brown rice with chicken and vegetables.
How Much to Feed
Feed 1 to 2 tablespoons to a 7 pound Yorkie
Broth And Stock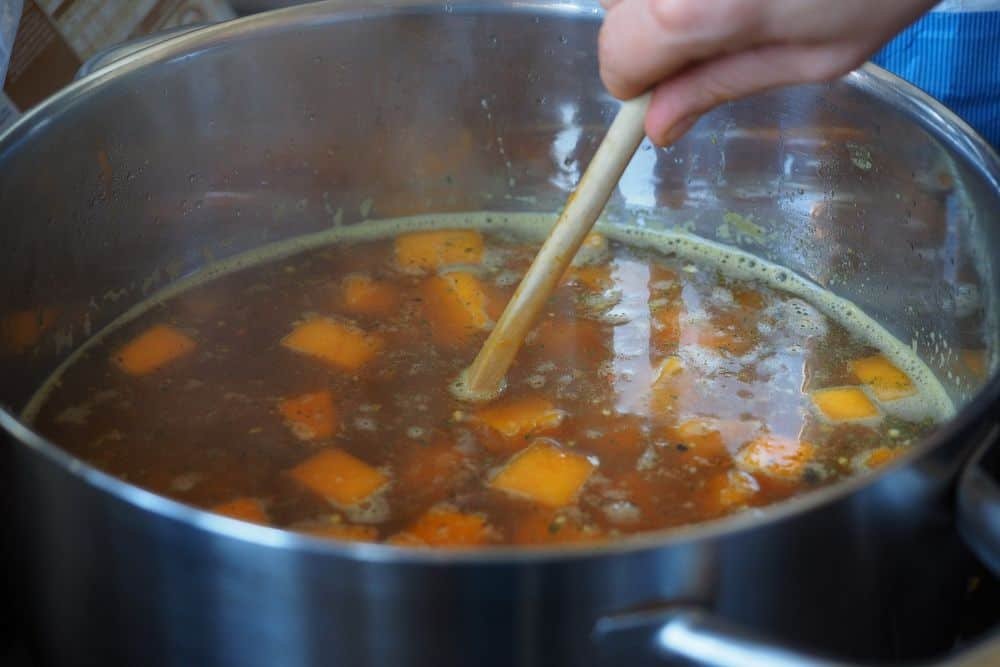 Pack up some broth or stock for your Yorkie in a thermos when you travel. This makes for a healthy way to hydrate your pet.
Broth contains healthy fats, vitamins, minerals, and proteins. Bone broth is a wholesome food and it can improve your dog's gut health, strengthen its bones, and support its joints.
Avoid adding garlic and onions to the broth.
Recipe
Make bone broth using the meat and bones of rabbit, chicken, turkey, pork, oxtail, etc.
Add vegetables and herbs like parsley, cilantro, etc.
You can also add some apple cider vinegar to the broth.
How Much To Feed
Give your 7 pound Yorkie around ⅓ cup of broth or stock.
Sardines
Most Yorkies love the taste of fish and sardines make an excellent snack. They are rich in omega-3 essential fatty acids, which can benefit your Yorkie's skin and coat.
Sardines also contain B vitamins, protein, calcium, iron, and other vital minerals. You can buy canned sardines packed in oil or water.
Recipe
Chop sardines into pieces or cubes and mix them with half an egg, some greens, and rice for a wholesome dinner for your pet.
How Much To Feed
Feed up to ¼ sardine to a 7 pound Yorkie.
Are Yorkies Picky Eaters?
Yes. Yorkies are known to be picky about their food. Most Yorkies also have food sensitivities or allergies that make them resist certain foods.
This is why Yorkie owners need to experiment with different foods and flavors to get their fussy pets to eat. Here are some reasons your Yorkie might be a picky eater.
Age
Generally, young Yorkie puppies tend to be fussy when it comes to food. They may be too curious and busy exploring the world around them. As a result, they may not be interested in food. This should change once your puppy becomes older.
Too Much Variety In Food
If you feed your Yorkie a ton of table scraps or treats or a lot of variety in terms of flavors, then it might not like its bland dog food or kibble. This could lead to pickiness.
Food Allergies Or Sensitivity
If your Yorkie usually enjoys food, but suddenly stops eating a particular food, it could be due to an allergy or food sensitivity.
Food allergies can develop suddenly in senior Yorkshire terriers, even if they have enjoyed that food in their youth.
Usually, canine food allergies can be to certain proteins or grains, which tend to trigger symptoms like bloating, gas, nausea, etc. in your small dog. This may make your dog resist those foods.
If your dog's pickiness is accompanied by nausea, vomiting, loose stool or diarrhea, please see a vet to rule out food allergies.
Other Health Issues
If your Yorkie has suddenly become picky, it could be due to dental problems or health issues like loss of smell or taste. Please see your vet for a complete physical exam to rule out underlying health issues.
What Are Yorkies' Favorite Foods?
Most Yorkies love chicken, eggs, beef, lamb, and turkey. Many also enjoy pieces of bacon, sardines, salmon, and other fish.
Yorkies also love peanut butter, bananas, berries, carrots, and even some human snacks like popcorn from time to time. You can try feeding your Yorkie different foods every now and then to see what it enjoys the most.
What Can I Feed My Picky Yorkie: Final Thoughts
You now have 8 great foods to feed your picky Yorkie, if it does not like any of the top commercial dog foods. Try them all and see which ones your pet likes. Hopefully it will enjoy a few of them at least. Maybe even all.
As mentioned, all of the items suggested above are healthy as well, as long as you stick to the recommended serving sizes. The recipes provided give you some ideas, but they are certainly not the only things you can do with these food items. We also have another article with more recipes for homemade dog food here.