Does your Yorkie have dry skin?
It's not uncommon.
And the good news is that it is easy to deal with, once you know how to treat dry skin on Yorkies.
There are some great Yorkie dry skin home remedies using things you probably already have in the home.
The 7 remedies we have for you below are all easy to implement and they use common ingredients most of us already have.
Keep reading to learn 7 simple and effective ways to treat a Yorkie with dry skin. We will also go over what causes dry skin, so you can prevent it from recurring.
How To Treat Dry Skin On Yorkies
To moisturize your Yorkie's dry skin, you can use coconut oil or olive oil. You can also use a humidifier in your home, especially in the winter, to prevent your dog's coat from drying.
Adding omega 3 and 6 essential fatty acids can also counter a Yorkie's dry skin. Avoid over-bathing your Yorkie, and when you do bathe it, use colloidal oatmeal to soothe its dry, irritated, and itchy skin.
7 Effective Yorkie Dry Skin Home Remedies
The following dry skin remedies work great for Yorkshire terriers, as well as for dogs in general.
Coconut Oil
Coconut oil is one of the safest oils for dogs. You can use it topically to soothe and moisturize your Yorkie's dry skin and also add it to its food to replenish the lost moisture from within.
Coconut oil has antibacterial and antimicrobial properties that can heal and protect your dog's dry skin.
How To Use It
Massage a teaspoon of coconut oil into your Yorkie's dry coat to reduce dandruff and moisturize the dry, flaky areas.
Mix ¼ tsp of melted coconut oil with your dog's food.
Note: If your Yorkie develops diarrhea after eating coconut oil, please cut back on the quantity.
Aloe Vera
Aloe vera gel is a natural moisturizer and can do wonders for a Yorkie's dry skin. It also has skin soothing properties. Aloe gel is also antimicrobial, antifungal, and antibacterial.
How To Use It
Cut open an aloe vera leaf. Massage the gel on your dog's skin, concentrating on the dry, flaky, itchy areas.
Use a pet shampoo with aloe vera gel to bathe your Yorkie.
Apple Cider Vinegar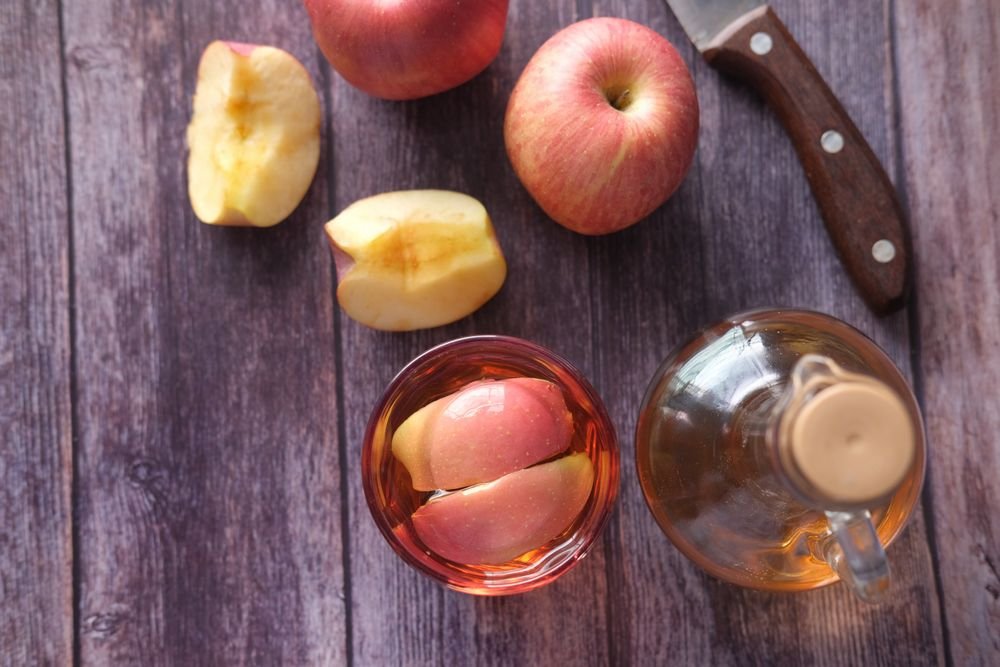 Organic apple cider vinegar (containing the mother) is one of the best home remedies for a Yorkie's dry skin. Apple cider vinegar has antifungal and antibacterial properties.
It can help eliminate dandruff and prevent bacterial skin infections. Regular use of apple cider vinegar may even prevent ticks and fleas on your pet.
How To Use It
Mix ½ cup of organic, unfiltered apple cider vinegar with ½ cup of distilled water.
Add the diluted vinegar to a spray bottle.
Spray all over your pet's coat. Let it air dry, then groom it as usual.
You can also add a capful of vinegar to your Yorkie's final bath rinse. This will make its coat shinier, softer, and cleaner.
Colloidal Oatmeal Bath
Colloidal oatmeal is anti-inflammatory and skin protective. It is a popular home remedy for soothing dry, itchy, and flaky skin in dogs.
How To Use It
Grind ½ cup of oatmeal in a blender.
Mix the oatmeal powder with water until you get a silky paste.
Fill a tub with warm water up to the level at which your Yorkie is comfortable.
Wet its coat thoroughly.
Directly massage the oatmeal paste on your dog's skin, focusing on the dry, itchy, flaky areas.
Soak your dog in the bath for at least 10 minutes. Continue massaging the oatmeal on its coat.
Use warm water to rinse off the paste. Gently pat your Yorkie dry with a soft towel.
Groom your Yorkie as usual.
Many of the best Yorkie shampoos also contain oatmeal. The same is true of the top Yorkie conditioners.
CBD Oil
CBD oil has many benefits for dogs. It is good for your Yorkie's skin, digestion, mood, and appetite.
How To Use It
There are multiple ways to use CBD oil to soothe your Yorkie's skin:
Massage some CBD oil directly on the dry areas.
Use a pet shampoo containing CBD oil to bathe your little dog.
Add CBD oil to its food. But make sure to consult your vet first.
Omega Fatty Acids
Dry skin in dogs often indicates inflammation and a lack of healthy fats in their diet. Adding omega-essential fatty acids can help replenish the lipid barrier and reduce skin inflammation.
Check with your vet if your Yorkie needs omega-essential fatty acids, because some commercial dog foods already contain them. If not, you can add some salmon oil to its food. You can also sprinkle some flax seeds or flax seed oil over your dog's food.
Yogurt
Yogurt contains a lot of probiotics, or friendly bacteria. It can benefit Yorkies with yeast infections, skin allergies, or other skin issues. The healthy bacteria in yogurt boost your dog's immunity and may help keep skin rashes and itchiness at bay.
How To Use It
Feed one to two teaspoons of plain, unsweetened yogurt to your Yorkie.
You can mix it up with dry or wet dog food.
Why Does My Yorkie Have Flaky, Itchy Skin?
A Yorkie might have dry, flaky, and itchy skin due to the following reasons:
Skin Infections
Bacteria, yeast, or fungal infections like ringworm are common causes of dry, flaky, and itchy skin in Yorkies. Your vet might require some skin samples to determine the exact cause of the flaking. They will recommend the treatment accordingly.
Parasites
Ticks, fleas, Demodex mites, and mange can also cause dry, itchy, and irritated skin in dogs. It is important to use all-year-round parasite prevention to keep these parasites at bay.
Allergies
Allergies are the number one factor behind dry skin in Yorkshire terriers. Allergies can stem from food or the environment. Some Yorkies may even be allergic to flea saliva.
Most Yorkies are allergic to certain grains and proteins in food, and these can manifest as dry, itchy skin. Dietary changes can help such Yorkies.
Underlying Health Conditions
Issues like diabetes and hypothyroidism can also cause dry and itchy skin in Yorkies. Likewise, certain cancers, Cushing's disease, and certain auto-immune conditions can be factors behind itchy, flaky skin.
Can I Put Coconut Oil On My Yorkie?
Yes, coconut oil is safe to apply to a Yorkie's delicate skin. Several holistic and natural veterinarians recommend the topical application of coconut oil on dogs to soothe rashes, hives, allergies, dry skin, dandruff, flaking, insect bites, stings, etc.
Many Yorkie owners have used coconut oil to counter scabby, itchy skin in their pets. Coconut oil has antiviral, antifungal, antibacterial, and anti-yeast properties. These can benefit Yorkies having dry, flaky, itchy, and irritated skin.
Is Olive Oil Good For Yorkies?
Yes, olive oil is an excellent topical moisturizer for Yorkies. You can also add it to your pet's food to nourish it from within.
The phytonutrients, Vitamin E, and omega fatty acids in olive oil are extremely beneficial for your pet's skin and coat health as well as its overall well-being. Here are some tips for using olive oil on a Yorkie:
Rub some olive oil on your palms and massage it into your Yorkie's coat. Brush your pet's coat using a natural boar bristle brush to distribute the oil all over.
Add ¼ tsp of virgin olive oil to your dog's dry or wet dog food.
Use olive oil to clean your dog's ear. This remedy is great for Yorkies with ear infections.
What Kind Of Oil Can I Put On My Yorkie?
Coconut oil and olive oil are the safest oils to use topically on a Yorkie. If you plan on using any essential oils, always consult an aromatherapist or a holistic vet. Also, make sure to dilute the concentrated essential oils before using them on dogs.
In general, chamomile, lavender, jojoba, and avocado oils are safe to use on Yorkies, provided you dilute them with some coconut or olive oil first.
How Do I Get Rid Of Dandruff On My Yorkie?
To get rid of dandruff on your Yorkie:
Use a humidifier in the cooler months. This will prevent the dry air from drying your dog's coat.
Feed your dog some omega-3 and 6 rich food. If required, use an omega supplement as advised by your veterinarian.
Feed your dog a balanced diet to prevent nutritional deficiencies.
Mix some olive oil, coconut oil, or CBD oil with your dog's food.
Feed your Yorkshire terrier some unsweetened, plain yogurt.
Use a vet-approved pet shampoo with oatmeal, aloe vera, and other moisturizing ingredients.
How Often Should I Bathe My Yorkie?
Yorkies do not need too much bathing, and overbathing can strip off your pet's natural skin oils. You can bathe your pet fortnightly (bi-monthly) or even once a month.
The exception to this is if your Yorkie frequently goes swimming in chlorinated pools or has rolled around in muck or something smelly. Always use a vet-approved shampoo to bathe your Yorkie.
Yorkie Dry Skin Home Remedies: Final Thoughts
Now that you know how to treat dry skin on Yorkies, you're ready to help your pup lose that itchy, flaky skin. Try any of the dry skin remedies presented above. If your pup does not like one of them, move on to the next.
If your dog suffers from dry skin a lot, it may have something to do with your bathing routine. You might be bathing it too often or using the wrong shampoo. This article covers how often you should bathe a Yorkie. This one covers the best shampoos to use.