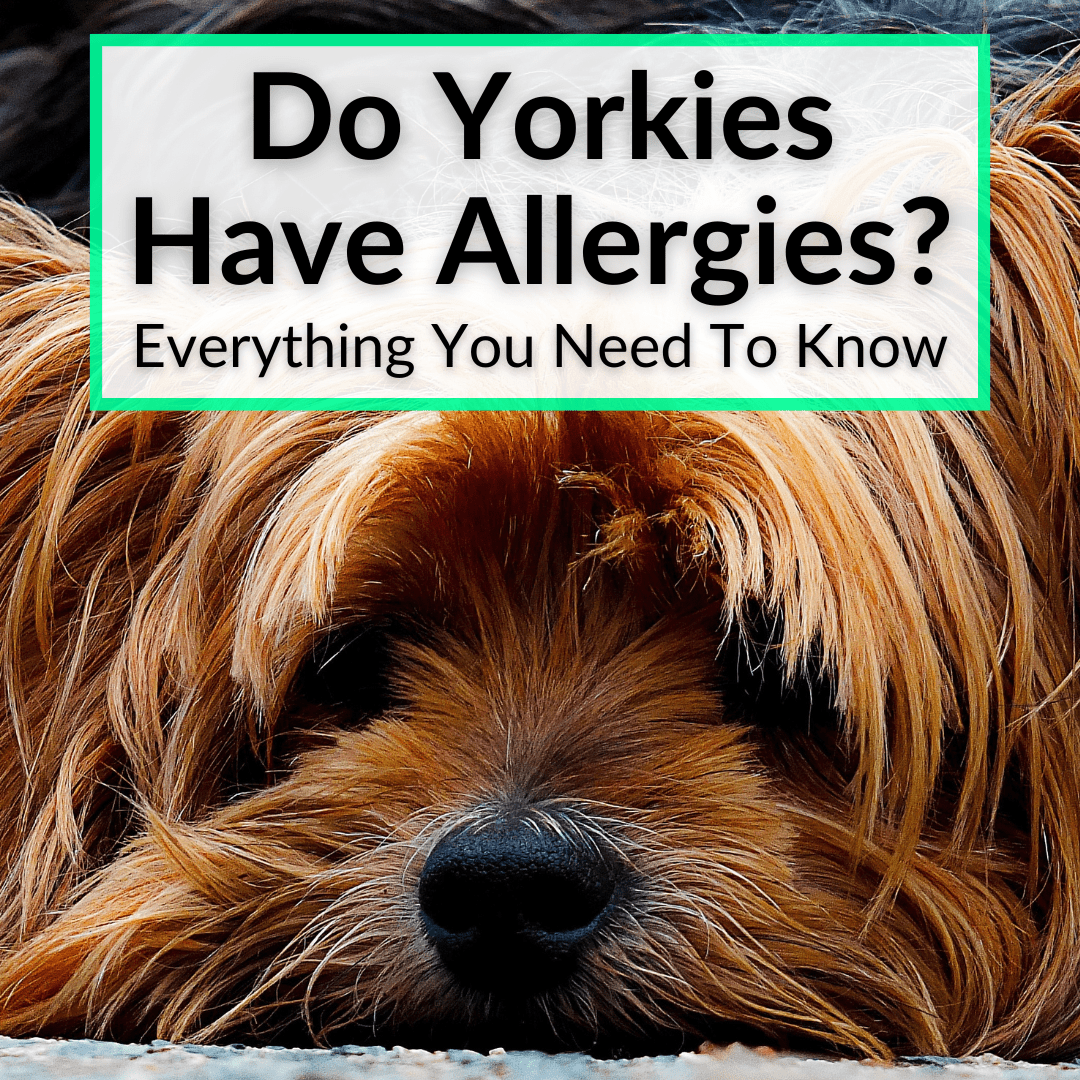 Yorkies can be great dogs for allergy sufferers.
No dog is 100% hypoallergenic.
But Yorkies are far less likely to trigger allergies than other breeds.
What about the other way around?
Do Yorkies have allergies themselves?
And if so, what are they generally allergic to?
Keep reading to learn whether Yorkshire terriers can suffer from allergies themselves and if so, what can trigger their allergies. We will cover everything you need to know about the topic.
Do Yorkies Have Allergies?
Yes, Yorkies can have allergies, unfortunately. They can be allergic to pollen, chemicals and certain foods.
The good news is that allergies are usually easy to treat. Most of the time, it is simply a case of trying to avoid whatever it is that causes irritation for your Yorkie.
However, with more serious allergies such as food, you may need to take your pup to the vet for emergency treatment or to get it put on special medications. Let's take a closer look at the three most common allergies in Yorkshire terriers.
Pollen
Just like humans, Yorkies can also suffer from hay fever. As soon as the seasons turn and flowers start blossoming, your Yorkie's hay fever may start acting up. If you suffer as well, you get to suffer together. Not that that makes it any better.
But the way allergy symptoms are triggered in you and your dog will differ. As a human, your symptoms generally develop from pollen being in the air.
For your Yorkie, symptoms are more likely to appear when it comes into close contact with pollen. It could be from stepping on flowers or grass, or even if it brushes its face against a plant that has pollen.
Common symptoms of pollen allergies in dogs include itchiness, scabbing and even possible hair loss. If you notice that your Yorkie keeps scratching itself during the spring months, far more than other times of the year, I would recommend having it tested for pollen allergies.
Your vet may be able to offer some anti-allergy treatments for your Yorkie, to make life a little easier during these months. If you suffer from allergies yourself, you know how nice that type of relief can be.
Chemicals
Your Yorkie may also develop allergic reactions from contact with particular chemicals. These could be ingredients in shampoos you're using or in everyday household items you use around the house, like cleaning products.
If you believe that your dog grooming products are causing the problem, you can try switching to shampoos with fewer ingredients, ones with only natural ingredients, or ones that are hypoallergenic.
If you believe that your household products are causing the issue, look for alternative products that are labeled pet-friendly. It should always say on the bottle which products are safe to use around pets.
If you don't have any luck when it comes to switching products, it's probably time to have a talk with your vet. They should be able to offer some advice on the best products to use around your Yorkie, or even offer to do an allergy test.
Foods
It's not uncommon for Yorkies to be allergic to certain types of food, or to have intolerances. If you notice that your Yorkie is giving off more gas than usual, has an upset stomach, or is suffering from sickness or diarrhea, it could have a food intolerance.
The usual culprits are lactose or gluten, so you may want to try cutting these out of your Yorkie's diet first. Eliminate them one at a time, to help you pinpoint exactly what is causing the problem for your pup. If it ends up being an intolerance to one of these ingredients, it is usually quite easy for you to alter your dog's diet accordingly.
If your Yorkie has an actual food allergy, then things can become a little more serious. For example, if it has a nut allergy, it could cause your Yorkie to go into shock, similar to humans. It could even be fatal.
Other common reactions to an allergy include diarrhea, hives, swelling of the face, swelling of the airways and vomiting.
Because Yorkies have sensitive stomachs and digestive systems, it does mean that they are more likely to have food intolerances or allergies than other dog breeds.
If you suspect an intolerance, start eliminating suspected problem foods straight away. If you believe your Yorkie has an allergy, you should take it straight to the vet to receive emergency treatment.
Do Yorkies Get Allergies: Final Thoughts
Yorkies can get allergies, just like us humans. And just like us, their allergies are most commonly triggered by pollen, chemicals or food.
If your Yorkshire terrier suffers from allergies, you will probably want to have it checked out by a vet, especially if the allergic reactions it gets are strong and if it is allergic to something that is not easy to avoid.