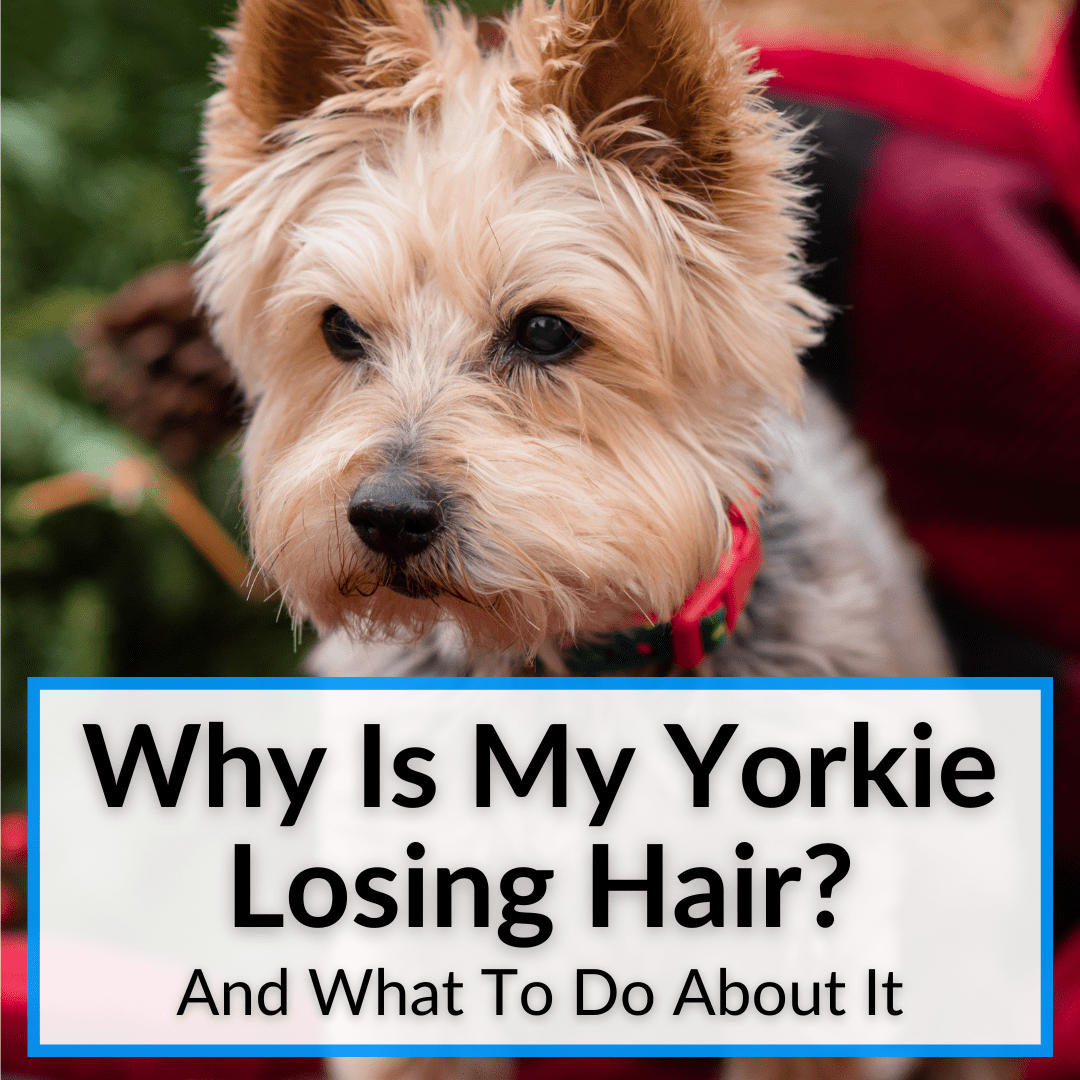 Its silky coat of hair is the Yorkshire terrier's most distinguishing feature.
It looks and feels amazing, and it is a big reason many owners choose Yorkies in the first place.
But sometimes that hair can begin to fall out.
That leaves owners desperately asking: why is my Yorkie losing hair.
Unfortunately, there are many possible causes of hair loss in Yorkshire terriers.
The good news is that most are easily treatable.
Keep reading to learn why Yorkies can lose their hair. This article should help you figure out the issue in your dog's case, and also what you should do about it.
Why Is My Yorkie Losing Hair?
There are a number of reasons your Yorkie may be losing hair. The majority of these reasons are health conditions, such as thyroid issues, diabetes, ringworm or even allergies. However, Yorkies can also lose hair due to other factors, like stress.
We will now take a closer look at the most common causes of hair loss in Yorkies. Hopefully this will help you figure out why your Yorkshire terrier is losing hair. As always, you should take your pup to a vet, for a professional diagnosis and treatment options.
Thyroid Issues
If your Yorkie has an underactive or an overactive thyroid, it could experience some hair loss as a result. If a thyroid issue is causing the hair loss, you will notice that hair is thinning all over its body, instead of just creating one bald patch.
Other symptoms that can indicate a thyroid issue include a change in weight, tiredness and not being able to handle the cold. If you suspect there is something wrong with your Yorkie's thyroid, make sure to take it to the vet as soon as you can.
Diabetes
Diabetes can be another reason for your Yorkie's hair loss. Hair loss is not a common symptom of diabetes, but it does happen, especially if the illness becomes more serious.
If you suspect your Yorkie does have canine diabetes and then it starts shedding a little too much hair, you should pay a visit to the vet. Other symptoms of diabetes to look out for include your Yorkie's hair losing its shine, excessive thirst, an increased need to pee, weight changes and tiredness.
Stress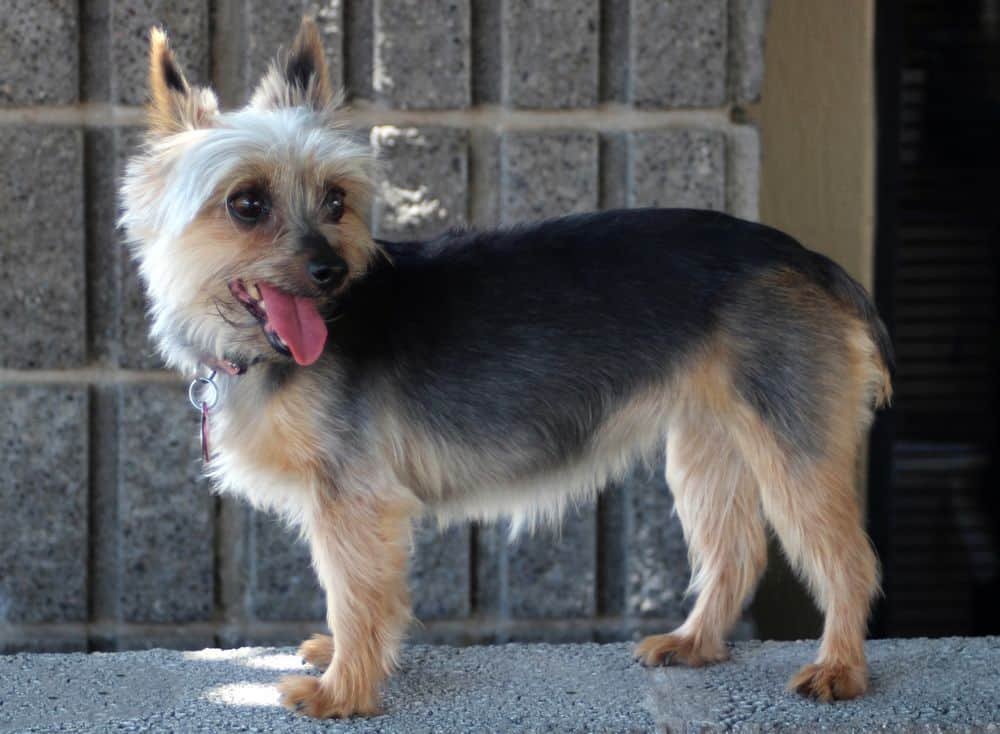 Yorkies get stressed too! Just as with us humans, if your Yorkie becomes severely stressed, its hair follicles can go into the 'resting phase'. This means hair will begin to fall out. The coat may look much thinner than usual.
In addition to hair loss, you will should also notice other symptoms that come with stress, such as a lack of appetite and your Yorkie being depressed. If your dog is stressed, give it some extra attention and love. Also make sure your Yorkie is eating a healthy diet, and that you give it plenty of play time and lots of walks.
Ringworm
This is one of the more unpleasant reasons your Yorkie may be losing hair. Ringworm is a parasite infection. It does not cause your Yorkie's coat to become thinner all over.
Instead, it causes round, bald spots that are usually located on your Yorkie's head, paws or legs. Ringworm can also cause scabs to form on your pup's skin.
Your Yorkie will need special treatment for ringworm, so you should take it to see a vet right away. The vet will prescribe the right medication to clear up the ringworm completely.
Allergies
Another common reason for hair loss is allergies. Do Yorkies have allergies just like humans? TYes, they can. Your Yorkie can experience a wide range of symptoms from allergies, including itching and rashes, along with hair loss.
If your Yorkie develops a skin condition or an infection due to the allergy, then it is possible that its hair will start to fall out.
Yorkies can be allergic to many different things, including soaps, foods and plants. If you suspect an allergy to any grooming products or foods, stop using them immediately.
If you suspect it could be something outside, try removing any plants from your garden, or take a different route for walks. Just making small changes like this should mean your Yorkie's hair stops falling out.
Other Causes
Other common causes for hair loss may include Cushing's disease, which is the overproduction of cortisol. It's more likely to affect older Yorkies and other symptoms include being extra thirsty, tiredness and the skin becoming easily bruised.
Your Yorkie may even have Alopecia X, which is a little known reason for hair loss. If your pup has Alopecia X, your vet will probably spend a lot of time trying to find out what is causing your Yorkie's hair loss, before eventually landing on the correct diagnosis.
Why Is My Yorkie's Hair Falling Out: Final Thoughts
If your Yorkshire terrier is losing its hair, chances are it is due to one of the reasons listed above. Hopefully you were able to determine the cause of your pup's hair loss and you now have a course of action.
For most medical issues, you'll want to take your Yorkie to the vet for a proper diagnosis and a course of treatment. The good news is that most causes of hair loss in Yorkies are easily treatable, so your pup should have its lucious, silky coat of hair growing back in no time.