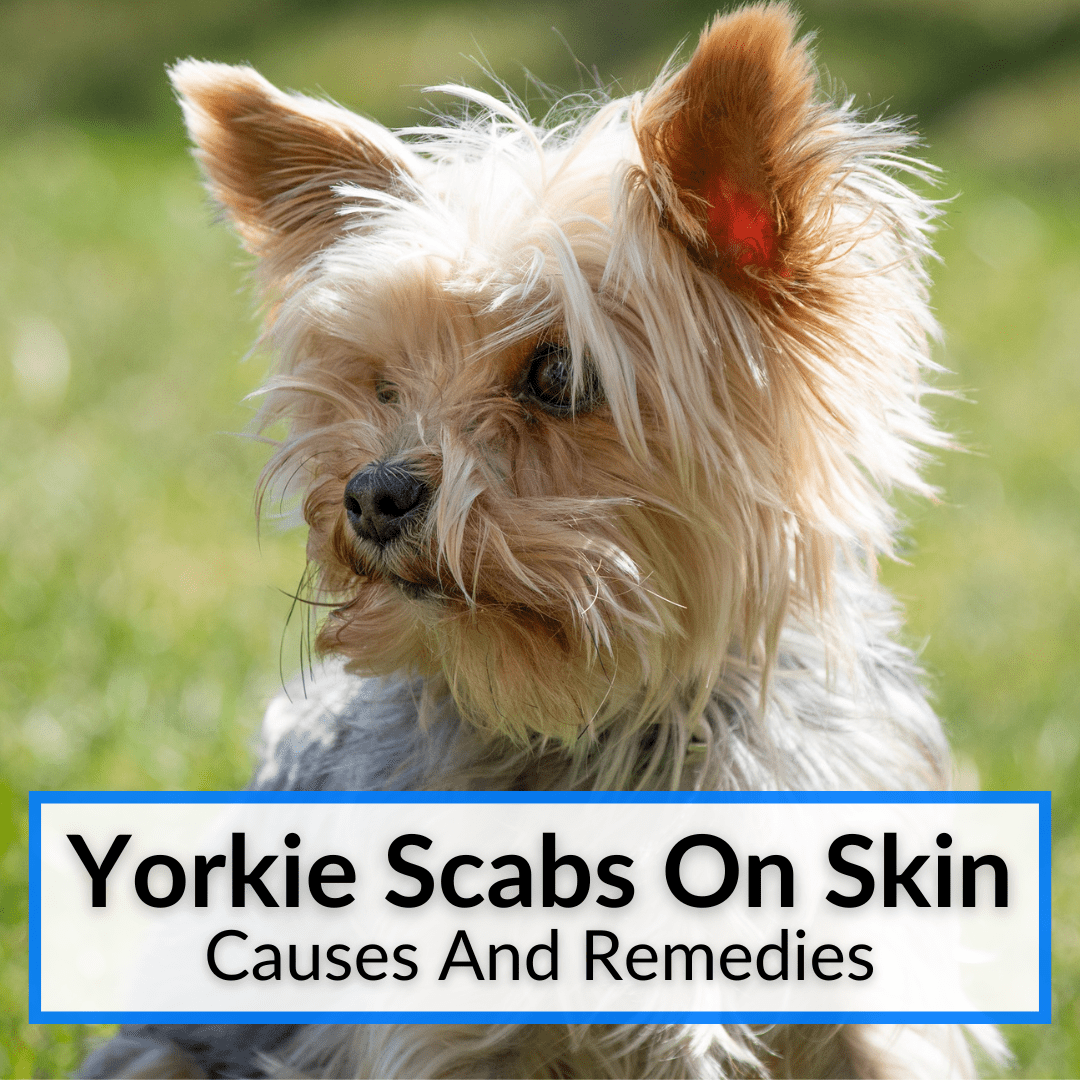 The last thing you want, is to see your dog suffer.
And a Yorkie with scabs on its skin is suffering from something.
The hard part is figuring out what is wrong.
Scabs on the skin can be caused by a number of things. And you need to know the cause, before you can help.
How do you figure out what is causing the scabs on your Yorkie's skin?
You keep reading. We will help you diagnose the issue and remedy it. Your Yorkie will feel better in no time.
Yorkie Scabs On Skin: 5 Causes And Remedies
Yorkie scabs are typically caused by parasites like fleas or mites, or bacterial or fungal skin infections. Allergies to certain foods or environmental pollutants like pollen, hormonal imbalance, and inflammatory conditions like impetigo and pyoderma can also cause skin scabs in Yorkies.
You can soften the scabs with coconut oil, aloe vera gel, or hydrocortisone cream so they can fall off. Let's take a look at the 5 most common causes of scabs on Yorkies, along with remedies for each.
Fleas And Other Parasites

In most cases, scabs on Yorkies' skin are caused by fleas or parasites like mites. Yorkies are often sensitive to the proteins present in flea saliva and feces.
When a flea bites your Yorkie, these proteins trigger histamine in your Yorkie's blood that causes itching and pain, and sometimes skin bumps. When your Yorkie scratches its skin, it can result in scabs.
In addition to skin scabs, typical signs of fleas in Yorkies are small black particles in the dog's fur (flea dirt), constant itching, biting and chewing of skin, red blisters on the tummy area, and hair loss.
Similarly, mites can cause scabs too. Mites result in red, irritated skin, excessive scratching, dandruff, and the loss of hair. You might even see the mites (spider-like insects) in your Yorkie's fur.
Remedy
Use flea and tick (or mite) prevention treatment as prescribed by your vet. Repeat the treatment monthly (or as prescribed). You can also use sprays, spot treatments, tick collars, etc.
Bathe your Yorkie using flea/tick shampoo.
Groom your Yorkie regularly.
Allergies

Allergies are another common cause of scabs on a yorkie's skin. Allergies can occur due to certain foods or environmental pollutants. Environmental allergens include grass, dust, pollen, and mold. Even certain household cleaners and detergents can result in skin scabs on Yorkies.
If your Yorkie has an allergy to its food, it could also suffer from vomiting, diarrhea, gas, dull coat, itchy skin (especially the ears and paws), etc. Environmental allergies can also result in wheezing, sneezing, and discharge from the Yorkie's eyes or nose.
Remedy
Determine the allergen causing the skin problems.
If food is the culprit, slowly make dietary changes after discussing it with your vet. If needed, try novel proteins that your Yorkie has not had before: emu, rabbit, etc. Allow at least 4 weeks for the changes to show effects.
Avoid the use of harsh household cleaners and detergents.
Use antihistamines as prescribed by the vet.
Reduce contact allergens by cleaning your dog's paws and fur after each walk.
Skin Infections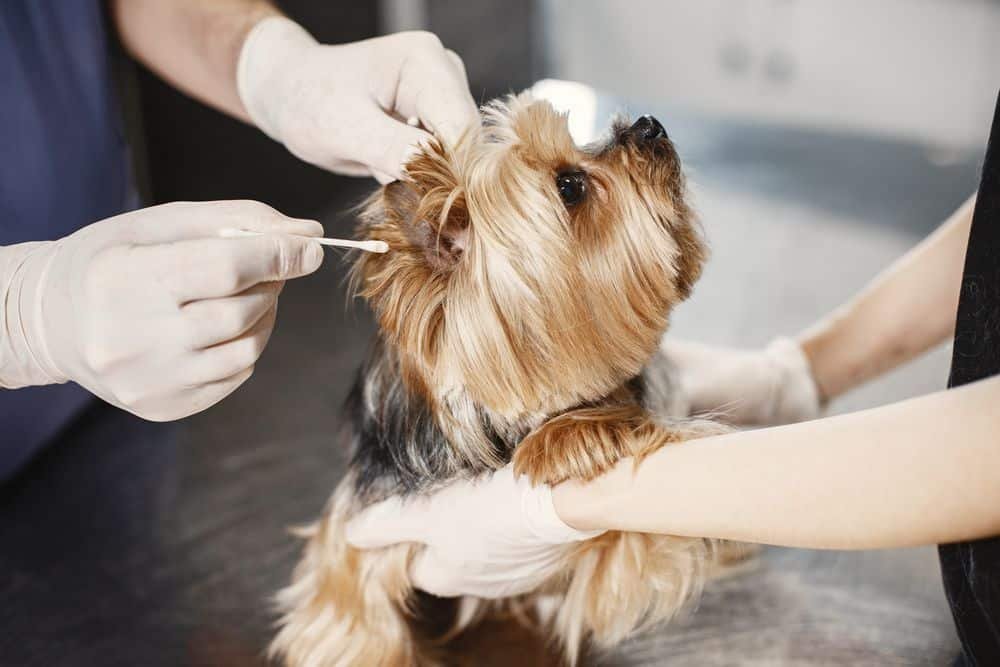 Skin infections and inflammation caused by bacteria, fungi, and other microbes can also result in skin scabs on your Yorkie's skin.
Yellow, flaky scabs are caused by seborrhea. These scabs are crusted, scaly, and plaque-like. Seborrhea also results in itchy skin, dandruff, ear discharge, etc.
Impetigo can result in red, itchy, pus-filled, and crusty circular scabs, typically on hairless parts of the dog's belly area. Other signs of impetigo are sores or lesions that leak.
Fungal infections like ringworm can also cause raised 'worm-like' lesions that dry off to form scabs. Ringworm is accompanied by dandruff, hair loss, and intensely itchy skin.
Yeast or fungi can also result in Pyoderma which can cause skin scabs in Yorkies. Pyoderma can also occur due to thyroid issues, hormonal imbalances, and drugs like steroids. Other signs of Pyoderma are papules or pustules like acne in humans.
Remedy
Use a vet-approved medicine to treat widespread scabs.
Your pet might need special medicated baths to reduce fungal or yeast infections.
Isolate other pets in the house, since many fungal skin infections are highly contagious. Avoid reusing towels and brushes of the infected dog on other dogs.
Feed your dog a diet rich in omega 3 and omega 6 fatty acids to prevent dandruff and flaking.
Underlying Health Issues

Hormonal imbalance can also lead to itchy skin and scab formation. Other causes include skin tumors, diabetes, thyroid-related disorders, deficiencies, stress, and inflammation of the skin follicles or sebaceous glands.
Remedy
Do not ignore widespread scabbing and see your vet right away. Your vet will recommend various health tests to assess the cause of scabs and skin issues.
Once the treatment to treat the underlying issue has begun, the scabbing will also disappear.
If your pet is very itchy, use paw covers or socks and Elizabeth collars to prevent it from scratching.
Exercise your dog to reduce stress.
Feed it a nutritious diet to overcome deficiencies.
Injuries Or Wounds
A small, single isolated reddish-brown scab with active bleeding is most likely caused by an injury. A dogfight or cat scratches are common causes of injuries in dogs. Even if your pet runs through a bushy or thorny area, it could develop skin scabs.
Remedy
If the scab is caused by an isolated wound and is small, no treatment is necessary. Keep the skin clean using a mild antiseptic cream and take steps to prevent further wounds.
Scabs On Yorkie Skin: Related Questions
Next, we will answer some common questions related to skin scabs in Yorkies. If you have any additional questions, please feel free to ask them in the comments below.
What Does Mange Look Like On A Yorkie?
Mange in Yorkies can be of two types: demodectic and sarcoptic. Both have different presentations, causes, and treatments. Demodectic mange in Yorkies appears as crusty lesions, red scaly skin, and patches of hair loss.
Sarcoptic mange (also known as scabies) is accompanied by red and itchy rashes all over the skin. There may be a thickening of skin along with yellow scabs. In advanced cases, there may be lymph node inflammation.
What Do Mites Look Like On Dogs?
Mites are small spider-like creatures measuring less than 1/3 mm in length. On dogs, mites cause intense itchiness and scratching. They can also result in dandruff and flaky skin.
The dog's ears are especially affected. There may be hair loss, sores, and lesions and the skin of the ear flaps might appear raw, irritated, tender, and pink. The elbows and ankles of the dog may also appear raw and sore.
How To Treat Yorkie Skin Problems?

Here are some simple home remedies to treat common skin issues in Yorkies.
Oatmeal baths: Blend some unsweetened oatmeal into a fine powder and add it to your Yorkie's bath. Make sure to use warm water, because hot water can aggravate skin dryness and irritation. Let your pet soak in it for 10 to 15 minutes. Oatmeal soothes itchy skin instantly.
Use special medicated shampoo: Your vet can recommend one. Most contain antibacterial and antifungal elements that can treat most skin issues. For fleas and ticks, use special shampoos with permethrin or other antiparasitic agents
Distract your pet: Take your Yorkie out for regular walks and playtime. A distracted dog is less likely to scratch. Exercise also reduces stress, which can be a cause of skin issues in Yorkies.
Feed it probiotics: Probiotics help increase the friendly bacteria in your dog's gut and enhance its immunity against common parasites. Even a spoonful of probiotic yogurt a day can help.
Make dietary changes: Your vet can recommend the right diet based on your pet's requirements. Make sure to select premium food with digestible meats as the first two ingredients listed on it. Avoid foods with fillers, grains, soy, wheat, etc.
Add omega fatty acids to your Yorkie's diet: Omega supplements improve skin health and may help reduce dryness and flaking.
Use antihistamines: Benadryl can help curb severe itching and give your pet some much-needed relief, until you can determine the root cause of the scabs.
Yorkie Skin Scabs: Final Thoughts
Yorkie scabs on skin are usually caused by excessive scratching as a result of some type of skin irritation. But numerous different issues can cause that skin irritation.
In order to remedy the problem and help your Yorkie feel better, you first need to figure out what is causing your Yorkie to scratch so much. Hopefully this article has helped with that. But as always, you really should consult a vet with any health issues. We strongly recommend you have a professional verify your own diagnosis.