Flea collar vs drops vs shampoos vs sprays vs chewables, etc.
Why are there so many different types of flea treatments on the market?
More importantly, which type is the best flea treatment for Yorkies?
The truth is, all of these types have their own advantages.
Which one is best depends on your dog.
For most, we recommend our top choice below. It is the best value and offers the best overall protection against both fleas and ticks.
But if your dog already has an infestation, other products may be better. Then you'll want to combine it with a chewable or a shampoo (whichever your dog prefers).
We included a recommendation for the best of each type below. That way you can easily find the best product on the market, no matter what type of flea removal or flea prevention you are looking for.
Best Flea Treatments For Yorkies Compared
03/22/2023 11:39 am GMT
Best Flea Treatment For Yorkies: Reviews
The following brief reviews explain why we chose each product as the best on the market. If you're not sure which one is best for you, go with the first one (our top choice). It is the best all-around product and the best value on the market.
Best Overall: Frontline Plus Flea And Tick Treatment
Frontline Plus is one of the most effective treatments for killing adult fleas, flea eggs, and larvae on small dogs like Yorkies. It also safely eliminates ticks and chewing lice.
The reason behind Frontine's popularity is that the brand has been the number one bestseller in flea treatment for dogs for over 20 years! No wonder it is trusted by veterinarians as well.
Frontline Plus breaks the lifecycle of fleas by eliminating their eggs and larvae. It contains two powerful flea-killing medicines: Fipronil and (S)-Methoprene.
These are tested to be safe on small dogs like Yorkies, weighing between 5 and 22 pounds (2.26 to 9.97 kg). You can also safely use the product on puppies 8 weeks and older.
The best feature of Frontline Plus is its ease of use: simply part your Yorkie's hair along the spine and apply the entire tube to three to four spots. The medicine is stored in your pet's skin glands which helps provide long-lasting protection from all kinds of external parasites for up to a month.
Pros
Works fast
Waterproof
Easy to use
No foul odor
Long-lasting protection for over 30 days
Safe
Cons
More effective in prevention than cure
How It Compares
Frontline spot treatment for flea and tick prevention has been used by hundreds of thousands of satisfied pet parents for decades. Its price is slightly on the higher side, but if you live in a flea-infested area, you can rely upon it to keep your Yorkie safe from disease-causing ticks and fleas.
Highest Quality: Seresto Flea And Tick Collar For Small Dogs
The beauty of the Seresto flea collar is that it works within 24 hours of application and eliminates newly hatched fleas within a couple of hours. The collar might seem expensive but it provides reliable protection to your pet from ticks, fleas, and other pesky bugs for over 6 months.
The Seresto flea and tick collar is odorless, oil-free, and works to eliminate not only ticks and fleas but also sarcoptic mange and chewing lice. Many vets and dog trainers recommend the Seresto flea collar for small dogs like Yorkies because of its safety and efficiency.
The Seresto collar is also super easy to use. Simply attach it around your Yorkie's neck and make sure that it comes in contact with your pet's hair and skin.
Many flea products become ineffective after your pet swims or has a bath, but not the Seresto flea collar. This waterproof collar protects your dog against ticks and fleas for several months, even if it gets wet.
The active ingredients in Seresto are Imidacloprid and Flumethrin. The collar releases these medicines in small quantities on your dog's skin and repels and kills fleas as soon as they come in contact with it.
Pros
Very easy to use
Long-lasting and continuous flea and tick protection
Fast-acting
Odorless
Safe and non-toxic
Water-resistant
Cons
Collars tend to break if your dog engages in rough activities
How It Compares
Tick and flea collars from Seresto provide reliable protection from fleas and ticks and are trusted by thousands of dog owners. The cost is slightly on the higher side, but it is definitely a must-have if you want to protect your little Yorkie from fleas for months to come.
Best Budget Treatment: Advantage II Flea Treatment For Small Dogs
Advantage II is a pocket-friendly flea treatment for small dogs weighing 3 to 10 pounds. It gives comprehensive coverage by killing adults, eggs, and larvae of fleas and breaking their lifecycle. The treatment starts working within half a day and helps protect your Yorkie from fleas for up to a month.
Advantage II is easy to use and comes in pre-measured tubes. The product is scent-free so it won't irritate your little doggy's sensitive little nose. It contains Imidacloprid which attacks the fleas' nervous system upon contact and pyriproxyfen which prevents the eggs and larvae from maturing.
The vet-recommended and EPA-approved Advantage II does not have an expiration date. You can buy it in bulk and store it without having to worry about its effectiveness. You can safely use Advantage II on Yorkies aged 7 weeks and older.
Pros
Affordable
Vet-recommended for small dogs
Convenient and easy to apply
Safe for puppies 7 weeks and older
Fragrance-free
Waterproof
Cons
A few dogs with massive infestation needed reapplication within a month
How It Compares
Vets recommend Advantage II for small dogs as one of the most effective, non-irritating, and fragrance-free flea products. It is easy to use and can be even used on pups (7 weeks+). The product is affordable and has no expiration date.
Best That Also Repels Ticks And Mosquitoes: K9 Advantix II Flea Treatment
K9 Advantix II is another affordable way to get rid of existing fleas on your Yorkie and also prevent new fleas for up to a month.
The active ingredients in K9 Advantix are Imidacloprid, Permethrin, and Pyriproxyfen which not only work on fleas and ticks but also prevent your Yorkie from being bitten by mosquitoes. This benefit is not found in other flea treatment products for Yorkies.
The vet-recommended K9 Advantix does not need a prescription and can be safely used on Yorkie puppies ages 7 weeks and over. It starts working within hours so you see fleas dying almost instantly. It repels adult mosquitoes and kills mosquito eggs and larvae which can cause heartworms in dogs.
Pros
Broad-spectrum coverage against several parasites
Easy to apply
No scent
Vet-recommended
Fast-acting
Waterproof after 24 hours
Cons
Some small dogs reportedly developed an allergic reaction to the medicine
How It Compares
K9 Advantix has received thousands of positive reviews from dog owners. It works quickly and lasts for several weeks. The price is also affordable compared to most flea treatment products for Yorkies. The best part is that it also repels mosquitoes – a benefit not seen in other canine flea treatments.
Best Natural Flea Treatment: Vet's Best Flea And Tick Spray
Flea sprays are an effective and convenient way of repelling fleas and ticks – simply spray them on your Yorkie prior to its walk and your pet will be safe from all kinds of blood-sucking parasites!
The beauty of this flea spray from Vet's Best is that it is certified 100% natural as per ISO Standard 9235:2013. It contains peppermint oil and eugenol which fleas simply hate. It also contains clove oil, known for its germ-fighting properties.
Vet's Recommended Flea Spray has undergone extensive testing to ensure its efficacy. The oils and botanicals used in the spray are steam-distilled so they retain their freshness and potency. Most dogs (even ones with sensitive skin) are able to tolerate this spray.
You can even use this flea spray to eliminate an active infestation. The moment you spray it, you will see the fleas and ticks struggling to get off your pet. Make it a habit to spray your pet before every outing so it can provide lasting protection from all kinds of parasites.
You can also spray it indoors on your carpets, your Yorkie's bedding, and furniture to control and eliminate fleas in your dog's environment. This will protect you and your family members from getting bitten by fleas and also prevent reinfestation on your pup.
Pros
Great for indoor/outdoor use
100% Natural (ISO certified)
Kills all life stages of fleas
Smells great
Non-irritating for sensitive dogs
Cons
Some dogs run away during spraying as the scent may be irritating
You need to spray a lot for the product to be effective
How It Compares
If you prefer natural flea treatments for your fur baby, then the Vet's Best flea spray is a good choice. It isn't too expensive, but you might need several bottles for long-lasting protection. You can use the spray indoors and outdoors, which makes it an effective tool in your flea-fighting arsenal.
Best Chewable: Advantus Chewable Flea Treatment
Some sensitive dogs develop a reaction to flea spot treatments and sprays and many hate wearing flea collars. Advantus Flea-Tick Preventive Chewables are a good choice for such pets.
You can safely give Advantus Chewables to dogs weighing 4 to 22 pounds and aged 10 weeks and older. Administer one chewable as soon as you see fleas or ticks on your Yorkie.
The treatment starts working right away and you can administer one or more chewable per day, as required until all fleas are eliminated.
The active ingredient in Advantus is Imidacloprid which kills fleas in various life stages. The soft chews are apparently (I have not tried one myself) quite tasty and most dogs take them without any fuss.
Pros
Fast acting – kills fleas within an hour
Safe
No prescription needed
Tasty for picky dogs
Cons
The effect lasts only for a day; you need to use other flea prevention methods for lasting protection
How It Compares
Advantus Chewables have shown great results in giving relief to itchy flea-infested dogs. Its taste is great and even fussy pets seem to love it. However, you need to use the chewable in combination with other flea products, because it only kills existing infestations and does not prevent new ones.
Best Flea Shampoo: Adams Plus Anti-Parasite Shampoo
Adams Plus shampoo kills fleas, flea eggs, flea larvae, ticks, and chewing lice and can be used on dogs aged 3 months and above.
The active ingredient in Adams Plus is Precor which not only eliminates fleas and ticks but also prevents reinfestation for almost 28 days.
The shampoo is quite safe for use, even on sensitive dogs. It also contains aloe vera and oatmeal extracts, which nourish, soften, and moisturize your Yorkie's skin and coat, leaving it soft and manageable.
Pros
Safe for most dogs with sensitive skin
Kills existing fleas and prevents reinfestation
Great scent (for us, some pets do not like it)
Cons
A small percentage of pets (especially cats) got sick after use; use with caution
Has a very strong scent
How It Compares
Adams Plus shampoo has been a trusted name among thousands of pet lovers for flea and tick prevention for decades. However, it does have a strong scent which might irritate some dogs and cats.
You also have to leave its lather on long enough so it can kill all of the fleas on your pet. The shampoo is affordably priced and a little goes a long way.
Signs Your Yorkie Has Fleas
Fleas are aggressive insects that feed on blood from dogs, and even people. If left untreated, they can lead to more severe flea-related illnesses.
That is why it is important to detect a flea infestation early, so you can take steps to eliminate the little pests. Here are the signs to look for, to determine if your pup is suffering from a flea infestation.
Redness, Scratching, Biting, And Licking
The first sign that your Yorkie is suffering from a pest infestation is an excessive amount of scratching, biting, and licking. Your Yorkie might also develop some red marks or lesions on its body, if it is sensitive to flea bites.
Flea Dirt
Fleas are annoying little creatures that roam around the fur. You can't easily see the fleas themselves, but you can see the flea dirt. It is mostly black dirt that looks like pepper. If you see this on your dog, it is a good indication that your Yorkie has fleas.
Hair Loss
Dogs can suffer from alopecia, just like we do. It is a common illness in dogs that leads to partial, or even complete, hair loss. But if your Yorkie is suddenly losing hair, it might also be because of flea bites, or the excessive amount of scratching and licking as a result of those bites. Look for other signs of fleas to confirm.
How To Protect Your Yorkie From Ticks And Fleas
Never underestimate ticks and fleas. Your Yorkie could get a skin infection or some other worse disease as a result of an infestation. Killing fleas as soon as you notice them is important.
But it would be even better to prevent them in the first place. Let's look at some measures you can take to help protect your Yorkie from fleas and ticks, in addition to getting a good flea treatment that offers protection.
Keep The Environment Clean
It is not just about keeping the skin and coat clean, but also the environment. Keep your home and garden clean and make sure to vacuum every single corner of your house. Clean your pup's bedding regularly, too.
The cleaner everything is, the less the likelihood that some flea or tick is lurking in the corner of your home, waiting to latch onto your poor little pup.
Check The Coat Daily
Make sure to check your Yorkie's coat as frequently as possible. Look for bumps. You can feel them when you run your fingers through your Yorkie's hair. Check the hairlines to spot a tick infestation. The stomach is the most vulnerable spot, so make sure you check that area thoroughly.
Regular Bathing
Regular bathing sessions is essential, because it keeps your Yorkie clean. It is also a great way to get rid of an existing flea or tick infestation (see next section). Simply use some anti-flea shampoo and conditioner and scrub it gently into your pet's coat.
How To Get Rid Of Fleas On A Yorkie
We just mentioned bathing, but there are also other things you should do in conjunction with bathing to get rid of fleas on your dog.
Clean The Bedding
After bathing your dog to get rid of fleas, you also need to thoroughly clean the bedding, to prevent the fleas from coming back. Fleas can lay eggs in the bedding, which will hatch a new generation of pests to reinfest your pup.
Wash everything with hot, soapy water. Let it dry under the heat of the sun, if possible. Even if your dog does not have fleas, it is a good idea to regularly clean all of its bedding, in order to prevent fleas from finding a home there in the first place.
Flea Spray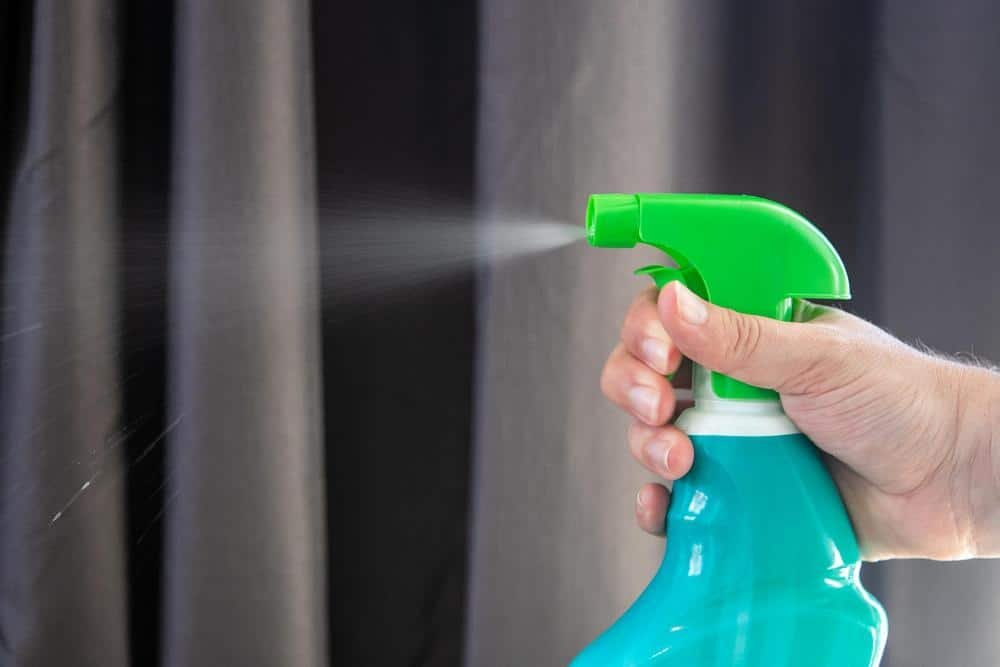 You can get rid of fleas on your Yorkie by using a flea spray. You can either buy or make one with the help of video tutorials. You want to pick ingredients that will not threaten your Yorkie's health or yours.
Using apple cider vinegar for fleas on dogs gets a lot of hype on many websites, but the truth is, it is not entirely effective. The acidity of the vinegar is not strong enough to kill the eggs and larvae of the fleas.
Your best bet is to buy an all-natural commercial spray like the one we recommend above. That one is gentle enough to can spray it directly onto your Yorkie's coat, but do not spray it into its face.
You should also spray down your sofas, carpets, and other areas where your dog hangs out and fleas can lay eggs.
Flea Collar
Flea collars are the most popular option for getting rid of fleas, though some dog owners do prefer medication. A big advantage of flea collars is that they offer continued protection, usually for 6 months or more.
They may cost more than other flea and tick treatment, but because they offer protection over many months, they end up being cheaper in the long run.
The negative is that they can be harmful to small children, if they touch the collar and then put their fingers in their mouth and ingest some of the medication.
Keep Your Yorkie Healthy
It may not seem like this has anything to do with getting rid of fleas, but a dog with a healthy immune system can fight off the blood suckers more easily.
Make sure that your Yorkie eats a proper healthy diet and gets enough water. It should also get plenty of exercise. Some owners also like to give their pups vitamins to boost their immune system.
Seek Medical Advice
If you detect fleas on your Yorkie, it is never a bad idea to seek the advice of a veterinarians. They can help you figure out the best plan of attack for you and your pup, to get rid of the fleas on your Yorkie.
They can advise you on the best flea medicine for Yorkies in general, and which type might be best your your specific dog.
Best Flea And Tick Prevention For Yorkies: Conclusion
Fleas and ticks are tiny, but they can cause your poor little Yorkie a lot of discomfort. If left untreated, they can also cause a number of skin issues or more serious diseases.
That is why it is important to detect fleas early and take steps to get rid of them. Even better, take steps to prevent them from occurring in the first place.
The best flea treatment for Yorkies is one that can do both of those things, or a combination of two or more treatments that add up to offer both elimination and future prevention.