Apple cider vinegar is everywhere these days.
You name the condition and there's an article explaining how ACV can help cure it.
But that's for humans.
Is apple cider vinegar good for dogs, too?
And if so, what type is best and how do you give it to them?
More importantly, what benefits does it have for your pup?
Keep reading for the answers to all of those questions and more. We'll cover everything you need to know about apple cider vinegar for dogs.
Can Dogs Have Apple Cider Vinegar?
Yes. Apple Cider Vinegar is completely safe for dogs. In fact, it offers a multitude of benefits.
Humans have been using natural remedies to treat themselves since our very beginnings. Pet parents also use many of these remedies for their pets, because they are generally much easier on their bodies that pharmaceuticals.
Apple Cider Vinegar is one such remedy. And it has been gaining in popularity like crazy recently, both for us and for our pets.
We're going to talk about the various benefits of apple cider vinegar for dogs below. But not all ACV is the same. There are different types, so we need to take a closer look at those and determine which is best for dogs.
Types Of Apple Cider Vinegar
Before we get into the benefits of apple cider vinegar for your dog, we need to look at the two main types of apple cider vinegar and the different benefits each one offers.
Raw Apple Cider Vinegar (With The Mother)
Raw Apple Cider Vinegar is unfiltered, unpasteurized, and unprocessed. It is a lot better for you than the filtered version, because it still has the mother.
You're probably a little confused about the name. We aren't talking about moms with this type of apple cider vinegar. "The mother" refers to the bacteria that is added to the apple juice and yeast to convert the alcohol into acetic acid.
The mother gives ACV a cloudy appearance, so it is usually removed before bottling. Any ACV that looks transparent has had the mother removed through filtering and pasteurizing.
However, the mother is actually made up of many strains of good bacteria. This is also known as a probiotic. You've probably heard the term, since it is another recent fad, like ACV itself.
This means that the mother actually has numerous health benefits. In fact, when people buy ACV specifically for the health benefits, they usually buy it with the mother. At least they should.
Because unfiltered ACV is not processed to remove the bacteria, the fermentation process continues for longer. The longer fermentation and the retention of the probiotics are what make raw ACV better for your health.
The key distinction between unfiltered and filtered apple cider vinegar is its appearance. You can tell the difference between the two by looking at the texture and color of the vinegar. If the vinegar is hazy or cloudy, it is most likely unfiltered. If it is clear, it is filtered.
Filtered Apple Cider Vinegar
As the name suggests, filtered apple cider vinegar goes through a filtration process to remove the mother. This makes the liquid look clear and amber-colored, instead of cloudy. It looks more appealing and is usually cheaper, too.
But filtered removes a lot of the most beneficial nutrients of the apple cider vinegar. So which type is better for your dog?
Pasteurized ACV
Pasteurization is a heating process that kills bacteria. NAturally, this means it kills the good bacteria that makes the vinegar healthy, too. The benefit of pasteurization is the same as it is with milk. It means the product can last longer. But since it kills the good bacteria, it is not as good for our health.
Best Type Of ACV For Dogs
Now that we know the two main types of apple cider vinegar, you can probably guess which one is better for dogs. It is the same type that is better for us humans, too.
Raw ACV is the best option for your dog, because the mother provides good live bacteria and enzymes. These leftovers can have a lot of health benefits, which includes aiding your dog with digestion.
This is our favorite brand of ACV for dogs and for us:
How Much Apple Cider Vinegar For Dogs?
It is essential that you know the appropriate dosage for your dog. You've probably heard the phrase "Everything is good in moderation." Well, that's true here, too. You need to make sure you're not giving your pup too much. Or too little.
There is no exact dosage of apple cider vinegar that is perfect for every dog. The best way to find the ideal dosage is through experimentation. For Yorkies and other small dogs, start with a teaspoon. For larger dogs, start with a tablespoon. Adjust from there.
The most important thing to know is that you should never give your dog apple cider vinegar straight from the bottle. It is acidic and directly feeding it to your dog might negatively affect its health. Not to mention it just isn't pleasant to consume straight (try it for yourself).
A better way to give your dog ACV is by adding it to its food or water. You can start by adding a teaspoon or tablespoon of ACV to your dog's water bowl and adjusting the amount once you see how your dog responds to it.
If you notice that your dog isn't drinking the ACV and water solution, it's probably a good idea to decrease the dosage. Increase it if the ACV does not seem to have any effect on whatever condition you are trying to treat (we'll get into those below).
You don't want your dog to limit its daily water intake, so make sure you keep an extra bowl of water in case it doesn't drink the ACV solution. If your dog simply won't drink water with ACV, try adding small amounts of it to its food.
An excellent way to include ACV in your dog's diet is by mixing it in plain yogurt, or something else your dog likes. If you DIY your dog food, mix it into your Yorkie's favorite homemade food. As with the water, adjust the dosage depending on which health problems you're trying to combat and the effects your seeing.
This should go without saying, but smaller dogs should get smaller doses. Puppies should get much less than adult dogs, too. Giving your dog too much could lead to some adverse side effects.
Is Apple Cider Vinegar Safe For Dogs?
Apple cider vinegar may have harmful side effects depending on the dosage you're feeding your dog. That is why you need to be extra careful when feeding your dog and start with small doses.
ACV is acidic. If your dog has a lower pH level, it is probably not a good idea to give your dog any apple cider vinegar. A pH level less than six indicates that your dog has an acidic digestive system, so you should not feed it anything acidic.
Side effects of feeding acidic food to a dog with an already acidic digestive system can include vomiting, diarrhea, and constipation. Severe cases of diarrhea can lead to dehydration.
That is why it is important to check your dog's health and digestive system before feeding it ACV. You want to make sure the vinegar does not make your pup sick.
The best way to determine pH levels in your dog at home is by testing its urine with a pH test strip like these.
You could also take your dog to your vet and have them conduct a pH test for you. Your vet will be able to tell you whether it is safe to give your dog ACV and exactly how much you should give it.
Since ACV is acidic, make sure you do not get any of it in your dog's eyes. It will burn and irritate its eyes. We've already mentioned not to feed your dog pure ACV. Instead, dilute it with water or add it to food.
Using ACV on open wounds isn't a good idea either, since it causes a burning sensation.
Is Apple Cider Vinegar Good For Dogs?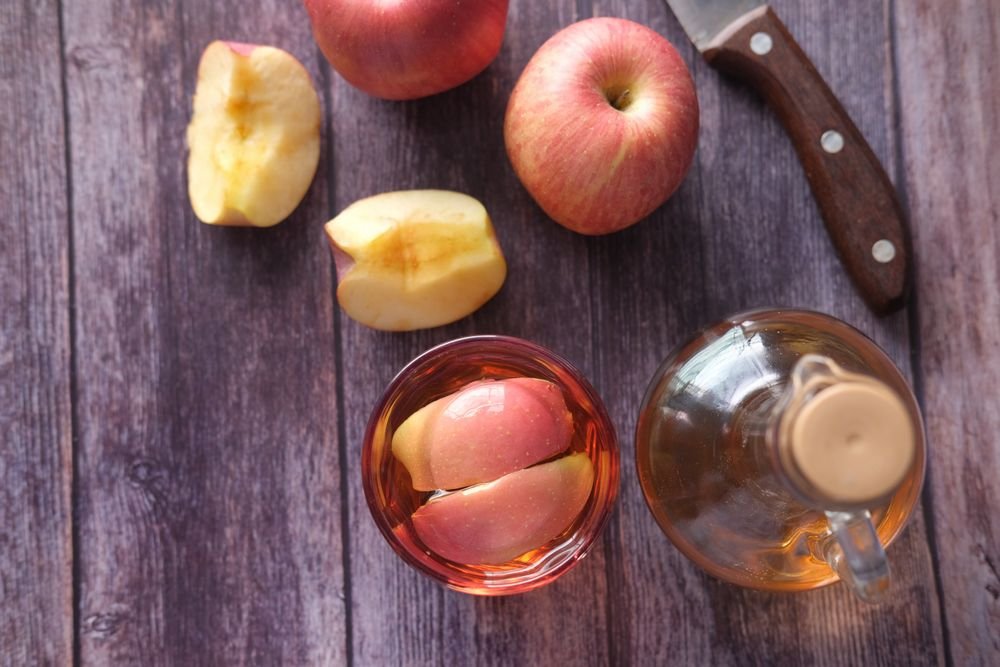 Apple cider vinegar has a lot of health benefits and can be great for your dog. Here are the main health benefits of ACV for your dog.
ACV For Digestion
Apple cider vinegar is great for digestion, not only for humans, but for dogs as well. Since it is acidic in nature, ACV increases acidity in the stomach, which can help with your dog's sensitive stomach and digestive problems.
It also results in better absorption of food and fewer gastrointestinal symptoms like gas and burps. While these symptoms are only natural, sometimes fluctuating pH levels in your dog's body can increase these symptoms and can cause serious discomfort.
A tablespoon of apple cider vinegar can help relieve your dog of these symptoms and reduce digestive problems. The best way of using ACV for digestion is to add it to yogurt and feed it to your dog.
Yogurt is already good for digestive problems, because it contains probiotics. Adding apple cider vinegar, which also contains probiotics (if it is raw ACV) further boosts the growth of helpful bacteria in the digestive tract.
The mixture of yogurt and ACV is perfect for relieving your dog of digestive problems.
Apple Cider Vinegar For Folliculitis In Dogs
Folliculitis is an inflammation of the hair follicle. Hair follicles are the miniscule opening on the dog's skin from which hair grows. These can get inflamed when bacteria gets in them.
Apple cider vinegar has antimicrobial properties, so it can be a great way to fight infections.
There are a number of ways you can apply the ACV to your dog. Perhaps the best is to make a spray. We cover how to do that toward the end of this article. Just make sure you do not spray any in your dog's eyes.
Another option is to fill a bathtub with about an inch of water and add a cup of ACV to it. Then place your pup inside and gently sponge the solution onto its fur.
You could also soak cotton balls in a mixture of half ACV and half water, then rub the affected areas with the cotton. With all of these methods, take care not to get any in your pets eyes or nose. If your dog has open sores, you may want to avoid ACV altogether, since it will burn.
Apple Cider Vinegar For Dog Pyoderma
Pyoderma is a skin infection. Folliculitis is actually a type of pyoderma. As such, you treat them with ACV in the same way. Read the instructions just above, if you haven't already.
Apple Cider Vinegar For Dogs Itchy Skin And Dandruff
There are a number of reasons a dog might have itchy skin. If it is due to an infection of some kind, the ACV can help. See the instructions above for folliculitis for help, since that is one of the major causes of itchy skin. Treat other skin infections in the same way.
The same diluted apple cider vinegar solution can also be great for relieving your dog of dandruff. The antimicrobial properties of vinegar can help relieve dandruff and its accompanying symptoms.
There are a lot of anti-dandruff products on the market, but they can also contain harmful chemicals, which can be bad for your dog's skin. This is why a natural remedy like apple cider vinegar can be great for your dog and is generally worth a try first.
Apple Cider Vinegar For Dogs Ears Infection
Treat ear infections in a similar manner, since they are also infections. Use a cotton ball with a mixture of half vinegar and half water (dilute the vinegar much more, if your dog's ears are badly inflamed and you can tell the mixture is causing pain) to swab around the ears.
To clean the inside, pour a small amount of the mixture into the ear and massage it down into the ear canal. Then move back, because your dog will shake its head to get the mixture out.
This is a good thing. It will make a mess, but you want it to. That means you have removed the gunk in the ear. If there is no mess, you may need to try again to get more of the gunk loose.
As mentioned, you can do this to help soothe an infection, but you should also clean your pup's ears like this regularly, to help prevent ear infections.
Apple Cider Vinegar To Stop Dogs Licking Paws
There are a number of different reasons your dog might be licking its paws. You'll want to examine the paws and find out what the issues is. If it looks like the paw is infected, then ACV can help.
To soothe an infected paw, soak the paw in a solution of two parts water to one part vinegar for about 5 minutes twice daily. You could also rub the paw with a cotton swab soaked in a 1:1 solution or spray it with our ACV spray (see below).
Does Apple Cider Vinegar Kill Worms In Dogs?
ACV may kill worms in dogs. Some claim it is effective, while others say it is not. The good news is that it doesn't hurt to try.
If you notice that your Yorkie may have worms, simply give your dog some apple cider vinegar daily, according to the dosage instructions we provided above.
It is best, however, to combine this treatment with a deworming medication. Learn how to deworm your puppy at home to make this process much easier.
How Long Does It Take For Apple Cider Vinegar To Kill Worms In Dogs?
It takes a while to act, so you'll need to be patient for a week to 10 days. If nothing has changed by then, you'll need to find another dewormer (consult with your vet).
Apple Cider Vinegar For Dogs' Yeast Infections
In the same way ACV can help with other infections, it can also help with this one. It is very common for dogs to get yeast infections, and apple cider vinegar is a good remedy to prevent their development.
Apply ACV to your dog in a similar manner as we described above for folliculitis. Any of the methods work fine to fight a yeas infection.
You can also help prevent yeast infections from occurring in the first place by giving your dog ACV daily. Add it to your pup's food or water as described above. Adding it to yogurt is especially beneficial in fighting yeast infections.
Apple Cider Vinegar For Dogs' UTI (Urinary Tract Infection)
Urinary tract infections are caused by bacteria that find their way into the bladder, and sometimes the kidneys. Since UTIs are another infection, it only makes sense that apple cider vinegar can help.
However, if your dog has a severe UTI, please take it to see a vet immediately. ACV can work for mild infections, but not for one that has progressed to a more serious level.
To give your dog the ACV, simply add it to food or water, as instructed above. Since drinking lots of water helps against UTIs, it may be better to add the vinegar to food, so it doesn't discourage your pup from drinking water. Adding it to yogurt is especially good, since it is also a probiotic.
Apple Cider Vinegar For Dog Incontinence
There are a number of different causes for incontinence in dogs. One possibility is a UTI. If that is the case, you could try using ACV as described just above.
If your pup is suffering from incontinence, you should take it to the vet to determine the underlying cause. You could just try giving your dog ACV and see if it helps, but it would be better to have an actual diagnosis, so that you know for sure you are treating the issue correctly.
Apple Cider Vinegar For Dog Eye Infection
Since this is another infection, it only makes sense that apple cider vinegar might help. And it can. However, it is acidic and will cause burning if you apply it to your dog's eyes.
You'll see other sites recommend this treatment, using heavily diluted ACV. But if you dilute it enough so that it no longer burns, you are also diluting it to the point where it is not likely to help much.
Add to that the fact that some eye infections are viral and not bacterial, and that ACV does not help against viruses, and it just does not make much sense to use it for an eye infection in your dog.
I definitely recommend going with standar medicine on this one. You don't want to cause your dog to suffer more by burning its eyes, do you?
Does Apple Cider Vinegar Kill Mites On Dogs?
Apple cider vinegar can work to kill some mites and to relieve some itching, but it is unlikely to cure the problem completely. You are better off using medication prescribed by a vet.
But if you prefer to try natural remedies first, go ahead and bathe your dog with a 1:1:1 solution of vinegar, Borax and water. To be effective, you need to make sure you sponge the mixture all over your dog and reach every part.
Except for the eyes of course. As always, keep ACV out of your dog's eyes. And in this case, it is even more important to avoid the eyes, due to the Borax.
Apple Cider Vinegar For Dog Breath
Since bad breath is caused by bacteria, apple cider vinegar can be an effective remedy. Simply add some to your dog's water, as described above.
Is Apple Cider Vinegar Good For Dog Hot Spots?
Hot spots are areas where your dog is licking, scratching, or biting in order to get some relief from itching or pain. The itchiness or pain can be caused by a number of different ailments like allergies, infections, parasites and more.
For many of the possible causes of hot spots, apple cider vinegar can bring some relief, and possibly even cure the issue. You can apply a 1:1 solution using any of the methods we already covered above: in a bath, dabbing it on with cotton or gauze, or using a ACV spray.
You way need to trim off some of your dog's fur, in order to expose the hot spot more, to make it easier to cover it completely with the ACV solution. If the hotspot has progressed to an open wound, it would be better to find an alternative treatment, since ACV will burn if applied to open sores.
Apple Cider Vinegar To Remove Tartar From Dogs' Teeth
Apple cider vinegar is an effective way to clean your dog's teeth, but your dog will probably not enjoy the taste at all. You could simply put some in its food or water as we have already discussed above, but to fight tartar, you'll have to apply it more directly.
The best ways are to either dip a toothbrush directly into a little bowl of vinegar, or to mix vinegar with baking soda and putting that on a toothbrush. Then brush your pet's teeth. After you are done brushing, use water to rinse out the flavor of the vinegar completely.
Apple Cider Vinegar For Fleas On Dogs
Despite what many websites will tell you, apple cider vinegar does not work to get rid of fleas. It may work as a repellent, but you would have to keep your dog covered in it pretty much permanently.
The reason the vinegar does not work is that it is not nearly acidic enough to penetrate the hard shell of flea eggs or larvae. And the way to get rid of fleas is to destroy their eggs and larvae so that they can not continue past the current generation. Learn more in our article covering how to get rid of fleas on a Yorkie.
Apple Cider Vinegar Mosquito Repellent For Dogs
ACV could work to repel mosquitos, but probably won't be overly effective unless you keep your pup permanently covered in it. That said, perhaps the mosquitos in your area are more sensitive. Fee free to give it a try. Simply put a 1:1 mixture of the vinegar with water into a spray bottle and spray your dog's coat with it.
Apple Cider Vinegar For Burns And Bruises
Apple cider vinegar has a cooling effect when applied to burns and bruises and it also kills bacteria. This allows the injuries to heal faster and reduces the risk of an infection. Of course, you should not use the vinegar on an open wound, because it can be very painful for your dog.
Can Dogs Drink Apple Cider Vinegar?
Yes, dogs can drink apple cider vinegar, but they should not drink it straight. Always dilute it by adding a teaspoon (for small dogs like Yorkies), 2 teaspoons (for medium dogs) or a tablespoon (for large dogs) to your pup's water bowl.
How Do I Use Apple Cider Vinegar For My Dog?
We've already discussed a number of different ways to give your dog ACV. You can put it in its food or water, you can add it to bath water, you can apply it with cotton, or you can spray it on. Here's how you can quickly and easily make your own ACV spray.
Apple Cider Vinegar Spray For Dogs
One of the best ways to apply apple cider vinegar to your dog's coat is by using a spray. You can easily make your own by filling an empty spray bottle with a 1:1 mixture of vinegar and water.
I always save the spray bottles when I finish a bottle of Windex or whatever, s I usually have a supply of empty bottles. If you don't have any, you can always find empty spray bottles on Amazon.
Another option is to buy a ready-made spray, instead of making your own and filling it into an empty bottle. It's easier. You can buy this spray on Amazon:
Apple Cider Vinegar Is Good For Dogs: Conclusion
Apple cider vinegar has a ton of health benefits for dogs and for humans alike. It is an antimicrobial, so it works well to combat many types of infections. You ca use it on Yorkshire terriers and other small dogs, or on giant dogs like Great Danes.
ACV also works well to prevent a number of health issues, and it provides a multitude of benefits. To take advantage of this, you can add some to your dog's food or water daily. And give yourself a daily does, too, while you're at it!