Having a dog means having worms.
Your dog, not you. Hopefully.
The truth is, you can catch worms from your dog sleeping in your bed, licking your face, or simply spreading the eggs to furniture or carpets with which you also make contact.
Even more reason to set up a deworming schedule and to learn how to deworm a puppy correctly.
Because your dog will get worms. Probably many times in its life and many different types of worms.
And you want to get rid of them before they harm your dog or spread t your or other members of your family.
Keep reading to learn how to deworm a puppy, along with everything else you need to know about the process of drenching.
How To Deworm A Puppy
There are a number of different kinds of worms that can harm your puppy, so it is important to start it on a deworming program from the time it is 2 weeks old.
Most vets recommend deworming a pup at 2, 4, 6, 8, and 12 weeks of age. After 12 weeks, your vet might recommend a monthly, quarterly, semi-annual, or annual deworming for your pet.
That may seem like a lot of deworming, but luckily, it is not a hard process. Let's go over exactly how you deworm a puppy, beginning with your choice of dewormer.
Choose The Right Dewormer
These days, there are different kinds of puppy dewormers available for young dogs. You can choose from chewable pills, tablets, liquids, or injections. For injections, it is best to seek the help of your vet.
For other kinds of dewormers, please follow the instructions given on the product. Each product will have a different method of administration. If in doubt, consult your vet.
Most deworming products are broad-spectrum medicines which means they can eliminate a wide range of internal parasites or worms including tapeworms, roundworms, hookworms, pinworms, etc.
How To Administer The Dewormer
To give your pet the dewormer, use one of the following steps.
Give It orally
If the dewormer pill is small, simply tilt your pet's head backward and put your finger in its mouth to gently pry it open.
Quickly drop the pill down its throat and close your pup's mouth. Keep its head tilted backward for a few seconds to ensure the pill goes down. Observe your pet for a few minutes to ensure it does not spit/vomit the medicine out.
Hide It In Food
Crush the pill and mix it with your puppy's kibble or wet food. Most puppies won't be able to sniff the pill out.
Use some broth with flavorful herbs to mask the pill's taste and flavor.
If your pet is super picky, hide the pill in a cheese cube or a piece of boiled chicken. Most puppies will gobble this treat happily.
Liquid Dewormer
Most liquid dewormers are tasty enough for young pups to gladly lick them.
If your pet is fussy about it, mix the syrup with its food.
Use A Pill-Pocket
Pill pockets are a convenient way to administer deworming pills to picky eaters. They mask the smell of the pills and most puppies love their taste.
Add the deworming pill to the pocket
Pinch and seal the pocket. (The pockets have a chewy and soft texture, especially for this purpose.)
Give it to your puppy!
How Long Does It Take To Deworm A Puppy?
Most deworming products show results within 2 to 6 hours after administration. Your puppy might have a bowel movement where you can see dead worms.
Some medicines may take up to 12 hours to show results. Do not worry if you continue seeing worms in your pet's feces for the next 1 to 2 weeks. This means the dewormer is still working.
And if you don't see anything in the poop, that is not a problem either. Many types of worms do not appear in the poop. They simply dissolve and the dissolved remains are passed out through the stool invisibly.
Some dewormers – especially those for roundworms – tend to work over a period of 3 to 4 weeks.
You will notice your puppy getting healthier once all of its worms are eliminated. Its coat will be healthy and it won't vomit, have diarrhea, etc., if it had these symptoms before.
When To Deworm Puppies
As mentioned above, you should deworm puppies fo the first time at an age of 2 weeks. After that, a good deworming schedule is at 4, 6, 8, and 12 weeks of age.
How Often To Deworm A Puppy?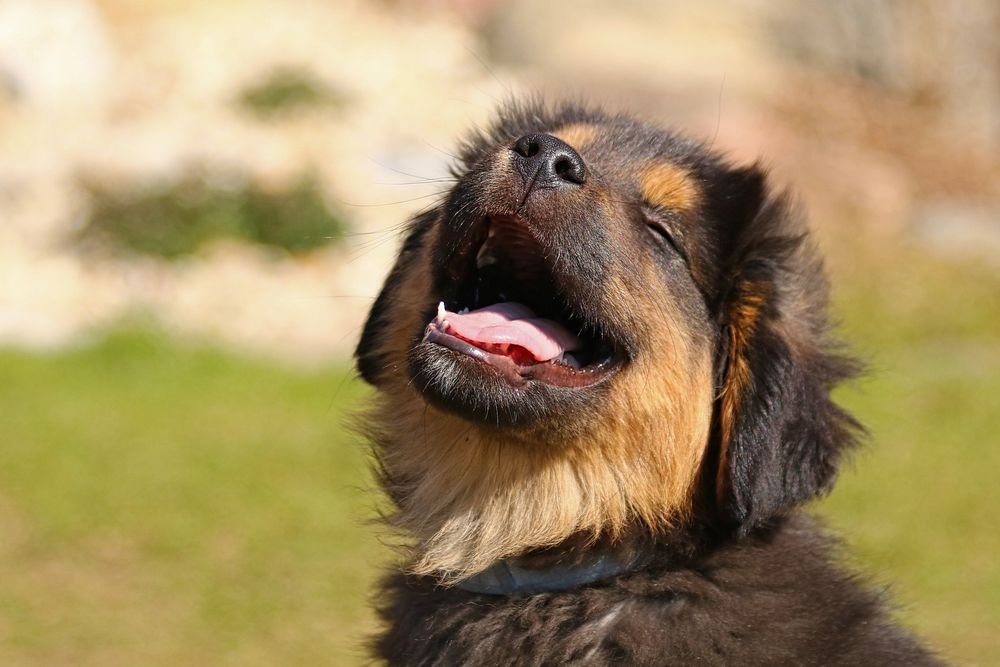 A puppy's deworming schedule will depend on the type of dewormer you use, the climate where you live, and your dog's activity level. As just mentioned, most vets recommend deworming a puppy at 2, 4, 6, 8, and 12 weeks.
After 12 weeks, your puppy can be dewormed monthly, quarterly, semi-annually, or annually depending on the product, the area you live in, and also your pet's activities.
How To Deworm A Puppy Naturally
Natural dewormers aren't as effective as the anthelmintic medicines used in deworming products. Having said that, some holistic vets recommend a combination of chemical dewormers with the following natural remedies to prevent worms in puppies and adult dogs.
Beets And Carrots
These vegetables eliminate worms and their fiber-rich content pushes out dead worms and larvae, helping pass them out through feces. Add raw or cooked beets or carrots to your pet's daily diet.
Pumpkin Seeds
Pumpkin and its seeds contain a compound called cucurbitacin which paralyzes the worms and helps eliminate them. Include pumpkin seeds in your pet's diet. You can give them to your pet whole, or crush them and add them to its food, if it doesn't want to eat them.
Turmeric
Turmeric contains curcumin, which is rich in antioxidants and is also an anti-inflammatory. This heals the damage done by worms, in addition to eliminating them.
Don't give your dog turmeric directly. Instead, combine it with coconut oil to make a paste that you can add to your dog's food. Do not use something like baby oil. Baby oil is not safe for dogs to ingest.
Apple Cider Vinegar
We all know that ACV has lots of health benefits for the human body, but does apple cider vinegar kill worms in dogs? Yes, it is an effective treatment for deworming dogs.
It helps increase the acid level in the dog's intestine, making it hard for worms to continue living inside the dog's body. But because ACV is acidic, you should not feed it to your dog directly.
Add a teaspoon to its water bowl for small dogs like Yorkies, two teaspoons for medium sized dogs, or a tablespoon for large dogs. If your pup won't drink the water, try adding the apple cider vinegar to its food instead. If your Yorkie puppy won't eat the food, you probably won't be able to use ACV with your pup.
Chamomile
Known for its relaxing qualities, chamomile helps reduce irritations and bloating in your dog. It can also get rid of whipworms and roundworms, two types of worms commonly found in dogs.
Give your pup 0.25 ml to 0.50 ml daily, for every 20 pounds of weight. You can give it chamomile for two weeks, twice a day.
Natural Daily Deworming Supplements
You can add natural daily dewormers like Beloved Pets Supplement for Dogs to food daily to deworm your dog naturally. It contains pumpkin extract, oregano, Oregon grape, wormwood, ginger, and other natural dewormers.
How Much Does It Cost To Deworm A Puppy
The cost of deworming your puppy depends on your vet and the type of wormer you use.
Oral/chewable medicines cost between $5 and $50 per dose (effective monthly/quarterly/semi-annual/annual).
Injections can cost between $15 and $35.
6-month heartworm prevention costs around $50 while 12-month preventive meds for heartworms can cost almost $300.
How To Prevent Worms In Dogs
In addition to sticking to a strict deworming schedule recommended by your vet, it is also a good idea to follow some basic rules and tips to prevent worms from infesting your dog in the first place.
Practice Flea-Prevention
Fleas often carry worm larvae and eggs. Preventing fleas thus helps prevent worms.
Groom (brush and bathe) your puppy regularly to deter fleas.
Speak to your vet about the right flea prevention pills, collars, spot treatment, sprays, shampoos, etc. for your dog.
Vacuum daily to eliminate flea eggs from carpets and rugs.
Ensure that your yard is free from clutter, woodpiles, etc. where fleas carrying worm eggs tend to nest. Keep your yard properly mowed.
Clean Up Dog Poop
Young puppies like to taste the fecal matter of other dogs (or sometimes even their own). This too could cause worm infestations.
Promptly pick up all dog poop from your yard.
Teach your dog the 'drop it' or 'leave it' command, for times when it picks up poop when out on a walk or at the dog park.
Prevent Your Dog From Playing With Dead Animals
Discourage your puppy from sniffing or licking dead animals, especially rodents.
Take measures to prevent rodents, possums, squirrels, etc. from nesting around your property.
Common Worms Found In Puppies
There are a number of different worms that can infest puppies. They all present with different symptoms, so you'll want to learn how to how to tell if your yorkie has worms for the various types.
These are the most common types of worms that infest dogs.
Roundworms
Roundworms are very common in puppies, because they can get them through their mother's milk, or even in her uterus. Puppies that have roundworms usually experience vomiting, diarrhea, weight loss, and an increased appetite.
Sometimes puppies will vomit out roundworms, so always inspect your dog's vomit when it happens. It is also a good idea to collect some with worms in it to show your vet. A bloated abdomen is a common symptom of roundworms.
Tapeworms
Dogs that have fleas are prone to tapeworms, too. It can be difficult to determine if your Yorkie has a tapeworm, because there are often no outward symptoms.
However, you can sometimes find tapeworm segments and eggs in your dog's stool, or even around its rectum. Have your vet check for tapeworms whenever you bring your dog in for a regular checkup.
Hookworms
This type of worm hooks itself into the wall of the intestine and sucks out blood. A good way to tell if your dog has a hookworm infestation is by regularly checking its feces. If your dog has a hookworm infestation, the feces will contain eggs, which can eventually turn into larvae.
If you step on these larvae, they can enter through the skin of your foot. For me, this is a big reason I never walk around barefoot in public parks.
Whipworms
These worms are hard to get rid of and a series of microscopic tests are needed to detect them. Whipworms have a thread-like appearance. They stick to a dog's large intestine and suck blood. As a result, a whipworm infestation can cause anemia.
Deworming Puppies: Conclusion
If you own a dog, it will almost certainly get worms at some point in its life. Most likely, it will suffer many infestations from different types of worms.
That is why a regular deworming schedule is important. You want to know when and how to deworm a puppy correctly, to ensure you get rid of any infestations before they cause your pup harm.
It is always best to consult with your vet if you suspect that your dog has worms, so that they can determine the type of worm and prescribe the correct medication. Even for regular preventative dewormings, it is best to work out an appropriate schedule with your vet.