Intestinal and heart worms are parasites.
They live off your Yorkie's bodies and steal the nutrients it gets from food.
As a result, they can cause all sorts of health issues.
Not to mention the discomfort, like itching.
If your Yorkie has worms, you will likely notice that it is acting differently, but you may not be sure why.
You may be aware that you can sometimes see worms in the poop. But that is not always the case.
So how can you tell if your Yorkie has worms for sure?
Keep reading to learn the most common symptoms of various types of worm infestations. We'll also tell you which ones are visible in the poop to the naked eye.
How To Tell If Your Yorkie Has Worms
There are many symptoms you can look out for as a way to tell if your Yorkie has worms. The most common include diarrhea, stomach ache, and weight loss.
Along with this, you'll usually be able to see the worms in your dog's stool. If you suspect worms then it's best to take your Yorkie to the vet right away.
If you see worms in the stool, take your pup to the vet for proper treatment, If you suspect worms, but do not see any in the stool, a vet visit is in order to diagnose the problem.
The symptoms of worms are common and can also be due to a number of other issues. Let's take a closer look at the main symptoms of a worm infestation in your Yorkshire terrier.
Symptoms Of A Worm Infestation
You should be able to figure out that your Yorkie has worms due to the symptoms. If your Yorkie is showing signs of diarrhea, vomiting, stomach ache, and weight loss, then this can signify worms.
This is especially true if the weight loss is coupled with constant hunger. This indicates that a parasite is feeding off the nutrients your dog eats, leaving few for your pup. Hence the constant hunger.
Other symptoms include tiredness, dehydration, and blood in the stool. Your pup might also exhibit a pot belly that forms due to bloating. Many of the symptoms could cause you to think to yourself: my Yorkie is not acting right.
For example, you might witness your Yorkie dragging its butt across the floor. It does this to try and relieve the itching that some worm species cause.
An observable change in activity level, or lethargy and weakness, is another possible sign of a worm infestation.
Coughing is usually a sign of heartworm infection, especially when it has persisted for a week or so.
If you notice your Yorkie is displaying these symptoms, take a closer look at its stool. If you see unusual worm-like lumps in the stool, or actual worms, then you should get your pup to the vet as soon as possible.
Of course, not all worm infestations are the same. There are actually a number of different worm species that prey on dogs and they look different in the stool.
Roundworms look a bit like like spaghetti and tapeworms look like rice grains. Others do not appear in the stool at all. Let's take a closer look at the different types of worms that can cause your poor Yorkie problems.
Different Types Of Worms
There are different types of worms that your Yorkie can pick up. These include roundworms, tapeworms, hookworms, whipworms, and heartworms. The most common types of worms are roundworms and tapeworms.
Heartworms
These are among the most dangerous worms because of the difficulty in detecting them quickly. A heartworm infestation takes several years before you see symptoms.
The worms take between five and eight months to mature, as well. Heartworm can only be diagnosed through a blood test.
Younger Yorkies between two and nine years old are at a higher risk of getting heartworms. These are some of the symptoms to look out for.
General weakness
A dry and soft cough
Loss of energy
Anemia
Bring your Yorkie to a vet, if you suspect heartworms, so that they can run a blood test. When my Yorkie died suddenly, it turned out an undetected heartworm infestation was the cause.
Roundworms
Roundworms can grow as long as six inches These parasites live in your Yorkie's intestines, eat partially digested food, and steal your pup's nutrients.
There are two different types of roundworms: Toxocara Canis and Toxascaris Leonina. Both types can can also be passed on to humans, so you definitely want to get your pup dewormed quickly.
Yorkie puppies are at the highest risk of getting these worms. Sometimes, puppies can even be born with roundworms. That is why puppies are commonly dewormed as a matter of course.
If left untreated, roundworms can affect the growth and sometimes even lead to death. In fact a reduced growth rate is a common sign of roundworms in puppies. These are some other symptoms.
Malnourishment, even with the right type and amount of food given daily
Vomiting
Diarrhea
Spaghetti-like worms in the stool and vomit
If you suspect roundworms, take your pup to the vet. They will perform a stool exam to check for roundworms and their eggs.
Hookworms
These are thin, small worms with an appendage that hooks into the intestinal wall. While the naked eye can see larger hookworms, most are only visible under a microscope.
Hookworms can find their way into the lungs, resulting in respiratory symptoms not present in other worm infestations. These are the signs of a hookworm infestation.
Coughing, once the hookworms are in the lungs
Constipation
Diarrhea 
Dark stool
Bloody stool from when the hookworms bite into the intestinal wall
Anemia
Again, a stool exam is a must to get a definitive diagnosis, since these symptoms are also present in other illnesses.
Tapeworms
These are worms with a flat, long appearance. You can see them with the naked eye in the stool. While tapeworms don't cause serious health problems, they can be annoying for your Yorkie.
This intestinal parasite is commonly picked up from fleas or other parasites, or by consuming the feces of other infected animals.
If your dog accidentally (or on purpose) eats a flea, the tapeworm egg that is in the flea will attach to your Yorkie's intestinal lining.
Checking your Yorkie for fleas on a regular basis, and preventing or eliminating fleas, can go a long way toward preventing a tapeworm infestation.
Even though tapeworms are not as dangerous as other types, you definitely want to get them treated promptly. These are some signs of a tapeworm infestation.
Worms in or near your Yorkie's anus
Worms in the stool
Licking or biting the anus
Rubbing butt on the floor or furniture
Vomiting
Your Yorkie may also be irritable, because it isn't easy living with worms in your butt. The constant discomfort would make anyone a bit on edge.
Whipworms
These are small intestinal parasites that cause severe discomfort and irritation. It is difficult to diagnose these worms in their early stages, so a stool exam is necessary. These are some common signs of a whipworm infestation.
Diarrhea
Weight loss
Anemia
Bloody stool
How Does My Yorkie Get Worms?
Ingesting fleas is a common way your Yorkie can contract worms. Your Yorkie may swallow a flea while grooming itself, for example. It is easy to do when it is licking itself clean.
Another common way is by eating the feces of another animal that is infected. Some Yorkies can be particularly curious, and this can lead to them trying things they shouldn't while out on their daily walks. Do Yorkies eat their own poop or the poop of other dogs? They sometimes do.
And there could be worms in the feces, worm eggs, or infected fleas or flea eggs. Once these are ingested, the worms latch onto the lining of your dog's stomach.
Worms can also be transmitted from your Yorkie's mother, even before birth. While a Yorkie is pregnant, she may transmit worms to her puppies through the placenta.
How To Get Rid Of Worms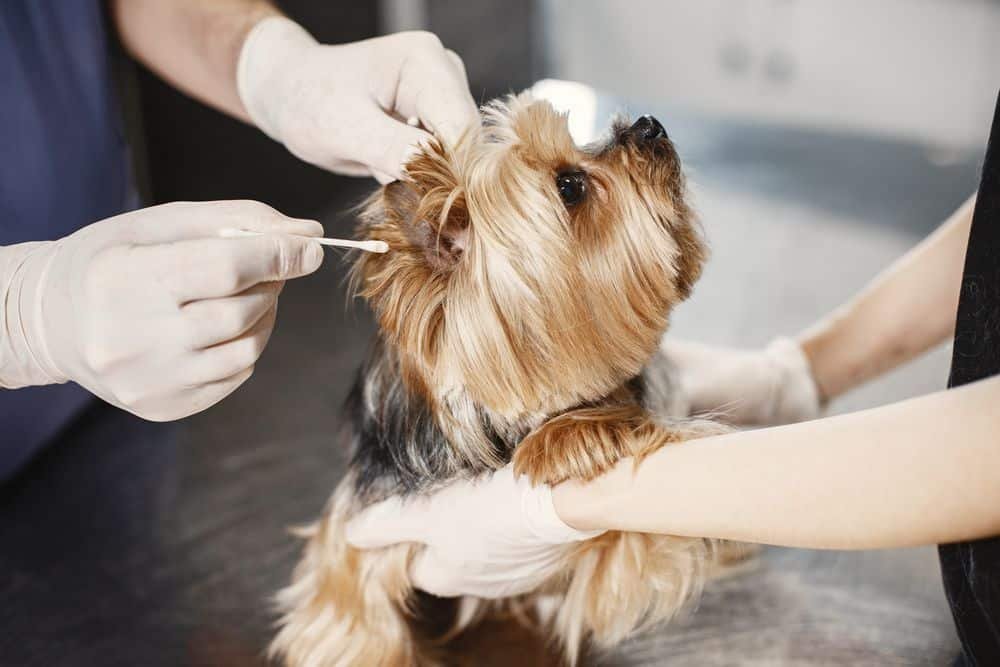 First, your vet will need to diagnose that your Yorkie has worms. They'll most likely do this by asking you to bring in a sample of your dog's stool.
Your vet will no doubt ask if your Yorkie has had any other symptoms such as the ones listed above. If your vet suspects heartworms then this will be diagnosed through a blood test.
Your vet will then provide a treatment that they think will be the best for your Yorkie. It will either be an oral or injectable treatment. Your Yorkie may also be put onto a monthly prevention and treatment plan, which may be for worms, as well as fleas, since fleas can also cause worms.
Prevention is usually key with conditions like worms and you can do this by regularly giving your Yorkie worm and flea treatments as well as keeping up good hygiene for them.
What Do Worms Look Like In Dog Poop?
If your dog has roundworms then the worms in the poop will look like stringy spaghetti. Your dog can poop out roundworms whole, which can cause some dodgy looking poop! Other symptoms to look out for with roundworms include vomiting, diarrhea, and a bloated stomach.
Tapeworms are slightly different. If your dog has tapeworms, then they may have what looks like rice around their anus and maybe in their bedding. These are worm segments that have become detached.  Tapeworms can cause your dog some irritation, so it's best to get it straight to the vet.
How Do You Check A Dog For Worms?
You'll be able to check for tapeworms in your dog's poop. They will be clearly visible and should be easy to diagnose. Roundworms as well.
For other types of worms, you still check the poop. But it needs to be examined through a microscope to diagnose the infection.
Other types of worms can be much smaller and not so easily visible by the naked eye. That's why you take a sample to your vet and have them examine it. It also saves you from having to poke through dog poo.
How Can I Treat My Dog For Worms At Home?
You can treat your dog for worms by regularly giving it deworming treatments. These will eliminate the worms in your dog. You can pick them up from your local pet store or online. Learn how to deworm a puppy naturally by following that link.
If you're unsure of the type of worming treatment that will be right for your dog, you can always consult with your vet first. This is always a good idea.
You can also treat your dog for worms by treating it for fleas. Fleas can carry tapeworm eggs, so it's important that you also keep up any flea treatment.
Just like a worming treatments, you can also pick up flea treatments from your local pet store or online.
There are also many other steps you can take to help prevent worms. Simple ways include disinfecting your dog's food and water bowls on a regular basis.
You can regularly clean and disinfect your house, always clean up and dispose of your dog poop quickly, and also wash your hands on a regular basis, so that infections don't transmit to you or your dog.
How To Detect Worms In Yorkies: Conclusion
There are many species of worms that can infest your Yorkie. Some can cause serious health issues, but even the ones that don't cause discomfort. And some can spread to us.
This means you should always stay on top of your Yorkie's worm situation. Be on the lookout for symptoms and take a look at your Yorkie's poop regularly, just to make sure there are no worms in it.
If you suspect a worm infestation, it is always best to take your dog to the vet for a proper diagnosis and a proper course of treatment.
And take precautions so that you do not end up contracting worms from your dog. Can I get worms from my dog sleeping in my bed? Yes, you can, so give your pup its own bed in a separate room. You and your Yorkie will be happier for it.