A lot of dog owners do it.
They let their dogs sleep in their beds.
After all, they are adorable, cuddly and loving. The perfect companion!
Except for one thing: disease.
Dogs stick their noses in everything. They lick everything. They also eat a lot of questionable things.
As a result, they are prone to picking up bacteria, viruses, fungi, and yes, worms.
But what are the chances you can catch worms from your dog, especially if you spend the night together in the same bed?
Keep reading to learn how likely it is that you could contract your dog's worm infestation. I'll tell you right now: you're not going to like the answer.
Can I Get Worms From My Dog Sleeping In My Bed?
Yes, you can get worms from your dog sharing your bed. The worm eggs get excreted in the feces, and some can remain on your dog. They can get into your bedsheets and if you end up inhaling them, you can contract the worms yourself. 
Worm infections are very common in dogs and your dog is susceptible to various types of worms. Each worm infestation can have unique symptoms, so you need to know what to look for to identify an infestation.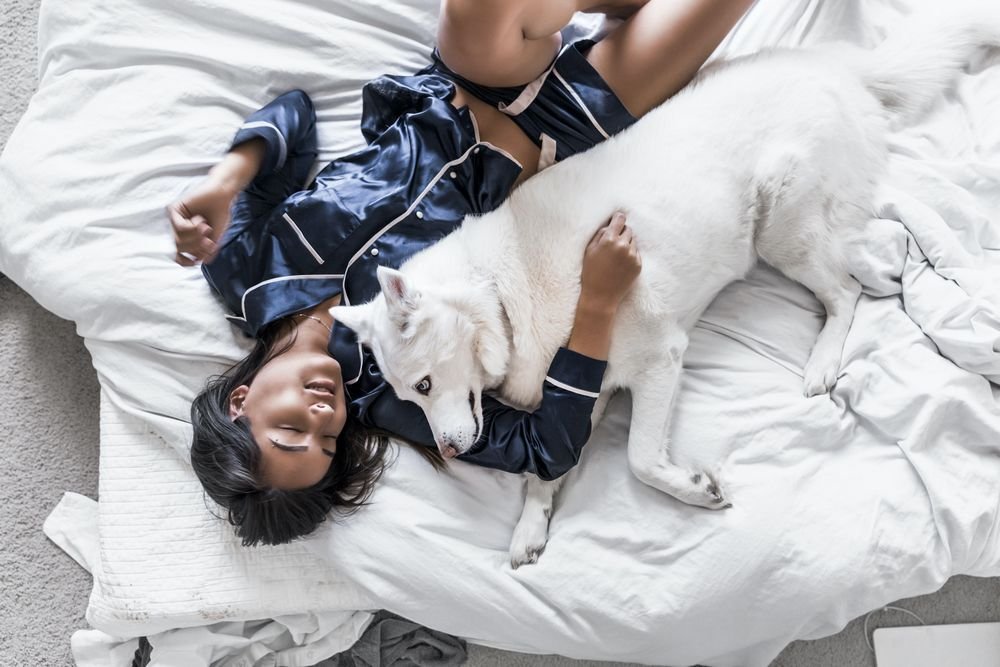 Let's take a look at the different types of worms that can infest your dog, along with the symptoms and possible causes of each. This should help you identify which type of worm may be torturing your dog.
Different Types Of Worms In Dogs
These are some of the different types of worms your dog might contract and the possible symptoms that can result.
Once you know the different types of worms and the symptoms they cause, you can figure out which type of worm your Yorkie has and determine the best treatment option. As always, your best bet is to take your pup to a vet, though.
Hookworm
One common type of worm is the hookworm. A good way to tell if your dog has a hookworm infestation is by regularly checking its feces. If your dog has a hookworm infestation, the feces will contain eggs, which can eventually turn into larvae.
If you're lucky enough to recognize symptoms of hookworm infestations in your dog early on, you can take your dog to the vet immediately to prevent the larvae from hatching.
The hookworm larvae can easily infect human beings if they comes into contact with human skin, so make sure you do not get anywhere near your dog's feces. Inspect it from a distance.
If you think your dog might have a hookworm infestation, the obvious first step would be to visit your vet. Make sure you take appropriate precautions. Not only can the hookworm larvae infect you, it can infect other people in your home, too.
The first precaution you must take is to not let your dog do its business in gardens or public parks. If anyone steps on the contaminated soil barefoot, they will most likely contract the hookworm without even realizing it. It is then only a matter of time before they start seeing symptoms.
The larvae can travel through the skin and can cause skin lesions which can be painful. These larvae can also cause other skin diseases that can be dangerous for human beings.
Roundworm
Roundworm infestations are quite similar to hookworm infestations, since humans can also contract the disease in a similar fashion. Roundworm eggs exist in dog feces and humans can accidentally ingest these eggs.
The larvae of roundworm can travel to your organs and can affect your muscles, brain, and eyes. Roundworm infestations can be harmful to both humans and dogs, so make sure you do not get too close to where your dog might have defecated. Dog feces containing hookworm or roundworm larvae can contaminate the soil, making it a breeding ground for the disease.
Tapeworm
Your dog can get infected by a tapeworm by eating raw meat. More specifically, they can contract the disease from raw offal or organs from domestic animals like sheep, or wild animals.
It is an extremely unlikely case, because the chance of your pet dog eating raw offal meat of domestic or wild animals is minimal. However, if your dog finds a dead rat and eats some of it, it is likely to contract a tapeworm.
To make sure there is absolutely no chance of your dog contracting a tapeworm, you should restrict it from eating any kinds of raw meat. This means keeping an eye on your pup at all times when it is outdoors.
If your dog does end up contracting a tapeworm, what are the chances you'll get infected too?
You can get infected if you ingest the eggs found in the feces of your infected dog. It can lead to a very serious condition if ingested. Cysts begin to form in vital organs like your liver or lungs.
That brings us to the obvious question. What are the chances you can get a tapeworm if you let your dog sleep in your bed?
Can Tapeworms Live On Bedding?
Tapeworms are very common parasites in dogs and cats. If you sleep with your dog and it has a tapeworm, your bedding is likely to have tapeworm segments and eggs on it. You need to take measures to prevent them tapeworms from infecting you.
The tapeworm eggs and segments are white and very small, so it can be very difficult to spot them on your bedding. Even if you don't see them, assume they are their if your dog has a tapeworm.
The first thing you need to do is clean your bed thoroughly. If you're worried that you might get infected in the process, you can use rubber gloves to make sure the worms don't come into contact with your skin.
Wash all your sheets with hot water and vacuum the mattress thoroughly to completely get rid of any remaining tapeworm eggs.
Is It Safe To Sleep In Bed With Your Dog?
A lot of dog owners let their dogs sleep in bed wit them. But is this a good idea, given how easy it is to contact a worm infestation from your pup?
It is not. Even if you keep your dog as clean as you possibly can, it will get infected with parasites fungi, bacteria and viruses. They stick their noses in everything when out for a walk and will eat anything remotely edible, too.
Not to mention that they happily sniff the butt of any dog they meet. If any of those dogs have worms, your dog will inhale eggs and catch them too.
Many of these diseases, not just worms, can spread to you. Your dog is also likely to lick you if you share a bed. You might wonder, "Why does my Yorkie lick me so much?" but that is just in their nature.
And when your pup does lick you, the saliva from its tongue contains all kinds of bacteria, which can spread to you. If you have an open wound, the chances of you getting an infection increase significantly.
People often ask "Are Yorkies dangerous?" They are not generally dangerous, but the one danger they do pose to us comes in the form of diseases they can pass to us.
What Should I Do If I Contract Worms From My Dog?
If you have a dog, you should always be on the lookout for symptoms of a worm infestation, both in your dog and in yourself and any family members.
If you think you might have symptoms of a worm infestation and you're not feeling particularly well, the first thing you need to do is visit a doctor. You also need to take your dog to a vet who can help diagnose the symptoms and treat your dog's worm infestation accordingly.
Tips For Reducing The Risk Of Zoonotic Infection
Zoonotic infection refers to cross-species infection, i.e. humans catching a disease from animals. If you own a dog, there is always a risk of zoonotic infection. But you can take steps to reduce that risk.
Your vet will recommend giving your dog its own bed to sleep in. Don't share a bed with your dog. You may want to read our article on the best beds for small dogs to ensure you get a bed your Yorkie loves.
But it doesn't stop there. Here are more safety precautions to consider:
Avoid letting your dog lick any open skin, like wounds, incisions, and scrapes. If it does happen, immediately wash the area that your pet licked.
Don't let your dog kiss you on the mouth, nose, and eyes, especially if you have a compromised immune system. You never know where its mouth and tongue have been.
Wash your dog regularly and keep it as clean as possible. Regularly clean his potty areas, too. This way, he doesn't get yorkie poop particles on his fur and paws.
Have your dog's feces examined by a vet two to four times during the first year of its life. Then, it should have a fecal exam once or twice a year afterward.
Ask your vet about a deworming schedule for your puppy. How often should you deworm a puppy? Ideally, you should deworm puppies every two weeks, once they reach two weeks of age.
Most importantly, your dog should be examined by a vet every 6 to 12 months. The healthier your dog is, the better it can resist worm infestation.
Catching Worms By Sharing Bed With A Dog: Conclusion
Of course you want to let your Yorkie sleep in your bed. They are adorable!
But think twice, before you actually do so.
It is very possible to catch worms from a dog sleeping in our bed. In fact, it is highly likely that if your dog has worms, you will get them too.
And it's not just worms. You can catch a lot of other diseases from sharing your bed with your dog.
So, as much as you love your little Yorkie, the best thing you can do for your health, the health of your family, and even the health of your dog, is to have your pup sleep in its own bed, in a separate room from you or any family members.