Some people love dog kisses and some people hate them.
The same goes for dogs.
Some love to lick and some don't lick as much.
But they all do lick. You, other people, themselves, objects, even the air.
Do Yorkies lick more than other dogs?
Not really, though it can seem that way when you share your home with a Yorkshire Terrier.
Either way, most Yorkies lick a lot, the same as most other dogs.
Keep reading to learn why Yorkies lick so much, plus some tips on dealing with their licking, if it becomes a problem for you, or for others.
Why Do Yorkies Lick So Much?
Yorkies usually lick their owners for attention or as a show of affection. Boredom, stress, and anxiety can also trigger excessive licking in some Yorkies, of themselves or others. Sometimes, your pet might lick you simply because it likes the taste of your skin.
In short, there are a number of possible reasons for your Yorkie licking you, others, or itself a lot. We are now going to take a closer look at the 10 most common reasons for licking behavior in Yorkshire terriers.
To Show Love And Affection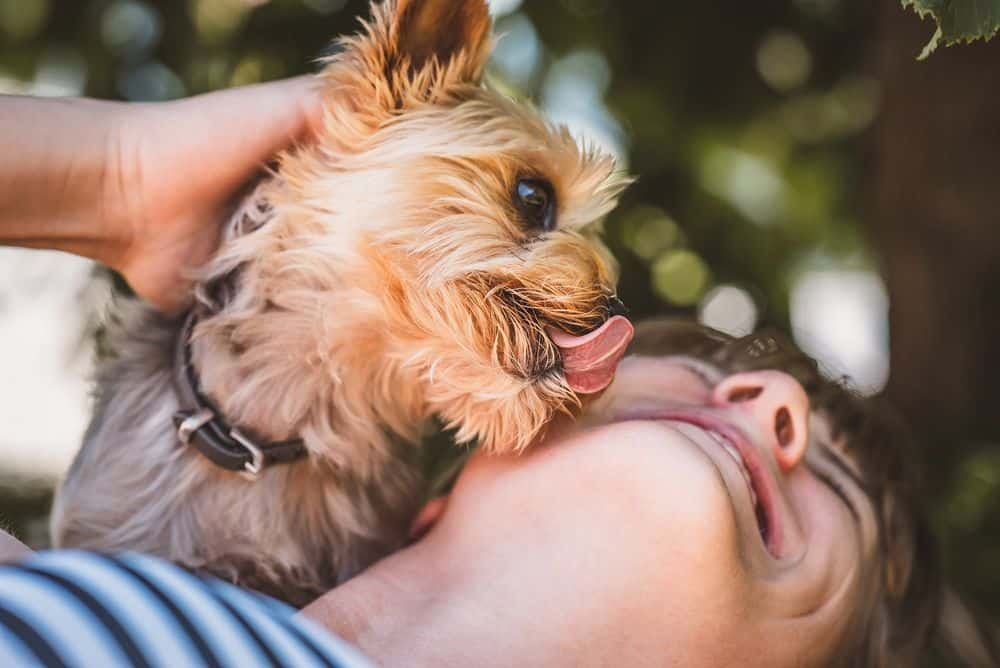 Yorkies are loving and affectionate dogs and they do not hesitate to show it! Licking releases oxytocin and serotonin in your pet. These are the 'feel-good' hormones. To your Yorkie, you are family, and just like a mother dog licks her puppies to show affection, your Yorkie licks you to show affection, too.
For Attention And Communication
Puppies often lick their siblings and their dam to demand attention. Similarly, your Yorkie might use licking as a means of communicating with you.
It might lick you when it wants to play or go for a walk, or when it is hungry. If you respond every time it licks you, your pet will continue using licking as a tool for communicating.
Due To Stress Or Separation Anxiety
Yorkies often lick themselves – their paws or their private parts – as a means of self-soothing. This might arise due to stress or anxiety.
A Yorkie with separation anxiety might also lick its owner when it knows they are about to leave. If you stop to pet or cuddle your Yorkie every time you leave the house, your pet might use licking as a means of stopping you from leaving.
To Taste Your Skin
Dogs have a strong sense of smell and if you smell good to your pet, it will want to taste you. Perhaps it is due to the scent of leftover food or even a fragrant lotion. Some pets even love their owners' sweat and lick their skin for its salty flavor.
Out Of Curiosity And To Explore
Just like Yorkies sniff everything on their walks, they also use licking as a means of exploration. Your curious pet might lick objects when it wants to determine what they are or find out more about them.
This instinct is stronger in young puppies. They lick and chew everything they see. The licking action helps them explore their world.
However, things can get dangerous if a Yorkie puppy licks something toxic. You need to be very cautious if you have a curious Yorkie puppy at home.
Out Of Excitement
Yorkies are excitable little dogs and when they are overstimulated, they might lick you, or themselves, or even objects in their environment. Your Yorkie might also show excitement by wagging its tail, jumping, and even barking excitedly.
To Be Playful
Puppies nip, bite, chew, and lick when they play with their littermates. Your Yorkie might also lick you when it is playing. It is just a sign that your dog is having fun and enjoying the game. So, go ahead, bring out those toys!
To Groom Itself
Yorkies simply lick themselves as a way to self-groom. The licking action helps remove the dirt from their skin. Your pet might lick its paws and private areas.
Unspayed female Yorkies lick their genitals during heat to clear the discharge. Spayed Yorkies might also lick their genitals due to inflammation or a UTI.
Due To Skin Issues
Sometimes, Yorkies might lick themselves if they have a skin issue. It could be a fungal or bacterial skin infection or even ticks and fleas. Food allergies can also cause itching and that could trigger obsessive licking. It is important to check your pet for these skin issues if its licking gets out of hand.
Due To An Underlying Health Problem
Licking is often an indication of pain, injury, or an underlying health problem. It could range from dental problems, to nausea, to broken bones, to something more serious. If the licking is accompanied by other signs like vomiting or lack of appetite, it is important to get your pet to a vet right away.
How To Stop Your Yorkie Licking
The first thing you should do is read our article on training a dog not to lick. It will guide you through the process in 10 easy steps. Here is a brief summary of the most important things you need to do to stop excessive licking.
Ignore Or Redirect The Behavior
If your pet is licking you to show affection or during playtime, it is best to ignore the behavior. If your Yorkie comes over to lick you, get up and walk into another room.
Alternatively, you can distract your Yorkie and divert its attention away from licking by giving it a chew toy, a teething ring, or a juicy bone. Never hit, shout, or punish your Yorkie. Only use positive reinforcement methods to train your Yorkie to stop its excessive licking.
You could also occupy its time with learning something else, like a trick. Read up on how to teach a Yorkie to give paw for a good example.
Manage Your Yorkie's Anxieties
If separation anxiety, boredom, stress, or loneliness are the cause of licking, then it is important to address these issues. Hire a pet sitter or enroll your Yorkie in a doggy day care, if it does not like being alone all day.
To prevent boredom and stress in your pet, exercise it and provide it with plenty of chew toys and puzzles. If needed, seek the help of a canine behaviorist or a dog trainer to find out the exact cause of your pet's anxiety.
Treat Underlying Health Issues
If your pet is self-licking obsessively, it is important to get it examined by your vet. Eliminating the root cause of the licking – whether it is dry skin, food allergies, parasites, dental problems, nausea, or pain – can help put a stop to its obsessive self-licking.
Why Do Morkies Lick So Much?
Morkies have one Yorkie parent. That means they inherit some traits from that parent. Some Morkies inherit almost exclusively Yorkie traits, while others inherit none at all. Most are in the middle somewhere.
As a result, many Morkies inherit the Yorkie trait of licking a lot. The reasons a Morkie licks so much are the same as the reasons listed above for the Yorkshire terrier.
Why Does My Yorkie Lick Me So Much: Common Questions
Next, we're going to answer some common questions related to Yorkies licking. If you have any additional questions, feel free to ask them in the comments below.
Why Do Yorkies Lick The Air?
Yorkies lick the air for a number reasons. It might be to better smell things they are interested in, to communicate anxiety, to combat an upset stomach, or more. If you dog does this from time to time, it is nothing to worry about. If the frequency increases, you should contact your vet to be safe.
When a dog keeps flicking its tongue in and out, it could be a sign of stress or anxiety. It could also be that your pet is nauseous or has a dental problem. Dogs also often flick their tongues in response to another dog's or person's discomfort.
Of course, Yorkies stick their tongues out out and let them hang there all the time. They do this when they are relaxed or to pant and cool down after exercise and in warm weather. The same goes as with fklickign the tongue. If the tongue is sticking out constantly, see a vet.
Why Do Yorkies Lick Their Paws?
Usually, paw licking is simply grooming behavior. Your pup is trying to stay nice and clean. But if it becomes excessive, there is likely something else going on, like an infection or a parasite. If your Yorkie starts licking its paws far more often, it is a good idea to see a vet.
Why Does My Yorkie Lick Everything: Conclusion
Yorkies love to lick, like any other dog. Your dog may enjoy licking your face, other parts of your body, other people, itself, or various objects. This is all normal behavior and does not pose any threat to your dog's overall health.
However, if the licking becomes excessive, it could indicate that something is wrong. IF you can't identify a cause, it might be a good idea to see a vet. There could be a health issue at play, or your pup could be suffering from stress and/or anxiety.
Of course, some people do not like it when dogs lick them. For that reason, many owners train their dogs to stop licking people. This article will help you with that.