As humans we like to shake our friends' hands.
Or give them high fives.
How cool would it be to do the same with your Yorkie?
Well, you're in luck! This is one of the easier tricks to teach.
That said, you may have heard that Yorkshire terriers have a reputation for being hard to train.
That's true. But if you know how to teach a yorkie tricks, they learn very quickly thanks to their high intelligence.
Keep reading for a step-by-step guide on how to teach your puppy to give paw. We'll show you exactly how to go about training this stubborn breed.
How To Teach A Yorkie To Give Paw
As with any type of training you give your Yorkie, the key is to overcome this breed's stubbornness and short attention span, so that you can take advantage of their natural intelligence.
You do this by removing distractions, keeping training sessions short, and rewarding positive behavior and not punishing failure. Have plenty of tasty treats on hand to reward your pup whenever it does something right.
Step 1: Preparation
In order to teach your Yorkie to give paw, you're going to need your pup to concentrate. Because of this, I recommend training it in a quiet and private place, like your living room or anywhere else that may be quiet in your house.
Yorkies are easily distracted so you need a room where your dog is not going to become distracted. You also want to make sure you have plenty of treats on hand, because it can become quite repetitive work and you're going to need to keep your dog motivated.
And keep those training sessions short. You probably won't be able to do more than ten or fifteen minutes at a time. If that.
Step 2: Touching Your Closed Fist
Grab a treat and close your first around it. Now hold your fist out to your Yorkie. Keep your fist held out until your Yorkie touches it with its paw. It may take a little time until it does this.
At first your Yorkie may smell your fist or try to lick it as a way to get the treat. If it does this, just be patient. Eventually it should try to paw at it. When your Yorkie does paw at your fist, give it a treat.
Step 3: Reward The Behavior
When your Yorkie does touch your paw, make sure it knows this is good behavior. Give it effusive praise and tell it that it is a good Yorkie. You should also say "paw", so that it becomes aware of the command. Of course, don't forget the treat, to help keep your pup interested in the training.
If you are clicker training your Yorkshire terrier, make sure you click the exact moment your pup touches your hand. You want to make sure it knows exactly which behavior is earning it the reward.
Step 4: Repeat
Repeat the previous step until your Yorkie knows to keep touching its paw to your fist. Every time they do this make sure you're saying "paw" and also giving it a treat.
If your Yorkie is struggling to grasp that it needs to touch your fist with its paw, then it might be a good idea to take a short break. Your pup may be struggling to concentrate and could use a few minutes to recoup.
Step 5: Try Without a Treat
Once your Yorkie has got the hang of pawing your closed fist, you can try it without a treat inside. Make sure that you are still saying the word "paw" every time you give your Yorkie your fist.
Every time your Yorkie does this correctly then you can give it a treat (but no longer the one from your fist, since that is now empty). If yor dog is struggling, go back and repeat the previous steps again.
Step 6: Open Hand
Now that your Yorkie has grasped the trick with a closed fist, you can try it with an open hand. Show your hand to your Yorkie, say "paw" and then wait for your dog to tap it. If it does this, give it a treat and effusive praise. Congratulations, your Yorkie has mastered giving paw!
Step 7: High Five
If you want to take things to the next level, you could always teach your Yorkie to high five. To do this, have it give you its paw like it jus learned, and then raise your hand a little higher with every go.
Every time you raise your hand you can say "high five" to your Yorkie, so that it can learn the command. Give it a treat every time it touches your hand, so that it stays interested in practicing more.
How To Teach A Puppy To Give Paw: Related Questions
Keep reading for the answers to some common related questions. If you have any additional questions, please feel free to ask them in the comments below.
How Long Does It Take For A Puppy To Learn To Give Paw?
It shouldn't take too long for you to teach your dog how to give its paw. Just make sure you teach it in short bursts over a period of time. This is because Yorkies don't have the longest attention spans.
You may find that if you try to teach this over a longer period, you pup will lose focus and become easily distracted. And always make sure you have lots of treats on hand, because Yorkshire terriers love to be rewarded for their good behavior!
Why Does My Yorkie Lick Me So Much?
A Yorkie's licks are a Yorkie's way of kissing. It is their way of showing affection. If your Yorkshire terrier is constantly licking you, it means that it must really like you. If the licking becomes a little too much for you then there are ways you can train your Yorkie to stop licking so much.
You can do this by training your Yorkie to lick you only when commanded to do so. You'll issue the command "lick" with a treat in your hand, and then use the word "halt" and pull your hand away when you want your Yorkie to stop licking you.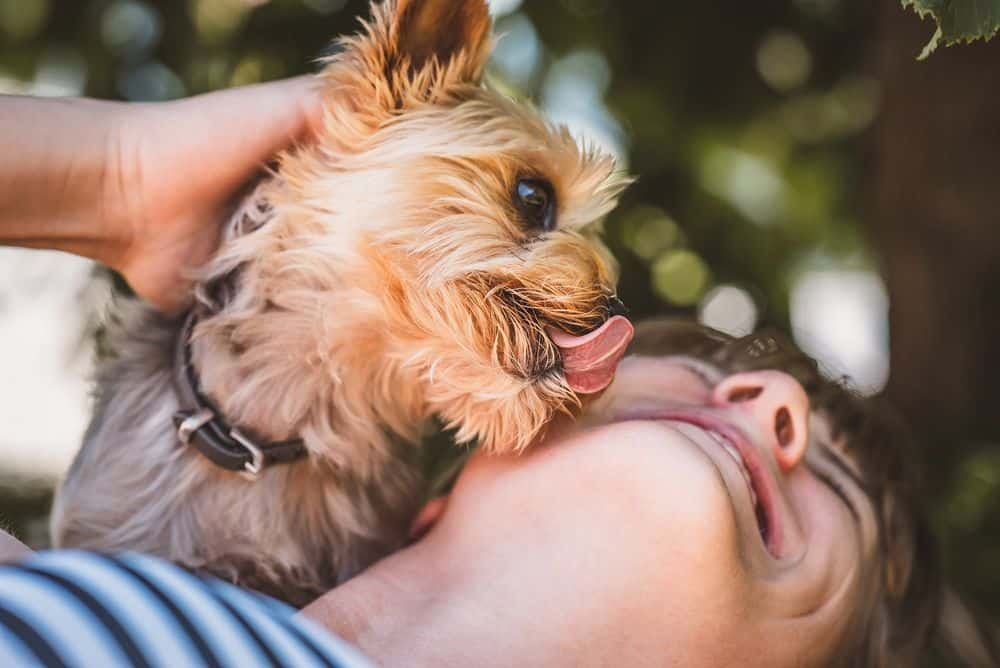 After a few training sessions your Yorkie should soon learn when it's okay to lick you. Hopefully this will give you a little breather from the constant affection!
Why Does My Yorkie Follow Me Everywhere?
Sometimes it can become rather annoying to have your dog follow you everywhere you go. It's usually a sign that your dog loves you, when it constantly wants to be around you.
However, sometimes it can be a sign that it is bored or even that it is feeling a little scared. Other times, dogs just want to see what you're up to, in case you're doing anything interesting.
A clingy dog isn't always good thing, because it can cause some separation anxiety, if you need to leave the house for work. Or worse, if you go away on a trip. If you feel it does become too much, you may want to think about speaking to a behaviourist for dogs.
Do Yorkies Like To Be Carried?
Yorkies love to be carried and to be cuddled! They are well known for being loving and affectionate dogs, so the more attention you give them the more they will love you.
You may also find that the older they get, the more they will enjoy being carried and cuddled. This is because they grow less curious of their surroundings the older they get, so they'll be more likely to come to you for plenty of cuddles.
So don't worry about picking your Yorkie up. You can be sure that it is going to love the cuddle.
How To Train A Puppy To Give Paw: Conclusion
To conclude, when training your Yorkie, it's important to be specific with your command and remember that whatever tricks you are teaching them, they will instill it in their memory, and this training will be worth your time and effort. As they learn the basics, it's also best to build on harder tricks, such as dancing, play dead, and twirling.