Yorkies have a reputation for being clingy.
But it's not their fault.
Their tiny size and cuteness make them irresistible. Many of us can't help picking them up and cuddling them constantly.
If you constantly dote on your dog, of course it will become clingy.
But how do the dogs feel about this?
Do Yorkies like to cuddle as much as we like to cuddle them? And if so, why do they like to cuddle?
It's obviously not due to our small size and cuteness!
Keep reading to learn if Yorkshire terriers like to cuddle at all, and why they enjoy it. We'll also cover a number of common related questions that will help shed more light on the issue.
Do Yorkies Like To Cuddle?
Most Yorkies love to cuddle. They love being close to their owners and are always ready to sit in your lap or be carried around.
Since Yorkies are small in size, they can get cold easily. For this reason, they love cuddling and snuggling with us. It provides them with warmth, especially in cold weather.
But our body heat is not the only reason Yorkies love to cuddle. Let's take a look at some other reasons they love cuddling, before getting into some common related questions.
Why Do Yorkies Like To Cuddle?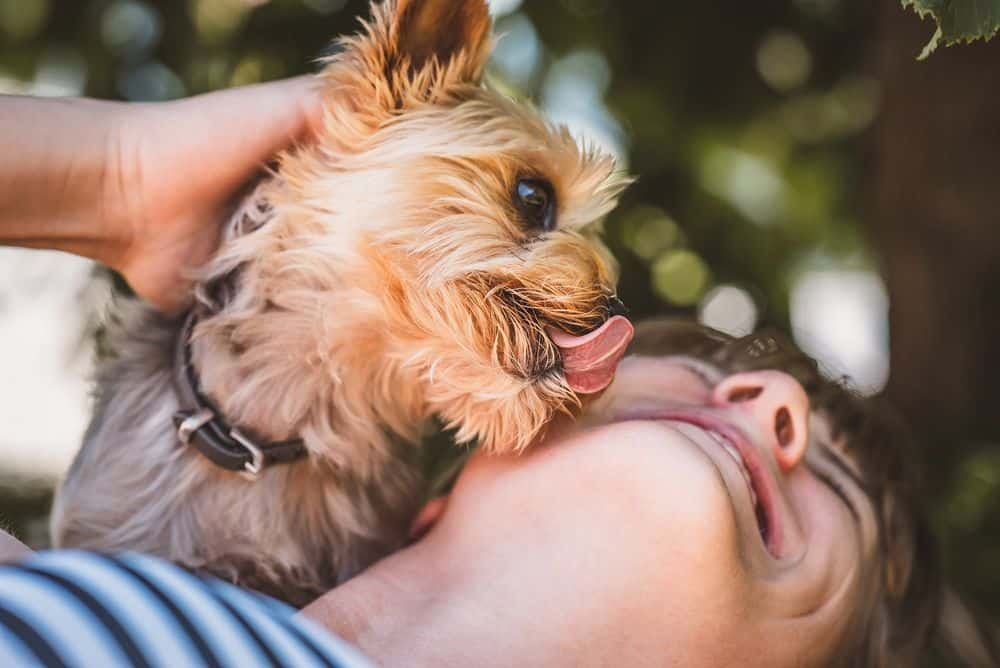 Yorkies are small-sized dogs and they weigh no more than 7 pounds. Due to their small size, they have very little body fat and feel cold easily, especially in the winter. That is a major reason they love to cuddle, but it is not the only reason your Yorkie is always ready to snuggle.
For Body Heat
When Yorkie puppies are born, they all huddle together for body warmth. Your puppy will want to continue the behavior once you bring it home from the breeder. Most Yorkies bond with one human being and they are always ready to cuddle with that person.
Cuddling helps their small bodies feel warm. Snuggling and cuddling also help them retain their body heat. As a result, you might find that your Yorkie wants to cuddle more in the winter, but might be more comfortable on the floor in the summer months.
Of course, a lot of Yorkies love cuddling all year round. That means they love cuddling for other reasons. And one of them is the biggest reason we humans love cuddling.
To Show Love And Affection
Yorkies are inherently very affectionate. They show us their love and affection by cuddling with us. Cuddling is great for you and your pet, because it releases feel-good endorphins and the love hormone oxytocin. This can help strengthen the bond between you and your Yorkie.
However, you may have heard people ask, "Do yorkies bond with only one person?" There is somewhat of a tendency in this breed to form an especially strong bond with a single person, especially male Yorkies.
When They Are Feeling Anxious
Yorkies might even cuddle with us owners when they are feeling upset, nervous, or anxious. If your little dog is afraid of loud noises, like firecrackers or thunder, or suffers from separation anxiety, it might come up to you to cuddle. Cuddling, in this case, is your dog's way of saying: "Don't leave me, I am scared."
To Comfort Us
Yorkies are highly sensitive dogs that easily sense our moods. Your pet can understand when you're upset or disturbed.
Yorkies are good at reading us and can sense our feelings and emotions. If your dog cuddles up to you when you are stressed, anxious or worried, it is its way of saying: "Don't worry, I am here." This is a big reason Yorkies make excellent comfort dogs, therapy dogs, or even service dogs.
Yorkies Love Cuddling: Related Questions
Next, we are going to answer some of the more common related questions. If you have any additional questions, please feel free to ask them in the comments below.
Do Yorkies Like Being Held?
Most Yorkies love being held by their owners. However, they may not like being held by strangers and might feel uncomfortable. No two dogs are the same and some Yorkies dislike being held, especially if they haven't been taught from puppyhood to accept being held.
If you want to hold a Yorkie, observe its body language. If it snarls, growls, bares its teeth, or looks uncomfortable while you are holding it, do not force it. This can affect your bond with the Yorkie.
It is up to individual Yorkies whether they like being held. Each Yorkie also has a unique way of indicating when it wants to be held. For example. some Yorkies might come up to you and beg to be held.
They will do so by looking into your eyes and whining. Sometimes, your pet might paw you or simply look at you with affection and expectation.
If a Yorkie does not like being held, it might move away, or sleep, or hide in its crate, or crawl under the furniture where you cannot reach it. Some Yorkies even bark or snap when you try to hold them.
Why Doesn't My Yorkie Like To Cuddle?
As mentioned, not all Yorkies like to cuddle or to be held. Just like us humans, dogs have differing personalities. A lot of it also has to do with how they grew up.
If a dog got lots of cuddles as a puppy, it will likely love to cuddle as an adult. If it did not get to cuddle as a puppy, it will likely be uncomfortable with cuddling as an adult.
If your Yorkshire terrier does not like to cuddle, don't force it. You need to respect your dog's wishes. You can keep trying and perhaps it will eventually warm up to cuddling, but if not, that's ok, too!
Do Yorkies Like To Sleep With Their Owners?
Yes, most Yorkies love to sleep in their owner's beds and it is generally okay to do so. After all, if you spend all day away from your Yorkie, sleeping with it at night is a great way to spend time and bond with it.
The experts at PetMD agree that it is completely safe to sleep with your dog, as long as you both are healthy. But you should know that there is always a risk of catching something from your dog when sleeping in the same bed. Or vice versa.
If you decide to share your bed with your dog, you may want to first ensure that you're comfortable with your Yorkie sleeping on your legs and changing position several times at night.
Thankfully, Yorkies do not shed too much and they also have hypoallergenic coats. Are Yorkie dogs hypoallergenic?
Not completely. No dog is 100% hypoallergenic. But some are much more so than others.  As a result, most people do not need to worry about pet allergies with this breed.
But it could still be an issue. If you or a family member have pet allergies, know that they are not only caused by the dander in pet fur.
Yorkies have dander in their saliva and urine as well, and these could trigger allergy symptoms in very sensitive individuals. In other words, you can be allergic to Yorkshire terriers, although it is less likely.
How Affectionate Are Yorkies?
Yorkies are extremely affectionate dogs. Some Yorkies like to show affection to the point that they are deemed clingy. They are sweet and charming but also tend to be persnickety and show a preference for one individual in the family.
However, when it comes to love and affection, your little Yorkie will shower it equally on all family members. And when you treat your pooch with love and kindness in return, it will follow you around all day!
Are Yorkshire Terriers Clingy?
Clinginess is a learned behavior in dogs. If you pick up your Yorkie every time it demands to be picked up, then it is likely to get clingy. If you have kept your Yorkie as a lapdog right from its puppyhood, then don't be surprised if it grows up to be a clingy adult.
Clinginess isn't an inherent trait in Yorkies and they are smart, sassy, bold, confident little dogs that love to explore by themselves. They become clingy, because their small size and cuteness encourages us to pamper them.
Do Yorkie Poos Like To Cuddle?
Most do. Everything we wrote above goes for Yorkie Poos the same it goes for Yorkies, since they are a mix of one Yorkie parent and one poodle parent, and that breed also likes to cuddle.
How Can You Tell if Your Yorkie Loves You?
There are number of ways your Yorkie will show you that it loves you. Here are some of the signs to look for.
It will look at you with love and affection.
It will follow you around everywhere you go, even to the bathroom.
Your pet might bring you gifts, like toys or bones, or anything that is precious to it.
It might demand to sleep next to you and is always ready for cuddles.
Yorkies Like To Cuddle: Conclusion
Most Yorkies love to cuddle, but not all of them do. If yours does not, do not force it. If you are patient and keep trying, chances are your pup will eventually come to enjoy cuddling with you.
But most Yorkshire terriers like to cuddle and want to do it a lot. The breed has even developed (a somewhat undeserved) reputation for being clingy. This can happen, so make sure you don't overdo it with the pampering and cuddling.
As long as you keep the cuddle sessions to what any reasonable person would consider normal, you should have no issues. So go ahead and cuddle that adorable little yorkie of yours!