You may have heard that Yorkshire terriers do not cause allergies to flare up.
You may also know that pet dander is what causes allergic reactions.
Does this mean that Yorkies do not have any dander?
They do. All dogs have dander.
But dander in Yorkies is different.
We'll cover what dander is exactly, which will make it clear why all dogs have it.
But it is not the same in all dogs. That is where Yorkies are different and we'll explain how.
Keep reading to learn how Yorkies have different dander from other dogs and what that means for allergy sufferers.
Do Yorkies Have Dander?
Thanks to Yorkies having long hair, they do not have dander like other dogs. It is released in a different way to other breeds, and that makes them more of a hypoallergenic dog.
Let's find out what exactly dander is and how it is different in Yorkies. We'll see if that makes Yorkies hypoallergenic as some claim, or if it is still possible to have allergic reactions to Yorkie dander.
What Is Dander?
Dander is made up of your dog's dead skin cells. It's similar to dandruff, but dander also contains skin proteins. It is these proteins that can cause you to have allergic reactions.
When your dog's skin dries out, the dander falls off and latches onto your dog's fur. If your dog is prone to shedding, the dander comes off with the hair, which can wreak havoc on your allergies.
Are Yorkies Hypoallergenic?
No dog is completely hypoallergenic. However, Yorkies are one breed that does not have a huge effect on allergies. For that reason, Yorkies are considered hypoallergenic. There are a few reasons why Yorkies are better suited to those with allergies.
To start with, a Yorkie's hair growth cycle is different from other dogs. Yorkies do not shed as much as other breeds of dog. When they reach the end of their hair growth cycle and their fur falls out, instead of falling onto the floor or furniture like with most other breeds, it latches onto the other hairs still on your Yorkie.
The small size of Yorkies also makes them more hypoallergenic. Because they are so small, they produce less dander purely because they have a smaller body! This means they also disperse fewer allergens into their surroundings.
Yorkies aren't a breed known for drooling either. Most Yorkies will only drool if they have a dental condition. Less drool means fewer allergens as well, because as a dog's saliva also causes allergic reactions.
Yorkie Hair
Another reason Yorkies produce less dander is that they have hair, not fur. Their hair is more like ours and less like the fur of other dogs.
Other dog breeds have multiple layers of fur. It's what keeps them warm and comfortable. Yorkies, however, only have one layer of hair. Their hair keeps growing until you cut it, meaning they also shed less, so you should have fewer allergic reactions.
How Will I Know If I'm Allergic To Yorkies?
If you want to get a Yorkie, but you are worried you may be allergic, you may want to test your allergies before you get your dog. One way you can test if you're allergic to Yorkies, or dogs in general, is to be around them.
If you know a friend or a neighbor that has a dog, or even better a Yorkie, you can ask to visit and spend some time around their pet.
Symptoms to look out for that might suggest you're allergic to dogs can include sniffing and sneezing, nasal congestion, an itchy throat, coughing, wheezing, rashes (especially where your skin has come into contact with saliva), watery eyes, nausea, and even digestive problems.
If you feel you may be allergic to Yorkies, I would advise not getting for yourself. Dogs can live a very long time, sometimes even up to 15 years. That's a long time for you to have to put up with allergies.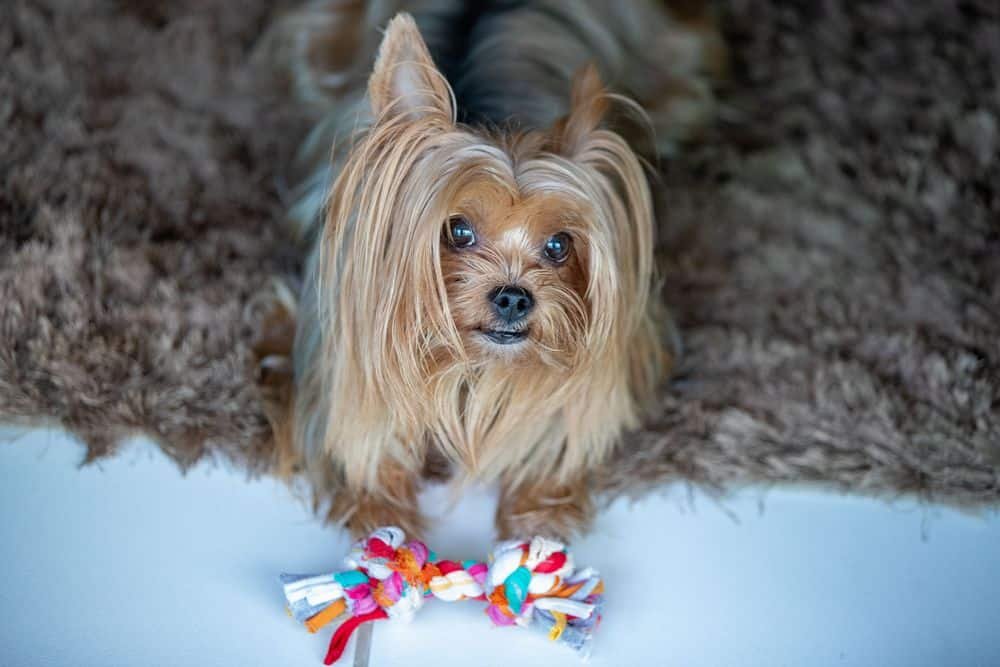 Since Yorkies are one of the more hypoallergenic breeds, even if you do have a reaction it should be fairly mild.
To keep your allergies in control, you can make sure you are regularly grooming your dog, training your dog not to enter certain parts of your home, keeping fur cut short, and bathing your dog at least once a week.
You may also want to think about investing in an air purifier to keep any allergens in the air at bay.
Yorkies Have Dander: Final Thoughts
Now you know that Yorkies have dander just like any other breed of dog. But they do not release nearly as much of it, which is what makes them nearly hypoallergenic.
But not quite. All dogs can trigger allergies. Yorkies jus tend to do it much less than other breeds. If you have mild allergies, Yorkshire terriers can be a great breed for you. But if you have strong allergies, even Yorkies will likely cause an allergic reaction.