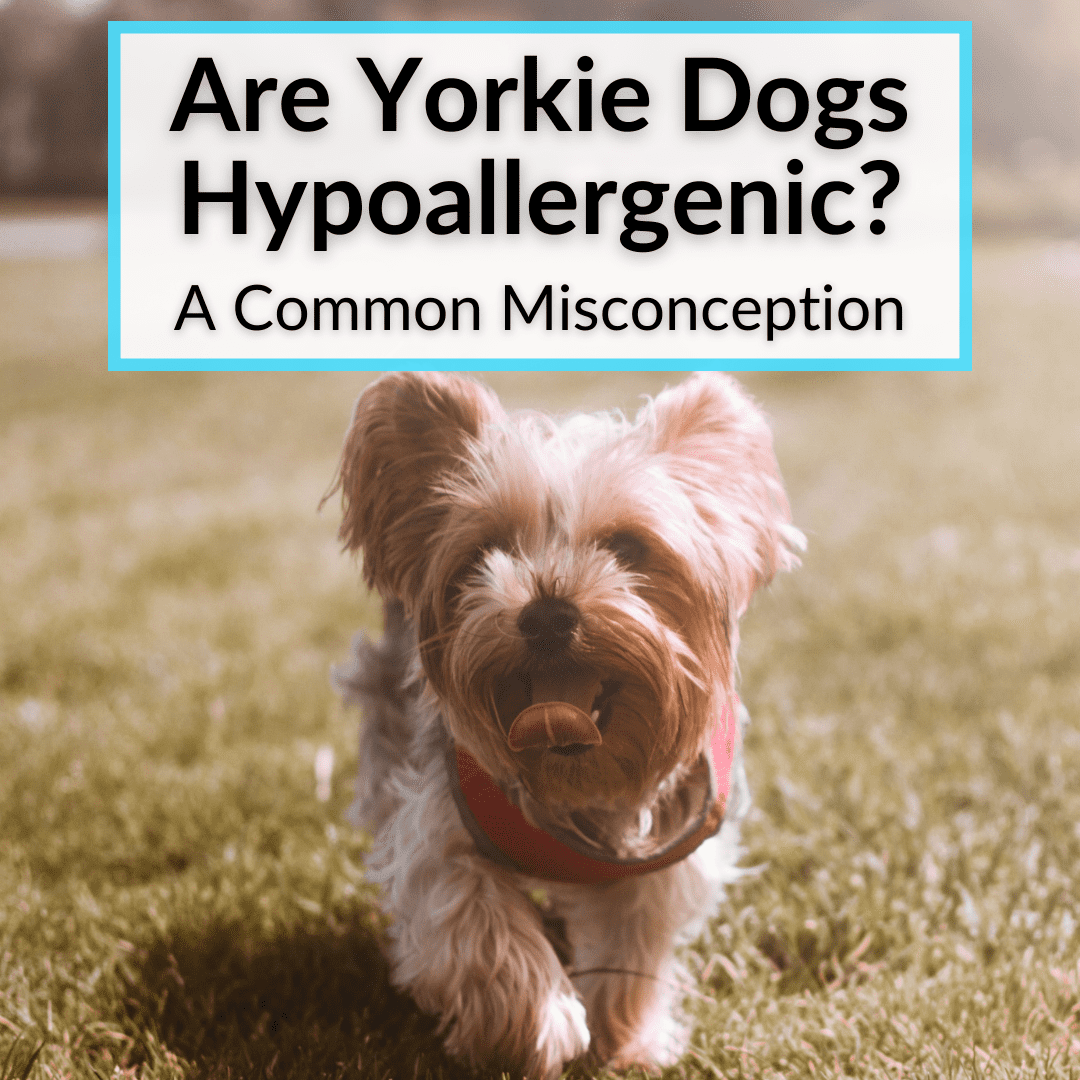 It's a cruel fate.
Loving dogs, but being allergic to them, so you can't have one.
Or having someone else in the household who is allergic to dogs.
The first logical step is to search for hypoallergenic dogs.
Doing that might lead you to the Yorkshire terrier.
Are Yorkie dogs hypoallergenic?
The answer to that is both yes and no. We'll explain below.
Keep reading to learn whether Yorkshire terriers are hypoallergenic and if this breed is a good choice for those who suffer from allergies. We will also clear up a common misconception in the process.
Are Yorkie Dogs Hypoallergenic?
Yes. Yorkies are hypoallergenic (but not 100%–see below) and can make great pets for people with pet allergies. They have human-like hair instead of fur. That hair sheds minimally.
They also do not have an undercoat. This minimizes the dander in the environment which is responsible for allergy symptoms. Remember though: no dog is 100% hypoallergenic, and the same is true for Yorkies.
Nevertheless Yorkies are better pets for allergy-sufferers than most other dogs. Here are the main reasons that is the case.
5 Reasons Yorkies Are Hypoallergenic
Yorkshire terriers make great pets for people with pet allergies for several different reasons.
They Have Human-Like Hair
Dog fur results in pet allergies in humans, due to the dander present in it. Yorkies do not have fur. Instead, they have human-like silky hair which not only sheds minimally but also does not have much dander in it.
A Yorkie's hair continues to grow until it is trimmed, gets pulled out, or breaks. It does not shed seasonally like regular dog fur. This further minimizes the dander in a Yorkie's environment, making it a good house pet choice for people with dog allergies.
They Lack An Undercoat
Another reason Yorkie dogs are hypoallergenic is their lack of an undercoat. This further minimizes shedding. An undercoat is what contains the dander and triggers pet allergies in people, when they are around double-coated dog breeds.
They Are Small Dogs
A dog's size can make a huge difference in terms of the number of allergens it spreads in the environment.
Yorkies are small dogs. Their short legs also prevent them from jumping on the sofa or bed. These are actions that spread dander, dog hair, and other allergens in one's environment.
A larger dog is naturally more likely to spread more dander and shed fur around us, making it also more likely to trigger allergy symptoms in sensitive people.
Reduced External Allergens
In addition to dog fur, pet allergies can also be triggered by mold, dust, grass, hay, and pollen which dogs track into our homes after rolling in the mud/grass or after coming back from a walk outdoors.
Since Yorkies are small, the quantity of allergens they track is usually negligible. Many Yorkie parents prefer keeping their Yorkies as indoor dogs, opting to exercise them by playing with them indoors or in their yards. This considerably decreases the number of allergens they track back inside.
Minimum Saliva And Urine
Dogs' saliva and urine also trigger pet allergies in humans. A potty-trained Yorkie will not urinate indoors, which can minimize allergy triggers. Also, one can always train their Yorkie not to lick their skin to minimize contact with dog saliva.
In small dogs like Yorkies, the urine output is also much less than in larger dogs. Furthermore, Yorkies do not drool nearly as much as many other dog breeds, and especially not as much as those that are known to drool a lot, like Bulldogs, St. Bernards, etc.
The lack of drool in Yorkies can be a boon for allergy sufferers.
The Truth About Hypoallergenic Dogs
As explained above, Yorkies can make excellent pets for people who suffer from dog allergies. They are hypoallergenic dogs without an undercoat.
They also do not have fur like most dogs. Instead, they have human-like hair which sheds minimally. This type of coat also contains little dander, which is what contains the protein that triggers allergy symptoms in humans.
A word of caution here.
No dog can be truly hypoallergenic. This includes the so-called hypoallergenic dog breeds like Yorkshire Terriers. You can still be allergic to Yorkies.
Dog allergies can be triggered by several factors apart from just the dander. This include dog saliva and urine.
If your pet licks you or you come in contact with its urine, you could also begin to suffer from the allergy symptoms like itchy throat, runny or red eyes, nasal congestion, sneezing, etc.
Hypoallergenic Yorkies: Related Questions
Below, we will answer some common questions relating Yorkies and allergies. If you have any additional questions, please feel free to ask them in the comments below.
Do Yorkies Smell Like Other Dogs?
Yorkies do not have the characteristic "doggy smell" that most other dog breeds have. This is thanks to their unique coat, which is devoid of an undercoat. The lack of an undercoat reduces the dander and waxy buildup which usually cause the foul doggy smell.
However, you still need to groom your Yorkie regularly. In fact, Yorkies need more grooming than many wash-and-wear dog breeds with regular short coats.
Without grooming, your pet could stink due to the nasty buildup of oils on the skin. Also, grooming is essential to prevent mats and tangles in their delicate silky hair.
These knots could also trap debris which might then stink if not eliminated. Your pet will also need regular haircuts and monthly baths to prevent foul odor.
Do not forget that doggy odor can be caused due to ear infections, poor oral hygiene, underlying issues like kidney or liver problems, etc. Check out our guide on why Yorkies stink and what you can do about it to learn more.
Which Dog Breeds Are Best For Someone With Allergies?
In addition to Yorkies, there are several other dog breeds that are considered hypoallergenic or good for people with pet allergies.
Silky Terrier
Like Yorkshire terriers, Silky Terriers are also hypoallergenic thanks to their human-like silky hair. This isn't surprising at all since the Yorkie is the creator of the Silky Terrier breed.
Poodles
Poodles are one of the most popular hypoallergenic dog breeds. They have curly water-tight coats that shed minimally. This, combined with their superior intelligence and high trainability make them one of the most popular pets.
Doodles
Doodles are designer dog breeds obtained by crossing Poodles with other dogs. The resulting dogs are usually hypoallergenic, but it depends on the genes they inherit.
Dogs like Goldendoodles and Labradoodles have become popular due to this reason. Sometimes, breeders also backcross these dogs back to a Poodle to increase the Poodle genes and ensure a hypoallergenic coat in the progeny.
Of course, poodles crossed with other hypoallergenic breeds are always also hypoallergenic. This is the case with the Yorkie Poo, for example.
Dog Breeds With No Hair
Dog breeds like the Chinese Crested, American Hairless Terrier, and the Mexican Xoloitzcuintli hardly have any hair on them. This makes them excellent for people who suffer from allergies around dogs.
Water Dogs
Like Poodles, many water dog breeds like Portuguese Water Dogs, Irish Water Spaniels, and Spanish Water Dogs have tight curly coats that are water-resistant and shed minimally. This makes them excellent for pet allergy sufferers.
Others
In addition to the above, breeds like Afghan Hounds, Bedlington terriers, Coton de Tulear, Bichon Frise, Havanese, Shih Tzu, Kerry Blue Terrier, Maltese, Basenji, and Soft-Coated Wheaten Terriers are all hypoallergenic.
Yorkies Are Hypoallergenic: Final Thoughts
Yorkies are considered hypoallergenic, but it is important to remember that no dog is completely hypoallergenic. Breeds like Yorkshire terriers and the others listed above are far less likely to trigger allergies, but they can still trigger them.
This is especially true for those suffering from serious allergies. If you have very strong allergies, the sad truth is that you probably will not be able to keep any dog as a pet.