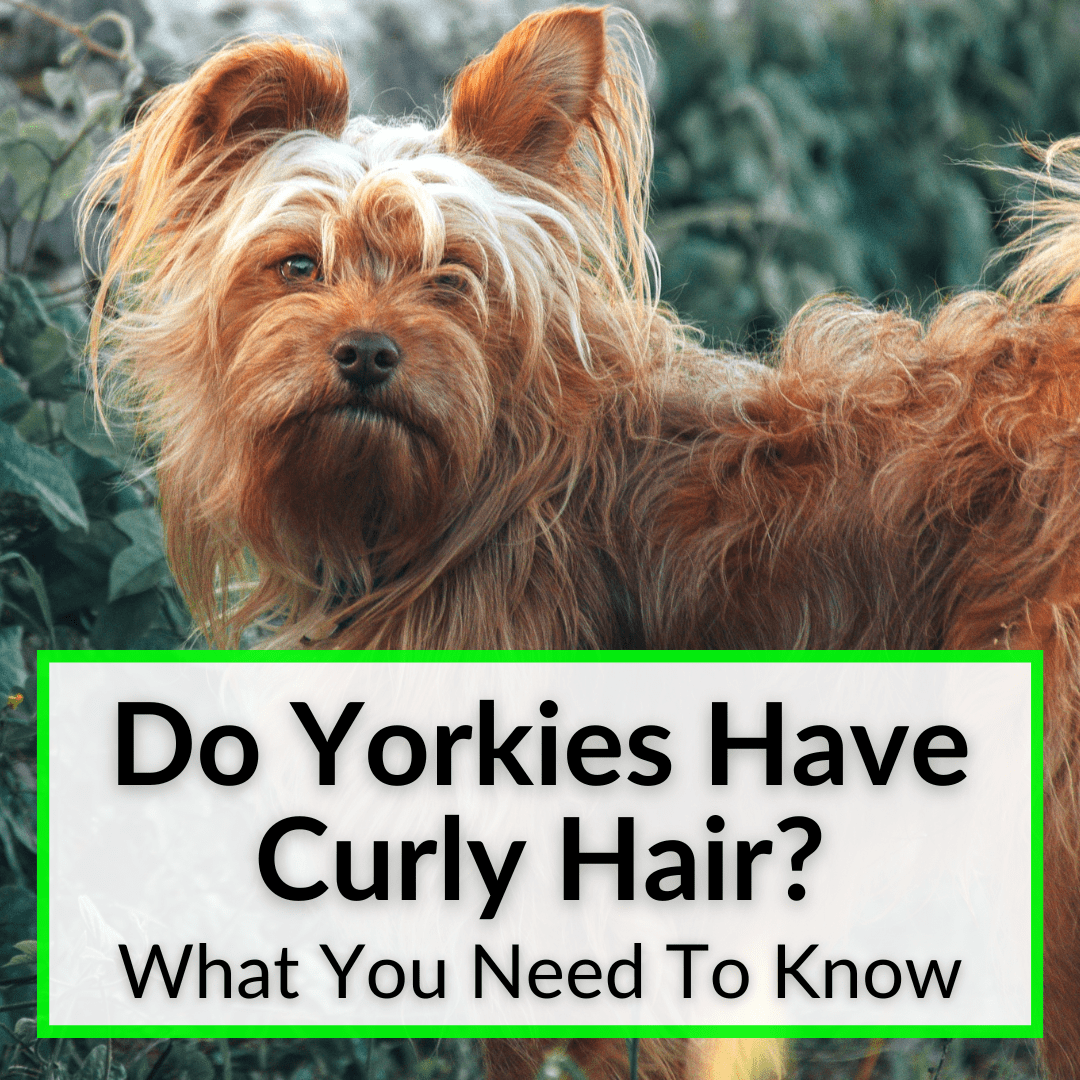 Do you have a Yorkie with curly hair?
Those exist.
But they also don't.
Confused? Don't worry.
We'll explain it all below.
The Yorkshire terrier's hair is its number one most defining characteristic.
That makes the hair extremely important in determining what a purebred Yorkie actually is.
Keep reading to learn whether Yorkies have curly hair. We will cover everything you need to know about the topic.
Do Yorkies Have Curly Hair?
Purebred Yorkies do not have curly hair. In fact, this breed is famous for the complete opposite. Yorkies are a long-haired breed of dog, with a coat of straight, silky hair.
The Yorkie coat is very different from most other dog breeds. Let's take a closer look at the Yorkshire terrier's most defining characteristic.
The Silky Coat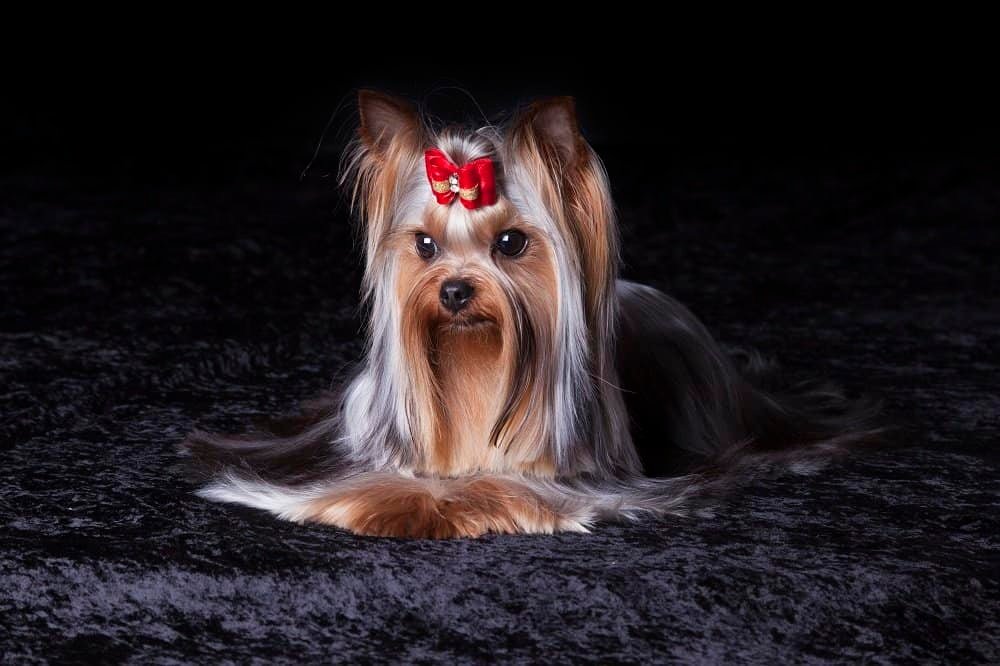 The Yorkie's silky coat is the primary defining characteristic of this breed. The coat is what sets the Yorkshire terrier apart from other dogs.
Most other breeds of dogs don't have silky coats. They have thick fur. They also have two layers: an undercoat and an overcoat. Yorkies only have one. The Yorkie coat is more similar to the hair you find on the head of a human than it is to other dog breeds.
Since the Yorkie only has one layer of hair, and that hair grows long, it needs to be well maintained. You should make to groom your Yorkie regularly. Aim for at least every other day. You should also keep its skin well moisturised, to keep the hair in good condition.
Hair, Not Fur
The Yorkie does not have true fur, like most other dogs do. Instead, it has a coat of hair. The difference is that their hair can grow much longer than any fur. That is why your Yorkie needs regular haircuts and brushings.
Yorkshire terrier hair also goes through a slower growth renewal cycle. This means Yorkies don't shed nearly as much, making them a great option if you have allergies.
But it is important to note that you can still be allergic to Yorkshire terriers. They are far less likely to trigger severe allergic reactions, but they can still do so, if you have strong allergies.
The Yorkie's hair is also less densely packed, which means they have fewer follicles per square inch. This is another reason their coat can appear thinner than other breeds.
As mentioned above, this breed also has only a single layer of hair. Other breeds of dogs have what is known as an undercoat. The undercoat makes their fur appear thicker and keeps them warmer in the winter.
This means that Yorkies get cold easier. If you plan to take your Yorkie out while it's cold outside (and you will have to, because they need to relieve themselves and get their daily exercise), you need to make sure you wrap it up in a good sweater, coat or jacket, to keep it from freezing.
Looking After Your Yorkie's Coat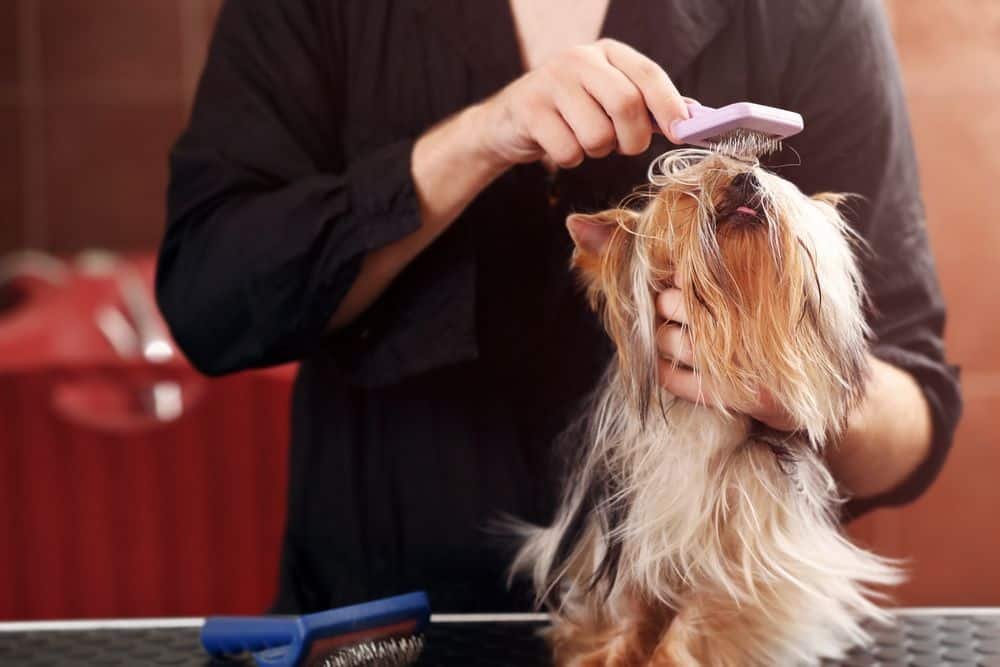 As mentioned, your Yorkie's long and silky coat will need some looking after. The first thing you should do to maintain your Yorkie's coat is to give your pet a bath every three weeks. This will keep the coat clean and wash away any body oils that may build up and cause your Yorkie to smell bad.
You also want to make sure that you are using the right comb and brushes when it comes to grooming your Yorkie. You're going to want to brush your Yorkie's coat at least every other day to leave it feeling silky and tangle-free.
Make sure you don't use any brushes that have been designed for breeds with thick or coarse fur. If you've cut your Yorkie's fur short, you could stick to a bristle brush. If the fur is longer, a pin brush is a great option.
Do Yorkies Need A Special Shampoo?
You should find a shampoo for your Yorkie that fits its pH balance. A Yorkie's pH ranges from 6.5 to 7.5 and finding a shampoo that matches this helps prevent skin irritation. If your Yorkie's skin becomes irritated, it can break out in rashes or dry out the skin. It can even cause it to start peeling.
It's best to avoid human shampoos, because we have a different pH balance than dogs. This includes baby shampoo. Regular use of human shampoo can upset your Yorkie's natural pH and cause the skin issues listed above.
When choosing a shampoo at the pet store, make sure you thoroughly read the label to ensure that the shampoo is suitable for your Yorkie and is designed for its natural pH.
Yorkies Do Not Have Curly Hair: Final Thoughts
If your Yorkshire terrier has curly hair, I have some bad news for you. It is not a purebreed. Chances are it is a Yorkie Poodle. See our Yorkshire terrier vs Yorkie Poo comparison for more.
Of course, having a mixed breed is not necessarily a bad thing. It is only bad if you want to show your dog. And, of course, if you paid a breeder for a purebred dog, but received something else.
The long, straight, silky hair of the Yorkie is its top defining characteristic. Without that, The American Kennel Club does not consider a dog a Yorkie. It means that somewhere along the line, a curly haired breed (like a poodle, perhaps) was mixed into the blood line of that dog.