Dogs sometimes smell bad.
That is normal.
When it happens, you can usually give your pup a bath, or a chew toy that cleans the teeth, and the smell improves.
But if your dog stinks and the smell does not go away, it could indicate a more serious problem.
If you can't identify the issue, take your dog to the vet.
But first, keep reading for a list of common reasons that cause a yorkie to stink.
Some of them are easy to address on your own. To that end, we will also provide 8 tips to improve your pup's smell.
Why Do Yorkies Stink?
Yorkies can stink due to ear infections, dental or gum-related issues, flatulence, poor diet, unexpressed anal sacs, stress, urinary tract infections, a lack of grooming, skin infections, wet dog odor, and even from underlying health issues like hormonal imbalance, kidney disease, diabetes, etc.
The following reasons are some of the most common culprits behind stinky Yorkies. After this list, we'll go into some ways you can help your Yorkie regain its normal doggie smell.
Ear Infection
Yorkies could have smelly ears due to gunky buildup, yeast or bacterial infection, or simply a lack of proper grooming.
To some extent, a mild odor from your dog's ears is normal. But if your pet is also constantly pawing its ears, shaking its head, has pus or discharge oozing from the ears, or is whimpering in pain, it could be suffering from an ear infection.
Infected doggy ears tend to emit a strong foul odor, even from a distance. The same is true for an eye infection. It could cause your dog's eyes to smell bad.
Dental Or Gum Disease
Bad breath caused by dental cavities or gum disease can be a major cause of bad odor in Yorkies. You've probably heard about Yorkie teeth. Is it true? Do Yorkies have bad teeth in general?
According to the AKC, small dogs like Yorkies are more susceptible to dental issues. This is because their tiny teeth are harder to clean. Food remains lodged in the teeth, particularly the ones at the back of the dog's mouth.
Over time, this food decays and becomes a breeding ground for bacteria, which create foul breath. If left untreated, dental cavities could also eat into the dog's gums, resulting in periodontal disease.
Flatulence
Poor diet, sudden dietary changes, or food allergies can all result in flatulence in Yorkies. The undigested food deteriorates in the pet's intestine causing gas with a foul odor.
Occasional burping or passing gas is normal in dogs, but if it is excessive and is accompanied by diarrhea or foul odor, then it could indicate a more serious health issue in your pet.
Poor Or Low-Quality Diet
Yorkies that are fed a low-quality diet (foods filled with empty calories, fillers, corn, soy, and by-products, etc.) often have a poor skin and coat with a foul odor.
Low-quality food does not nourish your pet's body which results in deficiencies. Over time, these deficiencies manifest in the form of a poor coat, skin issues, blisters, and rashes. The skin rashes could also ooze causing a bad odor from your Yorkie.
Learn what not to feed Yorkies here.
Anal Gland Issues
Dogs have anal glands, or anal sacs, present on either side of their anus. These tiny sacs get filled with liquid from the feces, which is normally expressed when the dog has a healthy bowel movement.
However, in some dogs, chronic diarrhea or soft stools fail to express these anal sacs. As a result, they get filled up with liquid and need to be manually expressed from time to time.
If left unexpressed, the filled-up anal sacs could get inflamed and swollen and might even develop into pus-filled cysts. Not only are these painful for your pet, but they also result in a very foul odor.
Stress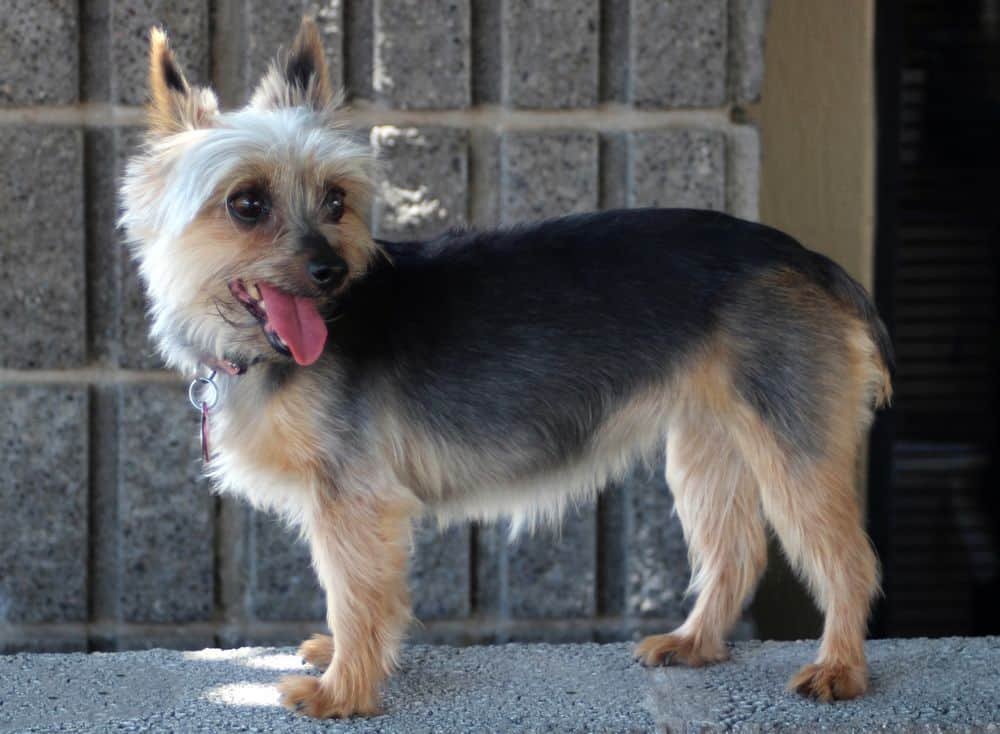 Stress can cause a dog's anal glands to express a lot of secretions all at once, resulting in a fishy odor.
Yorkies with separation anxiety or those that have experienced a major change in their life (loss of an owner or another dog, change of residence, the arrival of a new baby in the family) might stink due to stress and anxiety, which also release stress hormones.
Urinary Tract Issues
Yorkies with urinary tract infections often leak foul-smelling urine. This strong-smelling urine clings to their coat and even to their dog bed. If your pet continues sleeping on the soiled bed, it will reek of urine.
Skin Issues
Dogs have skin glands that produce oil in minuscule quantities. In some dogs, these glands produce too much oil which results in seborrheic dermatitis.
This, combined with yeast and bacteria, leads to itchy rashes, pus-filled blisters, and other skin issues that can cause a foul stinky odor in the dog. Yorkies with Candida (a type of fungus or yeast) may develop a cheese-like odor.
Lack Of Grooming
All dogs need regular grooming and brushing and that is even more true for the Yorkshire Terrier breed.
Without daily brushing and regular baths, your Yorkie's hair can get dirty and matted and its skin could accumulate dander, debris, and parasites like ticks and fleas. "Do Yorkies have dander?" is a common question, but despite some rumors, they do.
Over time, the trapped dirt, debris, and oil on the skin could become a breeding ground for bacteria and fungi that could result in a musky or foul smell.
Just make sure you do not start bathing your Yorkie until it is old enough. When can I give my yorkie puppy a bath? Once it is 8 weeks old.
Wet Dog Odor
Are you wondering why dogs stink even after a bath?
If your Yorkie swims or has just been bathed, it might stink with the characteristic wet dog odor. This wet dog smell can be described as a combination of sulfur, almond extracts, mushrooms, honey, and feces.
According to experts, this wet dog smell occurs due to the evaporation of volatile compounds that come from the micro-excreta of tiny viruses, bacteria, and fungi found on the dog's coat.
Atopy
Food allergies, or some seasonal allergies, can also be the culprit causing your Yorkshire terrier's stinky smell.
These kinds of allergies can cause inflammation of the skin, which leads to excessive production of oil from different glands of their skin. This produces a musty smell.
A poor diet can contribute to this phenomenon and can also cause yeast infections, which can lead to other foul smells. Make sure your pup does not have a high intake of carbohydrates and of mostly processes foods.
Underlying Health Issues
Yorkies with underlying health issues like kidney problems, hormonal imbalance, diabetes, etc. could also suffer from foul body odor.
Diabetes in dogs results in a sweetish-breath or acetone-like smell
Advanced kidney disease or renal failure can cause the smell of urine or rotting meat in dogs
Liver disease can result in an unusually foul odor in the affected dogs
An unspayed Yorkie in heat will give off a distinct pungent and fishy odor, due to hormones
Why Does My Yorkie Stink: 8 Tips To Stop The Stench
If your Yorkie is stinking up the place, you naturally want to do something about it. Luckily, you can! Here are some measures you can take to ensure that your Yorkie does not stink.
Clean Your Yorkie's Ears
Use special ear cleaners or pet wipes for the job. This article will show you how. Do not use baby wipes. Our article comparing dog wipes vs baby wipes explains why.
Also, make sure you dry your Yorkie's ears completely after a bath or after swimming. And you should always treat ear infections promptly.
Take Care Of Its Oral Health
In addition to daily brushing, get your pet used to professional dental cleaning at the vet's clinic at least once a year.
You can also give your dog dental chews to reduce plaque and tartar. Give it hard foods like carrots and apples after meals, to clean your Yorkie's teeth naturally.
Feed It A High-Quality Kibble
High-quality kibble with a slightly crunchy texture can keep plaque to a minimum. Look for dog food that can impart balanced nutrition to your Yorkie.
Avoid foods with allergens like soy, wheat, dairy, etc. Your vet can help you choose the right diet for your Yorkie. If your pet has any allergies, switch to hypoallergenic dog food, a special prescription diet, or even novel protein sources (emu, rabbit, duck, etc.).
Groom Your Yorkie Regularly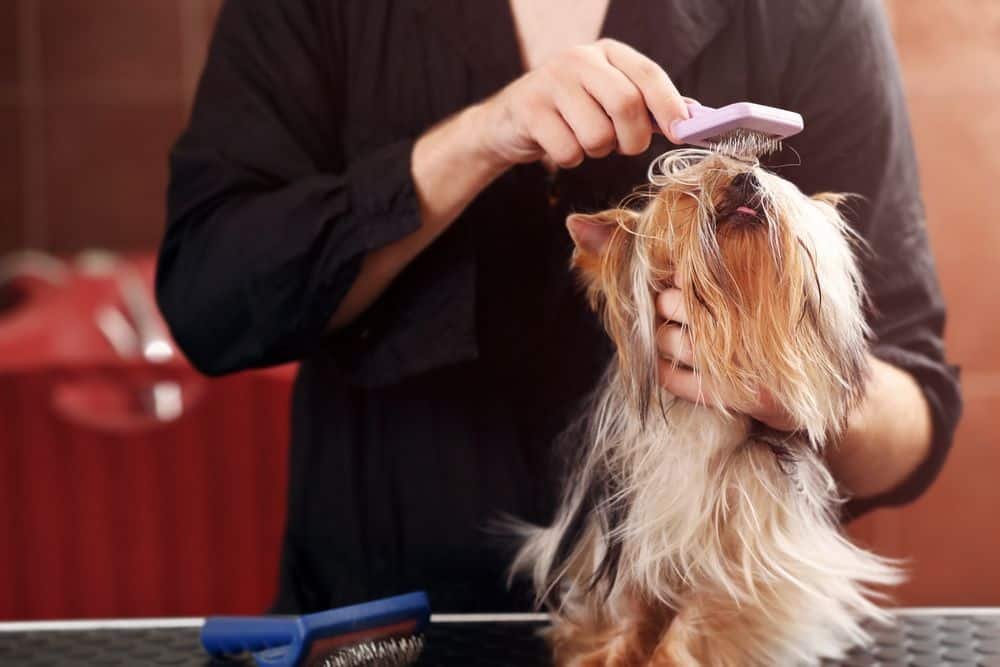 Brushing and bathing regularly are the easiest ways to prevent bad odors in dogs. Regular brushing also distributes the skin's oils making the coat shinier.
Take the time to examine your dog's coat for skin problems during grooming. If you see any rashes or bumps on Yorkie skin, have them treated right away.
Use a vet-approved shampoo to bathe your Yorkie. After bathing, dry your pet thoroughly. You can spray some apple cider vinegar mixed with a few drops of lavender essential oil to make your pup smell good.
Use Dry Shampoos Between Baths
Dry shampoos, or waterless no-rinse shampoos, can keep your Yorkie smelling fresh between baths. They are allergy-friendly, moisturizing, detangling, and conditioning as well.
If you don't have dry shampoo, sprinkle some baking soda or corn starch all over your dog's coat to keep it smelling fresh and clean.
Express The Anal Glands Regularly
If your Yorkie is scooting on its bum or constantly licking its anus, then its anal glands might be infected. Have your vet examine your pet. Regularly express its anal glands during grooming. Feed your Yorkie pumpkin to regulate its bowel movements. Treat diarrhea and soft stools promptly.
Treat Underlying Health Issues
If your Yorkie has other symptoms in addition to foul odor, have it examined by your vet. Treating underlying issues like hormonal imbalance, UTIs, kidney or liver problems, diabetes, etc. can help prevent foul odor.
Wash The Bedding Regularly
Yorkies spend almost 8 to 10 hours per day sleeping in their beds. Their fur can take on the smell of dirty bedding.
Washing the doggy bed can help eliminate foul odor. This is especially needed for incontinent Yorkies that have accidents, i.e. urine leaks, in their bed.
Why Do Yorkies Smell So Bad: Related Question
Next, we will answer some common questions related to Yorkshire terriers stinking. If you have any additional questions, please feel free to ask them below, in the comments.
How Often Should You Bathe Your Yorkie?
Purebred Yorkies with long, fine, and silky human-like hair can be bathed once every 4 to 6 weeks. If your pet suffers from some skin issue, then it is best to speak to a vet as to how often to bathe it.
Use a medicated dog shampoo or a vet-prescribed shampoo to bathe your tail-wagger. Never use human shampoo or baby shampoo to wash your dog. They are not pH-balanced for dogs and could strip your dog's natural skin oils, making it dry, irritated, and flaky.
If your Yorkie swims in a chlorinated pool or has the habit of rolling in puddles, you may want to bathe it more frequently. Alternatively, wipe your dog with a damp towel or use waterless shampoos to clean it between baths.
In general, a good rule of thumb is to wash your Yorkie when it is no longer huggable!
What Do Groomers Use To Make Dogs Smell So Good?
At pet grooming centers like PetSmart, groomers use CHI for Dogs Deodorizing Spray.
Different groomers use different colognes, sprays, or dog deodorants to make dogs smell fresh and clean after their grooming sessions. They all work more or less the same.
Do Yorkies Smell: Conclusion
Hopefully, you were able to identify the cause of your Yorkie stinking and fix it, so that you now have a fresh and clean smelling pup.
If you are unable to figure out what is causing the stench, or if the smell persists no matter what you do, it is time to contact your vet. They can help you figure out if an underlying health issue is the cause, and then help you address it.