All dogs need baths.
Yorkshire terriers are no different.
In fact, given their human-like hair, they may need baths more than other breeds.
But you can't give your Yorkie puppy a bath until it is ready.
Very young pups can't regulate their body temperatures yet. A bath will wreak havoc on their system.
So when can you bathe a Yorkie puppy for the first time?
Keep reading to learn exactly at what age Yorkie puppies are ready for their first bath.
We'll also show you exactly how to do it, to ensure it is a positive experience for your pup. Otherwise, it could hate baths for life.
When Can I Bathe My Yorkie Puppy?
The American Kennel Club recommends waiting until your Yorkie puppy is at least 8 weeks old to give it its first bath.
Avoid bathing very young or newborn Yorkie puppies. They aren't able to regulate their body temperature and might start shaking and shivering.
Moreover, by 8 weeks, your Yorkie pup should have received at least one round of its essential shots.
Your pup's first bath can set precedence for all subsequent baths so you want to make sure your puppy is old enough to handle it.
It is very important not to over-bathe young Yorkie puppies. Overbathing can strip off their natural skin oils making the skin dry, irritated, and itchy. It can also lead to a dull coat.
What constitutes over-bathing? How often should you bathe a Yorkie? Anything more than once a month is over-bathing for a puppy.
The AKC recommends that young dogs be bathed no more than once a month (once every 4 weeks) or even once every 2 months.
Unless your Yorkie is very dirty, it does not need a bath. You can simply use a wet washcloth to gently wipe down your dog's fur, focusing on areas around its mouth, eyes, paws, and inside its ears.
However, you must make it a point to brush your Yorkie daily. Regular brushing is very important as it redistributes the natural skin oils making your pet's coat shinier and healthier.
How To Give A Yorkie Puppy Its First Bath
Ensure that your Yorkie puppy's first bath experience is a positive one, so you can avert untold frustration in the future. Here is how to bathe your Yorkie pup the right way.
Use A Bathtub, A Large Trough, Or The Kitchen Sink
You can easily bathe a tiny Yorkie puppy in the kitchen sink. If you choose to bathe your fur baby in the bathtub, place an anti-skin rubber mat at the bottom.
This will prevent your puppy from slipping (which can cause it to panic) and will also give you traction while preventing stress on your joints.
Make The First Bath A Short, Fun Experience
The idea is to get your Yorkie used to baths and let it have fun with it. To that end, keep it short. In the first few sessions, you could only rinse your dog's paws and belly. This will help your pet accept longer baths more readily down the road.
Prepare The Bathing Area
Once your Yorkie is ready for a proper bath, start by prepping the bathing area first.
Remove all unwanted objects from the bath area and only place the items that you will use for bathing your Yorkie puppy. These include brushes, dog shampoo, conditioner, sponges, washcloths, towels, measuring cups, etc.).
Shake out the towels and hang them on a hook nearby.
Pop open the lids of the dog shampoo and dog conditioner.
If it is very cold where you live, place the shampoo bottle in a hot water bath to make it warm for your little pet.
Prepare Your Pet
Now it is time to prep your fur baby for its bath.
Start by brushing your Yorkie thoroughly. Remember, wet hair expands. If your Yorkie has mats and tangles, they could worsen after bathing.
Use a pin brush to brush your pet and ensure that no mats, tangles, grass seeds, burrs, and dirt remain.
Next, put some cotton balls inside your Yorkie's ears to prevent water from entering. Don't push the balls in, just place them inside the ears to catch the water that enters.
If needed, leash your Yorkie so you can restrain it.
Allow your pet some time to explore the bathroom. Let it sniff the hose, tub, and other areas in the bath or kitchen sink.
If your Yorkie seems to panic at the idea of baths, apply some peanut butter to the bathroom walls. You can bathe your Yorkie while it is distracted licking this tasty treat!
Wet Your Yorkie's Coat
Never use very cold or very hot water. Cold water might shock your little puppy while hot water will strip its natural skin oils.
Warm or tepid water is the best. Test the water temperature on your hand. If it is uncomfortable for you, it might be uncomfortable for your pet too.
Apply Dog Shampoo
Once your Yorkie's coat is wet, take a little bit of dog shampoo in your palms. Add some water and work up a lather all through your pet's coat.
Massage your little baby well.
Make sure to soap the paw pads, the back of the legs, under the armpits, the groin, and under its tail.
Take care not to create any tangles (especially for long-haired Yorkies) while shampooing.
Leave the shampoo on for a few minutes before rinsing it off.
If your Yorkie is very dirty, you can re-soap a second time and repeat the process.
Rinse your pet's face first (see the next section about washing a Yorkie's face). Then rinse its body. Make sure no shampoo is left behind on its coat.
Use The Conditioner
Using the same steps, apply the conditioner to the coat.
Begin at the back of your pet's head and move back and down.
Be sure to work the conditioner in all areas.
Leave the conditioner on for a few minutes before rinsing.
Dry Your Puppy Completely
After rinsing thoroughly, allow your dog to shake its coat out 3-4 times. Next, use two or three towels to dry it thoroughly.
Don't forget to remove the cotton balls and wipe the inner ear to remove any water that might have entered.
Check out the section below on how to dry a Yorkie after a bath.
How To Wash A Yorkie's Face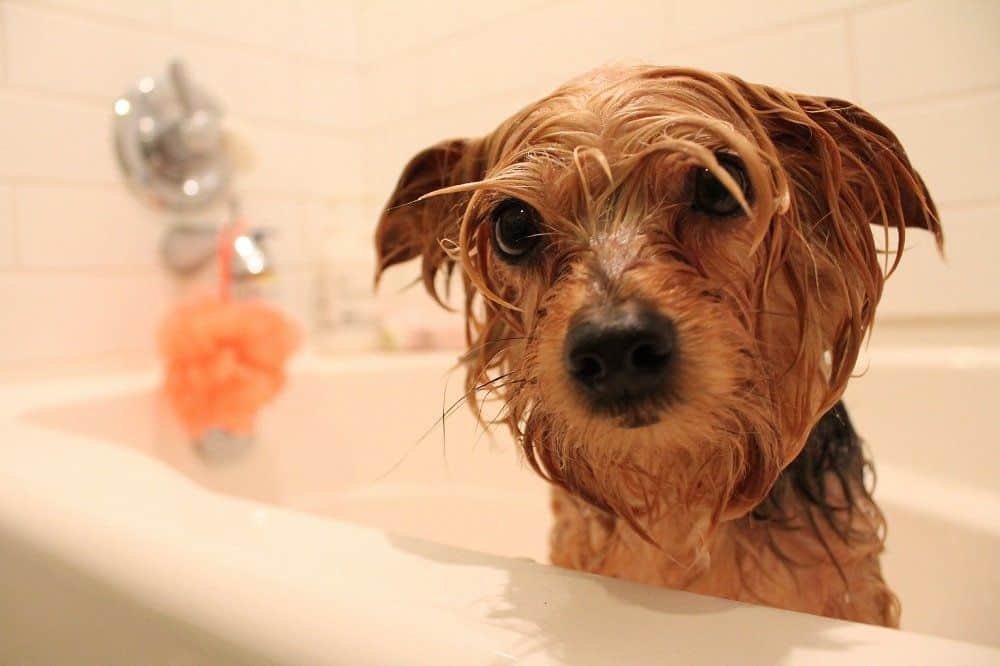 Your Yorkie's face and head should be the last place to be wet and shampooed and the first to be rinsed. This will avoid excessive shaking and also reduce the chances of getting soap into its eyes, ears, and mouth.
A word of caution: never spray water inside your Yorkie's nose while bathing it or it will hate the bathing experience forever.
To wash your Yorkie's face, gently grasp its muzzle with your left hand. Lift its head and face up until its nose is at the highest point of the head.
Do not spray the face directly. Instead, use a cup and gently pour the water down its head, face, skull, and cheeks.
Apply a tiny bit of shampoo and lather around the head and on the cheeks. Make sure you use tear-free dog shampoo. Do not use human baby shampoo. Take all precautions to avoid getting soap in your pet's eyes.
You can also use a wet washcloth, comb, or brush to clean around the eyes, forehead, and chin.
To clean your pet's inner ear flaps, use a wet washcloth. Gently scrub and massage the ear flaps to remove any accumulated gunk or oils.
Rinse your dog's face thoroughly by firmly grasping its muzzle and tilting the nose backward.
Pour water using a cup, repeating as often as needed until all of the soap is gone.
Pat your pet's face dry using soft towels.
How To Dry A Yorkie After Bath
Place your Yorkie on a grooming table to dry it.
Hold a treat above its head and use a towel with your other hand to rub it dry gently. Make sure not to introduce tangles and mats in the coat. Simply pat the coat dry gently. Use several towels if needed.
If your Yorkie has long hair, use a hair dryer on its lowest setting to fluff its hair. (To fluff your pet's coat, use a slicker brush to raise the hair from the roots while pointing the hair dryer over the brush at the roots all the way to the tips.)
Repeat the process by working in small sections all over the body.
You'll need to get your puppy used to blow drying, since many Yorkies dislike the hair dryer's noise. (To do so, use the dryer gradually in short sessions and reward your pet thoroughly for tolerating it every time.)
Can I let My Yorkie Air Dry?
Yes, you can let your Yorkie air dry, especially if its hair is trimmed short. Simply keep your pet in a warm area until its coat is dry.
What Should You Wash Your Yorkie Puppy With?
It is best to use a vet-approved dog shampoo to bathe your Yorkie. Look for shampoos that are tearless and SLS-free, and contain natural ingredients like aloe vera, oatmeal, etc.
Avoid using human shampoos (even ones meant for babies) to bathe your tail-wagger. They aren't pH-balanced for your dog's skin and could lead to an allergic reaction with itchiness, rashes, etc.
If your Yorkie has a specific skin issue like ticks, fleas, dermatitis, etc. then consult your vet for recommendations for the best shampoo for these issues.
When Can I Give My Yorkie Puppy A Bath: Conclusion
Yorkies need baths to stay healthy. In general, an adult Yorkie should get a bath every 2 to 3 weeks. But it is different for puppies.
Younger dogs should only be bathed once a month. And very young dogs not at all. You Yorkie puppy should not get its first bath until it is 8 weeks old.
And remember to do everything you can to make that first bath a relatively painless and positive experience for your little pup. Otherwise you could end up with a dog that hates baths for the rest of its life.
We also have a companion article on your pup's first hair cut entitled: When Should A Yorkie Puppy Get Their First Haircut?