Who doesn't want a dog that never needs a bath, like a cat?
I would certainly love that!
But Yorkshire terriers are not that dog.
These little pups need a regular bath, or their hair will get filthy.
That could lead to numerous health issues.
Long haired Yorkies need a high amount of grooming, but even short-haired ones need regular bathing.
So how often should you bathe a Yorkie?
Keep reading to learn how often you need to bathe your Yorkie. It depends on a few different factors and we will go over all of them.
How Often Should I Bathe My Yorkie?
You should bathe your Yorkie anywhere from once a week to every three weeks. Most Yorkie owners try to bathe their dog at least once every two weeks.
Many factors can influence how often you need to bathe your Yorkie. No two Yorkies are the same. Some have longer hair than others, some are more adventurous than others, and some have sensitive skin.
You may not know exactly how often to bathe it in the beginning, so just figure on every 2 to 3 weeks. You'll soon learn if that is enough, or if it is too often.
Let's take a closer look at the main factors that can have an impact on how often you should bathe your dog.
Factors Affecting How Often You Should Bathe A Yorkie
The following three factors have the biggest impact on how often you need to bathe our Yorkie. 
Length Of Hair
If your Yorkie has long hair, it may need to be bathed more often. Long haired Yorkies are certainly more high maintenance than shorter haired Yorkies.
Long hair is more likely to hold onto dirt, which will make your Yorkie's skin dirtier. It is also more susceptible to forming knots and tangles. You should brushing these out daily.
Age
If your Yorkie is a young pup, chances are it is going to be more adventurous than an older Yorkie. This means it is more likely to get dirty on a walk.
Your Yorkie might even find a particularly muddy spot to have a roll around in on the walk! In that case, you will probably want to give it a bath right after you get home, depending on how bad it is.
If this does happen, my advice is to just stick to water and no soap, particularly if this becomes a frequent thing that happens more than once a week.
Washing your Yorkie with shampoo more than once a week can lead to skin irritations. The shampoo can dry out the skin, which strips your Yorkie off all its natural oils that work at keeping your Yorkie's skin hydrated. Without these oils, it can become dry and itchy.
And younger dogs should not be bathed quite as often anyway, at least not with shampoo. When can you bathe a yorkie puppy for the first time? This article will help.
Skin Type
If your Yorkie has naturally sensitive skin, you may need to give it baths less frequently, to avoid causing any nasty skin conditions. Stay on the longer end of the rang: once every three weeks should be good enough.
What If You Never Bathe Your Yorkie?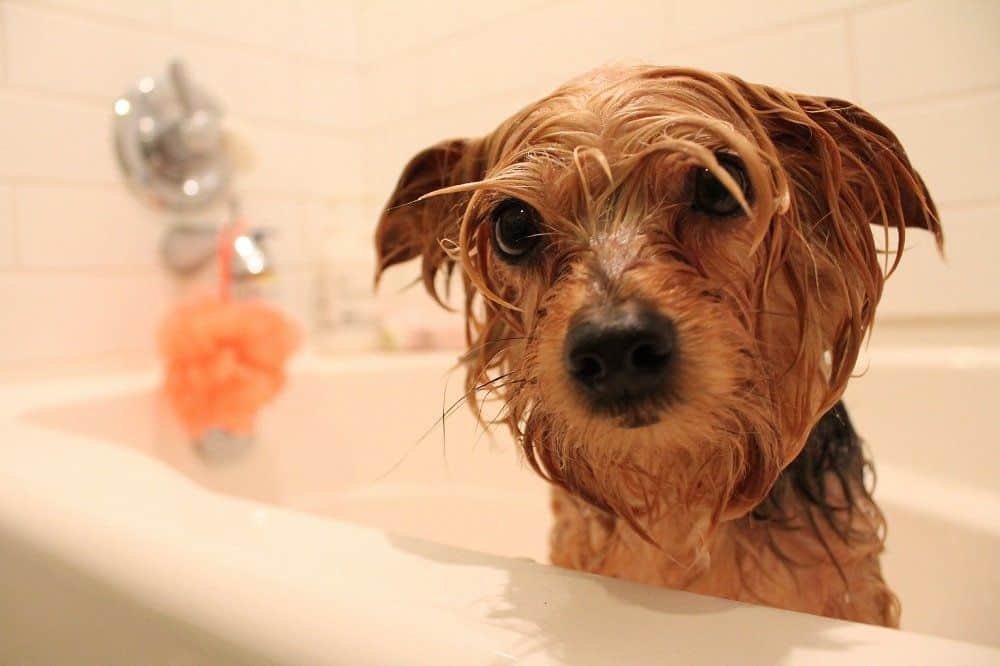 What would happen if you didn't bathe your Yorkie at all? If you're planning on getting a Yorkie, but grooming your dog isn't really your thing, you may want to rethink your decision. A Yorkie probably isn't the right dog for you.
Their unique hair means that they need to be bathed. Even short haired Yorkies need regular baths, because their hair is more like human hair than other dogs. They do not shed it the same way dogs do, but they lose hair like we do.
As a result, you need to wash it to keep it clean, just like we need to wash our hair. If you fail to bathe your Yorkie, you're going to be wondering: why do Yorkies stink?
Excessive dirt will create a very unwelcoming smell. And it won't just be external dirt, but also bodily fluids and feces. This grime can lead to skin problems and other health conditions. If you have a female Yorkie and you never clean her rear end, the feces can result in infections.
Tips For Bathing Your Yorkie
You want to invest in a high quality dog shampoo, to ensure your Yorkie has healthy skin and hair. Don't use a human shampoo or conditioner, not even baby shampoo, because these products can be too harsh for your Yorkie's delicate skin.
Dog shampoo is specially formulated for your pup's skin. It will keep your Yorkie cleaner, while also leaving its skin healthier and reducing any dryness. A homemade dog conditioner is also a great option. That way you always know what is in it.
If your Yorkie has long hair, you should try to brush it daily. Long hair can easily tangle. If these tangles aren't brushed out, they can cause knots, which may also irritate the skin and cause infections, if they become severely matted.
Making sure your Yorkie is tangle free is also essential before you bathe it, because it means the shampoo can work its way through the coat and cleanse away any dirt.
How Do You Dry A Yorkie After A Bath?
You can dry your Yorkie in a few different ways after its bath. The first and easiest of them all is to just let your dog air dry. You can just let it shake the water out and then go on its way. One problem with this method is that your Yorkie could begin to smell like a wet dog.
No surprise, since that is exactly what it would be. If you prefer to avoid this smell, you can dry your Yorkie with a towel. Press a towel into your dog's fur to soak up as much water as you can. Try to avoid any vigorous rubbing, since this can cause your Yorkie's fur to tangle.
Another method is to blow dry your Yorkie. This dries the coat much more quickly, but there are a few things you need to bear in mind. First, make sure the dryer is on the lowest setting for heat.
You want to avoid burning your Yorkie, or even just making it unnecessarily uncomfortable. Make the experience as comfortable as possible for your pup.
Also, make sure you keep the nozzle a couple of inches away from the coat and don't leave the dryer in the same place for too long.
There are also quick drying sprays available. These contain ingredients that encourage the water to evaporate from your Yorkie's coat.
Some Yorkie owners claim these sprays don't make any difference, but it could just be a case of trial and error, where you have to find the right amount to suit your dog's coat. You can buy these sprays in pet stores on online.
Do Yorkies Like Water?
Most Yorkies do enjoy the water. Being of small size doesn't impact their love for it. In fact, they can feel quite comfortable in the water and they like the feel of it on their silky coat. Yorkies are also naturally curious dogs so this can also draw them to it.
If your Yorkie likes to swim, make sure you always keep a close eye on it while it is enjoying the swim. You don't want your Yorkie swimming out too far and becoming stuck, or being swept away by a current. This can be a major danger if you are letting it swim in the sea.
If your Yorkie likes the water then it should also mean that they will like a bath, which will make your life much easier when it comes to having to bathe it. Of course, it does not always work out like this, Many dogs love swimming, but hate being bathed.
How Often To Bathe A Yorkie: Conclusion
You will need to bathe your Yorkie at least once every three weeks or so. But it could be as often as every week, depending on how dirty your dog tends to get. You should not bathe your Yorkie more often than that, however.
If you need to give it a bath more often, for example if it likes to play in mud, do so with water only. Try not to shampoo and/or condition your pup more frequently than once a week.