It seems like the easiest option.
Just grab a conditioner you already have in your bathroom and use it on your Yorkie.
And if you do it once, your dog will be just fine.
But using a human conditioner on your Yorkie regularly is a bad idea.
It can lead to a number of skin issues.
It can also give your dog an upset stomach or digestive issues.
The reason for this is the way human conditioner is formulated.
Keep reading to learn why it is best to avoid human conditioner for your dog. We'll also cover a few other popular products and let you know which ones are fine for dogs, and which ones to avoid altogether.
Can You Use Human Conditioner On Yorkies?
It is best not to use human conditioner on Yorkies. While it may not cause them any significant harm, the pH levels can irritate your pup's skin.
Excessive oils in human conditioners can also cause a build-up of product on the fur, which can lead to a variety of skin conditions. The chemicals used to lend fragrance to human conditioners can also be harmful if ingested.
In sort there are several reasons not to use human conditioners on dogs. And there is really only one reason in favor of it: convenience. If you're in a pinch and have no other option, go ahead and use it. It won't hurt if it's just once.
But don't make a habit of it. We'll now go into more detail on each of the reasons it is a bad idea to regularly use a human hair conditioner on your Yorkshire terrier.
Why Human Conditioners Are Not Great For Yorkies
There are a number of reasons human conditioners should not be used on dogs. The most important are the difference in pH levels, and the oils and fragrances in human products. Let's take a closer look at each.
Different pH Levels
The main reason you should not use a human conditioner on your Yorkie is that dogs and humans have different pH levels.  The human pH level is on the range of 6.5 to 7.5. A Yorkie's pH level is more neutral at 5.2 to 6.2.
This means that human conditioners are usually much harsher than conditioners for dogs. If you use a human conditioner on your Yorkie it can cause irritation to its skin.
You may be wondering why disrupting pH levels matters so much. Well, the acid mantle, which is a layer a Yorkie's skin and on our own scalps, protects the skin from harmful bacteria.
If this layer is disrupted, then it starts letting in harmful pollutants from the environment. Those can make your Yorkie sick if they enter into the body.
The acid mantle also keeps the skin hydrated. If this changes, it can dry out the skin, which can also lead to irritation or cause other skin conditions.
Fragrant Chemicals
Human products are much more heavily fragranced. We like our hair to smell fresh and fruity. Obviously, this isn't something your Yorkie cares much about.
And those fragrances are produces using various chemicals. Your dog might try to lick them off its skin, especially if there's some build-up. These fruity scents may leave your Yorkie smelling delightful, but if ingested, they can wreak havoc on your dog's insides.
Some of the ingredients in human conditioner could make your Yorkie ill and the last thing you're going to want to deal with is a Yorkie with an upset stomach.
And your pup almost certainly will lick the chemicals at some point. hey lick a lot, to the point that you will probably ask yourself at some point, "Why does my Yorkie lick everything?"
You might be thinking you could just train your dog not to lick, but that is still too risky. The chances it will lick the fruity smelling stuff on its fur when you are not looking are just too high.
Excess Oil
Conditioners for humans are generally much oilier than dog conditioners. These oils are usually too strong for a Yorkie's skin and coat, due to their hair being much finer than other dogs.
These oils can build up, especially if you use the product on a regular basis. That can actually do the opposite of what you want and ruin your Yorkie's strong and shiny coat.
Good Conditioner To Use On Your Yorkie
You can buy special dog conditioners from your local pet store, online, or even at your local supermarket. There will be a few things you're going to want to look out for when trying to purchase the best conditioner for your Yorkie.
If you also need to grab a shampoo, then try and use the same brand. This ensures that both the shampoo and conditioner work seamlessly together, leaving your Yorkie's hair strong and healthy.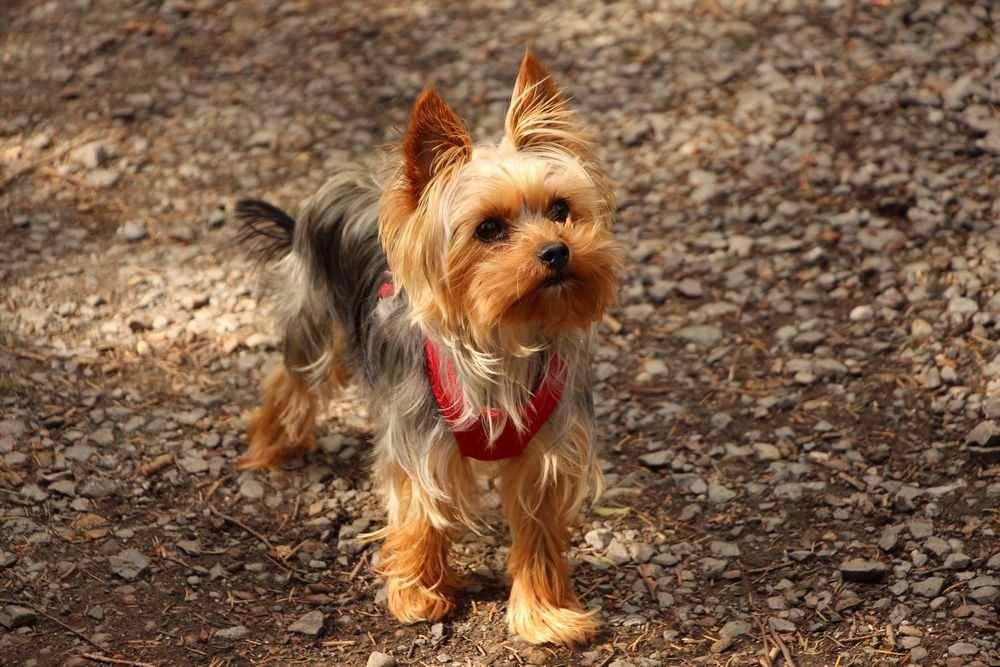 You're also going to want to make sure the conditioner lathers well. This could take some some trial and error, but a lathering conditioner means it is doing its job correctly. The right conditioner is going to strengthen and moisturize your Yorkie's fur.
The key is to only use conditioners made from healthy natural ingredients. A good way to ensure this is to mix up your own at home. We have an article that shows you how to make dog conditioner at home.
A popular conditioner to use is the Isle of Dogs Silky Oatmeal Conditioner. It is our top pick in the article on the best conditioners linked to 4 paragraphs up. It has a jasmine and vanilla scent and has only natural ingredients, like oatmeal, aloe, shea butter and jojoba oil.
It has no sulphates, dyes, or parabens. These are all harmful ingredients that can irritate your Yorkie's scalp. It has been specially formulated for dogs and also has a matching shampoo.
What About Baby Shampoos And Conditioners?
My advice is also to stay away from baby shampoos for Yorkshire terriers. Baby conditioners and shampoos can still cause irritation. They may be gentler, but these products are still likely to contain preservatives, sulphates, and fragrances.
A bottle of special dog conditioner should last you quite a while, so it isn't something you will have to buy all the time, like you would with your own conditioner. This is mainly because you don't need to bathe your Yorkie every day, or even every week or month.
Most of the time, you end up doing it whenever your pup has been extra mischievous on a walk and managed to cover itself in mud.
Can I Use Dawn Dish Soap On My Dog?
Only use this on rare occasions, but better not to use it at all. With your dog having more sensitive skin and being more prone to allergies, this soap could become an irritant to its skin, if used on a regular basis.
I would only recommend using Dawn Dish Soap in an emergency, for example if your dog has muddied itself after a walk and you have run out of its regular dog shampoo.
Can I Use Pantene Shampoo On My Dog?
Just like Dawn Dish Soap, this won't harm your dog, if it is just a one-off occasion. But don't make a habit of using human shampoo on your dog.
Like human conditioner, human shampoo is formulated with human pH levels in mind, not a dog's pH levels. This means it can cause a variety of different issues, such as dry skin or itching.
Can I Use Dove Soap On My Dog?
Dove soap may be a gentler choice for humans, but it doesn't mean that it is a gentler choice for dogs. While Dove soap is free from all of the especially harmful ingredients, like parabens, sulphates, and dyes, it may still cause some irritation to your dog.
The reason is the same: it has been designed with human skin in mind, not a dog's skin. There are acidic ingredients in Dove soap.
Again, the best product to use on your dog in is a special shampoo formulated for pets, or a shampoo that contains only natural ingredients, and as few ingredients as possible.
Using Human Conditioner On Yorkies: Conclusion
Using conditioners for humans on dogs can be dangerous, because it is formulated for human pH levels, not a dog's. This can result in the acid mantle layer of the skin being removed, which can lead to skin and environmental contamination.
Doing it once in a pinch won't be a problem. But using human products many times will likely lead to skin issues.
It is always best to only use conditioners made with all-natural products that are specifically formulated for dogs. You ca make your own, too.  That way you know that you are not putting any harmful chemicals on your dog's skin.