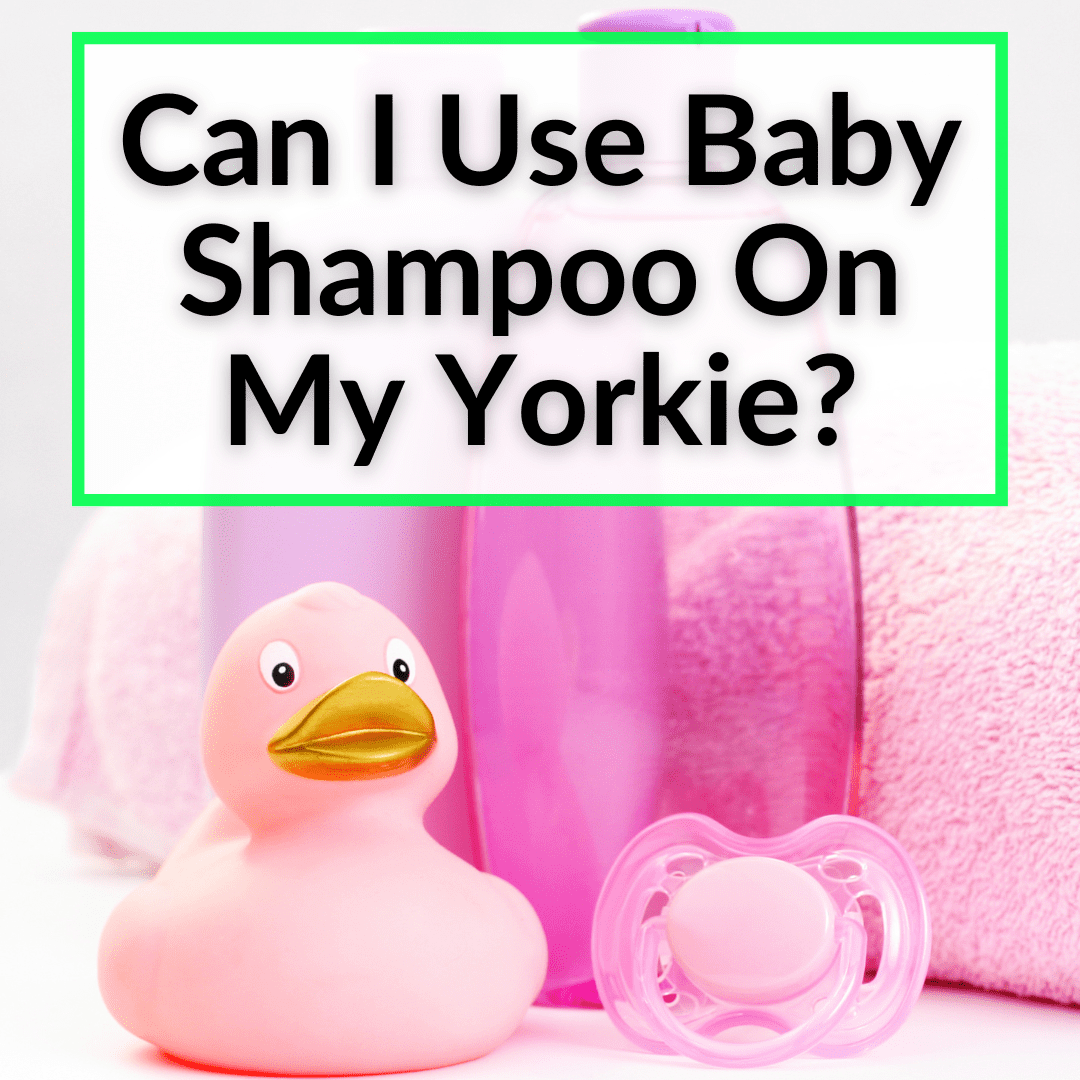 All Yorkies need baths.
Some Yorkies need a lot of baths.
Whether you have a cleaner pup, or one who loves to get muddy, you will need to bathe it at least once a month.
Probably more often.
That means using shampoo. Ideally, you want to use a specialized doggy shampoo.
But you may not always have one on hand.
What do you do then? Can you use a baby shampoo on your Yorkie, if you don't have a dog shampoo?
Keep reading to learn why that is not the best idea, although it will work in a pinch. We'll also help you figure out what shampoo you should be using on your Yorkshire terrier.
Can I Use Baby Shampoo On My Yorkie?
Technically, yes. You can use baby shampoo on your Yorkie. But you should not make it a regular thing.
It is true that baby shampoo is a much milder option than adult shampoo, making it a safer choice for your Yorkie. However, you should not use baby shampoo on your Yorkie regularly, because it can start to cause health and skin issues.
Baby shampoo does have safer chemicals, which is the main difference compared to adult shampoo. It is designed for more sensitive scalps.
But it was designed for baby scalps, not for the even more sensitive skin of your Yorkie. Here are the main problems with baby shampoo for Yorkies (or any kind of human shampoo).
Reasons Baby Shampoo Is Not Ideal For Yorkies
There are a few reasons you should not regularly use baby shampoo on Yorkshire terriers, or any dogs, for that matter. The first has to do with the different pH levels of human and dog skin.
Different pH Levels
Humans have a higher pH level than dogs. A human's pH level ranges from 5.5 to 7.5, which makes our skin quite acidic. A Yorkie's pH level ranges from 4 to 6, making it much more alkaline.
This is the main reason baby shampoo may cause issues for your Yorkie's skin with repeated use. The higher pH level in baby shampoo can cause skin irritations and affect the coat.
It may also make your Yorkie's skin dryer or itchier, which can lead to a variety of different health concerns. Most commonly, your Yorkie will scratch a lot, leading to wounds and scabs on its skin. This can lead to serious issues, like skin infections.
You might notice that your Yorkie has red bumps on its skin or some similar issue. This is a surefire sign to stop using whatever shampoo or conditioner you used on your pup.
Can Strip Away Natural Oils
Baby shampoo may also strip away your Yorkie's natural oils. These oils in your dog's coat are what keep it healthy and shiny. They work at protecting your Yorkie's skin from any harmful bacteria.
Baby shampoo (like any shampoo made for humans) can actually strip away any natural oils, which may dry out the coat. If you want your Yorkie's coat to look its finest, you should stick to a specialist dog shampoo (see below).
Fragrance
Many baby shampoos can also be fragranced. Even though the fragrances are designed for a baby's sensitive skin, it can still cause issues for your more sensitive Yorkie.
Any heavy perfumes can irritate your Yorkie's skin. You pup can also become overwhelmed by the smell.
It could also become potentially harmful if the fragrance makes your Yorkie want to lick its coat, which can easily happen if smells fruity and delicious! If there's any shampoo residue left over and your Yorkie consumes some of it, it could suffer an upset stomach.
Signs You Need To Change Shampoos
There are plenty of signs to look out for if you think you may be using the wrong shampoo for your Yorkie.
These signs include the skin becoming a pinkish red, an increase in itching indicated by scratching the bodies or licking the face, bald patches starting to appear, or your Yorkie's skin becoming dry and flaky.
If this does start to happen, your dog could be having an allergic reaction. Stop using the product right away and switch to a different shampoo. If the symptoms do not clear up quickly, go and see your Yorkie's vet. We also have an article on how to treat dry skin on Yorkies.
What To Look For In A Yorkie Shampoo
If you really want to treat your Yorkie to a great shampoo, one that will leave it with a coat that will make all of the other dog owners in your neighborhood jealous, then there are a few things you want to consider.
First, you should look for products that are organic and chemical-free. These are the most nourishing and safe options to use on your Yorkie.
Natural ingredients will leave their coats in the best possible conditions. You can shop for specialist dog shampoos in your local pet store or online. This article on the best Yorkie shampoos can help.
Is Johnson's Baby Shampoo Safe For Dogs?
Johnson's Baby Shampoo is the best baby shampoo to use on your Yorkie, if you have to use one. But again, you should only do so in an emergency, if you don't have any dog shampoo to hand. Do not use it on a regular basis.
Johnson's shampoo is free from any harmful chemicals and is soft enough that it can be used on sensitive Yorkie skin.
We do not recommend using the product all over your Yorkie, but if your pup muddied itself in one particular area and you have no other shampoo handy, it is a gentle enough product to clean your dog as a one-off.
But you should add a dog shampoo to your shopping list the next time you pop out to the store.
What Shampoo Can I Use For My Yorkie?
A Yorkie's coat is different than other dogs. It only has a single layer: an overcoat with no undercoat. This means you definitely want to use high-quality shampoos on your dog's hair, to keep it in the best possible condition, and to avoid any skin irritations.
A high quality shampoo will not only cleanse away any dirt and keep odors at bay, but it will also keep your Yorkie's pH levels balanced, it also won't strip away the natural oils.
Our article on the best shampoos for Yorkies has all the info you need. If you need some additional options, you could also consider Earthbath's Oatmeal and Aloe shampoo. It is a great all-rounder that keeps hair clean, skin moisturized, and protects against any dry skin and itching.
Other options include Earthbath's Eucalyptus and Peppermint shampoo which is a great choice if your Yorkie has irritated skin, because it is especially soothing.
For a dull coat, you could use Earthbath's Orange Peel Shampoo. It works at bringing back that healthy skin and color to your Yorkie's coat.
All of these shampoos are made from natural ingredients, making them free from any irritants such as parabens and sulphates.
How Do I Make My Own Dog Shampoo?
Making your own dog shampoo is a fairly easy process. The ingredients you need are one quarter cup of water, one cup of baby shampoo or non-toxic dish soap, one cup of apple cider or white vinegar, a third cup of glycerin, and two tablespoons of aloe vera gel.
Mix all of the ingredients into a spray or dispensable bottle and shake vigorously. You can then squirt it out and apply it to your dog. Make sure to avoid your dog's eyes and then thoroughly rinse out the product to leave your dog's coat looking silky and shiny.
You can also read our article on making your own homemade Yorkie conditioner here.
Using Baby Shampoo On Yorkies: Conclusion
Using human shampoo on Yorkshire terriers, or any dogs, is not a good idea, for the reasons given above. The same goes for baby shampoo.
It is true that shampoos formulated for babies are much milder, and thus much better for dogs, but they are still designed for human skin and not dog skin.
It is fine to use a baby shampoo occasionally, if you have no specialized dog shampoo on hand, but you should not make it a habit. Spend a bit more and get a good dog shampoo. You don't want your poor little Yorkie to suffer, do you?