Did you know that dogs have extremely sensitive skin?
It is much more sensitive than ours.
As such, it needs care to stay healthy. The same goes for your pup's fur.
A good dog conditioner ensures your dog's coat is shiny, the fur and skin are healthy, and it all smells nice.
There are tons of dog conditioners on the market, but a good homemade dog conditioner has a few key advantages.
You know exactly what is in it and you save money, if you use the same ingredients to make multiple batches.
But you need to make sure the conditioner is safe and actually effective.
Keep reading to learn exactly how to make dog conditioner at home, with 8 great recipes. They use a variety of ingredients and address different problems, like dry, itchy skin, or matted hair.
Homemade Dog Conditioner
Here are 8 easy-to-make homemade dog conditioners for your pooch. The ingredients used in these conditioners are easy to find – you can get them online and offline. I have also included DIY dog conditioners for various skin issues.
Simple 2-Ingredient Leave-In Dog Conditioner With ACV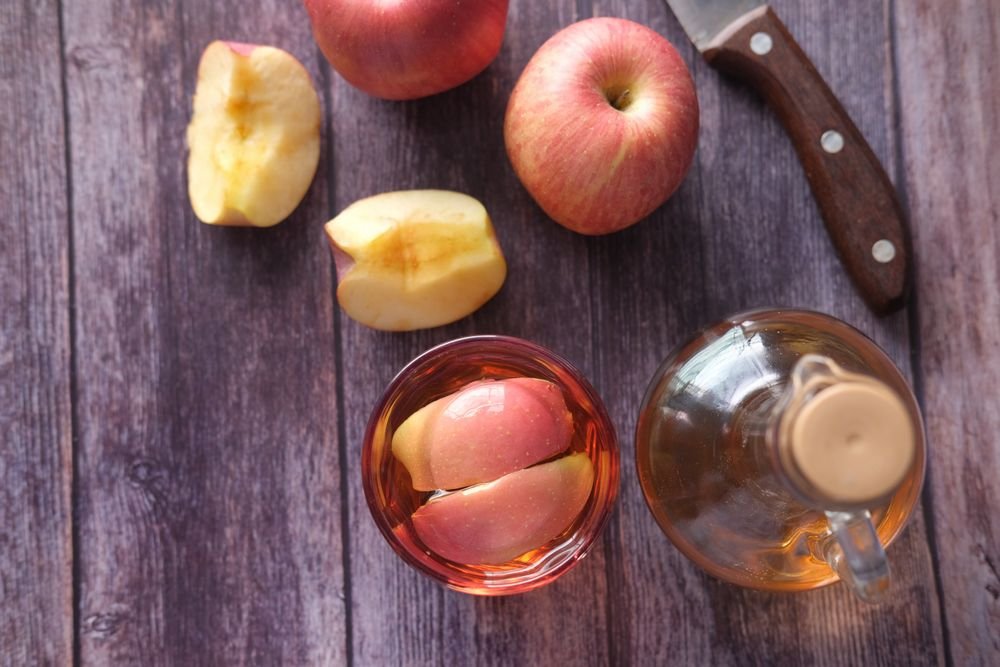 Is apple cider vinegar good for dogs? It is every bit as good for dogs as it is for humans. It has a ton of health benefits and it has antimicrobial properties, making it a natural parasite repellent.
It also deodorizes your dog's coat leaving it shinier and softer. This is a leave-in conditioner recipe to use between baths to keep the coat odor-free, healthy, and shiny.
Ingredients
¼ cup or 60 ml organic apple cider vinegar
1 quart (0.95 liters) distilled water
Spray bottle
Instructions
Mix the two ingredients in a spray bottle.
Spritz your dog all over with the mixture taking care to avoid the eyes.
Let him/her shake the excess out.
Brush and groom your pet as usual.
Repeat application once a week.
Homemade Dog Conditioner For Itchy Skin With Aloe
This is a wonderful homemade conditioner to soothe dry, itchy skin. Aloe vera has several benefits for dogs when applied topically. Since aloe is mainly water along with other nutrients, it helps soothe dry and irritated skin. It also hydrates and moisturizes your dog's dry coat.
This DIY dog conditioner also contains coconut oil or jojoba oil as carrier oils. Both oils are safe for dogs and highly beneficial as well.
Coconut oil is soothing, healing, and protective. Jojoba oil is beneficial for calming itchy skin. Whichever oil you use, please opt for organic and cold pressed varieties.
This wonderful homemade dog conditioner also contains essential oils. The essential oils I have used are lavender, rosemary, and cedarwood – you can use one, two, or all three of them.
These essential oils are generally well-tolerated in dogs. However, some dogs could be allergic, so always conduct a patch test in a small area. As always, please only use pure essential oils.
Ingredients
4 cups aloe vera gel (If you use commercial gel, ensure that the product contains at least 90% aloe).
2 cups distilled water
4 tbsp carrier oil (jojoba or melted coconut oil)
5-7 drops of pure essential oils (lavender, rosemary, and cedarwood)
Bowl
Whisk
Glass pump bottle
Instructions
Pour all ingredients into the bowl and whisk them to blend thoroughly.
Pour the mixture into a bottle with a pump.
After your dog's bath, take a generous amount and apply it to its coat. Massage it well. Work the conditioner well into the coat from head to toe.
Leave it on 5-7 minutes before rinsing off with lukewarm water.
Note
Pure aloe vera gel only has a shelf life of 5 to 7 days so discard leftover conditioner or only prepare as much as needed for a single use.
Moisturizing DIY Dog Conditioner With Shea Butter
This is a great leave-in conditioner for dogs with dry and flaky skin. It contains aloe, shea butter, and glycerin. Vegetable glycerin is safe for topical use on dogs and it softens and soothes the skin.
Shea butter is moisturizing and helps prevent dry skin by trapping the moisture. You can use other kinds of butter like coconut butter or coconut oil in its place for this recipe.
Adjust the quantity according to your dog's hair length.
Ingredients
½ cup aloe gel. (If you use commercial gel, ensure that the product contains at least 90% aloe).
1 tsp vegetable glycerin
1 tsp shea butter/ melted coconut butter/melted coconut oil
Instructions
Mix the three ingredients thoroughly
Apply over the coat. Leave overnight or at least for an hour before bathing your fur baby.
Rinse thoroughly and towel-dry your pet.
You can also use this recipe to spot-treat dry, flaky areas on a daily basis.
Hypoallergenic Dog Coat Conditioner With Manuka Honey
Is your dog itchy all the time? Is it shedding? Does it suffer from skin allergies? Then this is a great conditioning recipe that will soothe away irritation and allergies.
This recipe contains manuka honey which soothes, protects, and heals the skin. It also contains aloe leaf juice and essential oils.
Rosemary essential oil can eliminate dandruff, fungal spores, and other parasites. Lavender oil helps soothe and deodorize, while chamomile oil provides pain relief and calms itchy and irritated skin. This natural conditioner can also detangle and soften your pet's coat while restoring its lost shine.
Ingredients
1 cup aloe leaf juice. (Simply wash the aloe leaf and blend it with some distilled water. Strain away the bits if needed).
½ cup manuka honey
2-3 drops of rosemary essential oil
3-5 drops of lavender essential oil
2-3 drops of chamomile oil
1-2 drops of thyme essential oil
1 tbsp glycerin
Instructions
After mixing all ingredients, take a generous quantity and apply it to your dog's wet coat (after bath).
Work the conditioner well into the coat from head to toe.
Leave it on for at least 5 minutes for the conditioner to penetrate deep into the coat.
Rinse well. Towel dry and enjoy your pup's silky, shiny, and fragrant coat!
Homemade Dog Conditioner For Matted Hair
For detangling your pet's matted fur, you can use ingredients like coconut oil, aloe vera gel, and glycerin. Aloe soothes, deodorizes, and cleanses the skin while providing moisture.
Coconut oil provides an oil base that helps to gently remove stubborn mats and tangles. Glycerin is required to bind everything together. You can also add some essential oils to this recipe.
Ingredients
2 cups distilled water
1 tbsp melted (and cooled) coconut oil
½ cup aloe gel (If you use a commercial product, ensure it contains at least 90% aloe).
1-2 tsp glycerin
Few drops of essential oil
Bowl and whisk
Spray bottle
Instructions
Take all ingredients into the bowl and whisk thoroughly to blend well.
Pour the mixture into a spray bottle.
After bathing your dog, spray the mixture all over its coat and massage.
Leave the conditioner on for 5-7 minutes before rinsing off.
Towel dry your pet.
Brush the coat gently to remove all tangles and mats.
For severe mats, you may need to trim the fur. Also, use an oil-based leave-in detangler spray to prevent further matting. Brush your dog every day using a slicker brush to maintain a mat-free coat.
DIY Conditioner For Smelly Dogs
Use this conditioner to deodorize your pet's smelly coat after it went swimming or if it has rolled around in mud or been sprayed by a skunk.
Do Yorkies like to swim? Some love it and some hate it. If yours loves it, it will probably dive into some funky waters occasionally, leaving you wondering: why does my Yorkie stink?
Ingredients
½ cup apple cider vinegar
1 cup distilled water
1 tbsp vegetable glycerin
5-10 drops of lavender oil
Instructions
Place ingredients in a spray bottle.
Shake well to mix.
Spray all over the coat.
Rinse off with lukewarm water after 5 minutes.
Repeat as needed – make it fresh before use.
Flaxseed Conditioner
Flaxseed conditioner is an inexpensive way to condition and moisturize your dog's dry coat. Flax seeds contain omega-essential fatty acids which help maintain a healthy, supple, and shinier coat.
Ingredients
1/4th cup of flaxseeds (about 40 g). Double the quantity for large dogs.
2 cups water
5 drops of lavender essential oil (optional)
Instructions
Soak flaxseeds in water and leave the mixture overnight.
Next morning, boil the soaked seeds and simmer for 5 minutes.
Cool and strain the gel.
Add a few drops of essential oils (optional) to the gel.
Massage the gel all over your pet's coat focusing on the dry, itchy areas.
Wash off after an hour. Dry your pet thoroughly.
Repeat as often as needed.
Rosemary Conditioner
Rosemary is the most common herb found in most pantries. It is also a great ingredient for dogs with numerous health benefits. Rosemary is rich in Vitamin C, flavonoids, saponins, essential oils, alkaloids, and tannins.
But rosemary isn't just a flavor boost foro your dog's food. It is also beneficial for blood circulation, which helps the coat become stronger, brighter, and healthier. Finally, rosemary acts as an astringent, meaning it can help fight oily and greasy fur.
Ingredients
2 tbsp rosemary leaves
2 tbsp olive oil
Instructions
To prepare the infusion, heat the rosemary leaves in hot oil, being careful not to let them burn.
Let the infusion cool.
Once cooled, remove the leaves.
Massage the conditioner into damp fur.
Let it sit for a few minutes, before washing it out.
Alternatively, you can also make this conditioner with water instead of oil. The olive oil provides some additional benefits, but water works well too.
To make it with water, boil a large sprig of rosemary in water. Let it cool and remove the rosemary. Apply the infusion to your dog's coat following the instructions above.
DIY Dog Conditioner: Conclusion
Homemade dog conditioners generally offer a lot more natural benefits for your dog's skin than most commercially made conditioners. You also know exactly what is in them, which is important.
Of course there are also good conditioners available to buy. You just have to know which ones they are. If you prefer to just buy your conditioner, read our review and comparison of the best conditioners for Yorkies.
Personally, I use a combination of both. Most of the time, I go with a good commercially bought conditioner, but occasionally, I like to mix up one of the above recipes and give my pup a little treat.
The one thing you want to avoid is using human conditioner on your Yorkie. If you do it a few times, it will be fine, but doing it regularly can cause skin problems or digestive issues. Human conditioners are formulated for our skin, not Yorkie's much more sensitive skin.