Yorkshire terriers are famous for their luxurious coat color and texture.
As you might expect, this means more grooming needs.
Not only that, but Yorkies also have sensitive and allergy-prone skin.
This all makes it crucial to pick the right shampoo for your pet.
What is the best shampoo for Yorkies?
It entirely depends on the specific need of your Yorkie. Medicated dog shampoos are best when attending to, or trying to prevent, infections.
Dog shampoos with conditioners are great in relaxing hair and removing mats. Oatmeal dog shampoos are ideal for fighting dryness and itchiness.
Keep reading for the best Yorkie shampoos on the market, including all of the types just mentioned above.
Best Shampoo For Yorkies: Comparison Table
03/23/2023 04:34 am GMT
Best Dog Shampoo For Yorkies
The following are the best dog shampoos on the market for Yorkshire Terriers. Find the one that best matches your needs.
Best Overall: Veterinary Formula Clinical Care Antiparasitic & Antiseborrheic Medicated Dog Shampoo
This Antiparasitic and Antiseborrheic Medicated Shampoo is formulated to safely treat skin scaling due to increased sebum discharge (seborrhea), fungal, and bacterial infections.
It also relieves inflamed scalp, greasy skin, red rashes, bald spots, flaky skin, mange that causes itching and hair loss, and other parasitic infections.
It is specially formulated for dogs over 12 weeks of age and is paraben-, dye-, and soap-free. The pH is balanced and ideal for your dog's sensitive skin. It even contains ingredients that hydrate the skin and promote healing.
Best For Yorkies That Smell: TropiClean Luxury 2-in-1 Dog Shampoo And Conditioner
Freshen up your dogs (12 weeks or older) with TropiClean Dog Shampoo & Conditioner. It has the luxury of papaya & coconut together that cleanses, moisturizes, and conditions your Yorkie's coat and skin and relaxes tangled hair for easier brushing.
The sweet scent of papaya and coconut will leave your pet with a fresh scent that lasts. Its formula is pH-balanced, soap-free, paraben-free, and dye-free, made with the highest quality, naturally-derived ingredients.
Best Shampoo For Yorkies' Sensitive Skin: Honeydew Colloidal Oatmeal Dog Shampoo
This Colloidal Oatmeal Shampoo is designed for dogs with sensitive skin. It is hypoallergenic and has cleansing, soothing, and conditioning properties that combat skin irritants.
Dogs with sensitive skin, including Yorkies, can be irritated by many shampoos. Recommended by vets, this shampoo gently but effectively helps soothe and nourish your Yorkie's coat and skin.
Made from natural ingredients such as jojoba, this shampoo cleanses skin and hair and restores essential oils. It also acts as a gentle deodorizer, making your dog smell fresh.
The Colloidal Oatmeal Shampoo formula is sulfate-free, paraben-free, tear-free, and cruelty-free. It is enhanced with lavender essential oil, making it extra calming, therapeutic, and comforting for your Yorkie.
Best For Infection-Prone Yorkies: Bexley Labs Curaseb Medicated Shampoo
Curaseb is a veterinary recommended shampoo created to eliminate yeast, fungus, ringworm, bacteria, and pyoderma that cause skin-related problems in dogs.
This shampoo gently cleanses your dog's skin while eliminating the smelly odor caused by unwelcomed organisms. In exchange, it leaves behind a refreshing cucumber melon scent.
Best Waterless Yorkie Shampoo: Bodhi Dog Waterless Shampoo
If you are a busy owner or your dog just dislikes water, this is the best shampoo. This natural dry shampoo cleans your pet fast yet effectively.
It instantly gets rid of unpleasant pet smells and also does a great job in detangling mats. It can be used for spot treatment or a full body cleansing, more effective than wipes.
This shampoo has an extremely gentle formula that works well for animals with allergies and other sensitivities. It is detergent-, paraben-, sulfate- and alcohol-free and 100% non-toxic, making it a safe alternative for other cleansers that contain harsh chemicals.
This hypoallergenic pet shampoo even won in the 2020 Family Choice Awards, a consumer award program that recognizes outstanding pet products.
The wonderful fresh lavender aroma of this waterless shampoo leaves your pet smelling fresh for days. This product can also be used to freshen up pet beddings or anywhere pet odors linger. Its portable design makes it convenient for traveling, too.
Best Puppy Shampoo For Yorkies: BioSilk Tearless Puppy Shampoo
Formulated with silk and enriching vitamins that work together, Biosilk Therapy Tearless Puppy Shampoo helps restore the moisture balance in your puppy's coat.
It is specially made for puppies with a delicate skin and coat. It works well in cleaning, moisturizing, softening, and conditioning without drying and being harsh to the sensitive puppy skin.
This formula is gentle enough for puppies eight weeks of age and older and will leave your puppy's skin and coat silky, soft, and shiny. The floral-inspired Jasmine scent gives a fresh and clean smell for your Yorkie.
It is 100% safe, with no parabens or sulfates, is pH balanced for dogs (like all Biosilk dog products), and is safe for use with topical flea and tick treatments, like the best flea treatment for yorkies detailed in this article.
Best For Dry Itchy Skin: Burt's Bees Skin Soothing Honey Shampoo
Made with the highest quality, all-natural ingredients, like honeysuckle, Burt's Bees Itch Soothing Shampoo has a cleansing, softening, and soothing formula for dry, itchy skin.
It is 100% safe and suitable for all dogs and puppies. It has a mild and veterinarian-recommended formula. It is pH balanced and is free of colorants, sulfates, fragrances, and harsh chemicals.
Best Shampoo For Yorkies With Allergies: Mika Pets Oatmeal & Aloe Dog Shampoo
With Mika Pets Oatmeal Dog Shampoo and Conditioner, you can pet and play with your Yorkie and not worry about allergies. This dog shampoo cleanses while relieving your pet's dry, itchy, and irritated skin.
It is made with all-natural, non-medicated, safe cleansing ingredients like oatmeal (which gives optimum moisturization) and aloe leaf juice (which heals and prevents inflammations).
It is pH balanced, hypoallergenic, cruelty-, sulfate-, phosphate-, MEA-, DEA-, and paraben-free. It does not dry the skin or trigger pre-existing allergies.
Unlike most Oatmeal Dog Shampoos, Mika Pets' uses more colloidal oatmeal, which makes it more effective. It even leaves a refreshing coconut smell.
Shampoo For Yorkies Buying Guide
This brief buying guide will help you find the right dog shampoo for your Yorkie. Use these tips, if you do not want to purchase one of the recommended shampoos above.
Key Features To Look For In A Yorkie-Suitable Shampoo
Not all dog shampoos are suitable for the long hair and sensitive skin of Yorkies. Be sure to read the ingredients label to check for potentially harmful ingredients, and to read the reviews, too. We suggest looking for the following qualities in a Yorkie-suitable shampoo.
Effective Removal Of Dirt, Dust And Dead Skin Cells
The shampoo should have ingredients that effectively remove the buildup of dirt, dust, and dead skin cells on the hair and skin of your Yorkie. Most dog shampoos are formulated for this primary purpose, so that's one less factor to consider.  
Body oils in the hair and skin are necessary for maintaining your Yorkie's soft, smooth, and sleek hair as well as healthy skin. But too much or too little of these oils has adverse effects. Too much and the hair will be too oily. Too little, and the hair and skin will be too dry.
For this reason, even the best shampoo should be used sparingly. Veterinarians recommend bathing Yorkies once every six weeks and using only a small amount of shampoo.
Neutral pH Balance
pH balance refers to the acid-base balance of the body with the standard pH scale from 0 to 14. Dogs have delicate skin with a pH balance between 6.5 and 7.5, which means they have more neutral skin than humans.
If possible, check that the dog shampoo has a pH range falling between 6.5 and 7.5, for safety reasons. At this range, the shampoo has a neutral pH balance, neither alkaline nor acidic. Otherwise, your Yorkie's skin and hair will be at high risk of allergic reactions, such as irritation, rashes, and even peeling.
Moisturizes And Soothes The Skin And Hair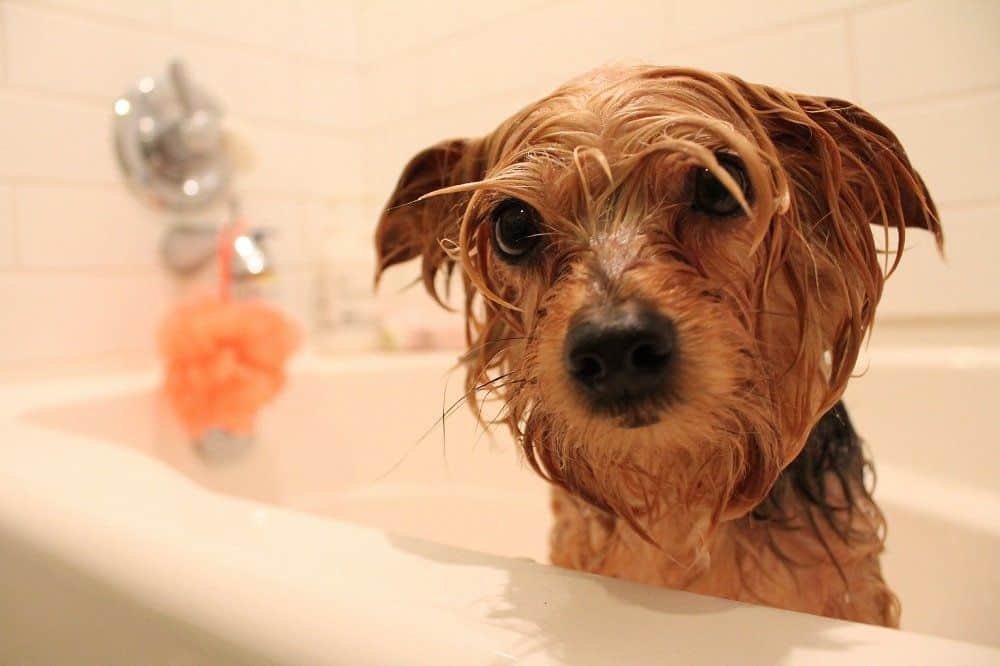 Keep in mind that Yorkies' skin and hair are more delicate than human skin and hair. For this reason, the best dog shampoo should contain ingredients that moisturize and soothe these body parts. These ingredients include almond oil, aloe vera, eucalyptus, tea tree oil, and peppermint.
The last three ingredients are also useful in terms of giving the Yorkies' hair and skin a pleasant fragrance, without the use of artificial ingredients. Your Yorkie will smell so nicely after every bath that you will want to cuddle it even more.
We also want to emphasize the ingredients that shouldn't be in a dog shampoo. First, petroleum and its by-products, since these disrupt the skin and hair's ability to produce their natural oils and, thus, result in dryness. Second, parabens and sodium laureth sulphate. Both can cause allergic reactions in sensitive dogs.
If possible, choose organic shampoos that don't contain artificial additives and preservatives. Don't be taken in by the "all-natural, organic, and safe" labels on these products either! You should still check these claims.
Additional Tips
Here are some additional tips for choosing the right dog shampoo for your Yorkie.
Ask For Advice
Always ask for expert advice. Before buying a dog shampoo, you must consult your veterinarian and have your Yorkie checked up. It will help you determine your dog's need.
Check Ingredients
We mentioned this already, but always check the list of ingredients before buying a shampoo even if it claims to be what you're looking for (for instance, all-natural).
Moreover, check if a dog shampoo's pH level is in the neutral range. If the pH level is not indicated, make sure the description clearly states that the shampoo's pH is balanced for dogs.
Never Use Human Shampoo
Always use a pet or dog shampoo even if the Yorkshire Terrier's coat is more like human hair than fur. Shampoos for humans are formulated for human hair and skin, which has a lower pH balance than dog hair. Disrupting your dog's pH balance can lead to skin and hair problems.
Can I use baby shampoo on my Yorkie? Baby shampoo is more gently, but it is still not formulated for Yorkie skin. Use it in an emergency if you have to, but do not use it regularly. Over time, it can lead to the same issues as any other human shampoo.
Determine Your Pet's Lifestyle
The proper grooming and maintenance for Yorkies highly depends on how you keep their coat and what their lifestyle is.
Do you keep your pet's hair long? Is she or he an indoor pet or an outdoor enthusiast?
Your Yorkie's grooming and bathing routine must suit its lifestyle.
Determine Your Dog's Needs
Does your dog have sensitive skin, dry skin, itchy skin, or dry hair? Is it prone to allergies and mats? If you answered yes to any of these, then find a shampoo that attends to that need.
Go All-natural
Again, it is best to get a shampoo with all-natural ingredients, such as natural oils and coconut oil, to keep your harmful chemicals away from your pet. As much as possible, choose paraben-, perfume-, and cruelty-free shampoos.
Stay Light-Odored
Choose a non-fragrant shampoo or one with a pleasant, but not too strong, odor. Remember that, while you do not want your pet to get smelly, you do not wish its shampoo scent to be overpowering either.
Best Yorkie Shampoos: Related Questions
What can I wash a Yorkie with?
Yorkies are very sensitive to both heat and cold. For bathing, a Yorkie used mild, tepid water only.
How often should I bathe a Yorkie?
Bathe your Yorkie once every two to four weeks. Additional baths may be needed for outdoor and long-haired Yorkies.
Best Shampoos For Yorkies: Conclusion
Proper pet grooming, including bathing with the right shampoo, will leave you with a relaxed, clean, healthy, and happy Yorkie. When your pup feels cared for, you'll have an even happier household in return.