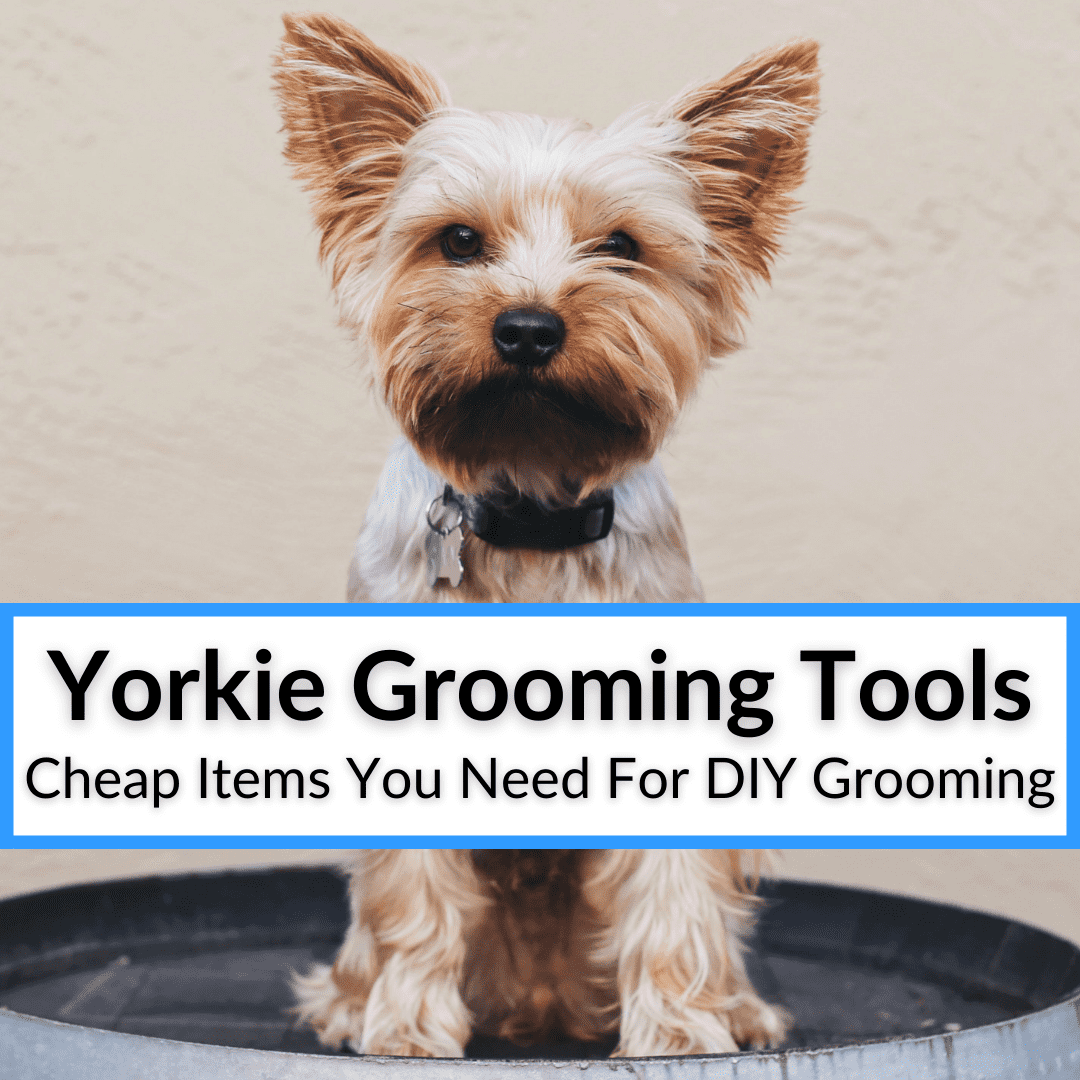 Yorkies are beautiful.
But that beauty doesn't just happen on its own.
These gorgeous pups need regular grooming. Not just to maintain their beauty, but also for their health.
Having a professional groomer handle these duties is easiest. Obviously.
But that does cost money.
If you get yourself some good Yorkie grooming tools, you can handle the grooming at home.
The tools are inexpensive, too. They end up paying for themselves after one or two grooming sessions.
But grooming a Yorkie isn't always easy. You'll have to decide for yourself whether the DIY route is for you.
Keep reading to learn what grooming tools you need for your Yorkie and what you can expect from the grooming process.
Yorkie Grooming Tools
The following items are essential if you plan to groom your Yorkie(s) yourself. As you'll see, all of the items are inexpensive, so they will pay for themselves after just one or two grooming sessions.
Grooming Tool Set
For most owners, buying a set of grooming tools that includes clippers and several of the other tools mentioned below is the best way to go. You generally get a better price when you buy a set. But there is nothing wrong with buying individually, especially if you already own some of the tools included in most sets.
Brush
The best brush to use in general is a slicker brush or other brush with wire bristles. These work well for different types of Yorkie coats.
The wire-type bristles are great for removing tangles, mats, and unwanted or dead hair. A combination brush is especially good, since it is more versatile.
It is best to brush the hair by going in the direction of the hair, and parting the layers. Keep the stroke going beyond the end of the hair, to avoid breakage.
We have an article with brush recommendations specifically for Yorkies.
Grooming Glove
A grooming glove is a grooming tool that is perfect for Yorkies with short hair. It is also good because it helps in removing any dead hair. Plus, it helps get rid of the surface dirt and distribute healthy coat oils.
The gloves above from Handson are our favorites. They come in a bunch of different colors and sizes.
Nail Clippers
Many owner take their pups to a dog groomer to get its nails clipped. But you can do it yourself at home and save the trip and the money. We have an article on how to cut Yorkie nails.
You just need a good pair of dog nail clippers. You can find some in any pet store, but there are also a few good options on Amazon.
Our favorites are the dog nail clippers from Boshel shown above. They have safety guards to prevent any injury to your pet and come with a free dog nail file.
Shampoo
There are different types of shampoos you can buy depending on the usage. One specialized type is a flea shampoo. Our favorite is the flea shampoo from Adams Plus pictured above.
As for regular dog shampoo, you want one that moisturizes and cleanses your Yorkie's hair without stripping off the natural hair oil and nutrients.
Yorkie hair is different from other dog breeds, so you want to make sure you get the right shampoo. We have an entire article reviewing and comparing the top dog shampoos for Yorkies.
Flea Comb
If your dog has fleas, shampoo isn't the only thing you'll want to get to take care of the problem. A flea comb is just as important to remove fleas, and sometimes even their eggs, from your Yorkie's coat.
Again, Yorkies' coats are different, so you'll want a comb that works with their hair as well. We recommend the BulbHead Flea Doctor electronic comb, which you may have seen on TV. You can also ask your vet for a recommendation.
Grooming Scissors
We do not generally recommend cutting your dog's hair yourself, unless you know what you are doing. But sometimes you'll need to trim your Yorkie's hair in problematic areas and going to a groomer just for this isn't really worth it.
That's when a good pair of blunt-nosed trimming scissors comes in handy. You can use it to trim up areas like the legs, feet, tail, and even in their anal area.
We recommend the pair of Japanese grooming scissors above from Pet Magasin.
Toothbrush And Toothpaste
Two more important tools for dog grooming are a toothbrush and toothpaste. They are not just important for cosmetic reasons, but are vital for your dog's health.
You want to make sure to buy a toothbrush and toothpaste made for dogs. It is not a good idea to use human toothpaste. That's because there is a good chance your dog will swallow some of it. Swallowing human toothpaste could lead to stomachache and digestive issues.
You can buy doggie toothpaste and a toothbrush at any good pet store, but it is also available online. We like this toothbrush and toothpaste set from Arm & Hammer:
Using Your Grooming Tools Correctly
As a Yorkie parent, we always want to make sure that our Yorkie babies are getting the best in terms of grooming. In many cases, that means getting a professional to do it.
But some of us prefer to do it on our own. Maybe we like spending the time with our dogs, or maybe we simply want to save some money. Either way, it is important to do the grooming properly. Here are the steps to follow.
Condition Your Yorkie's Coat
In addition to regular brushing and washing with shampoo, it is also a good idea to condition your Yorkie's hair. Doing so helps moisturize the coat.
If your Yorkie has naturally oily hair, experts say that you can skip the conditioning. But if its coat is dry (or even just normal), it is a good idea to buy a good dog conditioner that helps moisturize its coat.
If you're not sure what brand of conditioner to buy, you can ask your veterinarian for advice. We also have a buying guide for dog conditioner for Yorkies that will help.
We also have an article with 8 different recipes for DIY conditioners. It includes a homemade dog conditioner for itchy skin, one for matted hair, and more. All use healthy, natural ingredients and are easy to make.
Can you use hair conditioner made for humans on a Yorkie? You can, but it is not a good idea. Doing it once in an emergency won't be a problem, but using it regularly can lead to skin issues and other health problems.
Brush Some Sections Of Your Yorkie's Coat
When you brush your Yorkie's hair, remember that you need to use a pin brush, without a rubber back. Because pin brush doesn't have any metal tip that can tear Yorkies coat.
The proper way to brush the coat is to divide some areas of the coats into sections. Then brush from root to tip, in the direction the hair lies.
With proper brushing, you're actually helping to condition the hair, because it spreads the natural oils. If your pet is squirming a lot, you can start by brushing areas that are less ticklish and sensitive, like the legs.
Remove Any Knots
If you find any knots, even small ones, don't worry. You can remove them fairly easily. Use your fingers to help tease the knots. If you can't get the knot out, try using a comb.
Or you can use a pair of scissors to cut the knots. Simply comb to just above the knot and then snip it off above the comb.
Knots usually pop up in areas behind the ears, in the armpits, and around the groin. You should also look under the tail to ensure that there is no fecal matter soiling the fur in the area. If there is, you should bathe your dog immediately, or simply snip off the soiled hair, if it is uncontrollable.
Comb Your Yorkie's Ears And Face
Using a comb on your Yorkie's ears and face is generally better than using a brush. It is easier to avoid injuring your dog with a comb. Just go slow and try to keep your pet from moving too much. You don't want to accidentally poke it in the eyes with the comb.
Clean Their Eyes
Don't forget the eyes when grooming your Yorkie. If you see any accumulated tear stains around your dog's eyes, you can remove them with wipes or a tear stain removing solution.
Try not to get any in the eyes, although any good tear stain remover is formulated to be safe for your pet's eyes. This article covers the best tear stain removers for Yorkies.
Ear Cleaning
Ear cleaning is another important part of your grooming routine. You should perform a regular examination to make sure the ears are fine. Like, look for any possible bad odor, rashes, or anything else that looks unfamiliar.
If you suspect your pup is suffering from an ear infection, you can treat it by using a product that helps get rid of it. But, as a precautionary measure, you should ask a veterinarian for advice first, before buying one.
If you do not see anything that makes you suspect an infections, you can clean the ears yourself, starting from the outside. Warm water is better than cold for cleaning the ear canal.
Teeth Cleaning
Studies say that around 80% of Yorkies get at least one cavity. When they get one, it can also affect their kidneys and livers.
Bad teeth also make it difficult for your dog to eat properly. What this all means is that you need to clean your dog's teeth. Or get them cleaned.
No dog wants you to clean its teeth, so it will never be a fun task. But you should do it every 2 to 3 weeks or so. You can have a professional do it, if you're unsure how to do it properly, or if you simply don't want to deal with it.
Ideally, you should actually brush your pup's teeth daily. But I know this is a lot to ask of most owners. But it's not as hard as you may thing. This article teaches you how to brush a Yorkshire terriers teeth.
What To Expect When Grooming At Home
Yorkies' small physical appearance is a huge advantage when it comes to grooming. You can easily pick them up and even bathe them even in a sink.
That said, they are famous for being more aggressive than many other dog breeds. It can sometimes make grooming a bit frustrating, but it can also be a great opportunity.
Specifically, it is an opportunity to bond with your Yorkie. If you follow a routine and make the grooming process as simple and pleasant as possible for you and your pet, it can be a positive experience for both.
When you groom your pet for the first few times, give it them plenty of treats during and after the grooming. This will instill in its minds that grooming is an activity to look forward to.
That's why it's also best if you follow a routine every time you groom your Yorkie. By following a routine, you ensure that your dog understands that grooming is happening every tie you do it.
If you start every grooming session by trimming your pet's nails, you're setting this expectation when grooming. If you sometimes start the grooming with the feet and sometimes by brushing the face, your dog won't understand what is going on.
It won't realize that the grooming process is happening and it won't know what to expect. That will make it just as anxious as if it were the first time grooming all over again.
As mentioned, Yorkies are definitely a more aggressive breed of dog and they will react more aggressively when they get anxious. That's why it is important to be extra careful and prepared when performing the grooming process. A routine will help keep them calm.
Of course, things can always go wrong. It is certainly possible (even probable) that you will accidentally hurt your Yorkie at some point, especially the first few times you groom him or her.
But this is no need to panic. In fact, you should do everything you can to not panic. If your dog sees that you are panicking, it will manic as well and become more aggressive.
Even expert groomers make mistakes sometimes. If you make one, just remember to stay calm and continue on.
And if you really can't handle it, you always have the option of seeking professional help. Remember that grooming is done to maintain both your Yorkie's beauty and health. If you don't feel confident enough to do it yourself (or you simply don't want to), have a professional handle this important task.
What To Expect When You Bring A Yorkie To A Pet Groomer
Grooming your Yorkies is never easy, but especially not when doing it for the first time. If you realize that you can't (or don't want to) handle the grooming, you can bring always take your pup to a professional groomer.
Before you do, you will need to set-up an appointment. You should also realize that the typical turnaround time for grooming a dog is 1 to 2 hours.
Dog salons that have a block schedule usually let several dogs come in at the same time. This means your Yorkie baby also needs to spend some time in the kennel area to dry. And that means that you need to expect a longer turnaround of around 3 to 4 hours.
Then there are shops that offer cattle call scheduling. They have every dog come in at the same time in the morning and stay in the salon all day long.
As for the price of grooming a Yorkie, you should expect to pay around around $40 to $75 for a full grooming, depending on the size of your dogs. Larger dogs cost more, so Yorkies will fall on the bottom end of that range.
Prices do vary quite a bit from area to area and groomer to groomer. It also depends on what all you need done. Any special problems, like matting, result in an increase as well. Make sure to agree with the groomer on a price beforehand.
The groomer will require you to sign some paperwork and ask you to provide proof of vaccinations. Once the requirements are completed, you are free to leave, while your dog stays with the pet groomer.
We know that it's tempting to stick around and wait for your dog, but we advise against this. It will give your Yorkie the impression that it can leave, instead of waiting patiently for the grooming to be finished.
Grooming Tools For Yorkies: Conclusion
Grooming is essential to maintain your Yorkie's beauty and health. Getting it done professionally is easiest, but it can get expensive.
That's why many people prefer to do it at home. Not only does it save money, but it is also a great opportunity to bond with your pup.
If you choose to go the DIY route, you will need certain Yorkie grooming tools. The list above should have given you a good idea of what tools you'll need and how much you can expect to spend.
As you can see, all the tools combined still don't add up to a ton of money. They will pay for themselves after one or two groomings, in terms of the money you save by doing it yourself.