Yorkies are prone to dental issues.
The breed has a reputation for having bad teeth.
But you can help your little pup fight against this genetic predisposition.
How? By brushing its teeth regularly, of course.
It won't be easy. Especially at first.
But if you know how to brush Yorkie teeth the right way, your dog will soon accept it as part of its daily routine.
Yes, daily.
Keep reading to learn the best way to brush your Yorkshire terrier's teeth. We will also cover how often you should do it and what age is a good time to begin.
How To Brush Yorkie Teeth
We will begin with a quick list of the things you will need to brush your Yorkshire terrier's teeth. Yes, they are probably obvious to you, but we'll list them anyway.
Materials Needed
Vet-approved dog toothpaste
Dog toothbrush: this can be a finger brush or a regular pet toothbrush
High-value rewards, like treats
Step 1: Find The Right Time
You must establish a routine when it comes to brushing your Yorkie's teeth. Ideally, you should brush your Yorkie's teeth every day, preferably at the same time.
Make sure your pet has had its meal and is relaxed. Get ready with the toothbrush and toothpaste. Put a small, pea-sized dab of toothpaste on your finger brush or regular brush. When selecting a brush for Yorkie, please get recommendations from your vet.
Step 2: Assume The Position
You could either get your Yorkie to sit on a grooming table, or on the floor in a sitting position. Never hold your Yorkie down or tower over it. This will feel threatening or intimidating to your pet.
Your Yorkie needs to be completely relaxed to make the experience easier for everyone. If your Yorkie appears agitated or anxious, you must stop and try again a while later.
Step 3: Gently Touch Your Yorkie's Mouth
Lightly touch your Yorkie's mouth so it opens its mouth. You can touch its gums without the brush. Just use your fingers.
You can also allow your Yorkie to sniff the toothpaste. Most doggy tooth-pastes come in chicken or meat flavors that dogs cannot resist.
However, Yorkies are known to be picky sometimes. If your pet does not like what you have, you might want to experiment with different flavors until you find one that your Yorkie likes.
Step 5: Use The Toothbrush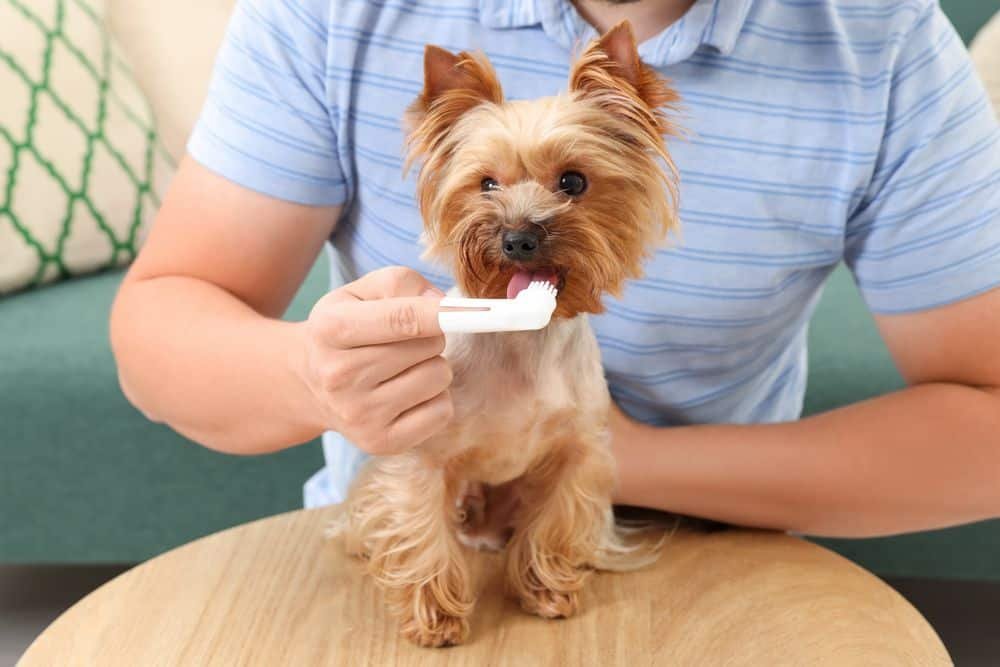 Once your pet is comfortable opening its mouth and it allows you to touch its gums and teeth, you can progress to using the brush.
Gently rub the brush along your pet's teeth and gumline. You might have to tilt the brush (or your finger, if using a finger brush) at a 45°degree angle, so you can brush up and down.
If possible, use an upward and downward motion, or a circular motion, to clean the plaque. As far as possible, try to also get between your Yorkie's teeth to remove any food bits stuck between them.
It is important to use gentle pressure. Sometimes, you might see some bleeding from your pet's gums. This is normal. But if you see a lot of blood, then you need to reduce the pressure. If the bleeding persists, please see your vet to rule out gum disease.
Step 7: Keep The Session Fun And Light
Speak to your Yorkie in a soothing tone of voice. Pat your little fur baby's head and jowls every now and then and smile and praise it.
Step 8: Brush The Inside Of The Teeth And The Back Of The Mouth
Don't forget to brush your Yorkie's teeth on the other, inner, side. And also the back of its mouth. If this is your first time brushing your pet's teeth, keep the session short.
If your pet attempts to run away or wriggle, let it go. You can brush just a few teeth in the beginning and then progress to brushing more teeth as the days go by.
Step 9: Praise Your Yorkie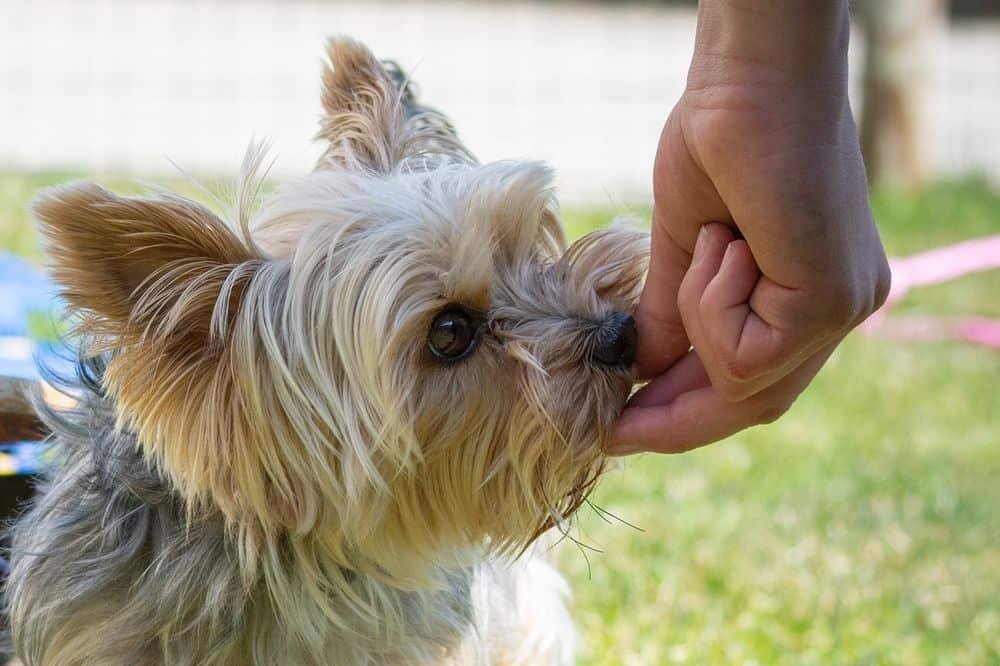 Praise your Yorkie and reward it. Use a high-value treat that your Yorkie finds irresistible. This is important to get your pet to look forward to brushing. You can even choose a dental chew treat that also reduces plaque with its coarse texture.
When Should I Start Brushing My Yorkie's Teeth?
Vets recommend that you start brushing your Yorkie's teeth as early as 6 to 8 weeks of age. The earlier you get your Yorkie used to being brushed, the better it will be for you.
Puppies are eager to please and will be more receptive to having their teeth cleaned. Also, when you combine the action with praise and a high-value reward, you will have greater success.
Brushing from puppyhood will also help you keep an eye on your Yorkie's teeth. For example, in some puppies, the deciduous teeth (or puppy teeth) may not fall out, which could result in early periodontal disease.
How Often Should I Brush My Yorkie's Teeth?
Ideally, you should brush your Yorkie's teeth twice a day after each meal. But try to do it at least once a day.
Since Yorkies are small dogs, they are prone to dental issues. This is because their tiny mouth can get overcrowded with teeth. Food particles easily get stuck in between the teeth, accumulating plaque and tartar.
Twice a day brushing is also helpful to prevent periodontal disease in Yorkies. Periodontal disease can result in receding gums, which give bacteria access to your Yorkie's bloodstream. This can impact all its organs and could result in various infections and inflammatory diseases.
Regular brushing can prevent plaque buildup and also prevent the formation of tartar which, once formed, is harder to eliminate.
Alternative Methods To Clean A Yorkie's Teeth At Home
In addition to brushing and regular dental scaling by professional vets, you can do the following to clean your Yorkie's teeth at home.
Feed Dry Dog Food
Dry dog food, or kibble, is better at keeping plaque and tartar at bay than wet food. The crunchy texture rubs against the teeth, helping prevent plaque buildup. Choose kibble with small pieces that your Yorkie can easily pick up.
Provide Crunchy Dog Treats
Foods like carrots and apples are also beneficial in preventing plaque to some extent. These foods have a crunchy texture that could eliminate food stuck in your dog's teeth.
Pet food manufacturers also have dog treats with textured surfaces that can be used for cleaning your dog's teeth. Note that you should not use these treats as alternatives to brushing. You still want to brush your Yorkie's teeth at least once a day.
Provide Dental Chews And Toys
You can also provide your Yorkie with dental chews and chew toys to prevent plaque buildup. Always make sure to supervise your pet when it is using these chews. This is necessary to prevent choking. If the chew toy appears worn out or small or has sharp pieces sticking out, please discard it right away and get a new one.
Dental Sprays
For Yorkies who hate having their teeth brushed, you can use dental sprays. You simply spray them on your pet's teeth once or twice daily after meals. They help prevent dental plaque buildup and also freshen up your dog's breath. Again, sprays are not alternatives to brushing. You should still keep attempting to brush your dog's teeth.
Dental Water Additives
Dental water additives are special drops that you add to your dog's water bowl. These eliminate plaque, freshen up your pet's breath, and may even prevent gum disease.
Yorkie Teeth Cleaning: Final Thoughts
Yorkshire terriers are more likely than most other breeds to suffer from dental problems. That is why it is important to brush your dog's teeth daily. Ideally, you should do it after every meal, but try to at least do it once per day.
Knowing how to brush Yorkie teeth will make the process much easier. If you follow the step-by-step guide above, and reward your pup for being a good Yorkie, you will get it used to the daily cleaning in no time.