I could insert the typical joke about British teeth here.
Especially since Yorkies come from England
But I won't because I have English friends with good teeth. Although I have more with bad teeth, to be honest.
In the end, I suppose there is some truth to that rumor.
Is the same true for Yorkshire terriers? Do Yorkies have bad teeth, too?
Keep reading to learn the truth about Yorkshire terrier teeth. We'll also show you how you can help prevent many of the possible dental issues Yorkies can face.
Do Yorkies Have Bad Teeth?
Yorkies do have bad teeth compared to other dog breeds. They are more prone to having dental issues than most.
You can do a lot to help prevent dental issues by regularly cleaning your Yorkie's teeth to keep any tartar build-up at bay.
But tartar is only the beginning. Yorkies are prone to a number of different dental issues, many of which are far more serious than tartar.
Dental Issues Common In Yorkies
Your Yorkie can face a variety of different issues with its teeth, like dental disease, double teeth syndrome, gum disease, and premature tooth loss.
Dental Disease
Dental disease starts with tartar build-up. A Yorkie's mouth is more alkaline than a human's. This unfortunately increases the formation of plaque, which leads to dental disease.
Dental disease can start to cause tooth infections which can make it difficult for your Yorkie to chew or eat. It can even lead to tooth loss. Dental disease can also affect your Yorkie's overall health.
There is a clear link between dental disease and canine heart disease which can lead to issues such as heart failure or inflamed heart valves. As you can see, it is best to keep this disease in check by using preventative measures, like cleaning your pup's teeth regularly.
Double Teeth Syndrome
Double teeth syndrome can also be a serious dental issue for your Yorkie. As an adult, a Yorkie should have 42 teeth in its mouth. However, this isn't always the case if they have double teeth syndrome, which can mean more than one of the same teeth growing in its mouth.
This can happen during the teething stage, when the baby teeth won't fall out. You'll need to have the second lot of teeth removed to keep your Yorkie's teeth in their best condition. Your vet will be able to do this for you, so don't try and do it yourself!
If you don't have the teeth removed, it can lead to any weaker teeth becoming fractured. The baby teeth are not as mineralised as adult teeth, so they fracture more easily. Any fractures can lead to an infection.
Gum Disease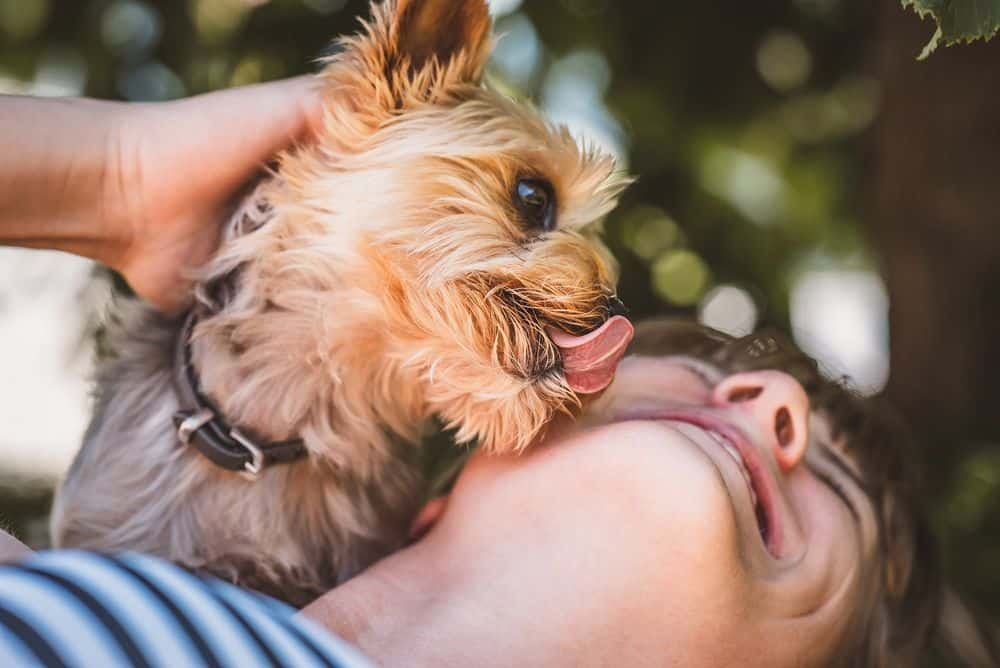 To start with, gum disease won't have any symptoms, but it won't be long until you notice something is wrong with your Yorkie. When they do arrive, symptoms include bad breath, bleeding gums, difficulty eating, nasal discharge, or sneezing.
Gum disease can also lead to tooth loss and lots of pain for your Yorkie. Just like with dental disease you can help prevent it by practicing good dental hygiene.
All of these dental issues can lead to premature tooth loss. The more teeth your Yorkie loses the harder it will be for it to eat its food and play with many of its favorite toys. It can also lead to digestive issues, since your Yorkie will find it more difficult to chew its food.
Looking After Your Yorkie's Teeth
Looking after your Yorkie's teeth should become part of your grooming routine. You can also take your Yorkie for an annual cleaning at the vets, to ensure its teeth are thoroughly clean. This goes a long way toward helping protect your pup from any dental disease.
The first thing you can do to help your Yorkie's mouth is to brush its teeth every day. You can invest in doggie toothbrush, or simply buy a child's toothbrush, which is much smaller than an adult's and easier to fit into your Yorkie's tiny mouth. We have an article on how to brush Yorkie teeth.
But make sure you get a special dog toothpaste and don't use human toothpaste on your Yorkie. Dog toothpaste is has flavors your pup will enjoy. You can choose from flavors like chicken, beef and lamb, which are much more dog-friendly than a strong, minty toothpaste.
You can also buy dental chew sticks for your Yorkie. These edible chews not only make a great snack for your Yorkie, but also help to keep their mouths clean and prevent any tartar build-up.
Yorkies Have Bad Teeth: Final Thoughts
Yorkshire terriers are known to have bad teeth. This does not mean that every Yorkie has dental issues, but more of them do than dogs of other breeds.
This is something you need to be aware of when you get a Yorkie. Being aware of this potential issue means you can take preventative measures. This primarily means staying on top of your pup's dental health, by regularly cleaning its teeth and gums.
You should also educate yourself as much as possible on caring for a Yorkie. The more you know, the better a Yorkie parent you will be. If you are adopting a young Yorkie, you'll want to read this article as well: "When Do Yorkies Lose Their Baby Teeth?"