Dogs have baby teeth, just like humans.
At a certain age, their permanent teeth begin to grow and push out those baby teeth.
Once the adult teeth have pushed the puppy teeth out far enough, they fall out.
At least they should.
If you notice your Yorkie baby teeth are not falling out, you have a problem.
Potentially a serious one.
Keep reading to learn why a puppy's baby teeth might not fall out and what you need to do about it.
Yorkie Baby Teeth Are Not Falling Out
If it seems like you've been waiting forever for your Yorkie's baby teeth to fall out and still nothing has happened, you will need to consult your vet. It could be that your puppy has a serious dental condition that needs to be treated.
Below, we're going to cover everything you need to know about the teething process in Yorkshire terriers. This should help you figure out if there is a problem in your case and if you need to contact your vet.
When Do Yorkies Get Their Puppy Teeth?
Yorkie puppies usually get their puppy (or deciduous) teeth when they turn three weeks old. By the time they reach the age of six weeks, all deciduous teeth should be present.
A Yorkie puppy should start to lose its baby teeth, and begin making the change from puppy teeth to adult teeth, at around three to four months. This change is known as teething and it can be a very stressful and painful time for your Yorkie pup.
You want to make sure you give your puppy plenty of chew toys and lots of space. Not all pups want space, but most do. After all, you don't like to be disturbed if you have a toothache or a headache!
The Teething Process
Your Yorkie's adult teeth will start to grow underneath its deciduous teeth, which will cause a lot of pain in your Yorkie's gums. These adult teeth will keep growing until they push the puppy teeth out of the gums, allowing the new adult teeth to push through. Now, doesn't that sound painful?
What Happens When The Deciduous Teeth Don't Fall Out?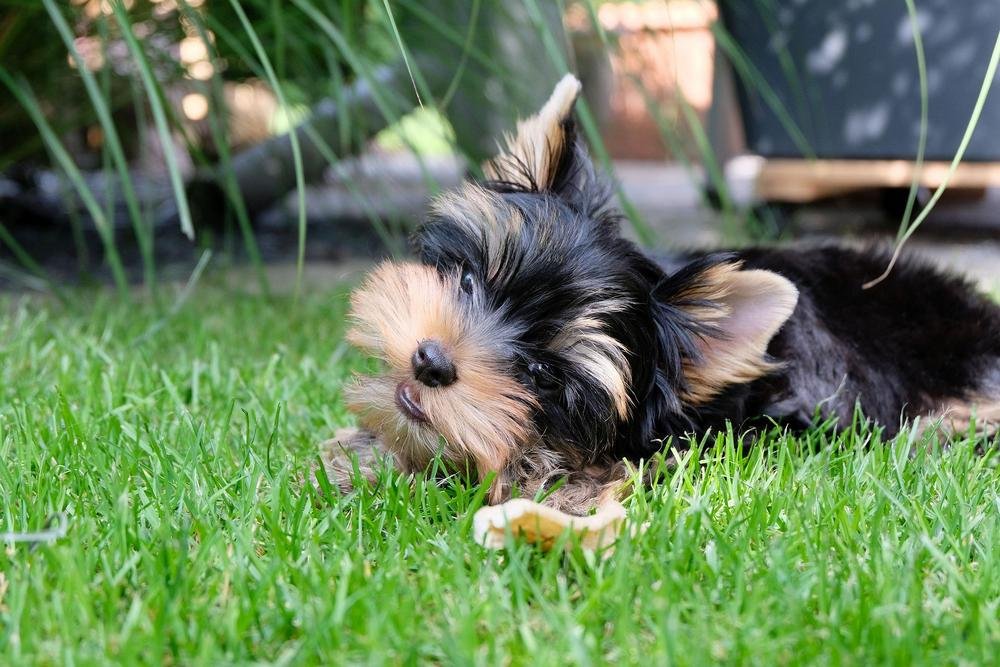 This is commonly referred to as persistent teeth in dogs. It will usually start with the teeth in the upper jaw and it can continue to the teeth in the lower jaw. It is more common in smaller breeds, like your Yorkie.
With this issue, the puppy tooth is still present when the adult tooth is about to emerge. As a result, your Yorkie's adult tooth could grow in an awkward position and there will probably be overcrowding in the mouth, because your dog will end up with two sets of teeth.
Not only is this painful for your Yorkie pup, but it can also cause issues when it comes to eating. Food can become caught between the two sets of teeth, which can lead to nasty infections from the rotting food in your Yorkie's mouth.
Treatment
This is a serious condition. I recommend getting in touch with your vet as soon as possible. The vet will be able to assess the situation, with the most common treatment being to manually remove the deciduous teeth.
Your vet will book the extraction fairly quickly, to avoid the chance of any permanent damage to the new adult teeth.
How Much Does It Cost To Remove Retained Puppy Teeth?
On average, it is usually around $100 dollars per tooth, plus any vet fees and the cost of anaesthesia. Vet fees and anaesthesia could add up to another $400. If your Yorkie has more than one tooth that needs to be removed, the cost could start mounting up.
Of course, you're going to want to go ahead with the treatment anyway, because your Yorkie's health is very important. If this sounds like it's going to be too expensive, I recommend taking out pet insurance.
Of course, this won't be an option once your puppy has already been diagnosed. If you can't pay for the operation,read this article on what to do if you can't afford vet fees.
But if you are reading this early on in your puppy's life and it does not have any issues yet, take out pet insurance right away. It is something you should take care of as soon as you get your Yorkie puppy and take it home with you.
Pet insurance will cover hefty vet bills, giving you financial relief. It also limits your stress, knowing that your Yorkie is going to receive the medical care it needs, no matter your financial situation. Pet insurance is something you can pay each month and if your Yorkie needs veterinary care you will only need to pay the excess towards the claim.
Yorkie Puppy Teeth Not Falling Out: Final Thoughts
If your Yorkshire terrier puppy is not losing its baby teeth, even though its permanent teeth are already coming in, you have a big problem. Your pup will end up with two sets of teeth, which can cause all sorts of complications.
The only solution is to take your dog to a vet. They will most likely recommend surgery, which can get very expensive, depending on how many teeth need to be removed. This kind of issue is the reason you should get pet insurance for your dog as soon as you bring him or her home. Make sure an emergency like this does not destroy you financially.