Teething is not a fun process for a young puppy.
But it is one every dog must go through.
It can bring pain and discomfort. And a brand new set of adult teeth.
As a dog owner, there are a few things you can do to help your puppy through this difficult period.
You can help reduce the pain and discomfort. And that's something we all want, isn't it?
So when do Yorkies lose their baby teeth? And what can you do to help your suffering pup?
Keep reading to find out. We will cover everything you need to know.
When Do Yorkies Lose Their Baby Teeth?
Your Yorkie puppy should start to lose its baby teeth at around four to five months of age. By eight to ten months, your puppy should have all of its adult teeth come through.
Let's go into a bit more detail on how exactly Yorkshire terriers go from their baby teeth to their adult teeth and what you can do to make the process easier on your little pup.
The Changeover
The first set of teeth your Yorkie will ever grow are its milk teeth. These come in at around five to six weeks and are your puppy's baby teeth, also known as the deciduous teeth.
As your Yorkie starts to grow, its baby teeth will soon want to fall out to make way for its adult teeth. You can expect to see Yorkie teeth falling out between four to five months.
And don't worry, they shouldn't all fall out at once!
A general rule of thumb is that at four months, your Yorkie's incisor teeth should start to come through. At five months, its canine teeth should start to emerge and at six months, you should start to see the molars making an appearance.
By eight to ten months, your Yorkie should have a full set of adult teeth. It should not have any baby teeth in its mouth anymore.
Sometimes, it happens that the Yorkie puppy teeth don't fall out at all. The result is two sets of teeth in your Yorkie's mouth. I'm sure you ca imagine that is problematic. Call your vet immediately.
Teething Care
Teething can be a very stressful time for your puppy. It can be painful and uncomfortable, so you're going to want to try and keep you poor little pup as comfortable as you can.
To start with, make sure you're looking after your pet's teeth. You want your Yorkie's teeth to grow through well and without any issues, so it's important you look after the teeth.
The most important thing to avoid is any plaque or tartar build-up, because this can affect the alignment of the teeth. You can regularly give your Yorkie dental chews to help keep the teeth clean.
Chew Monster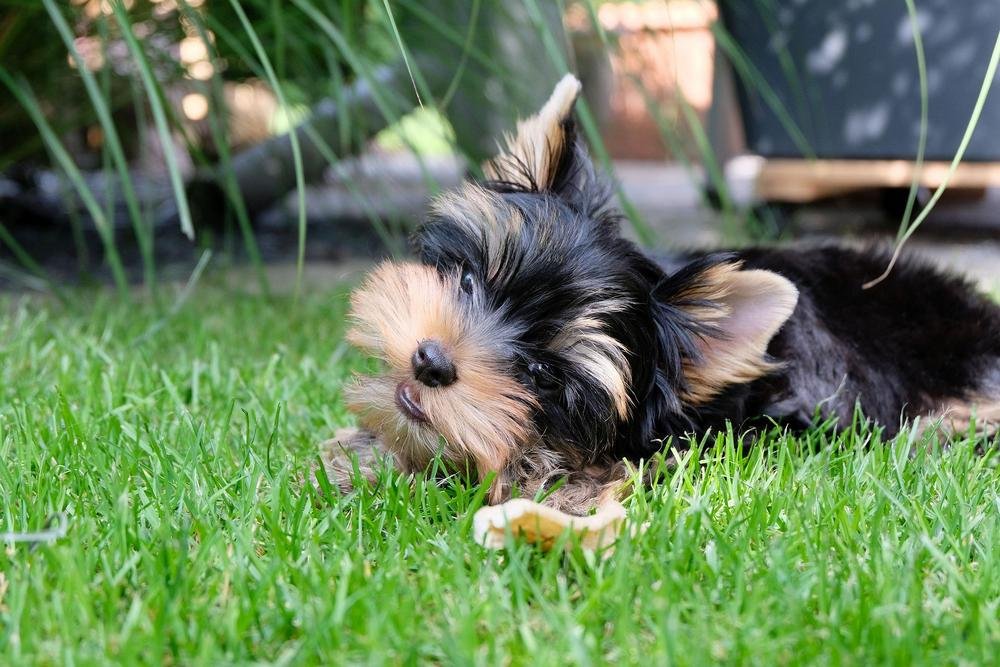 As a way of dealing with the uncomfortableness of teething, your Yorkie puppy is going to try and chew just about anything it can sink its teeth into.
You should try and proof your home by removing anything dangerous that your Yorkie may try and chew, like wires, electrical items, sharp items or anything that may fall apart when they chew and present a choking hazard.
It may also be worthwhile putting anything of value that you don't want to see destroyed in a safe place. I can't tell you how many things I've lost to a teething puppy, starting all the way back when I was 8 and my family's first dog (a Westie) chewed up my favorite Lego set.
Pain Relief
There are certain things you can do to help relieve the pain of teething. A great and cheap method is to feed your Yorkie ice cubes.
The coldness will numb your Yorkie's mouth, and the melting water will also help to keep your dog hydrated, which is great if it is teething during the summer months.
You can also purchase special teething toys. These are often textured chew toys made of soft plastic. Your Yorkie will easily be able to sink its teeth into these toys. If you buy quality chew toys, they will be made of durable material and able to withstand the chewing onslaught.
What Else Causes Yorkies Teeth To Fall Out?
Apart from teething as a puppy, there are other reasons a Yorkie's teeth may fall out. A common reason is gum disease.
If you don't regularly clean your Yorkie's teeth, they can start to decay. This will eventually lead to them falling out. It can also be very painful and cause your Yorkie's gums to become red and inflamed.
If the teeth fall out, it will obviously affect your Yorkshire terrier's quality of life. Eating becomes much more difficult, but you will also notice your Yorkie's tongue sticking out far more. That's because it no longer has those bottom teeth that used to hold the tongue in.
Gum disease can also affect your Yorkie's eating, not just the loss of teeth. If your pup's gums are in pain, it may find it hard to eat.
Lack of food can cause numerous different concerns, such as weight loss and nutrient deficiencies. Such issues can cause a huge range of health conditions, or even lead to death, if your dog completely stops eating.
If you suspect gum disease, it's best to take your Yorkie to the vet as soon as you can. You want to get this issue fixed before it becomes serious.
When Yorkies Lose Baby Teeth: Final Thoughts
Your Yorkie should have lost all of its baby teeth by the time it reaches 8 to 10 months of age. Of course, the teeth do not all fall out at once. They come out in stages.
Teething is a uncomfortable, and often even painful, time for your little Yorkshire terrier puppy, so do what you can to make it more comfortable. Follow our tips above and your puppy should get through this stage in its life with no problems.