It's a scary thing to see your beloved pup suddenly lose a tooth.
Or even worse, several teeth.
But it may just be a normal part of the aging process.
If your Yorkshire terrier is a puppy, it is probably just losing its puppy teeth.
But if your dog is at least 6 months old, Yorkie teeth falling out indicates a serious problem.
Just what that problem is depends on a few factors. There are a number of issues that can cause a Yorkshire terrier to lose teeth.
Keep reading for a list of the most common causes for a Yorkie losing its teeth. This should help you figure out what might be wrong with your pet.
But it does not substitute for professional advice.
If your dog is losing teeth and it is not a puppy, please take it to a vet, so they can offer a proper diagnosis and an appropriate course of treatment.
Yorkie Teeth Falling Out
As mentioned, if your pup is young, there is probably nothing to worry about. A Yorkie puppy's baby teeth start falling out after its 12th week to make way for its permanent teeth. Those should finish coming in by the time your pup reaches 6 months of age.
In adult Yorkies, teeth may fall out due to gum disease, tooth fracture or trauma, or illness. Cavities can also cause teeth to fall out. In any case, your vet will need to examine your Yorkie to ascertain the exact cause of its teeth falling out.
Let's look at some of the most common reasons a Yorkshire terrier's teeth may fall out.
Reasons Yorkie Teeth Can Fall Out
The following are the most common causes behind Yorkie teeth falling out.
Gum Disease
Gum disease, also called periodontitis, is a serious infection of the gums in dogs. It damages the soft tissue which eventually destroys the bones that hold the teeth.
Unfortunately, the Yorkshire Terrier breed is highly prone to gum disease. A study published in 2019 showed that almost 98% of Yorkies tested had some prevalence of developing gum disease.
In addition to loose and falling teeth, gum disease in Yorkies can also cause bleeding gums, foul odor (halitosis), discolored or brown teeth, pain while eating, inability to eat certain foods, irritability, weight loss, and more.
The treatment for gum disease includes complete dental work including scaling the teeth to remove plaque. Your vet can also prescribe antibiotics to kill the bacteria that cause periodontitis.
You can use chlorhexidine-based oral rinses and mouthwashes, regular tooth brushing, enzymatic dental cleaners, water additives, and dental chews to prevent the condition from worsening.
Cavities
Poor oral hygiene in a Yorkie could result in cavities over time which, in turn, could cause the teeth to fall out. Food accumulation in the mouth feeds the bacteria that are present in the oral cavity.
Bacteria and decaying food produce acids that wear down the tooth enamel resulting in cavities. Yorkies are prone to cavities for a number of reasons.
They are small dogs and their jaws are small too. This causes an over-crowding of teeth. Food bits get easily stuck in the crowded teeth where they decay over time.
Some dog owners fail to clean their Yorkie's teeth properly especially since their tiny mouths make the teeth at the back hard to access.
If you have not gotten your Yorkie puppy used to brushing from a young age, the dog probably won't let you brush its teeth in its adulthood.
The best way to prevent cavities in dogs is with regular tooth brushing, water additives, and once-a-year professional dental scaling.
Trauma And Tooth Fractures
Traumatic injuries such as another dog's bite, blunt trauma to the face, or biting down on hard or moving objects (like tires) could cause tooth luxation or tooth fractures in Yorkies.
You often see tooth luxation in rescued Yorkies, but it can also happen to Yorkies that chew on hard toys, antlers, rawhide bones, cow hooves, and bully sticks.
To prevent dental trauma in Yorkies, you must monitor your pet, especially if you have recently brought it a new chew toy. It is probably a good idea to avoid giving your dog hard chew toys in the first place.
Vets fix luxated or broken teeth in Yorkies by placing an intraoral splint followed by root canal therapy. In the case of severe damage, the vet might recommend extracting the broken tooth.
Diseases
Diseases like oral cancer, dental abscesses, and autoimmune diseases can also cause a Yorkie's teeth to fall out. These diseases eat through the oral bone and also cause damage to the blood vessels and nerves in the mouth.
In the case of a disease, your vet will need to run some diagnostic tests to find the exact cause of the dog's teeth falling out and suggest the appropriate treatment.
At What Age Do A Yorkie's Teeth Fall Out?
In most Yorkie puppies, the deciduous teeth (also known as puppy teeth) start to fall out by the time the puppy is around 12 weeks old. Here is the order in which puppy teeth fall out:
Between 12-16 weeks: the incisors fall out
Around 16 weeks: the canines fall out
Around 24 weeks: the premolars fall out
By the time your Yorkie is 6 months old, it should have all of its permanent teeth. How many teeth do Yorkshire Terriers have? An 8-month-old Yorkie will have 42 teeth (12 incisors, 4 canines, 10 molars, and 16 pre-molars).
Sometimes, a Yorkie puppy's teeth do not fall out and it ends up with two sets of teeth in its mouth. This is a serious issue and you need to contact your vet right away.
Can Yorkies Eat Without Teeth?
Yorkies can, and do, thrive without teeth. Toothless Yorkshire terriers can even eat dry dog food. But not all of them. Eating can get painful for some pups, especially when it comes to eating crunchy or hard food.
You can switch to soft or canned food in such cases. Canned food is generally easy to eat for most Yorkies without teeth.
If canned food is too expensive, or if your pet does not like it, you can consider soaking the hard dog food in a bit of hot water or chicken broth for a few hours before feeding your pet. Just make sure that the broth does not contain any onions or garlic.
What Do You Feed An Old Yorkie With No Teeth?
Here are some options for things to feed an old Yorkie with no teeth.
Moistened dry food: hydrated or pre-moistened kibble is one option for feeding a Yorkie with bad teeth or no teeth. You can also mash up the food with a fork to soften it further.
Wet food: most brands that make dry dog food also have the same flavor as a wet food. Most Yorkies enjoy this type of food and it is available in a wide range of flavors.
Soft rice with vegetables and shredded meat: make sure that you feed your dog a balanced meal containing all the nutrients it needs (this article has recipes). If needed, supplement your pet's diet with some vitamin, mineral and omega essential fatty acid supplements, as advised by your vet.
Other options: you can also feed your dog soft millet, oatmeal, meat, and vegetables. Please check with your vet before making any dietary changes.
Why Do Yorkies Have Dental Problems?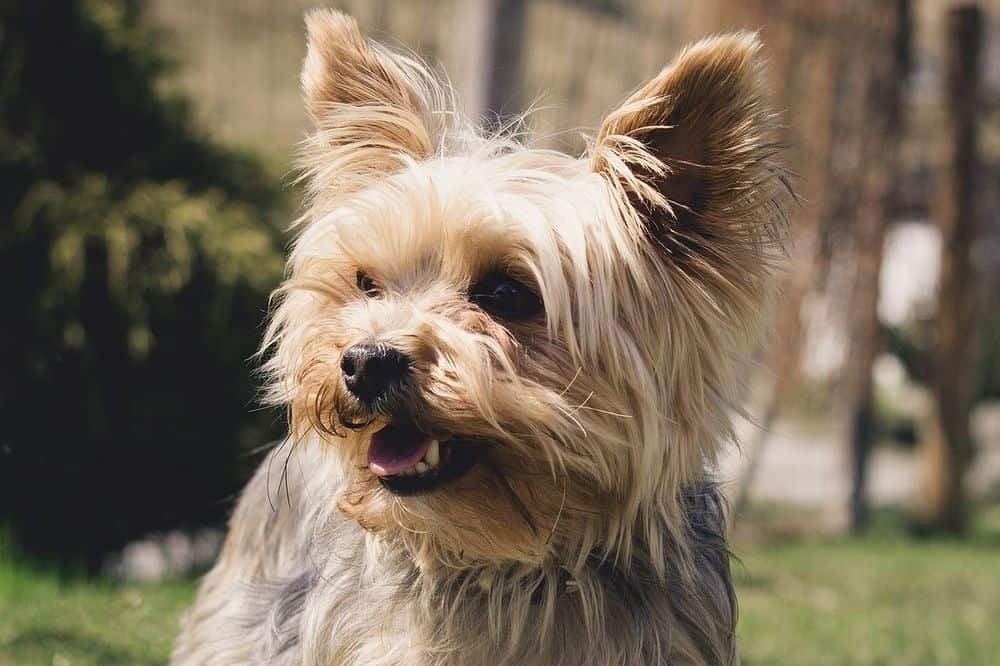 Small dogs like Yorkies are prone to bad teeth for a number of reasons. Here are the primary reasons for dental probems in Yorkshire terriers.
Inherited: Yorkies with dental issues may have a genetic makeup that makes them predisposed to tooth problems. In such cases, even brushing and regular dental care cannot prevent periodontal disease.
Small-mouth size: as mentioned before, Yorkies have small jaws which cause an over-crowding of teeth. This causes food particles to get stuck between their teeth, especially in hard-to-access areas.
Type of diet: Yorkies that are fed high-calorie diets often end up with tartar on their teeth. Also, soft or canned food that does not require too much chewing can cause plaque accumulation, especially on the teeth at the back of the mouth.
Not drinking enough water: small dogs like Yorkies often do not get much exercise. Resultantly, they do not lose water through sweat and may not feel the need to drink much water. This causes their mouth to remain dry which encourages bacterial growth.
Pampering: Small and cute dogs like Yorkies are often pampered and spoiled. They tend to get away with many bad habits such as begging for table scraps. Feeding table scraps and human foods like cookies, etc. also could result in cavities over time.
Yorkie Teeth Problems: Final Thoughts
Yorkie teeth falling out is nothing to worry about if your pup is 12 to 16 weeks old. That is the age when their baby teeth begin to fall out to make room for their permanent adult teeth, which should all be accounted for by the time your dog hits 6 months of age.
If your dog is older than that and it is losing teeth, there is probably a more serious issue going on. Most likely, it is one of the problems listed above. Whatever it is, if your Yorkie is losing its teeth, you should take it to a vet to get the issue diagnosed and to get advice on treating it.