Yorkshire Terriers have beautiful fur.
It is one of their biggest attractions.
But along with their exceptional coat comes sensitive skin.
That's why you need to choose the right kind of brush for your Yorkie. It is essential to maintain the health and appearance of its skin and coat.
What is the best brush for Yorkies?
Generally, a small-sized pin and bristle brush is ideal. Or a soft slicker brush.
Keep reading for a list of the best Yorkie brushes on the market, and plenty of help in choosing the prefect one for you and your dog.
Best Brush For Yorkies: Comparison Table
$29.99

$15.99 ($15.99 / Count)
03/23/2023 01:14 am GMT
Best Dog Brushes For Yorkies Reviewed
The following dog brushes are by far the best ones available for Yorkies. Any one of them is great. Which one is best will depend on your personal needs and preferences (and of course those of your Yorkie!).
Best Overall: Vokiuler Boar Bristle & Pin Brush
This combo brush has boar bristles on one side and stainless steel pins on the other. The boar bristles help reduce shedding, remove tangles, and promote a healthy skin and coat.
They work well in massaging the skin without abrasion, loosening debris from the coat, distributing body oils, and adding shine.
At approximately 4 inches long, the boar bristles are perfect for Yorkies of any size. It is the best choice for anti-frizz, sebum distribution, and skin stimulation.
The stainless steel pins on the other side are durable and resistant to corrosion. The tips are round and polished for a comfortable glide through the coat. It prevents skin irritation and allows easy removal of collected hair.
This dual-sided brush has a durable, lightweight, scratch- and dent-resistant beechwood handle that is sure to last a long time.
Best For Yorkie Puppies: LilPals Bristle Brush
This bristle brush by LilPals is designed for toy breed puppies like Yorkies. It has very soft, gentle, short bristles that will help your Yorkie puppy have a great brushing experience during puppyhood.
This brush will massage the skin, distribute natural oils to the skin, lift loose hair and debris from the coat, and add shine to it.
Best For Transitioning Yorkies: LilPals Dog Slicker Brush
Which brush is best for Yorkies changes from puppyhood to adulthood, but this puppy slicker brush by LilPals is great for both Yorkie puppies and adult dogs. The small size is just the right fit for petite dogs.
This dog slicker brush has angled bristles and is designed to gently remove mats, tangles and loose hair from your dog. It distributes natural oils, gently removes dead hair, and leaves a soft, shiny coat.
It features flexible pins that contour to your dog's body. It also has comfortable plastic tips that will not abrade and irritate your pet's skin as its coat transitions from puppyhood to adulthood.
Best Slicker Brush For Adults: Glendan Slicker Pet Grooming Brush
Made from rubber and stainless steel, this soft, small slicker brush is an effective choice for working out mats, tangles, dirt, and loose fur on an adult Yorkie dog, with minimal effort.
This grooming brush has a rotatable feature for easy cleaning of various places, for all coat types and length. It massages your dog, helps prevent skin disease, increases blood circulation, and leaves your Yorkie with a soft and shiny coat.
The stainless steel pins are fine, well-spaced, and curved. They are designed to lift hair and penetrate deep into the coat without scratching your Yorkie's sensitive skin. The comfort-grip and anti-slip handle prevents hand and wrist strain.
Use this brush to groom your Yorkie, and you'll notice less pet hair around your home. Note that this product is not for non-shedding dogs.
Best Slicker Brush For All Ages: Miracle Coat Slicker Dog Brush
This slicker brush by Miracle Care is one of the best tools to effectively reach the undercoat on double-coated breeds.
The small brush has a smaller head that is suitable for small dogs. It has a soft pad and angled fine flexible wire pins that contour your dog's skin, lifting each fine delicate hair and removing loose ones without irritating the skin.
It has a cushioned, ergonomic designed grip that prevents hand and wrist strain while brushing. Regular use fights off matting.
Best Combo Brush For All Coat Lengths: GoPets Professional Double Sided Pin & Bristle Brush
With the GoPets pin and bristle brush combo, you can easily get a healthy-looking coat without a trip to the groomers. It is a great grooming tool for your Yorkie's silky coat of any length. The dual side of this brush ensures that you have the right comb no matter if your pet has short, medium, or long hair.
One side of the brush has thin rounded-tip pins, which would help you gently work out any tangles and easily knock off dirt and loose hair.
On the other side are soft, gentle bristles that would add shine to the Yorkie's coat. The rounded pins are designed to reach and groom the undercoat well without being harsh to your pet's skin.
This GoPets combo brush has a rubber back and silicone handle for handling comfortably in whatever way you hold it.
Best Self-Cleaning Brush: Hertzko Self Cleaning Slicker Brush
The Hertzko Self Cleaning Slicker Brush gently eliminates knots, tangles, and trapped dirt and removes loose hair without hurting your Yorkie. It has fine bent wire bristles designed to penetrate deep into the coat and groom the undercoat as well.
The best feature it has is its easy cleaning button. Simply push the button, and you're ready to brush your Yorkie. After brushing, simply push the button again to retract the bristles back into the brush. All hair is removed, and the brush is ready for the next use.
This brush not only grooms, but massages your pet as well. Massaging promotes blood circulation and leads to a healthy, soft, and shiny coat. This way, your Yorkie will not only look good but feel good too.
It works well on Yorkies of any coat length and type and has a comfortable, anti-slip handle, which keeps you from straining your hand and wrist when brushing for a long time.
Best For Daily Detangling: ConairPro Small Pin Brush For Dogs
The Pin Brush by ConairPRO helps keep your small breed pup coat shiny and tangle-free. It has reinforced stainless steel pins with comfort tips that penetrate deep into your Yorkie's coat without abrading the skin.
It also features a memory gel non-slip handle that gives optimum control and hand comfort while brushing.
Buying Guide For Yorkie Brushes
This brief buying guide will help you choose the best dog brush for Yorkies. It will tell you what features to look for and which ones to avoid.
Take Hair Length Into Account
The coat type and length your Yorkie has can influence the brush needed for his grooming. The longer your Yorkie's hair is, the more you need a brush that can deal with tangles and mats, and prevent hair breakage.
Features To Look For
To groom a Yorkie, a pin and bristle brush, or a soft slicker brush, is best. Which one depends on your preference. Whatever type you choose, make sure to buy a small-sized brush designed for toy breeds like Yorkies.
Features To Avoid
Yorkie owners, breeders, and groomers do not recommend brushes with natural or nylon bristles and inflexible handles. These may damage your Yorkie's delicate hair. It's best to avoid these, especially if you are trying to maintain a full-length show coat.
Best Yorkie Brushes: Related Questions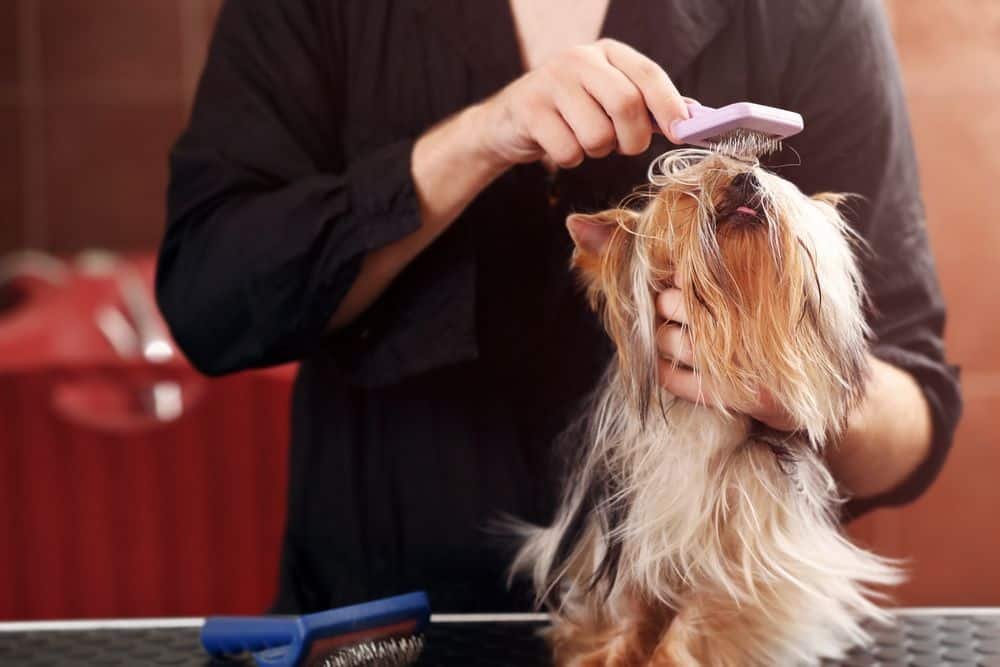 Do Yorkies Shed?
Yes, they do. But it is not to the same degree as furrier dogs. Their shedding is often unnoticed because loose hair falls back to the coat. You usually only notice it when bathing, brushing, and combing hair.
How To Fix Matted Hair
Gently separate the tangle into smaller pieces. Do this while holding the fur between the tangle and skin so it won't be painful. After that, use short, fast strokes with a comb, then with a brush. Never cut tangled hair with scissors.
Best Yorkie Dog Brush Conclusion
Choosing the right brush for your favorite furry friend is important for proper coat texture, healthy shine, good distribution of body oils, and effective stimulation for hair renewal and growth.
The right brush is the one that will reflect, preserve, and even enhance your Yorkie's unique and beautiful coat. Always take note of that.
Every pet parent wants the best for their tailed children. So, to keep your Yorkie's hair shiny and healthy, look over our recommendations and choose the one that best fits your needs.
We also have an article that covers Yorkie grooming tools. Check that out for more dog grooming essentials.