Caring for a dog is costly.
New pet owners expect to pay for food and the occasional vet visit, but they tend to overlook many other regular costs.
Grooming is one of those costs.
And if you own a Yorkie, grooming is a necessity. Without it, that gorgeous, silky coat will get more and more disgusting and eventually lead to numerous health issues.
Yorkies need grooming. There is no way around it.
And grooming costs money. But it's not as much as you may think.
For many, it is much more cost effective to have a professional handle most grooming duties and just do the brushing at themselves.
We'll help you figure out whether that is the case for you.
Keep reading to learn how much you can expect to pay to have your Yorkie groomed. We'll also cover what is involved, if you prefer to handle certain grooming duties yourself.
How Much Does It Cost To Groom A Yorkie?
Grooming treatments can range in price from $20 to $95. Yorkies, like other dogs with long, silky coats, require frequent maintenance. Depending on how much of it you handle yourself, the costs of grooming your Yorkie can get quite high.
Many first-time dog owners fail to take these costs into account. The cost of pet care stretches far beyond the cost of dog food. Vaccinations, pet supplies, doctor visits, and proper grooming all cost money.
Grooming requirements are one area many dog owners disregard entirely. But you can't do that with Yorkies. Their long, luxurious hair makes grooming essential. It is how you make Yorkie hair silky, and keep it that way.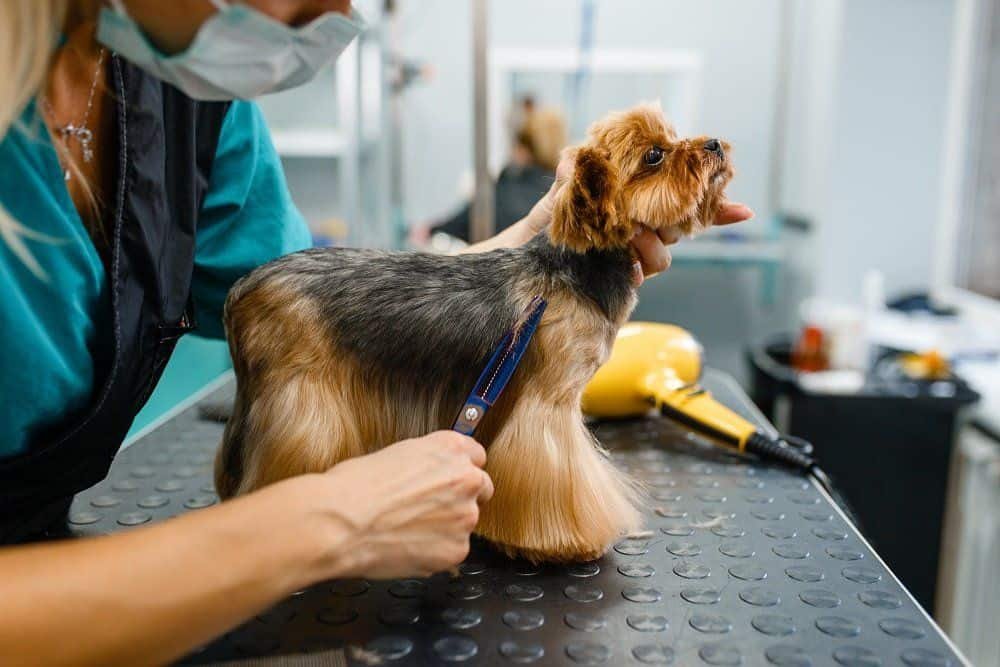 Even if you cut the hair short, you need to give it some love and attention. You can learn how to groom a Yorkie at home and save some money, but you still need to pay for the haircuts. Just learning how to trim a Yorkie face at home can save you a lot.
Of course, you can cut your Yorkie's hair at home, too, but that is not always worth it. Let's take a closer look at the expenses you can expect to have when owning Yorkshire terrier, including the cost to groom one of these adorable little pups.
Expected Costs Of Yorkie Ownership
We'll give you a general idea of the major expenses you can expect when you bring a Yorkie into the family below. You'll see that grooming costs are actually not that large a portion of the total costs.
What this means is that grooming your Yorkie yourself at home may not be worth it for you. Yes, you can save some money, especially since you only need to pay for a good set of Yorkie grooming tools once.
But once yo factor in the time, it may just make more sense to keep taking your pup to a professional groomer. Either way, after we go through the expenses, we'll also cover the things you'll need to do if you want to handle the grooming duties yourself.
Cost Of The Yorkie
Yorkie pups can range in price from $800 to $10,000 and more, for a show-class dog. On average, you should expect to pay between $1000 and $1500 for a purebred Yorkie.
In addition to the cost of the dog, you'll probably have to spend another $1000 to $2000 when you first get your pup. This will cover the supplies you need, plus the initial vet visits, including vaccinations and other procedures like spaying or neutering.
Yorkie Grooming Costs
According to our research, the average cost of a grooming service is more than $50. A mobile dog groomer who can take care of dogs of any size usually charges $75 for each appointment, since you are paying a bit extra for them to come to your house or place of work
In general, grooming services range from $20 to $90. Dog grooming fees vary widely, and are determined not only by the size of the dog, but also by the exact services included in the package.
Basic grooming services for dogs usually include a thorough wash, brushing, and deodorizing. Additional services can include a haircut and clipping the nails.
Other Costs
Some other costs you will incur are the cost of food and treats, vet visits, and insurance. Most owners will also pay for things like training, dog walking, pet sitting and so on. Obviously, you can avoid these costs if you do these things yourself.
As a rough estimate, you can expect to pay about $100 in other costs on the low end, up to well over $1000 on the higher end. It just depends on what all you need for your pet and on how much medical attention it needs. As with humans, dog health care can get expensive.
DIY Grooming
You can save some money, if you have time to groom your dog yourself. The more grooming duties you handle, the more you save. Some owners do it all and not only bathe their dog, but cut its hair, clip its nails, clean its ears and more.
We will now give you some quick tips for grooming your dog yourself at home. Our article on DIY grooming goes into detail on each task, so you'll definitely want to read that for detailed instructions.
Brushing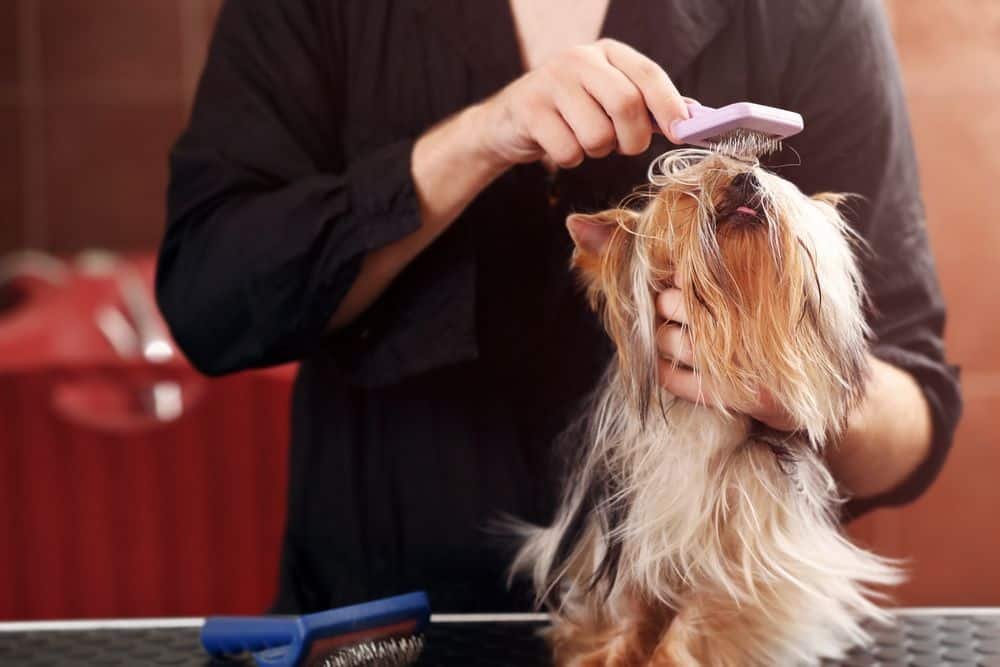 This is the most basic grooming duty and the one just about every owner handles themselves. That's because Yorkies need frequent brushing.
How often should you brush a Yorkie? Every day is ideal, but at least two or three times per week. Shorter hair means less brushing required. You should also brush your pup both before and after a bath.
In the end, it depends on how tangled your dog's hair gets. You want to brush it often enough to avoid tangles and mats from forming. You'll want to buy a good dog brush for this task.
Bathing
Daily dog baths are needless and unhealthy. A weekly or monthly bath is enough for a dog. Make sure the water is lukewarm. Don't subject your poor pup to overly hot or cold water. Use a high quality dog shampoo made from natural ingredients.
Cutting And Trimming Hair
May owners will trim their Yorkie's hair themselves, but leave full haircuts to the professionals. This is what we recommend as well, but if you prefer to handle the haircut on your own, go for it!
This article guides you through the process of cutting the hair. We also have an article featuring the most popular Yorkie haircut styles here.
May owners assume they can just use a pair of clippers they already have, but that is never a good idea. Can you cut dog hair with human clippers? Of course. But there are several reasons you should not.
Trimming Nails
Many dog owners neglect nail care altogether. Taking your Yorkie on walks does help file down the nails. If your dog stays indoors, the nails may get huge. Even with frequent walks, you're probably going to have to clip the nails at some point.
This is another thing we generally recommend having a professional groomer handle. If you do it yourself, this article details how to trim Yorkie nails the right way. Make sure you use dog-specific clippers, and not scissors or human nail clippers.
Cleaning Ears
Check dogs' ears often for ticks and debris. Your Yorkie needs regular ear cleaning/grooming. Use a Q-tip or cotton ball to clean. Clean the outer ear canal and skin with a canine-specific solution. Never go too far into the ear canal.
You'll also want to keep the ear hair neatly trimmed. This article covers the entire process of trimming and cleaning your Yorkie's ears.
Cost Of Grooming: Frequently Asked Questions
The following questions are ones we get often. If you have any additional questions, please feel free to ask them in the comments below.
Should I Tip A Dog Groomer?
Tipping is not necessary, but showing that you are pleased with the delivered service is appropriate. The standard gratuity rate is twenty percent of the total price.
How Often Do You Need To Groom A Yorkie?
Maintaining your Yorkie's grooming regimen can assure their continuing good health and beautiful good looks. Maintain as regular a plan as possible! How often should a Yorkie be groomed, then?
Brush your pup every day, if you can. Bathe it every two or three weeks, depending on how dirty it gets. Other grooming tasks are usually only necessary a few times per year, but it does vary greatly from one dog to the next.
Grooming a Yorkie may appear to be a significant expenditure of both time and money, but it saves you both. If you don't care for your Yorkie's teeth, for example, they may develop dental problems that necessitate the extraction of all of their teeth, so it is a money saver in disguise!
Are Yorkies Hard To Groom?
Yorkies require a bit more effort to groom than many other breeds, mainly due to their unique hair. But the grooming process is not difficult. And if you keep the hair short, it will require less time, too.
What Does A Full Dog Groom Include?
The standard components of dog grooming include brushing, de-matting, washing, conditioning, blow-drying, and styling the dog's hair (cutting, trimming, and shaving), according to the breed and the desires of the owner.
Dogs can also have their nails trimmed, have their ears and the corners of their eyes cleaned and more. Any type of care your dog requires, a professional groomer can handle it.
Cost To Groom A Yorkie: Conclusion
The price of buying a Yorkie is only the beginning. There are many ongoing expenses when you own a dog. One of those is grooming.
Yorkies are known for their luxurious hair, but grooming those gorgeous coats can be pricey, if you take them to a dog salon. Investing in a one-time purchase of grooming supplies is more cost-effective than regular grooming services.
Doing this all at home saves you money and also gives you a chance to bond with your dog more. But it takes a lot of time and there is a learning curve. You'll have to decide for yourself whether it is worth it.