Yorkies are famous for their hair.
It is silky and gorgeous and resembles human hair more than other dogs.
But no one's hair just looks that good on its own.
Just like beautiful human hair, a luscious Yorkie coat takes work.
That said, it is work you should be doing anyway.
Because it does not just help your pup look good. It also keeps it healthy.
Keep reading to learn exactly how to make Yorkie hair silky and how to maintain it so it stays that way.
How To Make Yorkie Hair Silky
Making your Yorkie's hair silky is not difficult. But it does require some work. However, it is work you should be doing anyway. It involves feeding your dog a healthy diet and grooming it regularly.
You will need some materials for this, but you should already have most of these items, if you are a current dog owner. If not, they are a small percentage of the total cost you will need to spend when you first get a dog.
Materials Needed
Now let's see what exactly you need to do to make your Yorkshire terriers hair silky, and to ensure it stays that way.
High Quality Diet
Healthy, silky hair for your Yorkie starts from within. This means feeding it all of the correct types of foods.
Previously, you may have picked up any old dog food for your Yorkie and thought that it's all pretty much the same. Well, it's not, and there are particular nutrients you want to look for.
You want to start paying attention to your pet's food labels and understand what your Yorkie is actually consuming. To start with, you're going to want to avoid foods that include any wheat, corn, or soy.
Also, make sure a source of protein is listed as a top ingredient. Proteins are essential for ensuring a smooth and hydrated coat for your Yorkie.
Other foods that promote a beautiful coat are fatty acids and omegas 3 and 6. These fatty acids and omegas work at keeping your Yorkie's skin and fur super healthy and hydrated. If you don't see any omegas on your Yorkie's food label, you can also buy them separately as food supplements.
Regular Bathing
How often do Yorkies need a bath? Your Yorkie needs to be bathed at least once a month. If you have time, try and make it twice a month.
If your dog is young, don't bathe it as often. Puppies should be bathed about once a month. And very young ones not at all. When can I bathe my yorkie puppy for the first time? At 8 weeks.
Begin by brushing out the fur before bathing, to rid the coat of any tangles. Next comes the shampooing.
Make sure you don't use human shampoo or conditioner on Yorkies. It can alter the pH levels of the skin, which can irritate it and cause dryness. It can even lead to a variety of nasty skin conditions.
Even using baby shampoo on your Yorkie is not a good idea. It is gentler than regular human shampoo, but it is still formulated for humans, so you should not use it regularly.
Once you've found the right shampoo for your Yorkie, it is best to massage it into the coat, rather than rubbing it in, because rubbing can create tangles.
Once your Yorkie is all lathered up, rinse out the shampoo and then apply the matching dog conditioner. Treat this as you would a human conditioner by massaging it into the skin and then leaving it in for a couple of minutes, before rinsing out.
Always make sure you groom your Yorkie with shampoo and conditioner. Don't just use water. These products will replace any oils that have been stripped by the water and will help to contribute to your dog's glossy hair.
Once out of the bath, you can blow dry the hair. I recommend blow drying, rather than air drying, because it prevents the damp hair from drying out your Yorkie's skin. Just make sure to avoid the face. No one wants air blowing directly into their eyes!
Regular Brushing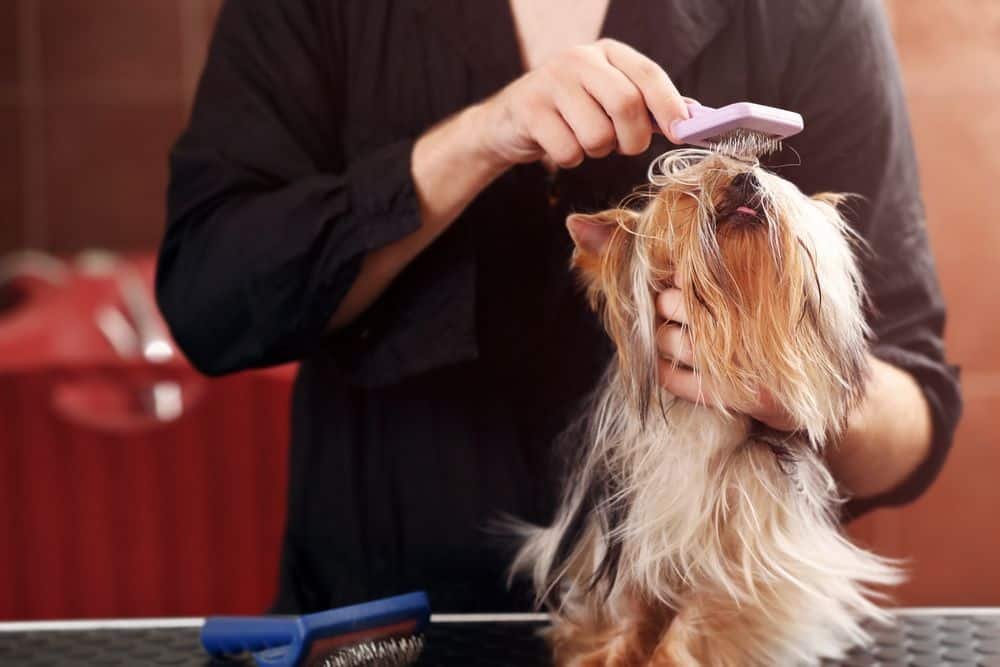 If the coat is long, you need to brush your Yorkie's hair daily. If the coat is short, you can do it every other day. This can vary, though. How often to groom Yorkie hair depends on a number of factors.
Use a good dog brush to brush through any tangles. Brushing also helps enhance oil production, which stops their skin from drying out. With hydrated skin comes silky hair.
After brushing, you can grab your dog comb. The comb will get rid of any mats in the hair and any tangles that the brush was not able to get out.
If you like, you can also mist some water onto your Yorkie's hair before you begin brushing. It will make it easier to brush through the coat.
To finish, you can apply a special spray to stop any tangles from forming in your Yorkie's hair. Just like the shampoo, make sure you don't use a human version. You can buy dog detanglers at your local pet store or any online outlet. The link above in the "materials needed" section leads to a god one on Amazon.
Making Yorkshire Terrier Hair Silky: Related Questions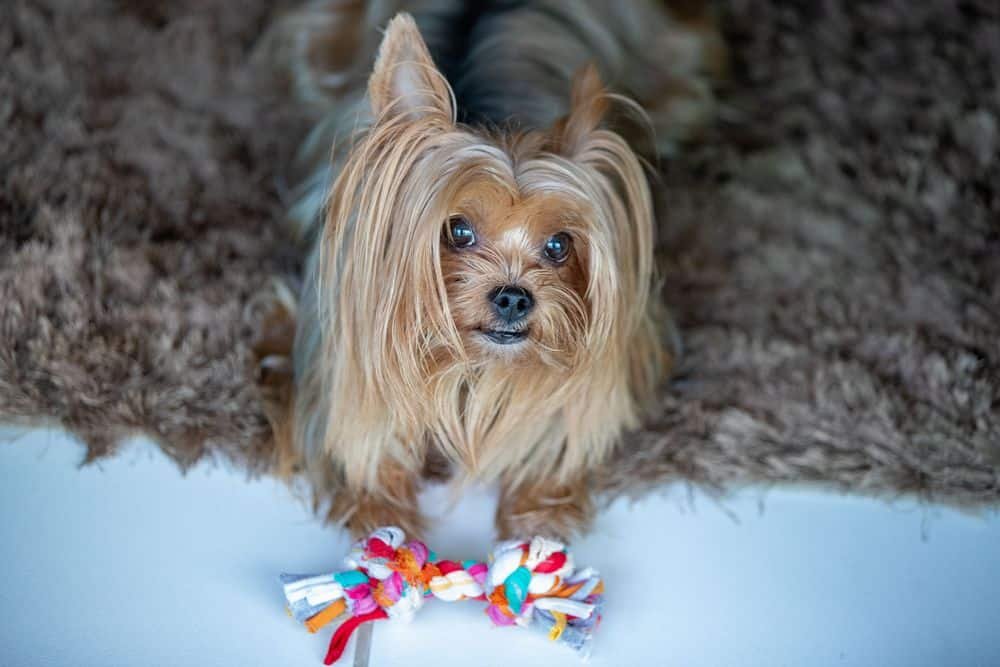 Below, we will answer some common questions related to Yorkie hair. If you have additional questions, please feel free to ask them in the comments below.
Why Is My Yorkie's Hair Dry?
There can be lots of different reasons your Yorkie's hair is dry. Perhaps your Yorkie has a deficiency in its diet. Just like humans, Yorkies need to get all of their essential nutrients to stay healthy. Make sure your dog's diet is well balanced and full of proteins and omega fatty acids.
It could also be that your dog has a skin allergy or other skin condition. Allergies can make skin itchy, which can result in scratching and biting. Both can cause dry skin. Make sure to groom your Yorkie regularly, to remove any source of irritants. If the problem persists, see a vet.
Is Coconut Oil Good For Yorkie Hair
As a natural ingredient, coconut oil is very good for Yorkie hair. It can improve the texture of the coat and even prevent infection.
Coconut oil for Yorkies is a great all-rounder when it comes to improving the health of their hair.
For example, it can clear up eczema or any signs of skin allergies and infections. It minimizes odor, creates glossy coats, and even helps with any wounds that need healing. It is also a great remedy for dry skin.
Do All Yorkies Have Silky Hair?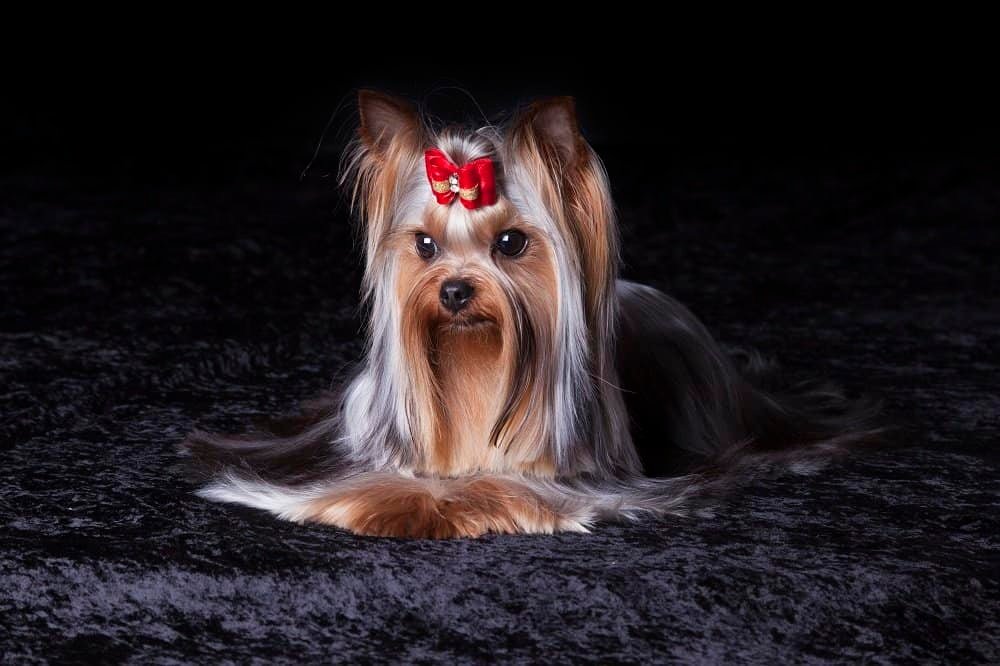 The majority of Yorkies have silky hair, but not all do. There are two types of Yorkie coats, with the silky one being the more common. The silky coat is unique and unlike any other dog breed.
The Yorkie coat is a single layer coats, which means they don't have an undercoat. This makes their hair very similar to human hair.
Because their hair is so silky, it does mean it needs much more grooming than other breeds. You should brush your Yorkie every day and bathe it at least once a month. Otherwise, its hair will soon start to lose its luster and silkiness.
Crossbreeds with other dogs can inherit their coat from either parent, or get a mixture of both. Sometimes this changes how yo need to groom them. See our article on grooming a Yorkie poo for specific instructions for that popular crossbreed.
How Can I Make My Yorkie's Hair Soft?
To make your Yorkshire terrier's hair soft, I would recommend using a type of oil spray and incorporating it into your regular grooming routine. Make sure you use moisturizing oil such as argan, coconut, or olive oil.
You'll want to spray it onto your Yorkie's coat and then brush it through, so you can make sure it's all absorbed and there's no residue leftover. If your Yorkie's hair is more than three inches long, make sure you focus more on the ends than the roots.
You can also make your own dog conditioner at home and specifically formulate it to help make the hair softer.
Make Yorkie Hair Silky: Conclusion
Having silky hair is not just about looking good. Healthy hair also makes for healthy skin and a healthy Yorkie overall.
To maintain that gorgeous silky hair, your should brush it daily, or at least every other day, especially if it is long. You should also wash it once a month. More, if your dog tends to get dirty more quickly.
Using the right products is also important. Use shampoos and conditioners specifically formulated for dogs. We linked to articles with recommendations above, but you can also ask your vet for advice on the best products.
Of course, they may try to sell you a brand that pays them to recommend it. Make sure you can trust your vet.