The Yorkie Poodle is a gorgeous little dog.
It is also playful and highly intelligent, thanks to its two playful and intelligent parent breeds.
But it also needs a bit more grooming than many other breeds.
And this is not something you can skip.
Grooming a Yorkie Poo regularly is important, in order to maximize the Yorkie poodle lifespan.
You want your pup to live as long as possible, don't you?
That means you have two options. Groom your dog yourself or take it to a professional. You can also do both.
Many owners take care of the easier grooming tasks themselves and leave the more difficult ones to a professional.
Keep reading to learn exactly how to groom a Yorkie Poo. Once you know what is involved, you can decide if you feel comfortable handling all the tasks yourself, some of them, or none.
How To Groom A Yorkie Poo
If you want to groom your Yorkie poo at home, you will need to get some grooming supplies. The good news is that once you buy most of them, you can keep reusing them, which saves you money in the long run over the cost of a professional groomer.
If you are wondering how often you need to groom your Yorkie poo, read this article. It discusses how often a Yorkie should be groomed, but it is the same for a Yorkshire terrier and poodle mix.
Materials Needed
Dog Shampoo (these are good options)
Metal tooth comb (this is a good one)
Dog Brush (these are the best brushes for Yorkies)
Nail Clippers (this pair is a great choice)
Hair Trimmers (this trimmer kit is the best value we've found)
Towel
Blow dryer (optional, but recommended)
Non-Slip Bath Mat (optional)
Step 1: Brush Your Yorkie Poo
To begin grooming your Yorkie Poo, start by thoroughly brushing it. This makes sure you've unknotted any tangles, so that the following grooming steps are much easier to complete.
Before you start with the brush, you should use the comb to get rid of any major tangles. Then get the hair slightly wet. You can use any regular spray bottle for this. Damp hair helps make brushing a lot easier.
Start by brushing the face. This is a delicate area, so ensure you're gentle and aren't pulling too hard around the eyes and ears. Once you've brushed out the face, make your way down the body, then onto the legs, and finally brush out your Yorkie Poo's belly.
Regular brushing is essential to keep your Yorkie Poo consistently looking its best. You should try brushing your dog daily, especially if its hair is particularly curly or long. If this isn't possible due to a busy schedule, you should try once every two days, or at a minimum once every three days.
Step 2: Bath Time
Place the non-slip mat onto the base of your bathtub and then gently lower your Yorkie Poo into the bath. Run the water and check that the temperature is lukewarm, before wetting your Yorkie Poo.
Anything too hot can burn its skin and cause a very uncomfortable bathing experience! Too cold is not pleasant either. Always check the temperature on your skin first, before applying it to your dog.
Once you've reached the correct temperature, you can begin applying the water to your Yorkie Poo. Run your fingers through your dog's fur to ensure that the entirety of its coat is wet.
Step 3: Shampoo
Squirt a small amount of dog-friendly shampoo into the palm of your hand and start massaging into your Yorkie Poo's hair and skin. Make sure you're massaging your dog enough that the shampoo is lathering into its fur. You can apply more shampoo if you feel it's needed.
Try to avoid the eyes, ears, and nose, because shampoo in these areas can sting, which we all know far too well from accidentally getting shampoo in our own eyes. Make sure you're gentle around the facial area and maybe try to avoid the mouth as well!
Once your Yorkie Poo is lathered and resembles a cloud more than a dog, you can start rinsing out the shampoo. Again, make sure that the water is lukewarm. Start from the head and then shower your Yorkie down the back, legs, tail, and belly.
You want to ensure all the shampoo has been rinsed away and there's no residue left over, because this can cause irritation to your Yorkie Poo's sensitive skin. This breed is prone to skin conditions as it is, so let's do what we can to try and prevent any from occurring.
How Often Should I Wash My Yorkie Poo?
How often should I bathe my Yorkie Poo? You should bathe it at least once every two to four weeks. It depends on a number of different factors. For example, if your Yorkie Poo has longer hair, or enjoys completely muddying itself while out on walks, then more frequent washing may be required.
Try not to bathe your dog any more than once a week, because the constant use of shampoo can cause irritation to the skin. If your pup does need cleaning in between bathing sessions, you can always rinse it with just plain lukewarm water.
Step 4: Dry Your Yorkie Poo
Once all the shampoo is rinsed off from your Yorkie Poo, the next step is to make sure it is dry. Go ahead and let your dog have a shake to remove any excess water. After this, grab a towel, pat it down, and give it a ruffle.
Once towel dried, you can decide whether to let your Yorkie Poo air dry or whether to blow dry it. If you choose to blow dry, put your dryer on the coolest setting and blow out their fur.
Make sure you avoid the face, because this can be unpleasant for your Yorkie Poo. If your pup is afraid of the noise from the dryer, you may need to slowly introduce the dryer to your dog first.
Step 5: Trim The Nails
This is a step many prefer to leave to a professional, but if you want to do it at home, you can. Just be careful not to hurt your poor pup. If you clip too far down the nail then, you may clip a blood vessel which can turn very messy.
My suggestion is to clip a small amount of the nail each time, instead of letting it grow longer and then clipping it really short. Try to make a clean, sharp cut to avoid any breakage and raggedness to the nails. Learn how to properly clip nails in this article.
Step 6: Trim The Hair
Next up, you can grab the hair clippers. Set the trimmer to blade number ten and begin trimming. Make sure you use special dog clippers, not human ones, because they are designed especially for a dog's fur and have more teeth in the blades.
Trim carefully and slowly. Use the scissors included in your trimming kit (or a good pair like this one), to carefully trim delicate areas, like the ears, the face in general, and the paws. This article explains exactly how to cut your pup's hair. We also have an article specifically on trimming a Yorkie face.
Step 7: Clean The Ears
Finally, you want to make sure your Yorkie Poo's ears are clean. This article shows you exactly how to trim and clean your dog's ears.
Yorkie Poo Grooming Styles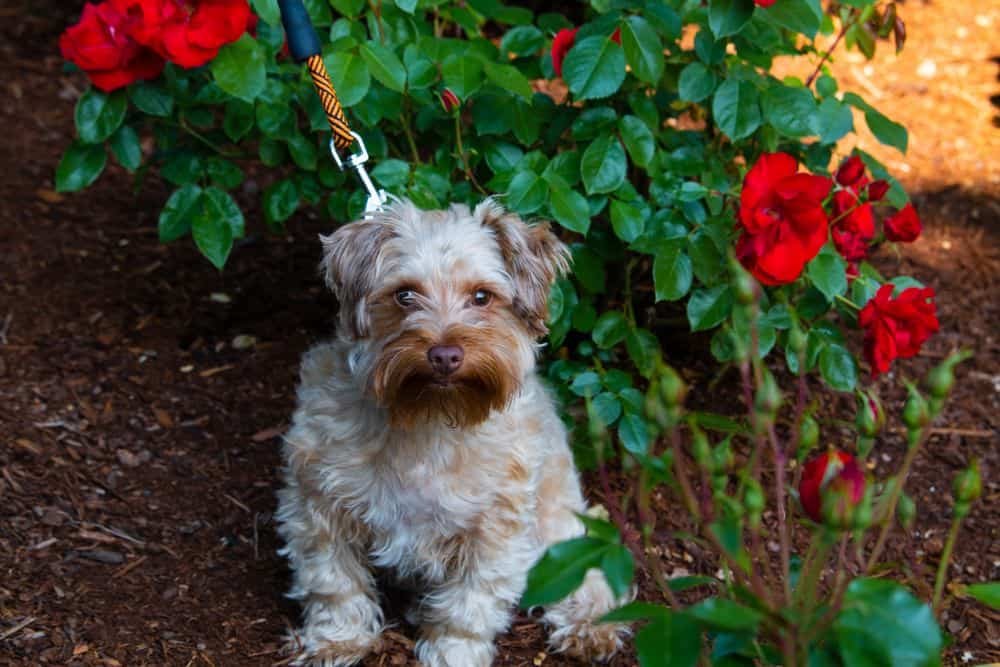 There are three popular hairstyles you can choose from for your Yorkie Poo. The first is the puppy cut. This is a simple style in which your dog's hair is cut short all over. Usually, the hair on their body is cut to around half an inch and the hair around the face to an inch.
Next, you have the teddy bear cut. This is similar to the puppy cut, but the fur is a little longer. It is usually cut to approximately two inches, with longer fur around the face.
Third on the list is the Schnauzer cut. This is where you clip your dog's hair from neck to tail, but leave it much longer on the face. Do Yorkie poos have tails, even? They have them at birth, but they are usually docked after a day or two, so they are left with a stub.
With the Schnauzer cut, the longer hair on the face is usually described as looking like a moustache. This type of grooming requires more upkeep, but you can guarantee that you'll have the fanciest Yorkie Poo around town!
Grooming A Yorkie Poo: Conclusion
Yorkie Poo grooming is not hard, but it does take some time. That is why many owners prefer to have their dogs groomed by a professional. However, if you have the time and patience to do it yourself, you can save a good bit of money.
It is also a good bonding experience for you and your pup. If you want to groom your Yorkie poo yourself, but you are not confident in doing all of the tasks on your own, you can always handle most of the grooming and have a professional do those things you prefer not to do yourself.
Nail trimming is a task many owners prefer to leave to a professional groomer. A full hair cut is another one. It is common for owners to trim the hair themselves, but when it comes time for a full haircut, they take their dog to the groomer.