Quick, what's cuter?
A Yorkshire terrier or a teddy bear?
It's a tough decision, I know.
But what if you didn't have to decide? What if you could have both in one?
Enter the teddy bear yorkie.
As the name suggests, it is a yorkie that resembles a teddy bear in some way.
But what is a teddy bear yorkie exactly?
Is it a purebred yorkie with a non-standard appearance? Or a crossbreed? Or something else entirely?
Keep reading to learn everything you need to know about the adorable teddy bear Yorkshire terrier.
What Is A Teddy Bear Yorkie?
Officially, there is no such thing as a teddy bear yorkie. In fact, the American Kennel Club only recognizes one standard type of Yorkshire terrier. A teddy bear yorkie is just a yorkie that resembles a teddy bear.
There can be a couple of different characteristics that cause a yorkie to look like a teddy bear and earn it the moniker. Let's take a look at the various features that can cause an individual Yorkshire terrier to resemble a teddy bear.
Teddy Bear Yorkshire Terrier Features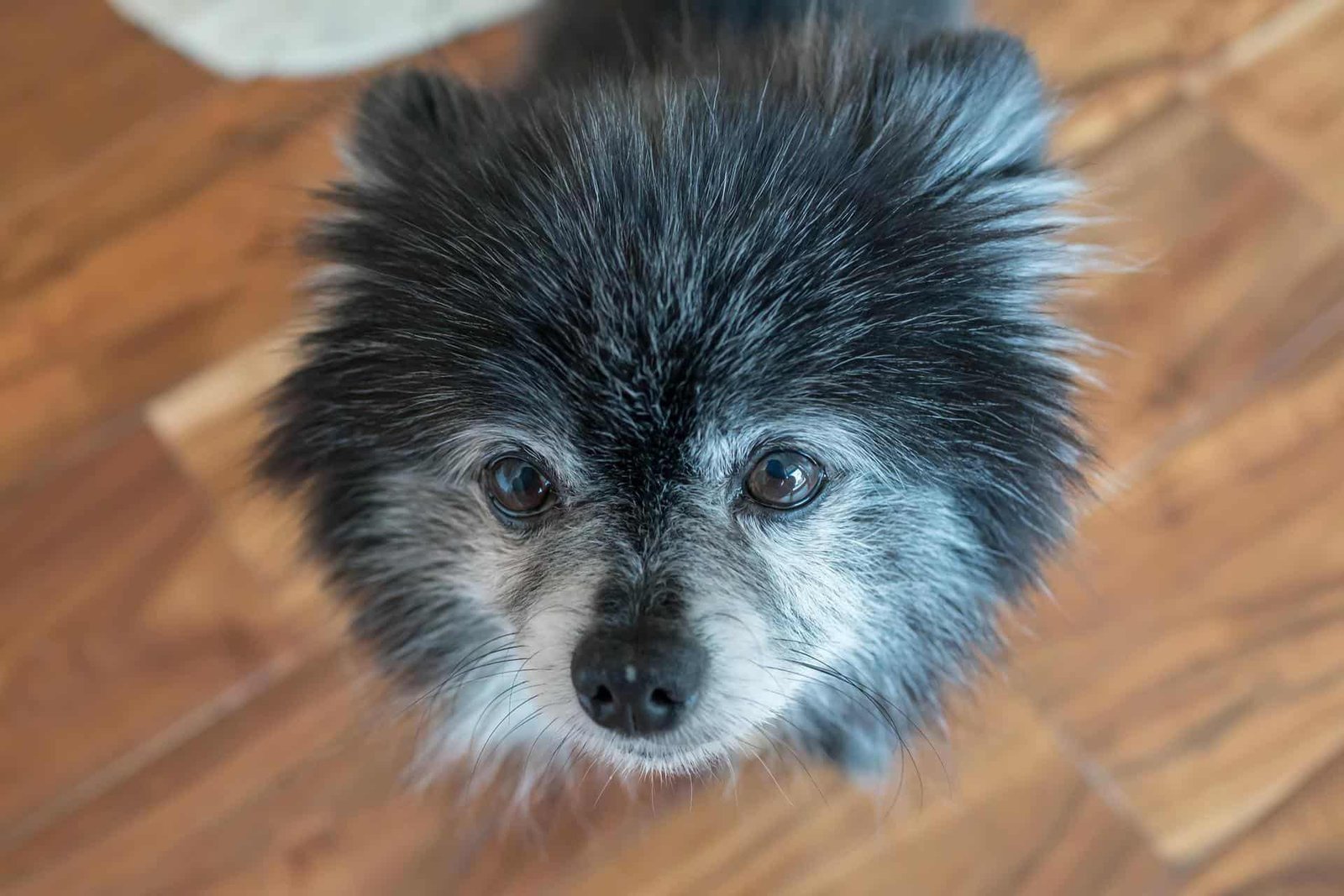 The following features are all reasons a yorkie might look more like a teddy bear than other dogs of the breed.
Face Shape
The use of "teddy bear" to refer to a dog first appeared with the Pomeranian breed. These dogs have a face that resembles a fox, but some were purposefully bred to have flatter faces and those were called teddy bear pomeranians.
This usage has been transferred over to the Yorkshire terrier, where it refers to a yorkie with a shorter snout, larger eyes, and rounder head. Breeders achieve this look by creating mixed breed yorkies.
The most common breeds they mix them with in order to get a dog that looks more like a teddy bear are:
Maltese
Pekingese
Shih Tzu
Of course, if you achieve the teddy bear look by cross breeding a yorkie with any other breed, you no longer have a purebred yorkie on your hands. This doesn't matter to most people, but if you plan on entering your dog in shows, you will not be able to enter it as either of the parent breeds.
Size
According to AKC guidelines for the breed, yorkies simply need to weigh less than 7 pounds. In terms of weight, any dog below that limit is officially considered a yorkie (assuming it meets all the other criteria, of course).
In other words, there is no real need to create subdivisions based on size, since they are all going to be recognized as Yorkshire terriers. But people do so anyway. There is the famous costly teacup yorkie and, of course, the teddy bear yorkie, which also tends to be smaller than average.
Color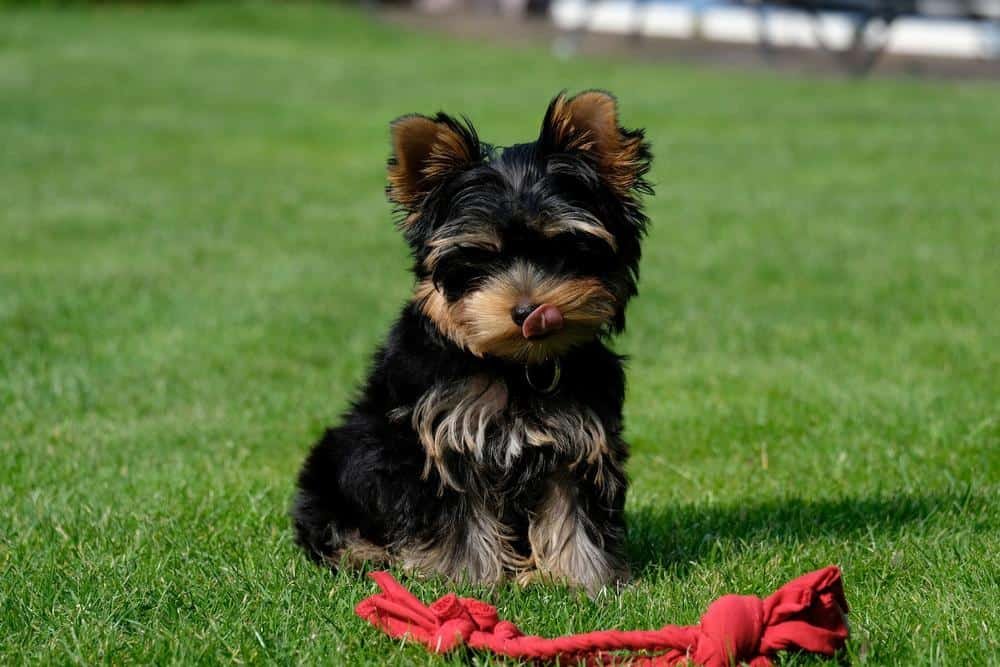 Some yorkies have a coat that is black and tan, instead of the usual steel blue and gold. People sometimes refer to these tan yorkies as teddy bears, since they have the color of a traditional stuffed bear.
However, there is a big problem with this.
As puppies, most yorkies are black and tan. Their color changes from around 4 months of age to 9 months of age. It is a gradual change, but by the end of it, the dog will have taken on the customary gold and blue yorkie colors.
The problem is that yorkies are usually sold before their 8th week. At that point, all yorkies still have the tan and black coat. So if a breeder tries to tell you they have teddy bear puppies solely based on the Yorkie coat colors, you need to be aware that the colors are likely to change as the puppy matures.
Coat Texture
Yorkies are famous for their silky coats that actually resemble human hair. They are quite different from most other dog breeds. If a yorkie has a woolier coat, people often describe it as a teddy bear Yorkshire terrier, because that texture resembles that of a teddy bear.
Because there is a demand for these dogs, some breeders purposefully attempt to breed puppies with woolier coats, instead of the standard silky coat. One other characteristic of these coats is that they can't grow long like the standard yorkie coat can.
Haircuts
Teddy bear yorkie hair styles are the one true way to use this phrase to describe a dog. The other factors above are either not real (the size and color) or they result in a dog that is no longer a real yorkie (crossbreeding to get different hair or face shape).
But if you simply give your yorkie a teddy bear cut, it is still a Yorkshire terrier. But it now resembles a teddy bear. That's legit.
This breed has a wide range of hairstyles. The puppy cut is one of the most common. It refers to a close trim that keeps the hairs short and close to the body.
The puppy helps prevent issues with tangling that are common in yorkies with longer coats and makes grooming much easier. NEvertheless, long coats are also popular with this breed, despite the additional effort required.
And the teddy bear haircut is another possible hairstyle. Some people actually use this phrase to refer to the puppy cut, since they are similar. Butt he teddy bear cut shows more resemblance to a bear.
Types Of Yorkshire Terriers
The American Kennel Club first recognized the Yorkshire terrier as a breed in 1885. To this day, it only recognizes the one official yorkie, although it also recognizes the Biewer terrier as a separate breed. This breed was actually the result of two yorkies with a recessive gene mating.
You will hear about plenty of other types of yorkies, but only one is recognized as such by the AKC, albeit as a nonstandard variant. The other types are not recognized at all. Nevertheless, let's take a look at the various types of dogs that are all associated with the Yorkshire terrier.
Biewer Terriers
What is a Biewer terrier? It is a unique breed descended from the Yorkshire terrier. It started as a parti-colored yorkie, which is a purebred yorkie with a recessive gene that results in random white markings on the coat.
The first Biewer puppy was named Schneeflocken von Friedheck ("Schneeflocken" is the German word for "snowflake"). It was born to the Biewer family in Germany in the 1980s.
However, due to illness, the Biewers never continued breeding these dogs, making their lineage somewhat unknown. Despite that the AKC recognized them as a unique breed in 2019.
In fact, the Biewer terrier became the first breed to be proven distinct through genetic testing. Until that point, the AKC had only accepted detailed pedigree documentation to prove distinctness.
In 2021, the Biewer terrier gained full recognition in the toy category. It is now its own recognized toy dog breed, but it is still extremely rare in the US.
If you want a Biewer puppy, you are going to have your work cut out for you trying to locate one for sale. To learn more about this breed, read our comparison of the Yorkie vs Biewer terrier.
Designer Yorkies
Mixing various breeds and marketing them as though the mix were a breed in and of itself has become a widespread practice. Designer yorkies, and designer dogs in general, are terms used to describe these crossbreeds.
A chihuahua mixed with a Yorkshire terrier or a Maltese mixed with a Yorkshire terrier both result in undeniably cute puppies. As do West Highland terriers mixed with yorkies. I suppose mixing anything with a yorkie will always turn out adorable.
But they are not officially considered are Yorkshire terrier variation, and certainly not a purebred. For some that is no problem, but for others, that can be a deal-breaker
The nice thing is that these crossbreeds cost less than pure yorkies, but they're just as cute. The yorkie chihuahua mix price, for example, falls between the cost of a yorkie and a chihuahua.
And there are likely going to be many more crossbreeds in the future. Ones we can't even imagine today. But it is not a quick process. The first attempts rarely succeed. It can take up to 20 years to create a breed that closely resembles the original vision.
Mixed breed do not have the same physical and mental characteristics of the purebred dogs that preceded them. They are a combination of the two parent breeds. Some will fall closer to one parent to the other, while others will be more in the middle.
You could get a chorkie (chihuahua yorkie mix) puppy, for example, that is very close to yorkie, while its brother or sister is close to a chihuahua. A third sibling might fall right in the middle.
The major drawback of designer breeds is that they tend to suffer from more health problems. This also results in a shorter average lifespan than the two parent breeds.
Black Yorkie
Black yorkies are almost always a mix between a yorkie and another breed, meaning they are not officially considered purebred. It is possible for a purebred yorkie to turn out completely black, but it is extremely rare. If you see a black yorkie, it is highly unlikely to be a purebred yorkie.
Parti Yorkies
Parti-colored yorkies are officially considered nonstandard variants of a purebred yorkie. That's because the AKC specifies that yorkies can have only two colors, in combination: either black and gold, blue and tan, black and tan, or black and gold.
Parti yorkies usually have three colors, with the addition of white to the standard yorkie colors. In some instances, they can even be almost completely white.
Mismarked Yorkies
Mismarked yorkies are simply Yorkshire terriers that have colors in their coat that are different from the officially recognized colors for the breed.
Teacup Yorkies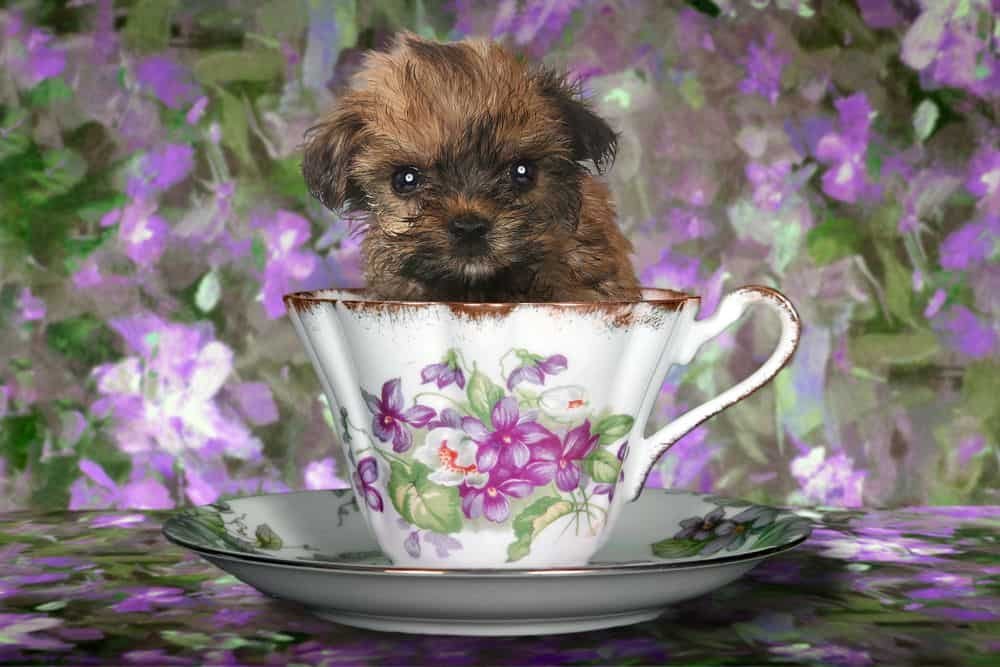 Teacup yorkies are also called mini yorkies. As that name suggests, they are much smaller versions of the Yorkshire terrier. So small, that they can sometimes fit into a teacup.
As far as the AKC is concerned, the teacup yorkie is not a distinct dog from the regular-sized yorkie. They consider the two the exact same thing. Many teacup yorkies are also considered teddy bear yorkies.
More About Teddy Bear Yorkies
There's a lot to learn about the teddy bear yorkie, including their appearance and fitness. You also have to know many other aspects of this unique breed, such as how effective it is as a watchdog.
Since the Yorkie has excellent hearing and is extremely intelligent, they will know when to act.
Potty Training
Yorkies are notoriously challenging to housebreak, due to their stubborn and independent personalities. This can be a challenge when bringing a yorkie into the home as a family pet.
But it doesn't have to be. Potty training a yorkie is challenging but not impossible. In fact, if you know the trick to getting this breed to learn new things, it's really no special trouble at all to teach them something. That article on potty training we just linked to will help you out.
Attitude
Yorkies are notorious for having a naturally competitive personality. Small as they are, they are good guard dogs. They have a strong desire to defend their property and those they care for and they never back down.
Health
One of the most critical aspects yorkie ownership is keeping your pet in top shape. Yorkshire terriers are susceptible to several health issues. Some illnesses you can avoid, and some you can regulate.
Expect to make annual vet visits, plus the occasional sick visit to your veterinarian. Every year after your yorkie reaches adulthood, it should have a health checkup.
After the age of 8 or 9, schedule a 6-month checkup. During the wellness test, the veterinarian can look for signs of illness. Early diagnosis is important, since illnesses can quickly get much worse in such a small animal.
Your vet will also give booster shots to your yorkie according to a standard Yorkie shots schedule to protect it from infectious diseases like rabies and kennel cough.
Make sure you're up to date on other preventative measures, too, including additional vaccines and flea, tick, and heartworm meds.
Teddy Bear Yorkies: Conclusion
Teddy bear yorkies are not a distinct breed, or even a recognized variety of Yorkshire terrier. They are simply yorkies that resemble a teddy bear in some way.
It could be their size, their hair cut, their color, or something else. Often it is a combination of different things, with crossbreeding being the biggest factor. Most teddy bear yorkies are actually crossed with another breed and then given a teddy bear hairstyle.