Purebred Yorkies are obviously better. Right?
Not so fast.
The reason breeders mix breeds is to create dogs with the advantages of both breeds and fewer, or none, of the disadvantages.
The problem is that this doesn't always work. There are a lot of variable that go into mixing breeds.
You could end up with a dog that has all the best qualities of a purebred Yorkie, but none of the bad ones. Or you could get the opposite: a dog with only the bad characteristics.
So what should you do?
Keep reading to find out. We'll cover everything you need to know in order to make an informed decision on whether to get a purebred Yorkshire terrier or a mixed breed.
Purebred Yorkies
True Yorkies have a great personality. It is one of the things people love the most about them. They also love their small size and incredible coat. A Yorkie's hair is silky and almost feels like human hair.
All of this makes Yorkshire terriers one of the most popular little dogs in the entire world. But they have a secret.
The truth is that the Yorkshire terrier is not entirely a pure breed. These dogs are actually a unique combination of terrier and toy dogs.
What we consider a purebred Yorkie was developed in the 19th century in Yorkshire, England. The name should have told you where this breed came from.
But as mentioned, Yorkies are actually a mix of different dog breeds. In the early 1860s, every dog with a small resemblance to the Yorkie was named a Yorkshire Terrier.
These dogs were later brought to Scottish weavers and then made into a true lapdog size. But that doesn't mean that purebred Yorkies like to sleep all day on your lap.
Personality
Some yorkies always want to be held, love to cuddle constantly, and will give you affection whenever you want it. But others still retain the strong instincts of Terriers, and they love to hunt.
As a result, you might need to be careful when you have your Yorkie around strangers. The biggest problems that arise with Yorkies are usually related to how the dog interacts with its owner.
If you end up carrying your pup all day, you tell it that the world is a dangerous place. This boosts their sense of insecurity, and your Yorkie will always bark at any stranger or weird sounds as a result.
This means that you shouldn't treat your tiny Yorkie like a doll and carry it around all day. Instead, you should train it to make sure it knows how to deal with the outside world.
When you first bring your Yorkie home and into a new environment, it will be all over the place in a matter of minutes. These dogs are nosy and they have a rather impish sense of humor.
In most cases, Yorkies are alert, fast, and super intelligent. The worst part of it all is the fact that they instantly fall in love with their voices. They tend to bark excessively if not properly trained.
Due to their huge personality, insatiable curiosity, and high activity level, Yorkies tend to burn a lot of energy. If you plan on getting one, you need to know what, and how much, to feed them.
Nutrition
First of all, Yorkies have small mouths. That means you need to find food that fits in their small mouths. They also have small stomachs that can't fit a lot of food.
But due to their high activity level, they need a lot of food throughout the day. This means you can't just feed them once a day like many breeds. They need 3-5 smaller meals throughout the day.
You should try to feed your Yorkshire terrier all-natural food. That means nothing with artificial, or other low quality, ingredients. They need food with plenty of protein and other important nutrients.
We have an entire article on the best foods for Yorkies.
Grooming
Yorkies have a coat that is pretty similar to human hair. That means it should be treated almost the same way. But you can't just use human shampoo. You need to use products made specifically for Yorkies.
Dogs have a different pH level. If you use human hair products, you risk doing more harm than good.
You generally want to bathe your pup once a week or so, but it does depend on the length of hair and how dirty your Yorkie tends to make itself.
If you keep your dog's hair short, you wont have to wash it as often. And each bath will be quicker and easier. You'll also need to brush it less often.
With longer hair, you should brush it every day. Make sure to use the right brush for Yorkshire terriers.
If your dog has longer hair, you should also keep an eye on the hairs around the eyes and on the ears, and trim them when they get too long. Hairs that get into the eyes can cause irritations and too much hair on the ears can make them droop.
One good piece of news is that Yorkies do not shed nearly as much as most dogs, even if they have long hair. This is good news for your vacuum cleaner and any family member with allergies.
Exercise And Training
All Yorkies need exercise to stay healthy. This is true even for teacup Yorkies. Regular exercise ensures both mental and physical health.
How much exercise do Yorkies need?
Due to their short legs, they don't need a ton of exercise, at least not compared to larger breeds. A simple walk around the neighborhood twice a day (or one long walk) is generally enough, along with the occasional game of catch or some other high-intensity exercise..
You'll know when your pup needs more exercise than you're giving it, because it will start to go stir crazy.
Training Yorkies can be fairly easy, as long as you take care of one important thing. You need to make sure there are no distractions, since these dogs get distracted very easily.
Read our article on training Yorkshire Terriers for more.
When training, try to use positive reinforcement, not negative. It works so much better. Whenever your pup does something right, give it tons of effusive praise. You can offer a doggie treat as well.
You should also train your Yorkie from a young age to socialize with people and other dogs. Introduce your Yorkie to new situations slowly, and always ensure it has a calm and happy environment.
Despite their small size, Yorkies can be great participants in canine activities such as obedience, rally, and agility, among others. On top of that, most Yorkies serve as therapy partners to their owners.
Health Concerns Of A Yorkie Purebred
Unfortunately, the small bodies of Yorkies come at a certain price. Yorkies tend to have a lot of health complications.
Most of these health issues are genetic, while others might be acquired from the environment. Unfortunately, it is not uncommon for Yorkies to have problems from birth.
Some of the health complications that Yorkies face include:
Hypoglycemia
Abnormally low blood sugar levels cause this condition, and it's quite common in Yorkies. They are at a higher risk of acquiring this problem in the first five months after birth. Adults can also have hypoglycemia, especially if they are pregnant or have any liver problems.
Skin Allergies
When Yorkies are exposed to chemicals, fleas, or any molds, they are at a high risk of getting skin allergies. Excessive itching, scratching, and possibly loss of hair are some of the symptoms.
Retinal Dysplasia
This is an inherited health condition that is common in Yorkies. Retinal dysplasia causes vision problems, which primarily result from abnormal retinal development. The abnormality leads to problems in the functionality of the eyeball.
Liver Shunt
This is a problem that arises from the improper functioning of the portal vein. The liver shunt obstructs blood flow to and from the liver, leading to the circulation of unfiltered and toxic blood throughout the body. Some of the symptoms of this disorder include behavioral changes, loss of appetite, and muscle weakness.
Yorkie Terrier Mixed Breeds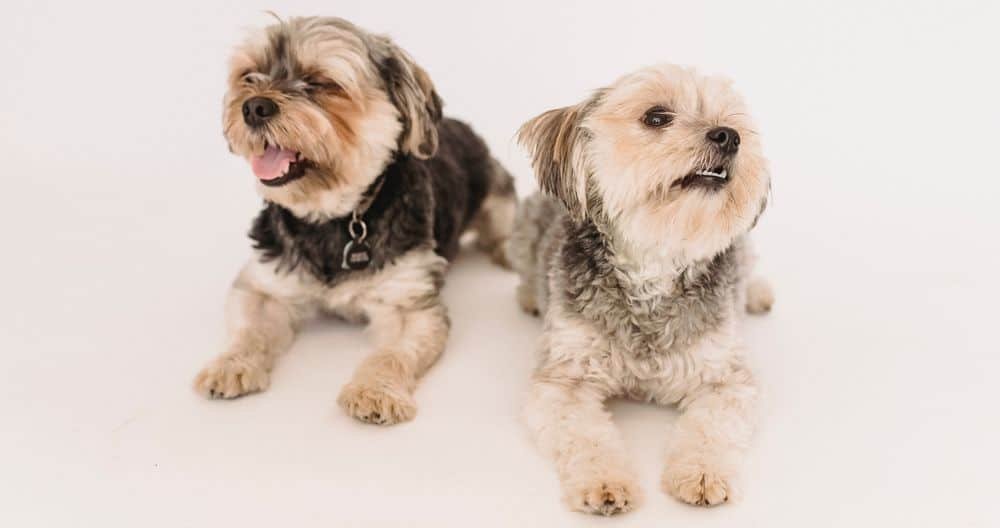 The Yorkie Terrier Mix breed is a whole different situation. What do I mean?
When you mix two different breeds, it is hard to tell what you will get. For this reason, most people prefer a pure breed over a mixed breed.
But mixed breeds generally cost a lot less.
If you decide to go with a mixed breed Yorkshire terrier, is it always best to get one from a reputable breeder. You want to know as much as possible about the parents, so that you have an idea what might be in store for you with your new puppy.
Mix-breeds are a blend of the two individual parents and that means a mix of the two parent breeds in terms of their physical appearance, mental state, personality, etc. But it is rarely an even mix.
If you are lucky, it is a mix of both parents' best traits. If you are unlucky, it is a mix of their worst. This is something you want to try and observe when you pick out your dog.
That said, Yorkies have been blended with other breeds for quite a long time. Each breeder always tries to achieve a mix of the best traits of Yorkies and the best of other dog breeds.
In fact, many believe that mixed breeds tend to be in better health than purebreds. But this idea is not yet proven.
Another benefit was mentioned above. Mixed breeds cost less than pure Yorkshire Terries. For example, the average Chorkie price falls in the middle between the Yorkie and the Chihuahua.
Here's a list of some of the Yorkie mix breeds in the market today:
Affenshire (Affenpinscher and Yorkshire)
Carkie (Caim Terrier and Yorkshire)
Chorkie (Chihuahua and Yorkshire)
Corkie (Cocker Spaniel and Yorkshire)
Dorkie (Dachshund and Yorkshire)
Yorkipoo (Toy Poodle and Yorkshire)
Those are just a few of the popular Yorkshire terrier mix breeds.
Health Concerns Of Yorkshire Terrier Mix Breeds
This is actually the trickiest part of mixed breeds. When you combine two breeds, you can't predict what exactly will happen. How long do Yorkie mixes live? You just don't know for sure. However, you can speculate.
The main aim of creating a mixed breed is typically to eliminate some of the purebred's problems and possibly make an even better breed.
For example, a Yorkie-doodle (aka Yorkie-poo or Yorkie-poodle) tends to be less aggressive and even more intelligent than a purebred Yorkie, but doesn't live as long on average. Read "How Long Do Yorkie-Poos Live" to learn more.
Unfortunately, there's no sure way to determine the hybrid's health state, especially when it comes to the Yorkshire terrier.
The result is that a Yorkie mix breed might inherit health problems associated with individual parents. Therefore, a Yorkie hybrid might be at even more risk of health problems. But it can go the other way, too. You just never know.
Are Yorkie Purebreds Less Healthy Than Mix Breeds?
In general, the main aim when mixing breeds is to get a healthier (and overall superior) hybrid than the purebred. In most cases, breeders assume that the new hybrid will have hybrid vitality, which seems to enrich its immune system.
But this may only be true for the first generation of hybrid dogs. The following generation may have more and more health issues.
The chances that the young hybrid might acquire genetic defects such as difficulty in breathing, cancer, epilepsy, among others, are increasingly high.
There's no guarantee that the mixed breed will remain in better health than the purebred.
If you settle for a Yorkshire mix breed, then you should find a breeder with guarantees. You want a breeder who can guarantee that the mixed breed will have almost the same, if not better, characteristics from the individual parents.
Purebred Yorkshire Terrier Or Mix-Breed: Conclusion
Obviously, the decision between a mixed breed and a purebred Yorkie will come down to your own personal preferences. We do generally recommend that you go for a purebred, since it's a safer bet.
But that doesn't mean that the mix-breeds are not a good choice. And they're cheaper, especially if you are looking at a mini yorkie. How much is a teacup yorkie puppy? The average price is around $2000.
That's why mixed breeds are quite popular. Just make sure you find the right breeder if you want to go for the mixed breeds. If they're not reputable, who knows what you might get.