Teacup Yorkie puppies are probably the cutest things you will ever see.
I completely understand why they have become so popular.
But their popularity has driven up their price considerably.
And breeders who specifically breed mini yorkies range from unethical to downright criminal.
That makes it almost impossible to get a teacup yorkie from a quality breeder at a good price.
How much is a teacup yorkie puppy from a good breeder?
Keep reading to learn exactly how much you can expect to pay for a mini yorkie, what affects the price, and what kind of additional expenses you will be looking at over the course of your dog's life.
How Much Are Teacup Yorkies?
The price of a teacup Yorkie depends on the breeder, its age, coat color, and size. Most breeders charge between $300 and $10,000 for teacup Yorkies.
The average price of a teacup Yorkie puppy is around $2000. Adult teacups adopted from an animal shelter cost much less.
We will focus on teacup yorkie puppies for most of this article, since adult dogs don't usually cost a lot of money. We'll begin by covering the factors that influence the teacup yorkie cost and then go over the additional expenses you can expect when owning a mini yorkie.
How Much Is A Teacup Yorkie Puppy?
Teacup dog breeds are not recognized by the AKC. In fact, the concept of teacup dogs was created by breeders to create smaller and smaller dogs to meet the increasing demand for mini dogs.
People prefer small dogs, since they are easier to care for (they require less space and less food). They are also adorable. Plus, there was the whole trend of carrying them around in a purse as an accessory.
But while a teacup Yorkie is not recognized as a separate breed, it is also below the standard weight for a Yorkie.
These days, the AKC does not have a lower limit weight for the breed, but it is still seen unofficially as 4 pounds. And teacup Yorkshire terriers usually weigh between 1 and 3 pounds.
Read our comparison of a yorkie vs teacup yorkie for much more on the differences between the two types.
Most breeders charge between $800 and $3000 for teacup Yorkie puppies. The national average price is $2000. Some breeders are known to charge up to $10,000 for certain coat colors.
Smaller dogs are pricier because of their higher demand and limited supply. Small females have fewer babies, plus it is seen as unethical to purposely breed miniature dogs, due to the health issues from which they are prone to suffer, along with the increased danger to mom and puppies during childbirth.
While the average price of teacup yorkie puppies is certainly higher than the price of regular sized puppies, there is still a large range in prices. Let's take a look at the factors that affect the price of teacup Yorkshire terriers.
Factors Affecting Teacup Yorkie Puppy Prices
The following factors have the largest impact on teacup yorkie puppy prices.
Breeder
Here's the thing with breeding teacup yorkies. It is unethical. These small dogs suffer too much. As such, any breeder advertising teacup yorkies is automatically not going to be a reputable breeder.
That said, tiny yorkies are often born naturally to larger parents. If a quality breeder happens to have a small dog, that is the best way to get a teacup yorkie. Usually, these breeders do not charge more for them, either.
However, the demand for mini yorkies is far higher than the number of small dogs born naturally. That is where teacup yorkie breeders come in.
Teacup dog breeders spend a lot of time and effort in creating small-sized dogs. The delivery of small dogs is very difficult as the dam may need a C-section to deliver the tiny babies. Teacup yorkies having babies can result in a lot of complications, for the mother and her puppies.
Sometimes, breeders have to use artificial insemination to impregnate the dogs. They also use techniques like miniaturization to produce really small Yorkies.
Good breeders conduct various health checks like hip X-rays, echocardiograms, etc. on the breeding pair to ensure a healthy litter. Some may even promise to take back the puppy should it develop any health issues within its first year.
Ethical yorkie breeders genuinely care for the breed's welfare, so they would never breed teacup yorkies on purpose. But some breeders that do can still work hard to do everything else right.
In other words, even among unethical teacup breeders, there are some better ones and some worse ones. Finding the more reputable breeders can be tricky. And you'll generally pay more, since they spend more, in order to ensure the best possible health for their puppies.
Coat Colors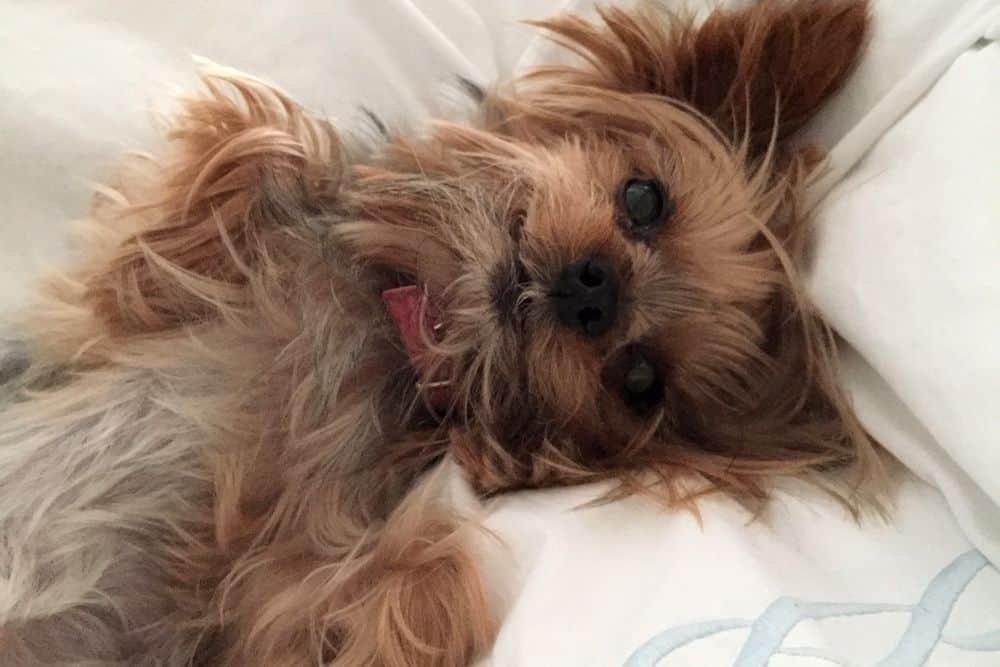 Teacups are available in all of the different colors of Yorkies like black, tan, blue, and gold. The blue and tan combination is especially popular and in great demand. Puppies in this color tend to cost more.
Unusual color combinations also cost more. Parti teacups, for example.
Age
The cost of an adult teacup Yorkie is a lot lower than that of a puppy. After all, you will also spend a lot less on its training, vaccinations, and spaying or neutering, if the breeder/shelter covers these procedures.
Naturally, if your budget is tight, it may be better to adopt an adult teacup Yorkie from a shelter. Expect to pay between $100 and $400 for a rescued adult teacup Yorkie. Sometimes, you may even able to find a Yorkie for free, if you are willing to adopt an older one.
Teacup Yorkie Cost Of Supplies
To make your teacup Yorkie feel more comfortable in its first few days in your home, you are going to want to invest in certain items. These items will ease its transition from the breeder's home to yours and make the process go a lot smoother.
Item
Cost
Food and Water Bowls
$10 - $15
Toys and Chew Toys
$10 - $50
Leash and Harness
$15 - $40
Dog Bed
$20 - $50
Crate
$50 - $75
Training tools,
poop bags/scooper,
puppy pads,
other accessories
$20 - $50
Teacup Yorkie Cost Of Food
Good dog food is essential to keep your teacup thriving. Never cut corners here as low-quality food could result in higher medical bills.
In general, expect to spend between $20 and $60 per month on premium food and dog treats. In the first few weeks, feed the same food the breeder was feeding your dog. This is important to avoid digestive issues in your sensitive pet.
Cost Of Medical Care
If you buy your teacup from a reliable breeder, chances are it will be healthy and hardy. However, your pet still needs medical care from time to time. Remember: small dogs are more prone to health issues.
In the first year, expect to spend money on your pet's vaccinations ($50 to $120 per year) and a spaying/neutering procedure ($100 to $400 one-time cost).
You also need to provide it with flea/tick prevention and de-worming ($40 to $75 per year). Small dogs often have dental issues and dental expenses can amount to $300 to $500.
Regular health checkups for routine screening at most vets can cost between $50 to $75 per visit. Dog health supplements could cost another $50 per year.
Expect to spend almost $500 per year on medical expenses. It is also important to set aside emergency funds of up to $1000 should your little pet fall sick or get injured.
To cover medical costs, you may want to consider pet insurance which can cost between $7 and $30 per month.
Teacup Yorkie Puppy Prices For Training
Training your young Yorkie can benefit you in many ways. Teacup Yorkies tend to bark a lot, so most owners will definitely want to train their pups to bark less, at the very least.
Depending on your area, the kind of training you seek, as well as the trainer, you could spend anywhere between $25 and $400 per class. Alternatively, you could watch some YouTube videos and try to train your pet at home.
Grooming Costs
Teacups need a fair amount of grooming to maintain their coat. You can do some home grooming by investing in brushes, combs, and good shampoo. This can cost around $30 to $50.
Professional grooming can cost between $50 and $100, depending on what the package includes. Basic grooming packages include a bath, haircut, nail trimming, ear cleaning, and anal gland expression.
If you prefer to do your grooming at home, the good news is that even if you mess up the haircut, these little dogs still look adorable. You can read about different hairstyles for teacup Yorkshire terriers here.
Miscellaneous Costs
In addition to food, medical care costs, training, and grooming, you may also want to factor in some miscellaneous costs that come with Yorkie ownership.
For example, the cost of microchipping and registration can come to $40 to $60. Pet boarding at a dog hostel can cost almost $50 to $75 per night.
Traveling by air with your pet can set you back $250 per trip. If you hire a dog walker to walk your pet, expect to pay between $10 and $40 for a single 20 to 30-minute walk.
Teacup Yorkie Cost: Related Questions
The following are answers to some of the most common questions we get in relation to the cost of teacup yorkie puppies. If you have any additional questions, please feel free to ask them in the comments below.
Why Are Teacup Yorkies So Expensive?
Breeding teacup Yorkies is tricky given the small size of the dam. Most mothers need a C-section to deliver the pups.
Breeders naturally charge a premium for these pups to recover the medical costs incurred during breeding. Small dogs also have more health issues, which can make teacup Yorkies more expensive to own.
Is A Teacup Yorkie A Good Pet?
Teacup Yorkies make great pets, because they are smart and easy to train, as long as you know the trick to getting around their short attention span. Our article on training yorkie puppies has more on that.
They are also loving and affectionate dogs. However, they can be expensive to own, given their propensity for suffering from health issues.
What Is The Cheapest Teacup Dog?
The price of teacup dogs depends on many factors. You could get cheap teacup dogs for as low as $100, but be aware that such dogs can have a plethora of health issues. In general teacup Chihuahuas are cheaper to own than other teacup breeds, and have lower expenses.
What Is The Smallest Dog To Buy?
Apart from teacup Yorkies, breeds like Maltese, Chihuahuas, Dachshunds, and Pomeranians are fairly easy to care for and good choices as house pets. Among then, chihuahuas are the smallest.
Teacup Yorkie Puppy Prices: Final Thoughts
The first-year cost of raising a teacup Yorkie can amount to anywhere between $580 and $2500, not including its adoption or purchase price. After the first year, the cost comes down slightly to anywhere between $400 and $1500 per year. It depends on your lifestyle and style of dog parenting.
The typical lifespan of teacup Yorkies is between 7-10 years, which makes the teacup yorkie life expectancy is quite a bit shorter than that of a regular-sized Yorkshire terrier. Still, it means you can expect to spend almost $15,000 to $20,000 over the course of your pet's lifetime.
Teacups yorkies are cute, but hey are also huge responsibilities. Please do not get one, unless you are certain you can devote both the time and the money one of these dogs requires. Don't be one of those people who carry a little dog around in their purse while its trendy and then discard the poor little thing when the fad is over.