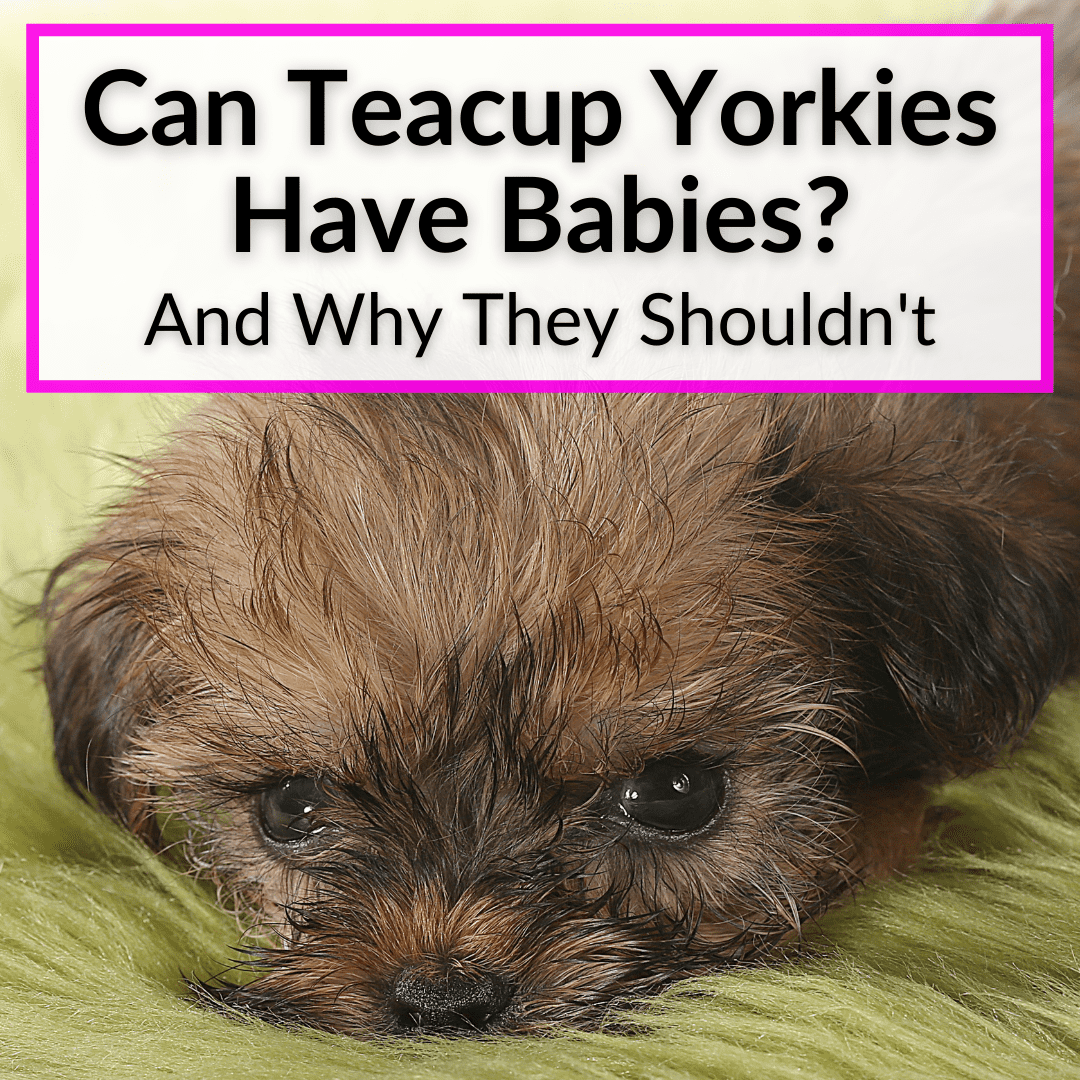 There is only one thing more adorable than a Yorkshire Terrier puppy.
And that is an even smaller yorkie puppy.
Seriously, when you see a baby teacup yorkie, you can't help but fall in love.
And if you already have one as a pet, you can't help but wonder if teacup yorkies can have babies.
Unfortunately, things are never that easy.
Teacup Yorkshire terriers might be adorable, but they tend to suffer from a lot of problems.
So many problems that we have to wonder if it is even ethical to own these adorable dogs at all.
Keep reading to learn whether teacup yorkies can have puppies, and whether they even should. We'll also cover the signs to look for to determine if your teacup dog is pregnant.
Can Teacup Yorkies Have Babies?
Teacup Yorkies can have babies, but it can be hazardous for both the puppies and the mother. Since the mother is so small, she can only give birth to a few puppies, and birth complications are more likely.
We will go into much more detail on the dangers of teacup yorkie pregnancy to both the mother and her puppies. We will also cover how you can tell your teacup yorkie is pregnant and how to care for the expecting mother.
The Danger Of Teacup Yorkies Having Puppies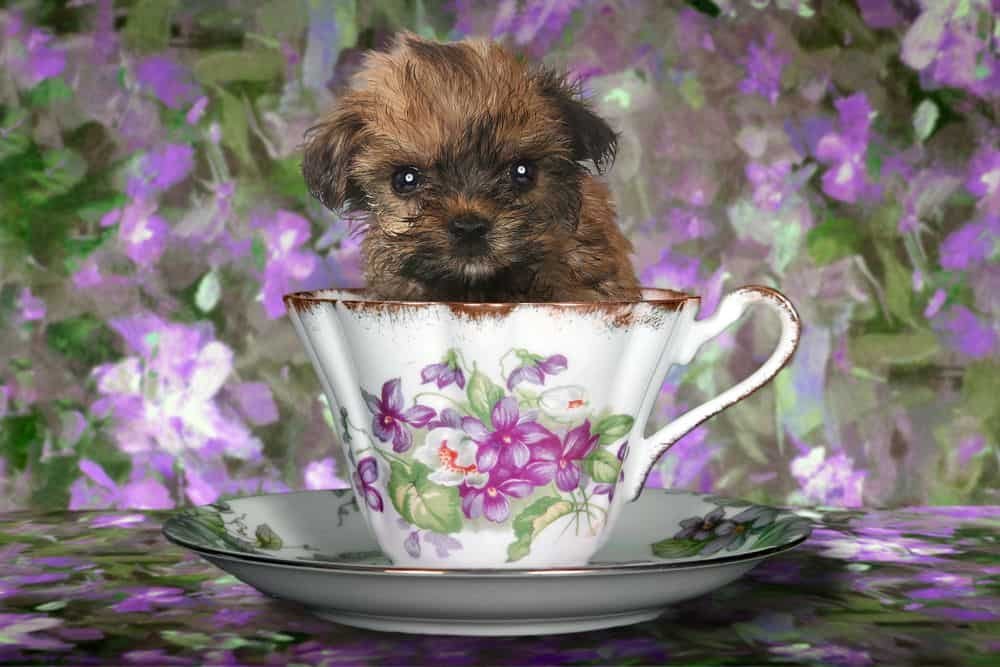 There are a number of reasons you should avoid getting teacup yorkie puppies. They might be cute, adorable, and popular, but many of them are underdeveloped and suffer from various health problems.
This is exactly why breeders often get criticism when they breed teacup yorkies to produce the smallest dog breed possible.
But not all 3 pound Yorkshire terriers are intentionally bred. Some are simply the runts of their litter, with both of their parents being full-sized Yorkshire terriers. I doubt anyone has an ethical problem with buying a runt, but there is no guarantee that it will not grow up to become a regular-sized dog.
When it come to teacup yorkies that are the result of the breeding two tiny yorkies, then there are some ethical issues. Breeding teacup Yorkshire terriers can be dangerous to the mother and her puppies.
The mother's small physique makes carrying puppies, going through labor and giving birth taxing and potentially life-threatening. As for the puppies, there are many cases in which they are born with complications and illnesses.
And to top it all off, because they are in such high demand and teacup yorkie puppy prices are so high, meaning huge profits, breeders like to overbreed. They try to breed as many teacups as possible to meet the high demand for these tiny little pups.
They even have males breed before they are mature enough. Read "How Old Does A Male Yorkie Have To Be To Breed?" for more info on when male Yorkies reach sexual and physical maturity.
There are also cases where breeders resort to inbreeding and some even purposely keep puppies underdeveloped, through methods like starvation. This results in stunted growth and a dog that will suffer from ill health its entire (probably much shorter) life.
But even teacup Yorkshire terriers that are not purposely kept underdeveloped tend to suffer from a myriad of health issues.
Teacup Yorkshire Terrier Health Problems
Teacup yorkies are associated with many health issues, due to their small size, and in many cases, also to inbreeding.
Their tiny tummies make digestive issues common. If you have a teacup dog, you definitely need to feed it in small amounts. Even regular sized yorkies need several smaller meals a day, instead of one big one. Teacups need even smaller meals.
But they can't be to small and you can't miss any either. Their tiny size means their blood sugar can quickly drop to dangerous levels. If you notice that your pup is overly lethargic, is tilting its head a lot, or is shivering, these are all signs that it needs a mean quickly. Without it, it could soon fall into a coma and then die.
While we're on the topic of digestion, don't forget that their bladders are also miniature. They can't hold much, meaning accidents are bound to happen. Be ready to buy a lot of indoor potty mats. They will be essential long past puppyhood.
Teacup yorkies are also prone to develop heart failures, respiratory issues, and even seizures. As you might expect, the average mini yorkie lifespan is considerably shorter than the expected lifespan of yorkies that are the standard size.
One problem with teacup puppies are liver shunts. These are congenital birth defects that affect all yorkies, but the risk is higher with tiny ones. Liver shunts result in the liver not being able to flush out toxins correctly.
Dental issues are also more common in smaller dogs. There are cases where even the baby teeth don't some in correctly and have to be removed altogether. Gum problems are not unusual either.
There is also a condition called hydrocephalus. This simply means that there is fluid surrounding the brain, which can often be fatal.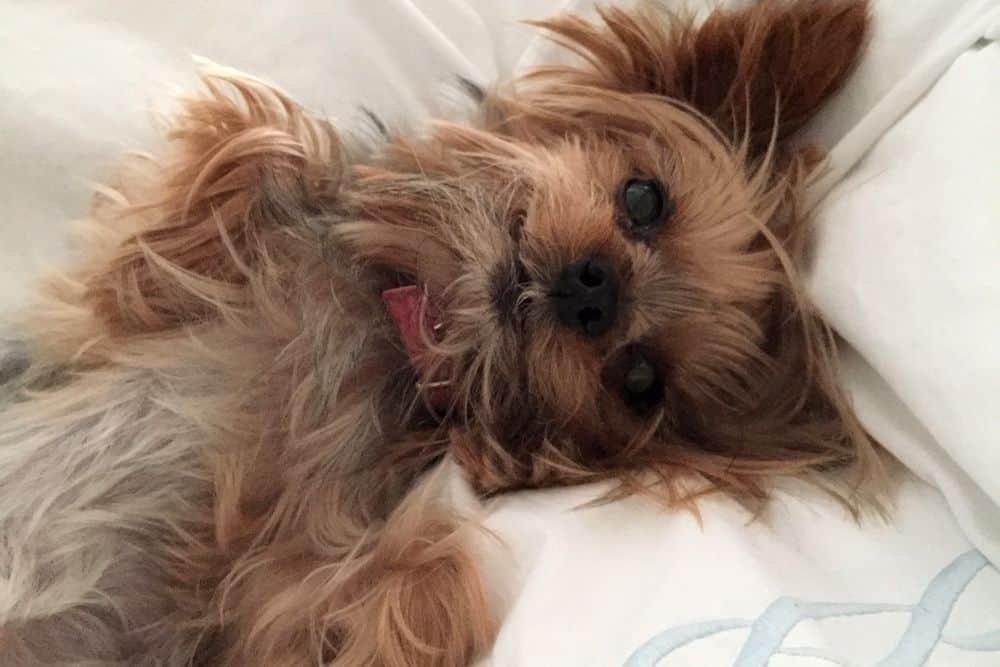 Teacup yorkies are at higher risk of breathing issues, too. One possible problem is tachypnea, which means a faster rate of breathing. Another is dyspnea, which is a shortness of breath. It results from an overworked respiratory system, which is common in small dogs.
Collapsed tracheas affect all yorkies, but teacups are at a higher risk with this issue, too. You should always use a harness with a dog this small, and never a collar.
Weaker bones are another issue, and one that should be obvious, given their size. You always need to be careful not to step on your pet, and never let it jump from anywhere high.
Teacups have a harder time maintaining their body temperature, too. This and their blood sugar issues put them at a much higher risk if they ever need to undergo surgery.
As you can see, teacups yorkies tend to struggle with health problems their entire lives. Since they are not generally blessed with a healthy lifestyle, you need to take whatever preventive measures you can to help prolong your yorkie's lifespan as much as possible.
We never recommend breeding teacup yorkies which should be obvious by this point. But sometimes your yorkie ends up pregnant unimpededly.
Perhaps it got out of the house while it was in heat, and a male dog found it. That's why you should make sure your female is never outside unattended when she is in heat. It pays to know approximately how long Yorkies stay in heat.
If yours does end up pregnant, we want to cover some things you will need to know. The first is how to know whether your dog is even pregnant in the first place.
Signs Of Teacup Yorkie Pregnancy
The best way to know for sure if your teacup yorkie is pregnant is to ask your vet to perform an ultrasound or take an x-ray. Blood tests are also a viable option, but they are not as accurate until 3 weeks into the pregnancy.
But how do you know to ask your vet to check in the first place? Here are the first signs to look out for that might indicate your teacup yorkie is carrying babies:
They usually start to act sluggish, sleepy, and not as active as they used to be; they also bark less than usual
Their stomach are much firmer than when they are full from a meal.
Their nipples will start to grow quickly.
Other nipples that are not generally visible will begin to pop out; this will happen more as the weeks go by.
They will start to groom themselves more extensively than usual.
They will eventually start showing nesting behavior, meaning they will begin gathering items in one specific corner of the house.
Here are some later signs of yorkie pregnancy that you should also be on the lookout for:
By the end of week 3 and at the beginning of week 4, their abdomen will be larger than usual.
They will start to eat more and more each day.
The most obvious sign is that they will gain weight, roughly 30% of their normal weight, so around an additional 1.2 to 2.1 pounds.
Yorkies stay pregnant for 63 days on average, with the standard range being 58 to 68 days, depending on your dog's size and the size and number of puppies it is carrying.
Teacup Yorkshire Terrier Litters
The teacup Yorkshire terrier is actually not recognized by the American Kennel Club, because it does not meet their standards for Yorkshire terriers. They have a strict standard that yorkies must weigh at least 4 pounds as adults. Teacup adults weigh less than 4 pounds.
In other words, they are even tinier than the already tiny official yorkie. And as a general rule, the smaller the breed, the fewer puppies.
Standard Yorkshire terriers generally have litters ranging from 2 to 5 puppies, with an average of 3.3, according to a study cited by the American Kennel Club and they can have 10 litters safely in their lifetime, on average. Teacup yorkies usually only have 1 to 2 puppies per litter.
Pregnancy Care For Teacup Yorkies
If you plan to breed your teacup yorkie despite all the warnings, you should first have her undergo a complete health exam before mating. Your vet will do some testing to rule out possible genetic issues passed down through breeding. This is a good idea with any female that has not been neutered, even if you do not plan on breeding her.
Teacup Yorkies can be pretty sensitive when they are pregnant, with everyone who comes in contact with them. You need to be extra gentle with them during pregnancy. Proper care and feeding are the utmost priority.
But you need to provide for all of her needs during this time. Make sure she has a warm, soft, and comfortable area to rest. As the weeks pass by, she will want to spend more time in this comfy area and will retreat to her nest constantly.
Even if your pup is usually social and always wanting to play, you will find that she now prefers to be left alone.
Her appetite will increase and you need to make sure you always provide her enough food to eat. It is a good idea to switch from scheduled meals to free-feeding, but make sure the food is always fresh.
Do not just put some new food on top of the old in the bowl. Discard the older food and clean the bowl, before filling it with fresh food. Wash both food and water bowls using dish soap and lukewarm water once a day.
Lastly, it is vital that you encourage your teacup yorkie to keep on exercising, so that she is in good shape for the delivery. But don't let her overdo it. Limit running and especially jumping.
Going for a nice 15 to 20 minute walk twice a day is perfect. It ensures a good level of exercise, but not s much that it could negatively affect your dog's health.
And this should go without saying, but always consult your vet if you have a pregnant yorkie. They will make sure you are doing everything you should be and that you and your pup are on the right track toward delivering a health litter of teacup puppies.
Teacup Yorkies Having Babies: Conclusion
The risks of pregnancy in teacup yorkies is relatively high. Letting your teacup yorkie get pregnant doesn't only put the mother in danger but also the puppies.
You need to understand that pregnancy in any breed of dog can be pretty stressful. The smaller the dog, the more that is exacerbated.
If you do plan on breeding your teacup Yorkshire terrier, make sure you get it a complete checkup before mating and provide it the care it needs during pregnancy. And provide the proper care to the mother and puppies after pregnancy.