A female Yorkie in heat can be a wonderful thing.
But it can also be a problem.
It's wonderful if you want to breed your dog. If not, it is usually an annoyance.
Your pup can become moody, can stain your furniture with a bloody discharge, and you might have to fend of aggressive male suitors.
All of that will likely leave you wondering how long Yorkies stay in heat. And how often you will have to deal with this.
Keep reading for all the answers concerning female Yorkies in heat. We'll cover everything you need to know.
How Long Is A Yorkie In Heat?
The Yorkie heat cycle can last from two weeks to even a month. Each heat cycle phase varies. Some are longer and some are shorter, meaning you can't ever predict how long it will last.
For example, your Yorkie's first heat can last for two weeks, and the next heat cycle could then last for four. How long a heat cycle lasts (and how often they occur) depends on numerous factors.
The primary factors that determine length and frequency of the Yorkie heat cycle are genetics, overall health of the dog, and whether or not they have been spayed. Age plays a role as well. As Yorkshire terriers grow older, they tend to go onto heat less often.
When Do Yorkies Go Into Heat For The First Time?
As small dogs, Yorkshire terries reach sexual maturity much sooner than larger breeds. A female Yorkie generally undergoes her first heat cycle between the ages of six to eight months, once her reproductive system has fully developed.
It can sometimes happen as young as 5 months or as late as 14 months. If your female Yorkie has not been spayed and has not gone into heat by the time she is 15 months old, you should take her to a vet for a checkup.
How Often Do Yorkies Go Into Heat?
Not only do Yorkies mature faster than larger dogs, they also tend to go through more heat cycles per year. On average, a fully mature female Yorkie will have a heat cycle every five to six months, which means about twice a year.
But your Yorkie will not likely go into heat at regular intervals from the first cycle. It can take up to 18 months from the first cycle, before they become regular.
As your dog ages, the frequency of her heat cycles will diminish. Older Yorkies often go into heat only once per year. and the cycles do not last as long. But they never stop altogether. In other words, Yorkie do not undergo menopause.
Do Yorkies Experience Menopause?
While Yorkies go into heat less often when they get older, they never stop completely. Even the oldest dogs can still reproduce, although it becomes much harder for them to conceive than when they were younger.
​
But the can still become pregnant. As you may expect, that can be quite dangerous for an older dog, since pregnancy cause the body a lot of stress.
It is for that reason that breeders generally retire a breeding female once she has reached 6 to 8 years of age.
Female Yorkie In Heat Symptoms
If you are not sure whether your pup is in heat, here are some common symptoms to look for. Note that not all dogs will exhibit all of these symptoms.
Swollen Vulva
One thing you will notice when your dog is in heat is a swollen vulva. Sometimes it also becomes darker in color. Of course, you can only notice these changes if you know what the vulva looks like normally, so go ahead and take a look now.
Vaginal Discharge
When your Yorkie is in heat, you will likely also notice a small amount of discharge from her vagina. The color of the discharge can range from whitish-pink to dark red. It is perfectly normal for the color to change over the course of the heat cycle.
Nesting Behavior
Hormones during the heat cycle will often cause the dog to exhibit nesting behavior. Basically, she might begin to act like a mother to her toys or other belongings, gathering them in her area (usually her bed).
Mood Swings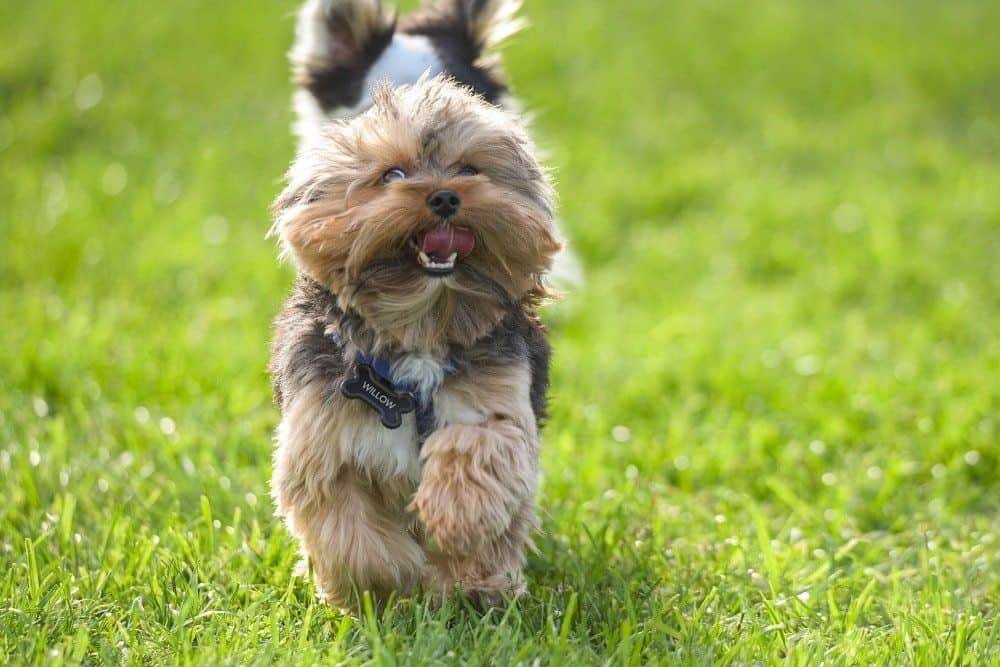 As with humans, fluctuations in hormone levels can cause female dogs to behave differently than they normally do. Perhaps your dog might suddenly start clinging to your side. Or she might hide away to be alone. Or she may become more aggressive than usual.
Change In Appetite
A female Yorkie may start eating either more or less while in heat. This can be due to hormone fluctuation or general discomfort from contractions of the uterus.
Licking Of Genital Area
You may notice your dog licking her genital area repeatedly when she is in heat. She does this to lick off the blood that discharges from her vagina.
Yorkie Heat Cycle: 4 Stages
The heat cycle is the reproductive cycle of a dog. It is similar to the menstrual cycle of a human. The cycle is made up of four distinct stages.
The changes you see in your dog during these stages are basically the result of its body being prepared for pregnancy. During this time, females are also more receptive to male yorkies, for obvious reasons.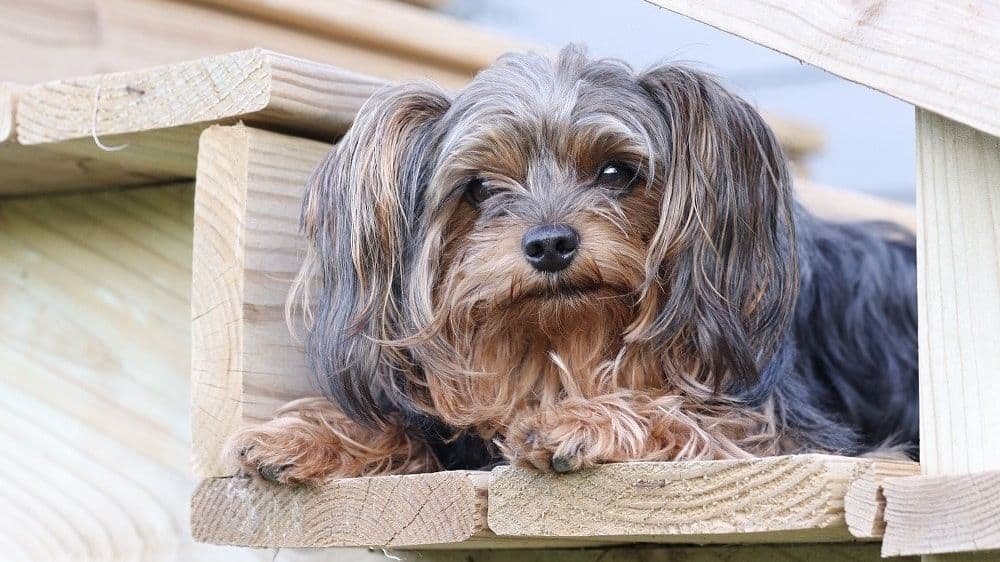 The first two stages of the heat cycle usually last 2 to 3 weeks. During these stages, you will notice bleeding, a swelling of the vulva, and usually some behavioral changes.
The last two stages are meant to allow the puppy to develop in the womb, be born, and to give the mother time to recover from pregnancy. If there is no pregnancy, these two stages are still used for rest and recovery.
Let's take a look at each of the 4 stages in turn.
Proestrus Stage
This first stage lasts 7 to 10 days. It is basically a time of preparation. During this stage, your dog's vulva will swell up and sometimes darken. She will begin discharging blood from her vagina.
This discharge tends to be thicker and darker toward the beginning and eventually become thinner and more watery. You'll probably see your dog lick her genital area to clean away this discharge. She will not want to breed at all during this stage.
The bleeding is often compared to the bleeding during a human period, but there is one distinct difference. In dogs it happens at the beginning of the cycle, not the end.
Estrus Stage
The estrus stage generally last 3 to 4 days, but can stretch on longer. The vaginal discharge lets up and what remains is more pinkish than red. The vulva softens and becomes even larger.
This is the stage when the female is most fertile and when she becomes receptive to breeding. You may notice her keeping her tail to the side, effectively signaling access.
Male dogs will come after her during this stage, so make sure to keep her away from them, if she is not spayed and you do not want her becoming pregnant. We will have a bit of information on spaying below.
Diestrus Stage
The third stage lasts around 60 to 90 days. In effect, this means it lasts until birth in a successful pregnancy.
During the diestrus stage, many of the symptoms disappear: hormones stabilize, swelling goes down and the discharges no longer occur. The female also stops accepting proposals from male dogs.
Anestrus Stage
The final stage lasts from 30 to 90 days. It is basically the time from the end of the previous stage until the beginning of the next heat cycle (or the next proestrus stage).
Taking Care of Yorkies In Heat
The best way to take care of a Yorkie in heat is to give her your attention when she needs it. Give her less food (unless she seems to need more), but make sure always to keep the water bowl full.
You should also make sure that your dog has a clean and cozy area free from discomfort and disturbances.
It is a good idea to keep her off of any furniture you do not want stained during the first two stages while she is bleeding. You could also consider getting her some doggy diapers.
There are both disposable diapers available like these:
Or washable ones like these:
Most dogs will lick themselves clean, but sometimes you may notice that the discharge has hardened in your dog's fur. A bath will take care of this, or simply wiping the area with dog wipes.
Male dogs can be a big problem during the first two stages of the heat cycle. They can smell your dog's pheromones from several miles away, even in her urine. And they will want what she's selling.
During the first stage, she will not be receptive and may become aggressive to warn the males to stay away. During the second, she will allow familiar (and sometimes unfamiliar) males to mount her.
It is best to keep your female away from males during the first stage. The same goes for the second, unless you want her to get pregnant. Note that she can still become pregnant in the third stage, so you'll want to keep her from male dogs for a few weeks once bleeding has begun.
If you know you do not want your female Yorkie to ever get pregnant, you might consider getting her spayed.
Can A Yorkie Be Spayed While In Heat?
Spaying is an invasive surgery that removes the uterus and both ovaries. You can certainly have your Yorkie spayed while in heat, but it increases the risk of bleeding or other complications during surgery. It is best to wait until after your pup has had her first cycle.
Spaying means there is no more chance of pregnancy, and no more heat cycle to worry about. But there are possible negative effects as well.
Possible Effects Of Spaying On Your Dog's Health
A study done by the University of Georgia found that spayed females lived an average of 25% longer than females that were not spayed.
They discovered that the procedure reduced the risk of a dog dying from trauma or infections. At the same time, it increased the risk of death from cancer or autoimmune diseases.
The general consensus is that spaying is beneficial on the whole. But you'll want to consult with your vet before spaying your dog, to make sure you have all of the pertinent information.
And if you want to breed your Yorkie, then you will obviously not want to sterilize her, at least not until she has had puppies.
Breeding Yorkies In Heat
It is possible for a female Yorkie to become pregnant during her very first heat cycle, but this is not dieal. Her body is not yet fully developed, making a pregnancy more risky.
Dogs are most fertile during the Estrus stage, from the 10th to the 14th day of the cycle. But they can conceive at any time during the breeding cycle.
A vet can test your dog to find out when ovulation occurs and thus, when it would be best for her to mate.
They can perform a vaginal smear, which looks at the amount and appearance of vaginal cells to predict ovulation, or a serum progesterone test, which measures progesterone levels in the blood. The latter is usually more accurate.
How Long Yorkies Stay In Heat: Conclusion
The length of time a Yorkie stays in heat varies from dog to dog and even from one heat cycle to the next. It is never possible to predict exactly, but after a few cycles, you can begin to make fairly accurate guesses.
Overall, most Yorkies go into heat twice a year and they stay in heat for 2 weeks to a month each time. If your pup is in heat, make sure to take good care of her and keep those horny males away from her!