Any dog can suffer from tracheal collapse.
But small dogs are most likely to develop this condition.
Yorkshire terriers are especially prone to it. Many believe they are genetically predisposed.
But what is Yorkie tracheal collapse exactly? Is it as bad as the name makes it sound?
Yes, it is every bit as bad as it sounds. It is a horrible condition.
Worse, there is no cure.
So what can you do to prevent and/or treat it?
Keep reading to learn everything you need to know about tracheal collapse in Yorkshire terriers. We will cover all aspects of this terrible affliction.
Yorkie Tracheal Collapse
Yorkie tracheal collapse, also known as airway collapse, can result in respiratory distress and a honking cough in these small dogs. The cause of the condition is unknown but it could be congenital or acquired.
The symptoms of Yorkie tracheal collapse seem to worsen with excitement, after eating or drinking, and by pulling on a lead. Let's begin by taking a look at what can cause this condition.
Causes Of Tracheal Collapse In Yorkies
Tracheal collapse is a common condition affecting small or toy breeds like Yorkies, Chihuahuas, and Pomeranians. It occurs due to the weakening, or defect, of the tracheal cartilage. It affects the trachea, which are the cartilaginous rings that keep the airway open.
In the case of congenital tracheal collapse, the cartilage softens and weakens as the puppy grows. This causes the trachea rings to collapse inwards, resulting in labored breathing, wheezing, coughing, and recurrent respiratory infections.
Since Yorkie tracheal collapse is quite common, it is suspected to be an inherited disease. That is why you should always buy your Yorkie from a reputed breeder, who will refrain from breeding Yorkies who have this condition or have relatives with this condition.
It is also important not to do anything to aggravate the trachea and help bring about the condition. That means using a harness for your pup, instead of a collar.
Signs And Symptoms Of Tracheal Collapse In Yorkshire Terriers
Here are some of the common signs of tracheal collapse in Yorkies.
Chronic Cough
This is usually a honking sound. It occurs after exercise, while eating or drinking water, and when the dog is excited.
Wheezing
Tracheal collapse affects the windpipe and blocks the airways. This results in wheezing or labored breathing during exercise. Many dogs also have difficulty breathing, which causes an intolerance to strenuous exercise or activity.
Changes In Gum Color
In healthy Yorkies, the gums are pale pink. In dogs with respiratory distress due to tracheal collapse, the gums tend to turn bluish or purplish.
Changes In Appetite
Some Yorkies with tracheal collapse may be unable to eat or drink normally, due to breathing difficulty while eating. This can result in appetite loss followed by weight loss.
Life Expectancy Of Yorkies With Tracheal Collapse
How long a Yorkie with tracheal collapse lives depends on the severity of the disease, as well as the management of the symptoms.
Most dogs with mild cases of tracheal collapse can live fairly normal lives for almost 2 to 4 years after diagnosis. However, dogs with severe tracheal collapse tend to suffer from a poor quality of life and have a shortened lifespan.
You must work closely with your vet to manage your Yorkie's condition. This may include the use of cough suppressants, bronchodilators, and antibiotics to control inflammation. You may even need to implement weight management strategies, since canine obesity can aggravate symptoms.
You also need to make several lifestyle changes to reduce stress and prevent respiratory distress in your Yorkie, particularly minimizing stress and physical activity and excitement. At the same time, you need to ensure optimum weight and avoid weight gain in your small dog.
Your vet will customize a treatment based on your Yorkie's symptoms and the severity of the condition. In some cases, steel trachea rings, and other surgical options like stent placement, along with oxygen therapy, could prolong your pet's life.
Home Remedies For Tracheal Collapse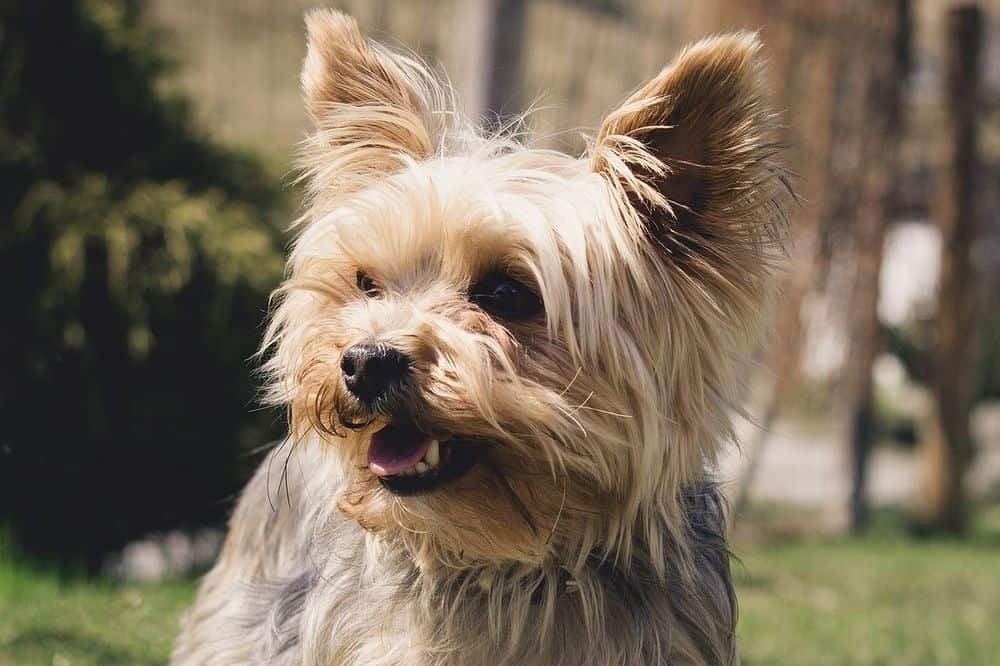 For severe cases of Yorkie tracheal collapse, there is no cure. For milder cases, your vet might recommend one or more of the following home remedies.
Weight Management
It is essential to prevent excess weight in your dog, because obesity could exacerbate the symptoms, especially respiratory distress. If lack of activity results in weight gain in your Yorkie, your vet might switch your pet to a low-calorie or weight-management diet.
The converse is also true. Your Yorkie might not eat well due to respiratory distress while eating. In such a case, your vet might switch your dog to calorie-dense foods, especially if your Yorkie is losing weight.
Use Elevated Food And Water Bowls
Some pet parents report using elevated food bowls to help their dogs with tracheal collapse. They could prevent the coughing that occurs while eating and drinking.
Exercise Modification
If physical activity results in wheezing or coughing in your Yorkie, you might have to reduce it. At the same time, it is important to keep your dog fairly active to prevent weight gain and depression. Try to find activities it can do without suffering. Ask your vet for help.
Using A Harness
Using a lead and neck collar tends to stress the delicate bones of the trachea, especially if your Yorkie tends to pull on its walks. Using a dog harness could reduce this pressure to a great extent. These are the best harnesses for Yorkshire terriers.
Using A Humidifier And Air Purifier
Since respiratory distress and coughing are often aggravated due to dry air, the use of a humidifier could help moisturize the airways, reduce irritation in the respiratory tract, and prevent coughing to some extent.
Similarly, an air purifier could reduce airborne irritants like smoke and dust and may prevent chronic cough in Yorkies with tracheal collapse.
Using Supplements
There are several supplements that could help a Yorkie with tracheal collapse. However, you must always consult your vet before using them.
Herbal cough-soothing supplements: These may relieve dry cough, and irritation, and may even have antibacterial and antispasmodic properties. These supplements could alleviate some of the discomfort in your pet with tracheal collapse.
Calming/stress-reducing supplements: These include CBD oil, probiotics, and hemp supplements. They could reduce excitement, anxiety, and stress in Yorkies, especially during fireworks and thunderstorms. Often, these events tend to trigger stress and respiratory distress or wheezing in dogs with tracheal collapse.
What To Feed Your Dog With Tracheal Collapse
Your Yorkie's diet will depend on its symptoms, and your vet is the best person to help you customize the right diet for your pup. Here are some tips to consider.
Feed liquid/wet food, especially if your Yorkie has stopped drinking water due to coughing fits. Make sure it gets adequate fluids to prevent dehydration.
Feed smaller meals 2 to 3 times a day, if eating one or two larger meals is difficult for your dog (Yorkies should be getting many smaller meals anyway).
Choose premium dog food rich in protein, fiber, and healthy fats. This is especially important for dogs with reduced appetite and those losing weight due to their condition.
If lack of activity is causing obesity in your Yorkie, consider a premium low-fat, high-fiber, high-protein food. It is important to manage your pet's weight, since excess weight can increase respiratory distress in your dog
If needed, ask for a prescription diet for your Yorkie. There are special canine diets that are known to reduce obesity as well as respiratory distress in dogs affected with tracheal collapse.
Cost To Fix A Collapsed Trachea In A Yorkie
The cost of treating collapsed trachea in Yorkies can vary based on the treatment you choose.
For mild cases where you can manage the symptoms with bronchodilators, cough suppressants, lifestyle changes, etc., the cost will likely be under $50 per month.
For scoping and ultrasound to assess the condition, diagnostic tests can cost between $500 and $1000.
Surgery to place a stent or steel trachea plates can cost $2000 to $5000.
Again, these are just estimates. The actual cost can vary from city to city and based on your pet's overall health.
Possibility Of Recovery And End Stages Of Collapsed Trachea
Unfortunately, this is a progressive condition. You can manage the symptoms in mild cases, and in severe cases, surgery could be an option.
According to Elizabeth Robertson, DVM, you might want to consider euthanizing your dog with tracheal collapse if:
It is not responding to treatment
Its coughing gets progressively worse
It is not getting enough airflow and is struggling to breathe.
If your dog is struggling to get up and breathe on its own and shows signs of wanting to continue, then you could consider some of the aforementioned treatments like surgery, oxygen therapy, etc.
However, if your dog simply lies down and doesn't attempt to get up, then putting it down may be the best option to prevent further misery.
Collapsing Trachea In Yorkies: Final Thoughts
Yorkie tracheal collapse is unfortunately more common than it is in most other dog breeds. That is one of the major drawbacks of owning a Yorkshire terrier.
If your dog get tracheal collapse, there is not much you can do. You can manage the symptoms, and perhaps intervene surgically, to help lessen your dog's suffering and extend its lifespan. But there is no cure. Eventually, your dog's situation will get so bad that you will be forced to make a horribly difficult decision.