Did you know that Yorkies are the 6th most popular dog breed worldwide?
It's true.
That may leave you wondering why it can be so hard to find a good harness that fits them.
It seems manufacturers simply don't like making harnesses that fit such small dogs.
But not all is lost.
There are a few good harnesses out there that fit these wonderful, tiny creatures.
Keep reading for a rundown of the best harnesses for Yorkies, including brief reviews to help you choose the perfect one for your pup.
We also have a buyer's guide toward the end of this article that explains which features are most important, along with the reasons you should get a harness in the first place, and not a collar.
Best Harness For Yorkie: Comparison Table
03/22/2023 08:28 pm GMT
A harness is one crucial tool that a Yorkie owner should keep in mind. There are many harnesses available, but you, as their owner, should take some critical considerations. And the reason for this is what we are going to tackle in this article.
Best Harnesses For A Yorkie Reviewed
As mentioned, Yorkies' small size can make it hard to find a good harness that fits them. But it's not impossible. Each of the harnesses below is great for Yorkshire Terriers.
1. EcoBark Classic Dog Harness
This brand of dog harness is made with a non-toxic polyester mesh. It is sturdy due to the thick nylon components, but is still lightweight and breathable.
This harness allows your Yorkie full motion, without putting pressure on its throat and neck. Moreover, it is eco friendly and available in tons of different colors.
You can choose from 17 different colors that range from ultra bright, so you can always see your pet, to black or camouflage. It is adjustable, so it fits even small Yorkies.
2. Voyager Step-In Air Mesh Dog Harness
This harness may be about as simple as you'll see, but it ensures your Yorkie always has a comfortable walk. It is also a lightweight, easy-to-use harness made with breathable mesh, that allows moisture to escape.
This means your Yorkies won't overheat. They will still feel cool even after with a long walk. It is gentle against the Yorkie's skin and fits perfectly on their torso.
It also has a quick-release buckle and it is easy and fast to adjust. It is available in various sizes, from XS to XL, making it an excellent option for other dog sizes as well.
3. PupTeck Checkered Frills Soft Mesh Dog Vest
If you're the type of fur parent that loves fashion, then this vest-style harness is perfect for you. It is the only good harness that is made from fabric and that fits on like a vest. This harness will turn heads!
Another benefit this harness offers is that it is washable. Its weight is also evenly distributed and it even comes with a matching leash that completes your Yorkie's fashionable look.
4. PacComfet Soft Mesh Dog Harness
This soft mesh harness is made with a sturdy nylon fabric. It has a belly strap that helps ensure it fits perfectly on your Yorkie.
This belly strap enables you to hold your Yorkie tight, so it can't escape your hands, no matter how much it wriggles around (and they do love wriggling!).
The PacComfet harness is easy to put on and fits over your Yorkie's head. Once it's on, simply buckle it tight. But it's not too tight and allows your pet room to wriggle around.
5. Red Dingo Classic Dog Harness
If you happen to love camping and other adventurous activities, this harness is a good choice. It is made from a tough nylon material that can withstand just about anything you might put it through.
It also features a trademarked buckle bone. They claim this is the strongest buckle available on the market. You can choose what color best suits your Yorkie, because it comes in 10 different colors. It is also available in multiple sizes, in case you also have larger dogs.
Yorkie Harness Buying Guide
This guide will simply cover the different types of harnesses and the different materials they are commonly made from. We'll also go into detail on why harnesses are much better than collars.
Types Of Yorkie Harnesses
Let's check out the different types of harness for Yorkies. All types work, but you, and your dog, will likely have a preferred type.
Strap
It is the most common type of harness in the market because of its versatility and simplicity. With this type of harness, Yorkies can step through it at the front then you buckle it at the back.
Harness Leads
This type of harness is an all-in-one design made from durable nylon with metal. Basically, it allows the lead to wrap around the Yorkie's legs and body.
It is popular with many Yorkie parents, because it is impossible for the dog to escape. Just make sure that is appropriately adjusted once it's tightened.
Car Harness
Don't want your Yorkie wandering around while you're driving? Then use this harness. Aside from that, it also helps protect them in the event of an accident.
Car harnesses come with a clip, loop, or handle, which you can attach to the seat belt. It is popular with Yorkie parents who love to travel by car with their with dogs.
Vest
Vests are common for those who have smaller breeds of dogs. They are usually made from a soft nylon or polyester mesh. These are great for small dogs because of their superior comfort and light weight. Like a real harness, you can strap it around your Yorkie's chest and back with a buckle.
Escape Proof
Because of their natural craftiness and small size, Yorkies are escape masters and always seem to find their way out. This kind of harness makes sure they stay put and also resists the chewing action of your dog.
Different Harness Materials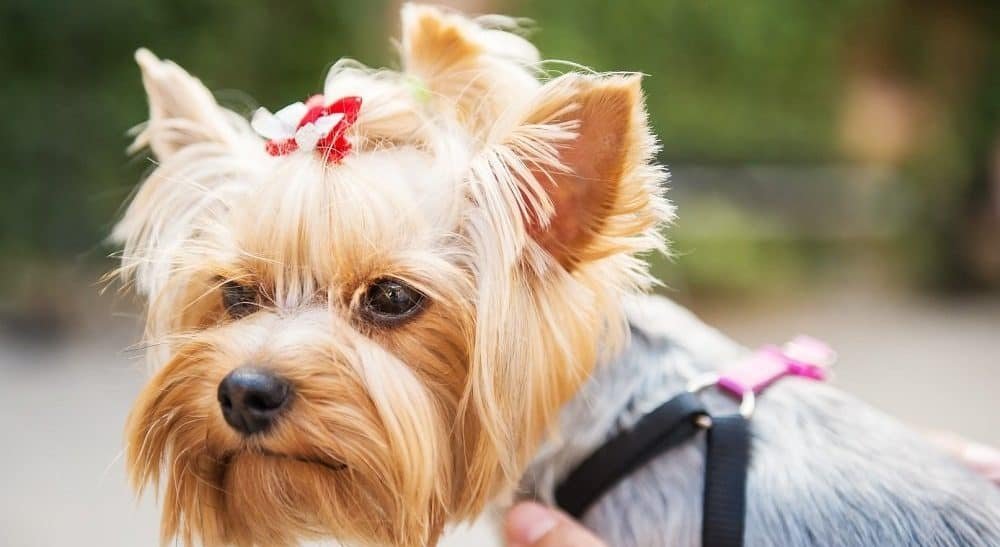 The following are the most common materials used to make harnesses for dogs.
Nylon
This the most common material in making dog harnesses. Nylon is a synthetic fabric that has a number of qualities that make it ideal for a dog harness. Chief among them is that it is cheap, strong, and lightweight.
Mesh
Is usually made from nylon or polyester, or nylon and polyester with cotton. This makes it an excellent material for harnesses for small dogs. It provides comfort, ventilation, and is stretchable.
Like nylon, polyester is also a synthetic fabric and contains some of the same qualities. The main difference is that it isn't as strong and tends to be softer. That is why it is often combined with nylon in mesh fabrics.
Leather
Unlike nylon, leather is rarely used for dog harnesses because of its weight and higher cost. But some would consider it as a viable alternative. Leather tends to stretch, especially when it's wet, which means it requires regular oiling to be strong.
Neoprene
Neoprene is a rubber material that is considered the best option for a padding harness. It is generally used in conjunction with nylon and polyester.
Cotton
Is the most organic and natural material, which makes it suitable for Yorkies and other dogs, especially dogs who suffer from different skin conditions and allergies. But it is not as breathable as polyester or nylon, and it costs more.
Why A Harness And Not A Collar
As a Yorkie parent, you need to understand why a harness is better than a collar. It is the same reason why you need to consider the size of the neck when buying a harness for your Yorkie.
A Yorkie's throat has two general zones. They are the trachea, which goes directly to the lungs and the esophagus, which is connected to their stomach. This is not unlike our own anatomy.
A Yorkie's trachea doesn't have any bones covering it. It is only protected by rings of cartilage. And the cartilage isn't especially tough. In fact, it is quite fragile and delicate.
A collar puts a lot of pressure directly on the delicate trachea. Obviously, this has the potential to cause damage. That is why a harness is the way to go.
Now, you're probably thinking that dog collars for Yorkies are fine, since they have been in use seemingly forever. And that's true. They are generally fine.
But they do have the potential to cause injury. And that potential is much greater for a small and delicate breed like the Yorkshire Terrier.
A larger breed can handle the pressure that a collar puts on the throat much better. The same goes for smaller breeds that have larger, less delicate necks, like French bulldogs, for example.
You might think that you can simply be gentle with your dog when it is on the leash and wearing a collar. But it is actually not up to you.
Dangerous amounts of pressure can be generated when your Yorkie makes a fast or sudden motion. And we all know that they tend to make those a lot.
Even if nothing serious happens at that moment, it all adds up. 80% of Yorkie dogs are prone to neck issues, after continuous use of a collar for as short as three months.
Even worse, there is a good chance your Yorkies could suffer from a trachea failure. This is treatable, but that treatment is not always 100% successful. And it does generally include some surgeries.
Even less serious problems are not pleasant for your dog. Neck trauma can lead to issues like a persistent cough, trouble eating, or wheezing noises when breathing.
Sometimes Yorkies will snort like a pig, too. This is not related to a collar, though. Read "Why Does My Yorkie Snort Like A Pig?" for more.
To sum this all up: just get your pup a harness. It is so much easier on it's delicate body. The harness avoids the trachea altogether and instead spreads the force around its upper back, chest, and shoulders. The muscles and bones in these areas are much better able to handle the pressure from pulling on the leash.
Best Harness For Yorkie: Conclusion
Since you're here, we hope you are convinced that a harness is the way to go, and not a collar. Even if it is harder to find a harness that fits these small dogs, it is not impossible.
We gave you a list of the best harnesses for Yorkies that are available. Hopefully our reviews and the comparison table have helped you decide on the right harness for you and your little Yorkie.