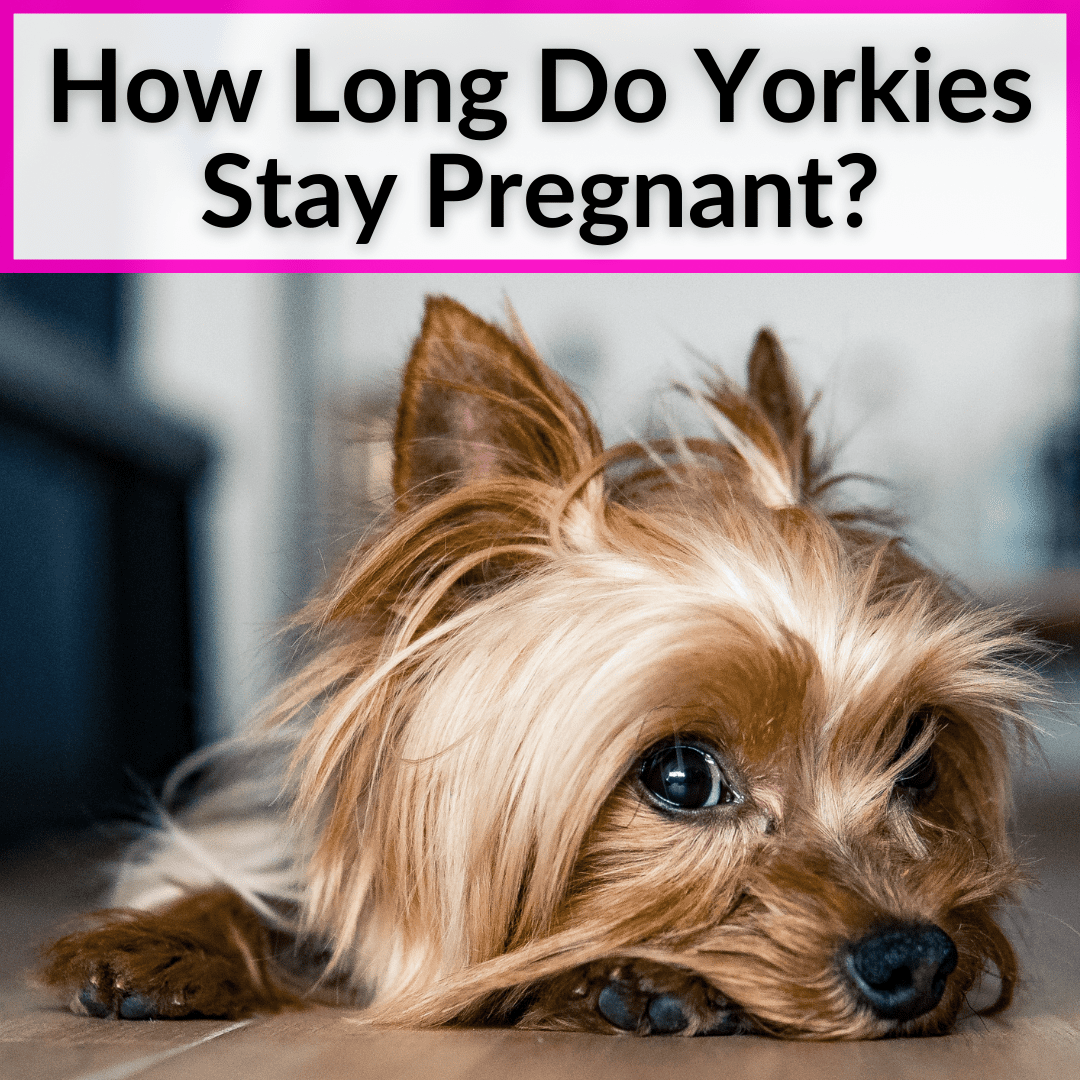 So you've got a pregnant Yorkie.
First of all: congratulations!
I don't know if there's anything on earth more adorable than a Yorkie puppy, so you're in for a treat.
But before you get to meet your newest, and cutest, family members, there's still the pregnancy to get through.
And that's not always easy.
So how long does a Yorkie pregnancy last?
Keep reading to find out how long Yorkies are pregnant, plus everything else you need to know about Yorkie pregnancies.
How Long Are Yorkies Pregnant?
The average gestation period for Yorkies is between 58 and 68 days. 63 days is the average. If your Yorkie has not delivered her puppies by the time day 68 rolls around, contact your vet for help.
Carrying her puppies past that point can be harmful to both the mother and the puppies. The vet will need to induce pregnancy or perform a C-section.
The reason for the 10-day range in the gestation period is that the length of time a Yorkie is pregnant depends on the size of the mother and the sizes and number of puppies. Toy breeds do tend to carry their puppies longer than larger breeds.
The gestation period corresponds to the diestrus stage of the heat cycle of a Yorkie.
But what if you're not sure that your Yorkie is pregnant? Let's learn how to tell if a Yorkie is pregnant.
Early Signs Of Pregnancy
The most definitive methods for determining whether a Yorkie is pregnant are a blood test, an ultrasound, or an x-ray.
However, all of those methods need to be performed by a vet and they are only possible later in the pregnancy. Early on, you'll need to rely on your powers of obse4vation.
Here are a few of the most common signs to look for to determine if your pup is carrying puppies.
enlarged nipples
lethargy
increase in appetite
weight gain
firmer abdomen
enlarged abdomen
excessive grooming
nesting behavior
If you notice any of these signs (and especially if you notice several or all), it's time to prepare yourself for some new additions to the family.
After the third week of pregnancy, you can have a vet perform a blood test so you know for sure. After 6 weeks, they can perform an ultrasound, which not only confirms pregnancy, but will also tell you how many puppies will be joining your family.
Sizes And Number Of Yorkie Babies
Since Yorkies are small, it should be obvious that the babies are tiny as well. But how small are newborn Yorkshire terriers exactly?
Brand-new Yorkie babies weigh between 0.07 and 0.14 kg (2.47 and 4.9 oz). As the weeks pass by, their ears and eyes open and they gain weight rapidly, until they reach their adult weight of 1.36 to 3.17 kg (3 to 7 lbs) on average.
These numbers show you just how lightweight Yorkie puppies actually are. But since the mothers are also lightweight and they usually carry more than one puppy, they obviously have to be quite strong to walk around with several babies in their womb for up to 68 days.
How many puppies do Yorkies have exactly? The average is 3.3, with the standard range being 2 to 5 puppies. The larger the litter, the higher the chance of some of the babies being stillborn or dying shortly after birth. With litters over 5, this is a virtual certainty.
Female Yorkies can go into heat for the first time as early as 4 months of age. But it is more common for this to happen between 10 to 12 months, with some not doing so until 18 months. They can continue to become pregnant until around the age of 7.
How To Care For A Pregnant Yorkie
In order to ensure your Yorkie is comfortable and healthy during, and after, her pregnancy, be sure to follow these tips.
Be Gentle
You should always be gentle with your dog, but that is even more important when it is pregnant. No rough playing or anything like that. Be gentle when you pick it up, too.
No Vigorous Exercise
Once you know your Yorkie is pregnant, decrease the amount of physical exercise it gets. You especially need to decrease the amount of vigorous exercise. After a few weeks, it is best to reduce vigorous exercise to nothing.
During the pregnancy, continue to take your dog out for walks. Two walks per day of 15 to 20 minutes each is good. But don't play things like fetch or tug of war. Gentle exercise is enough to keep her in shape for delivery.
Provide A Comfortable Space
Your pregnant dog needs a comfortable space where she can rest and relax. Set up a dog bed in a warm area. That will work well. Keep the bed and surrounding area clean.
Provide Healthy Food (But Not Too Much)
Your pregnant Yorkie needs to eat healthy dog food, but you also need to make sure not to overfeed her. Obesity can be dangerous for a pregnant dog. If you are not sure what to feed your dog, ask your vet.
Be Careful With Supplements
Supplements can help your dog during pregnancy, but do not give it anything until you have first cleared it with your vet. They will know what supplements your dog needs.
Yorkie Gestation Period: Conclusion
Whether your Yorkie got pregnant by accident or it was planned, the end result is the same: adorable little Yorkie babies!
But before you get to that point, you first need to get through the Yorkie gestation period. It is not overly difficult, but it does require that you treat your pup well and provide for her needs while she carries her young ones to term.
At 58 to 68 days, Yorkies are not pregnant for an overly long time, but it is not exactly short either. Follow our tips and your dog will get through this time without issues.
And your reward will be 2 to 5 beautiful little Yorkshire terrier babies. Nothing beats that!