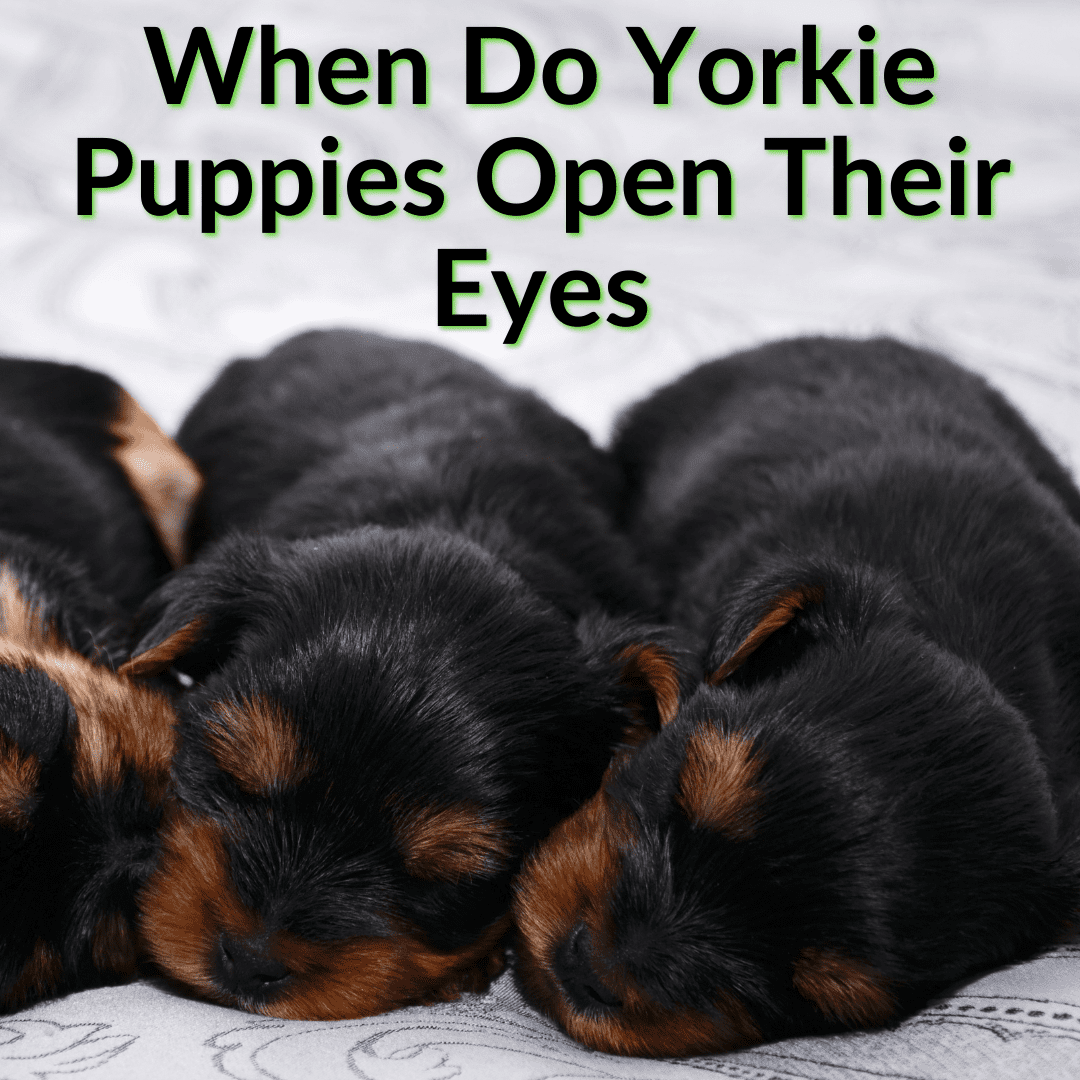 Having newborn Yorkies is just as exciting as a newborn baby.
More so, for many of us.
How many puppies do Yorkies have? Generally 2 to 5. That's a lot of cuteness!
And the most important thing when the new Yorkies arrive?
Take care of their Yorkie mommy. Because the babies need her.
They can't do anything on their own at first. They can't even open their eyes.
How long does this last?
Keep reading to learn when Yorkie puppies open their eyes, and everything else you need to know about this early period in a new puppy's life.
When Do Yorkie Puppies Open Their Eyes?
Yorkie puppies usually open their eyes around the 2 week mark, but they still can't see much at first. They usually get their full eyesight by the time they reach week 4.
Before they get to that point, they are actually kind of boring, but insanely cute. The only sense they have is their sense of smell and they are completely dependent on their mother for everything.
Yorkie puppies sleep most of the time and spend the rest of their time nursing. They need to stay close to their mom and siblings to absorb their body heat. Without them, a new puppy could easily die from hypothermia.
Apart from ensuring the puppies stay warm, you main job during this time is to ensure all puppies get to eat. If one is constantly being pushed away from the dam (the mother), go ahead and remove some of the other puppies so the one being left out gets a chance to eat, too.
Lets go into more detail on what you can expect from this early period in a puppy's life and what is expected of you.
Caring For Newborn Yorkie Puppies
Most of the care is handled by the dam, but you can help her out a lot. Here are the things you need to know about caring for newborn Yorkies, including your responsibilities.
Warmth
Newborn Yorkies can't regulate their body temperature. They are dependent on their mom and siblings for warmth.
But you can help them out, too. Set up a nice warm location for the mom and her puppies. Make sure they are not in a draft spot.
You could also provide them and an additional heat source. This can be an electric heating pad with a blanket or an infrared heat bulb with a clamp lamp.
If using a heat lamp, place it far enough above the puppies so that they can't get burned, even if they decide to explore and crawl close to it.
It is just as important to provide them a spot with a cooler temperature, too. That way they can cool down if they get too hot.
And for the first 5 days of their lives, you want to just keep them in a pen with a temperature of around 80 to 85 degrees Fahrenheit.
Proper Care And Nutrition For The Dam
Since Yorkie babies can't see much until they reached their 4th week, they need lots of care and affection. But not from you. Their mom handles that.
The best thing you can do for your puppies is to take care of their mother, to ensure that she can care for her babies and produce enough milk to feed them all.
This means feeding her plenty of high quality dog food for Yorkshire terriers throughout the day. If you are not sure how much food she needs, you can get help from a veterinarian.
Keep an eye on the puppies when they are feeding. You want to make sure they all get sufficient nutrition.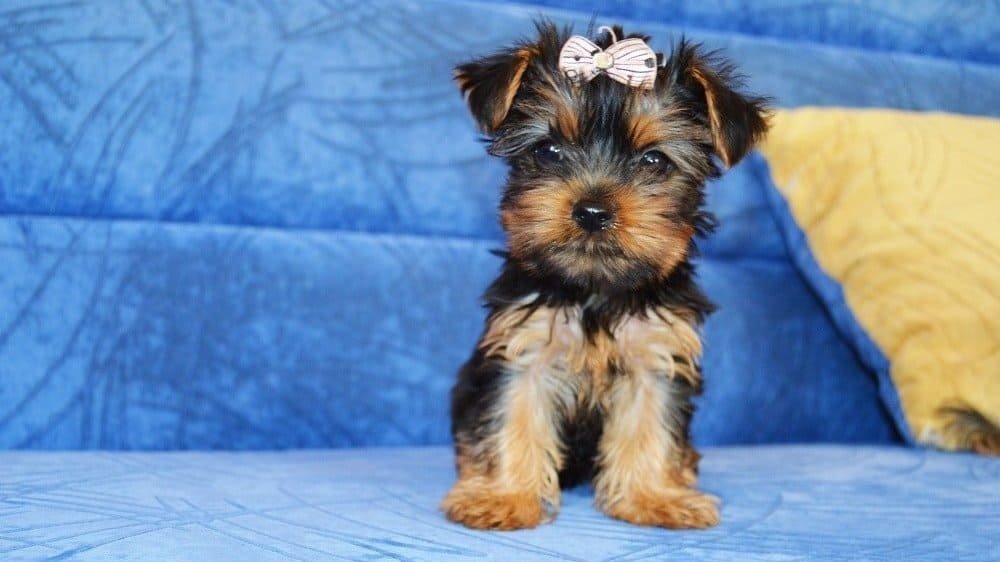 It is not uncommon for one puppy to get left out. They get pushed out of the way and don't get a chance to eat. If you notice this happening, remove some of the greediest puppies for a bit, to let the less aggressive ones get their turn too.
In some cases, you may need to bottle feed one of the puppies. Maybe it just can't get a turn at a nipple, or perhaps it is even being rejected by the mom. Bottled milk may be the only way to ensure its survival.
If a puppy does not get the nutrition it needs, it can quickly become hypoglycemic, which is a rapid drop in blood sugar level. Signs of hypoglycemia are weakness, weight loss, fainting, and confusion.
If you notice a puppy exhibiting these symptoms, make sure it gets something to eat immediately. If hypoglycemia is not treated, the puppy could slip into a coma and eventually die.
You also want to make sure the puppies' nails are short. Keep them trimmed, so that they do not tear up the mother's skin, when the puppies go crazy trying to get at her milk.
Toilet Area
During the first few weeks, the puppies do not have the muscular development of the bladder and bowels that is necessary for voluntary control of urination and defecation.
To stimulate both, the dam instinctively licks the puppies. This means that they go to the bathroom in the area where the bed is. You need to make sure you constantly remove any waste to keep the are clean.
Once they enter their 3rd week of life, the pups start to become more active. They now have open eyes and they start to walk around and explore.
Go ahead and let them do so. If you have a whelp box with a door, remove it so that the puppies can go out on little adventures. And also so that they can relieve themselves.
Now that they can go outside, you want to get them to relieve themselves there, and not in their bed.
Our article on potty training will help with this. The basic procedure is as follows.
Put some newspapers or puppy pads around the outside of the whelp box or whatever you have used to set up the bed for your puppies. The newspaper area should be about twice as large as the bed area.
While you always had to ensure you removed any waste from the bed area, you actually don't want to do that with the newspaper. Change it occasionally when it gets really bad, but not every time the puppies go.
That is because the scent on the paper signals to the puppies that this is the location where they should go to eliminate waste. Now that their sense of smell is well developed, they understand where to go pretty quickly.
Of course, you actually want them to learn to go outside, not on puppy pads or newspaper in your home. but that comes later. For now, they are still far too young to go outside.
Chew Toys
Around the 3 week mark, the puppies begin to develop milk teeth. That means they will need something to chew on. Go ahead and get your Yorkies some chew toys, to keep them from chewing on, and destroying, your belongings.
When Yorkie Puppies Open Their Eyes: Conclusion
Yorkie puppies first open their eyes around the 2 week mark, but they still can't see much more than general shapes and movement until around the 4th week. Even as adults, their vision is not as good as ours.
Yorkies are not color blind, but they can't see as many colors as we can. They are also nearsighted. On the other hand, they pick up shapes and movements better than we do and can also see better in the dark.
Newborn Yorkie puppies are vulnerable and dependent on their mother during the first few weeks of their lives. You main tasks are to provide a comfortable environment for the mother and her puppies.
You also need to make sure the mother is getting sufficient healthy food so that she has enough reserves to feed her rapidly growing litter of puppies.
And once the puppies have their eyesight and can walk, allow them plenty of time to explore their immediate surroundings. You should also establish a waste elimination area, so that they can quickly learn not to urinate and defecate where they sleep and eat.