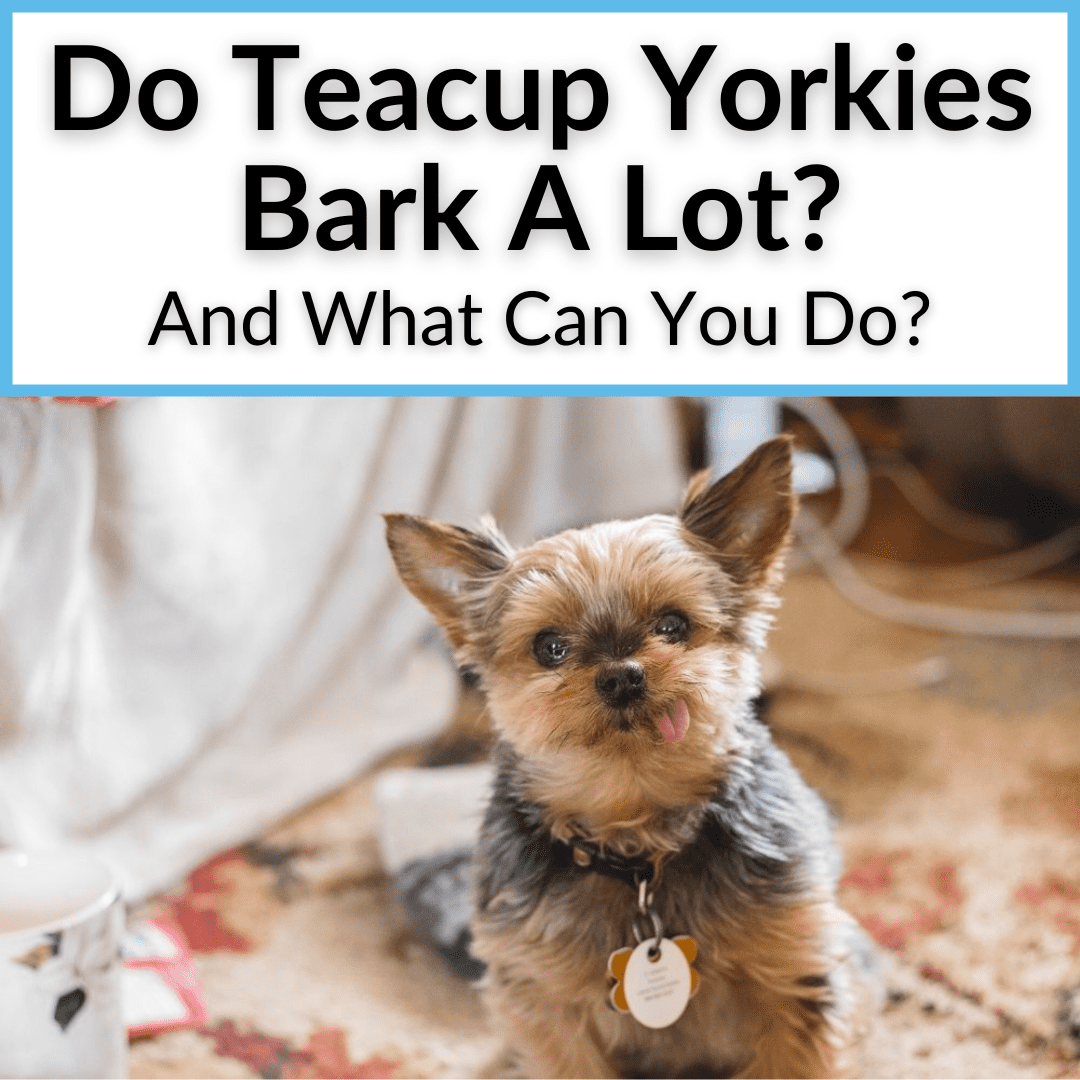 It's a common image.
The tiny dog yapping constantly and making a ton of noise.
But do all tiny dogs do this?
Specifically, do teacup Yorkies bark a lot?
And if so, what can you do about it, if anything?
Teacup Yorkies certainly seem like the type of dog that would bark all the time anything and everything.
Keep reading to learn if that is indeed the case. Hint: it's not good news. Luckily, we'll also help you teach your pup to quiet down a bit.
Do Teacup Yorkies Bark A Lot?
It is normal for teacup Yorkies to bark a lot. Like all Yorkies, they are known as yappy dogs, mainly due to a combination of their size and their propensity to bark.
Of course, one is also a product of the other. That is to say, the teacup Yorkie's small size is one of the reasons they bark a lot.
Why Do Teacup Yorkies Bark So Much?
One of the main reasons teacup Yorkies bark so much is because they are such small dogs. They have small dog syndrome, meaning they think they are bigger than they actually are.
Because of their small dog syndrome, they can be more anxious and excitable, which can lead to a lot of barking. They will bark at anything, from other dogs, to strangers, to passing traffic to various other unknown noises, real or imagined.
How To Stop Teacup Yorkies From Barking
You can train your pup to try and curb your Yorkie's barking. But you shouldn't train your teacup Yorkie to completely stop barking, because it is a natural habit for your dog.
Plus, the barking can help you, especially if you find yourself in a some difficulty. You may need your teacup Yorkie to sound the alarm to get help, or to alert you to any danger. It won't do this, if you have trained it not to bark at all
To start training your teacup Yorkshire terrier, you're going to want to teach it that you are in charge. This means you need to be stern and consistent with any training commands that you give your dog, so that it learns to always listen to you.
You could also invest in a bark collar. Every time your teacup Yorkie barks, the collar will give it a small shock. Of course, some owners will not want to resort to such methods.
If you do not feel this the most humane training method (I tend to agree, but no judgement either way), fear not! There are plenty more methods you can use.
Another method is to distract your Yorkie as soon as it starts barking unnecessarily. You could distract it with another noise.
For example, if you fill an old can with coins and start shaking it, so that it is louder than your teacup Yorkie's bark, then it should stop barking. Your teacup Yorkie won't like the loud noise and this should teach it to stop.
You could also spray your teacup Yorkie with water every time it starts barking for no reason. Make sure you have a tasty treat ready for every time your Yorkie stops barking, no matter which method you decide to use.
Since you don't want to stop all barking, only the unnecessary kind, you will need to be able to tell the difference between the different kinds of barking.
Interpret Your Teacup Yorkie's Barking
You can usually tell why your Yorkie is barking by the tone of the bark. A high-pitched bark generally means your pup is trying to grab your attention. Your teacup Yorkie may want to be let out or have some playtime.
If your teacup Yorkie is barking in a low tone, it could be because it has encountered a threat. If your Yorkie is growling, it is warning you (or someone or something).
If your dog is howling, it is likely responding to another dog's barks or howls. Any whining is usually due to some type of emotional distress and a yelp is most likely signaling an injury.
If all of these different types of barkin and the whole idea of your dog barking a lot seems like too much, perhaps a quieter breed is the answer. There are other small dog breeds that do not bark as much as a teacup Yorkie.
What Is The Quietest Small Dog?
There are plenty of small dog breeds that are quiet dogs. You may need a quiet dog if you live in a small house or a block of apartments, since you wouldn't want a dog that was going to constantly disturb your neighbours.
Quiet small dogs include the Cavalier King Charles spaniel, Bolognese, Japanese chin, French bulldog, Chinese crested, English toy spaniel, Shih Tzu, and the basenji. These breeds are not as likely to bark over small things like passing traffic or a leaf blowing in the wind.
Teacup Yorkies Barking A Lot: Final Thoughts
Teacup Yorkies do tend to bark more than most dogs. That is simply part of their personality and something you are going to have to accept, if you want one of these dogs.
You can train your pup to bark less, but that does take some work. And until your dog learn what you are trying to teach it, it will continue to be loud. If you can't deal with that, I'll be honest with you. You should probably get a different breed. One of the quiet small dog breeds we listed above would be a good choice.