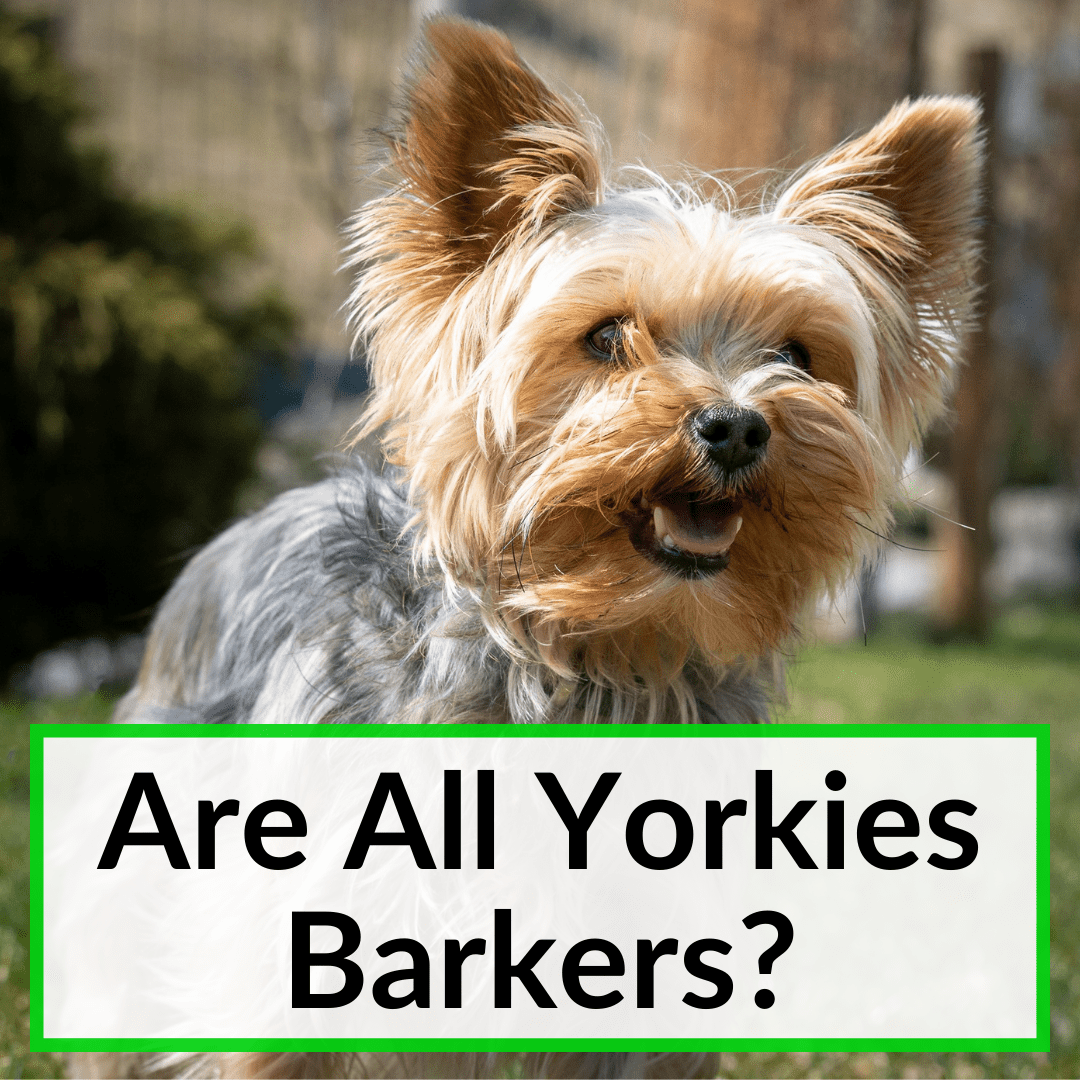 Yorkies are tiny little dogs with huge personalities.
They are also fiercely protective of their territory.
This combination can mean you're in for some barking.
And many times, you won't have a clue what they're barking at. You'll wonder if there is even anything out there at all.
But do all Yorkies bark a lot? Or could you get lucky and get one that has a bit less to say?
Keep reading to learn all about Yorkies' barking behavior, including if they all do it so much, why they do it, and the meaning of different types of sounds they make.
Are Yorkies Barkers?
Yes, Yorkies are barkers. All dogs bark, but Yorkshire Terriers seem to do it more often than most other breeds.
Why do Yorkies bark so much? It goes back to when they are puppies. Yorkies start vocalization as soon as they open their eyes.
The most common sounds you will hear from them at his age are ones that indicate they are hungry, have some discomfort, or have some other need that needs to be filled.
It will be a few more weeks before you'll get the full-on barking.
One big reason why they keep on barking has to do with the formation of their ears. It makes their hearing acute and results in them being alerted to all kinds of noises.
There are so many sounds that when they hear them, the first thing that comes to their mind is to bark and assert dominance, to let you know what seems to be responsible for the noise. It is why Yorkies are great as guard dogs.
Understanding The Noises Your Yorkie Makes
Barking can mean many different things. You need to pay attention to your Yorkie if it is making any of these different noises.
They are telling you something. They could be warning you of a possible danger, or letting you know that they are in pain or some other type of distress.
Barking In A Low Tone
This type of barking is a warning about a perceived danger. It might be a change in their territory. Or it might be their curious side that is trying to communicate with you.
Yorkies are very sensitive to other dogs, due to their ear positioning, as explained above. They will also bark at random changes happening in their surroundings.
Whimpering
This is a natural behavior that is their way of expressing sadness and loneliness, or some other type of distress.
You might need to focus on this one, because this is also the kind of noise they make when they need immediate attention. Young Yorkies whimper, while mature dogs whine. Both sounds mean the same thing.
Whining
As mentioned, whining is the adult dog version of whimpering. Why do Yorkies whine so much? Mature Yorkshire Terriers whine to indicate that they are in distress and need help.
One of the main times you will hear your Yorkie whine is when you leave it home alone and it is lonely. Your pup is telling you that it misses you.
But whining can also indicate other types of distress. Yorkies will whine when they are in pain. If that is the case, they tend to also lie down and not want to be touched.
If you dog is exhibiting this behavior, be very careful. It is not uncommon for an injured dog to perceive everything as a threat and become aggressive, in an attempt to protect itself. Look into medications you can give your Yorkie for the pain.
Yelping
Yelping is another sound your pup will use to let you know it is injured. Yorkies generally produce this fast, high-pitched sound instantly when they feel pain.
You will commonly hear a yelp when your pup steps on a thorn, a piece of glass, or some other sharp object.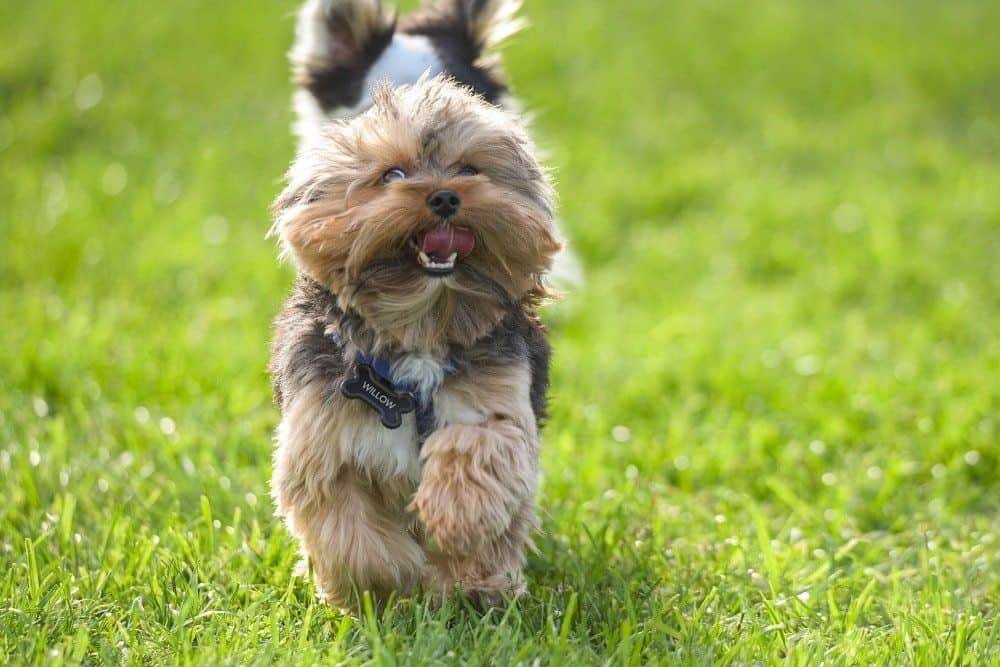 Usually they only yelp the instant they feel then pain, then stop and switch to whining or whimpering. If you hear a yelp, check on your dog immediately.
Try to figure out what caused the pain and alleviate the problem, if possible. For example, if your dog has a thorn in its paw, remove it.
Howling
Howling is imprinted in the genetics of Yorkshire Terriers. They will want to howl at each other all day and night. Yorkies seem to have a sixth sense that lets them know when another dog is around, and howling is their way of trying to communicate with them.
Growling
Yorkies growl to warn you of something. It is a type of alert and is generally followed with a low-tone bark. It is common when someone or something encroaches on their territory.
Yorkshire Terriers are territorial dogs. It is in their nature to protect their environment. If someone or something they do not know enters their perceived territory, they will begin growling at the intruder. If that doesn't work, they will start with the low-tone barking.
Growling indicates that your dog is on high alert. It is a good idea to stay away from your pup when it is growling. It is issuing a warning and may end up biting, if you get too close.
Moaning
When your Yorkie moans, it is telling you it is happy. That's very different from our reasons for moaning. A common reason for moaning in dogs is when you show them signs of affection, like rubbing their tummy. They are letting you know they are feeling great about what is happening.
Yorkies Are Barkers: Conclusion
Overall, barking is a natural instinct of dogs, and Yorkies seem to do it more than most. It can get annoying, but try not to scold your pup. That will only make things worse.
In order to minimize excessive barking, you need to follow proper training procedures on how to train a yorkie not to bark.
Yorkies are smart dogs. You can teach them to follow orders. Avoid losing your cool and focus on training you pup to minimize its barking behavior.