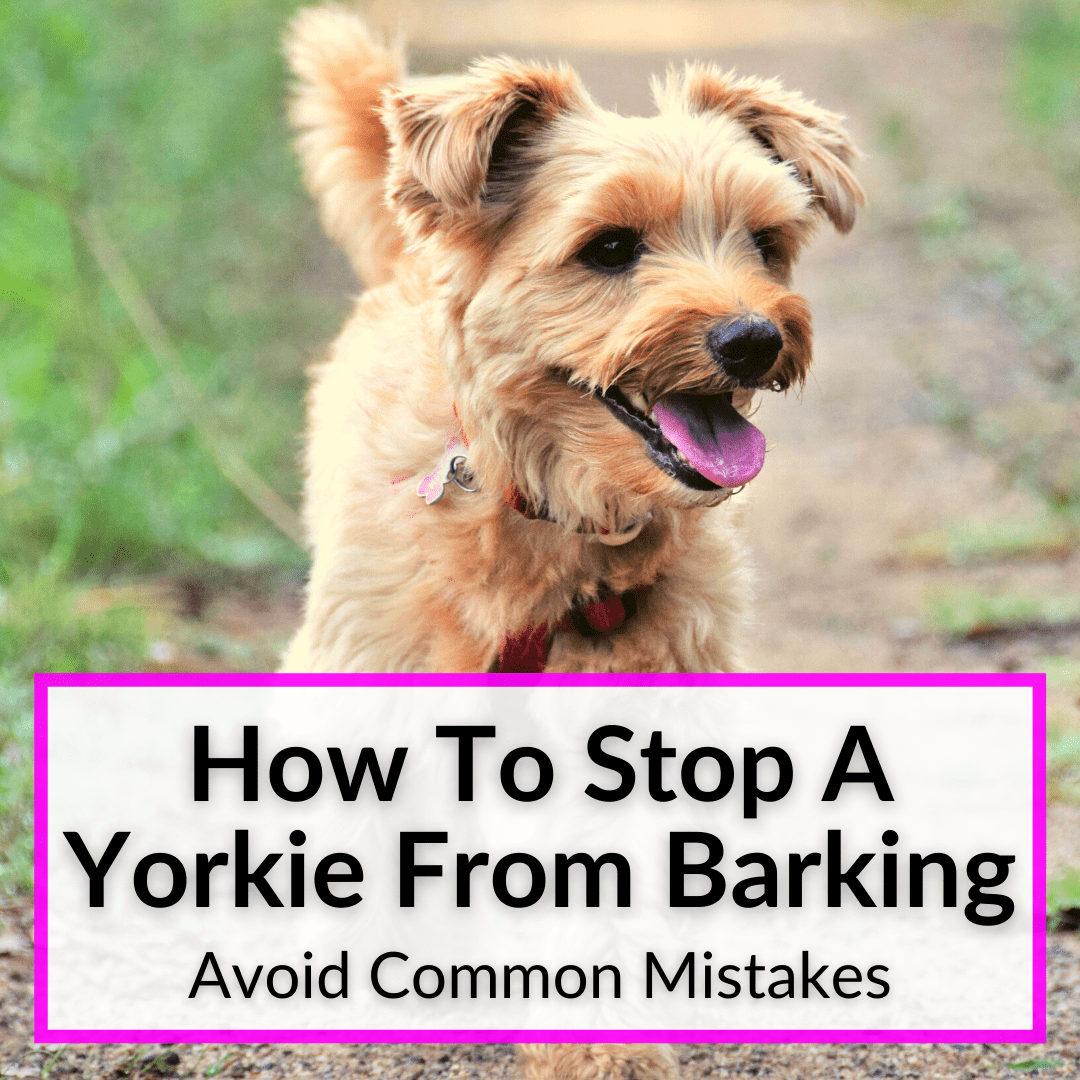 Yorkies are notorious barkers.
Despite their tiny size, they will fiercely defend their territory and warn off any perceived intrusion.
This can get annoying. And piss off your neighbors.
But don't make the mistake most dog owners make. Don't scold your dog or yell at it to stop.
That never works. It will have no idea what you are trying to tell it and will just get confused and stressed.
Instead, you need to learn how to stop a Yorkie from barking the right way.
Keep reading to find out how to cut down on your Yorkie's excessive barking without confusing your dog and causing it undue anxiety.
How To Stop A Yorkie From Barking
The best way is to train your Yorkie to stop barking. Teach it a command like "quiet", using a firm and forceful voice. We'll cover how to do this below.
What you should never do is yell at your dog. It will have no idea what you are trying to communicate. Use positive reinforcement along with the command.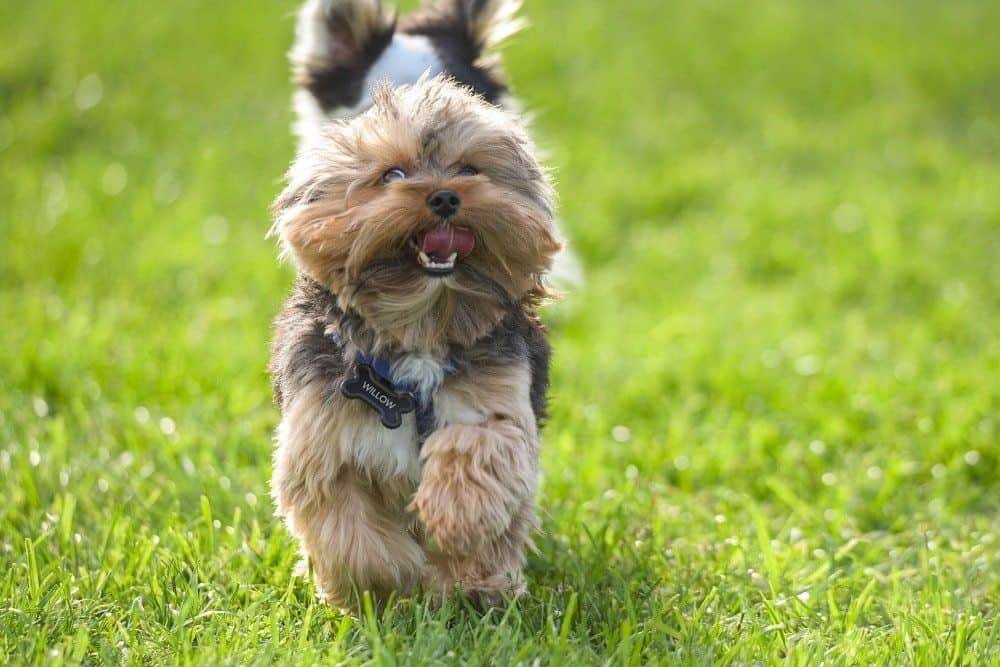 When your dog stops barking in response to your command, offer it praise and/or a treat for obeying. It will learn that being quiet when you ask makes you happy and gets it a reward, be it effusive praise or a delicious doggy treat.
In order to train your Yorkie to stop barking, it helps a lot to learn why Yorkies bark. This understanding makes it easier to teach them to stop barking so much.
Learn Yorkie Barking Behavior And Tone
All dogs bark, from the tiniest Yorkie to a fully-grown Alsatian. But Yorkies seem to do it more than most breeds. Read "Why Do Yorkies Bark So Much?" if you are curious about the reasons.
If you just brought your first Yorkie, you and your neighbors are in for a bumpy ride. It doesn't take a lot for your Yorkie to start barking at anything and everything.
Yorkies are incredibly cuddly and all cute, which makes it all the more surprising how fierce they get. Yorkies will never back down in a stand-off, which is quite impressive given their size.
Unfortunately, this fierce barking habit can quickly turn your cute little pup into an uncontrolled maniac with the aggressiveness of a large police dog.
But don't be scared. We will help you understand your Yorkie and how you can control the outrageous outbursts barking.
When Yorkies bark, they are not doing so for the fun of it. In most cases, they are trying to communicate something to you. As mentioned earlier, Yorkies are fairly intelligent dogs and are always trying to please their owners.
So instead of scolding your pup for its bad behavior (which doesn't work anyway), you need to understand it. And then you can work together with your dog to but a stop to the excessive barking.
There are a lot of factors that prompt your dog to bark. It is important to observe your pup's behavior, tone, and body language. This will reveal exactly why your dog is acting that way.
How To Train A Yorkie Not To Bark
The first thing to understand is that you actually don't want to stop your dog's barking behavior altogether. Barking is your dog's way of trying to communicate.
Your Yorkie might be barking because it is trying to say something to you. Perhaps it is alerting you of a potential danger, or letting you know it needs something.
The goal is to minimize your dog's barking, not put a complete stop to it. In other words, you want your dog to alert you to any issues, but then it should stop barking once you have heard it.
The following tips will help you put a stop to your Yorkie's excessive barking. We'll begin with how you can train your dog to stop barking, before moving on to other tips that can minimize their barking going forward.
The Right Way To Train A Yorkie To Stop Barking
Some people will tell you to use negative reinforcement. For example, when your dog barks, you tell it to stop and splash some water in its face or shake a bottle of coins to make a loud noise.
Training by punishing can work, but you will get much better results if you use positive reinforcement. Give your dog praise or a treat when it stops barking, instead of punishing it when it barks.
The key to training a Yorkie is to remove all distractions. Yorkies have short attention spans and are easily distracted. Obviously, with training to stop barking, you can't choose the time and the location. The training happens whenever your dog barks.
But you can still try to keep your home free of any unnecessary distractions, like noises. See the next point below to learn why this is a good idea anyway.
For this type of training, you have to wait until your Yorkie starts barking. As you know by now, that usually doesn't take long.
When your Yorkie barks, gets its attention and say your command to stop barking loudly and clearly. You can use whatever you want, but try to make it a single short word. Common choices are "quiet" or "no."
Wait for your dog to stop barking. If it takes a long time, repeat the command. Once it has stopped, reward it. Give it effusive praise that makes it clear you are happy and excited about what it has done. You can give it a treat, as well.
Eventually, your pup will learn that the command means you want it to stop barking, and that you get very happy with it when it listens to you.
Training your Yorkie to stop barking is the most important thing you can do to limit excessive barking. But there are also some additional things you can do to reduce the amount of barking to begin with.
Environment Influences Behavior
Your home might be a big factor in why your Yorkie is barking. If there is a lot going on, it causes your pup anxiety, which increases barking behavior.
A lot of uncertainty, a noisy environment, or chaos all serve to put your dog on edge (just like it does to us). This will result in your Yorkie being more aggressive and much quicker to resort to barking.
If the environment around him is calm and consistent, you will find that your Yorkie is more controlled and less aggressive.
Exercise Is Key
Exercise is one way of controlling barking behavior. If your dog lacks exercise, it can get bored. And boredom leads to excessive barking.
A regular exercise routine can reduce boredom, but also stress and anxiety. It also helps eliminate issues with attention-seeking. Exercise keeps your pup emotionally stable, content, and happy.
How much exercise does a Yorkie need?
A long daily walk, or even better two walks per day, is enough. So make sure you take regular walks with your Yorkshire Terrier. You should also give it the occasional more strenuous exercise. Play catch with it or some other game that lets it run around a lot.
Read "What Do Yorkies Like To Do For Fun?" for 11 great activities that Yorkies love and that help them exercise their bodies and minds.
Toys Help
Another good way to keep your Yorkie occupied is with toys. As mentioned, a bored Yorkie tends to bark more often. So give it things to keep it busy.
More playtime means less stress and frustration for our pup. The more avenues it has for entertainment, the less likely it will be to bark. There are some great puzzle toys for Yorkies out there. But any other type of dog toy works great for Yorkies, too.
How To Stop Yorkie From Barking: Conclusion
To conclude, barking is necessary and expected with any breed of dog. That is even more true for Yorkshire Terriers. All Yorkies are barkers and they can be very yappy at some point because it is their way of communicating with us.
Barking is not a bad thing. In fact, you want your dog to bark. It is their way of expressing their feelings. Make sure to listen to your Yorkie, and don't you ever shout at it for barking.
But excessive barking is a problem, both for you and your neighbors. Learn how to train your Yorkie to stop barking on command, and implement some of our tips to stop your Yorkie from barking quite so much. The result will be a happier dog, a happier household, and happier neighbors.