Yorkies have tons of energy.
Naturally, they need to burn that energy off.
This is not only good for their health, but also staves off boredom, which can lead to destructive behavior.
You need to make sure your Yorkshire terrier gets enough exercise to be healthy, but also not too much.
So how much exercise does a Yorkie need?
Keep reading to find out. We'll also cover the types of exercise you should provide your Yorkie, plus the signs to look for to ensure you don't overexercise your poor pup.
How Much Exercise Do Yorkies Need?
You should try to take your Yorkie out for a walk at least once per day, and ensure it gets at least 30 minutes of exercise in total. You should also give it some cardio exercise a few times a week.
The Kennel Club suggests up to 30 minutes of daily exercise for Yorkshire terriers, but we recommend 2 walks per day of at least 15 minutes each.
Personally, I take my pup on one long walk (30+ minutes) and one shorter one (10 to 15 minutes) every day. For cardio, I like to play catch with my pup 3 times a week.
Yorkshires were bred to hunt rats and other vermin. Even today, they still have high energy levels, despite their small size.
They need to burn off that energy for their health, but it also benefits your sanity. Without sufficient exercise, Yorkie's will put that excess energy to work in your home and it will not be pretty.
Giving your Yorkshire terrier plenty of exercise every day, results in the following benefits:
great for cardiovascular health
helps strengthen muscles
helps release pent up energy, so that it isn't used in negative ways (lots of barking, chewing, etc.)
boosts the metabolism
helps improve sleep quality
offers stimulation for the senses (i.e. staves off boredom)
offers opportunity to socialize with other dogs
Types Of Exercises A Yorkie Needs
Yorkshires are highly energetic pets. If they do not get enough physical and mental exercise, they may end up having behavioral problems. This can include destructive chewing or excessive barking.
Both are annoying behaviors that are common in Yorkies, and are exacerbated by insufficient exercise.
Providing your dog daily exercise release all that pent up energy and reduces instances of acting out. On top of that, it is obviously good for their health and going for walks gives your dog the opportunity to interact with other dogs and other people.
In other words, exercise is good for your pup's health, leads to better behavior and helps build its socialization skills. And you can make it fun for your Yorkie.
But walks aren't the only type of exercise your dog needs. The types of exercises your Yorkie needs fall into three main categories.
Moderate exercises
High-intensity, short burst exercises
Mental stimulation
Let's take a closer look at each of these categories of exercises for dogs. We'll see what types of exercises they consist of and how they help your pooch.
Moderate Exercise: Walking
Walking is the only type of moderate exercise we'll cover here, since it is the one type of exercise every owner gives their dog.
We recommend two walks per day of at least 20 minutes each, but at an absolute minimum, you should take your Yorkie on one walk that is 30 minutes long.
You want to walk your Yorkie at a pace that is comfortable for your dog. Make sure it is not panting. To make the walks fun, try to find some locations where your dog can walk off the leash and explore on its own.
Dogs work best with routines, so it is best if you take your Yorkie for a walk during the same period(s) every day. It is also a good idea to go on a walk shortly before leaving your dog home alone. This will help to burn off any excess destructive energy.
If your Yorkie tends to pull on the leash a lot, make sure that you use a good harness when you take it out for a walk. Even if not, a harness is always better than a collar, since Yorkies are at high risk of a condition known as a collapsed trachea, that results from too much time pulling on a collar. You should also leash train your pup.
High-Intensity Exercises
Yorkies are naturally very agile dogs. They are not the type to sit on the couch all day long. Walks are great for burning off excess energy, but your pup also needs some type of higher-intensity cardio exercise.
Here are a couple of great high-intensity games you can play with your Yorkie a few times per week, to ensure it gets the cardio workout it needs.
Flirt Pole
A flirt pole is a common toy for cats, but it is an excellent game for Yorkies, too. Ideally, you want a Yorkie flirt pole to be a bit bigger than one for cats.
If you're not familiar with a flirt pole, it is basically some type of stick with a rope or cord attached to one end. The other end of the rope has an enticing toy on it.
All you have to do is to move the toy around and watch your pup go crazy trying to catch it. It is in their DNA to chase and catch rodents, after all. That is why a game for cats works just as well for this breed of dog.
Some people never let their dog catch the toy, but we don't recommend that. Let your pup get ahold of it from time to time and enjoy a sense of accomplishment.
You could also use something like a laser pointer, but that is not nearly as good, since it makes it impossible for your dog to ever catch its "prey."
Fetch And Catch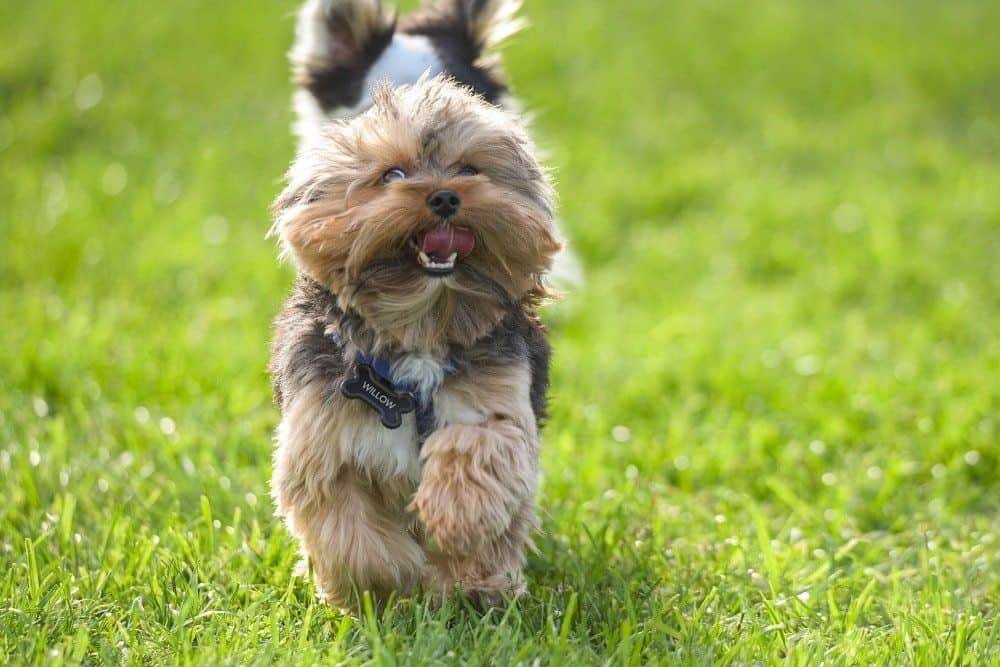 This is another simple way of helping your Yorkshire terrier to burn all the pent up energy. Yorkies are crazy about balls and toys. They can play this game for hours on end.
You can make things a little interesting by using an Automatic ball launcher so that your pet can play the game by itself, even when you are not there. The good thing about Yorkies is that they are highly intelligent so they will learn very quickly.
But it is even better if you can play catch with your dog. It is a good bonding experience, on top of being good exercise.
You can use any type of ball, but the best are ones made specifically for dogs. For Yorkies, you'll need a smaller ball than for larger dogs, obviously. We included our favorite ball toy in our article on the best Yorkie toys.
Frisbee Toss
Any dog can chase a ball that you throw. Most can even catch it at times. But it takes a lot more skill, timing, and coordination to play frisbee toss.
And Yorkies can be pretty good at this, if you have a small enough frisbees. Plus, you will love how cute they look when playing this game. Not to mention that Yorkies are spectacular jumpers.
When you first introduce this game to your pup, start by simply rolling the frisbee on the ground towards your dog. It will want to grab the frisbee by instinct.
Once your dog gets what is going on, you can advance things and try tossing the frisbee at a low level toward your dog.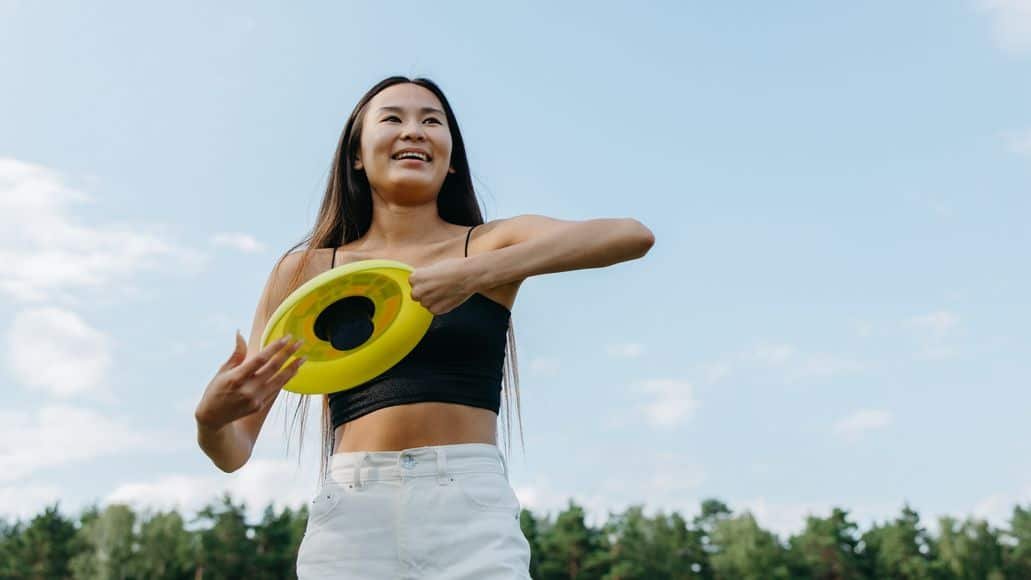 Once your dog gets good at that, you can start tossing the disc higher and further each time. This game is the ideal energy burner. And you'll probably be amazed at how good your dog is at acrobatics.
Stair Sprints
If you have stairs in your home, this is also a great way to burn off energy in your Yorkshire terrier. While at the bottom of the straits, you could throw a ball at the top of the staircase and say, Go!
Let the Yorkie rush up the stairs as fast as it can. However, to avoid any injuries, allow it to return to the bottom of the stairs at a moderate pace.
Backyard Agility
You could also try setting up an agility course in your backyard. Take some items from around the house to build your own agility set up.
Some of this backyard agility may include jumping through hoops, hurdle jumps, tunnels, and much more. There is a lot of room for creativity with this one.
Tug Of War
Tug of war is another favorite among terriers. Tug of war works out a bunch of different muscles and burns a lot of calories.
One thing you need to do is ensure that this is a controlled game. Train your dog to release when you need it to.
Dog Sports
You could also involve your Yorkie in dog sports. You and your Yorkie can participate in serious competitions for fun. Aside from agility exercises, there are many other dog sports that are ideal for the terriers.
For instance, terrier racing is a great dog sport where you can have the dog run through tunnels and locate rats. Yorkshire terriers are fast runners for their size and this game mimics their natural instinct.
The only difference is that the rats are in safe cages so the dog doesn't get to them. There is so much creative freedom with dog sports. Always feel free to try out something new with your little Yorkie.
Self-Moving Toys
There are so many toys these days that rattle, shake and roll all on their own. These are great for your terrier, because they stimulate its natural instant to chase prey. Your Yorkie will burn tons of energy and have a blast at the same time.
Self-Playing Toys
You may not always be there to play with your dog. If you are very busy, you may not be able to give your Yorkie enough opportunity to exercise as much as it needs.
That is where self-playing toys come in. With these toys, your Yorkie play even when at home alone, or when you are fully occupied with a tight schedule.
Mental Stimulation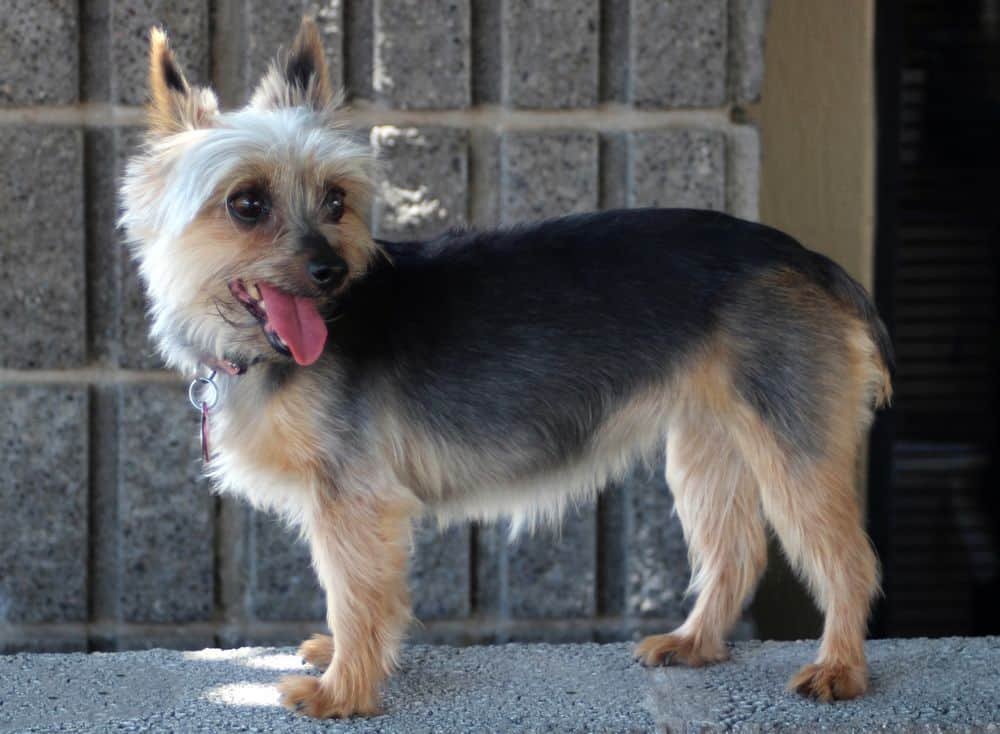 All dogs, but especially terriers, need an outlet for their minds. And when they are not given the opportunity to engage their minds, they end up finding their own ways to challenge themselves mentally.
The problem is that the ways dogs come up with to do this are all destructive. They may resort to digging, escaping, excessive barking, and a number of other destructive behaviors. Your Yorkie digging its bed is also common.
It is up to you to provide your Yorkie the mental exercises it needs. Here are some of the ways you can provide your Yorkshire terrier with mental enrichment and stimulation.
Puzzle Toys
Puzzle toys are ideal for Yorkies, because they help test their problem-solving abilities. At the same time they challenge their minds.
Yorkies are naturally very intelligent, so you want to give them toys that are a little more challenging. We list the best puzzle toys for Yorkies here.
Nose Games
Yorkies have a very keen nose, so you can consider playing nose or scent games with your pet. Such games help to boost their mental stimulation.
Chewing Toys
Another way to stimulate your Yorkie's mind is to give it some chew toys. That is because chewing is one of the easiest ways to keep a dog fully occupied.
In addition, when chewing the body produces endorphins that help your dog relax. because dogs tend to hold their stress in the jaws.
We also have an article on the best Yorkie chew toys.
Avoid Overexercising Your Yorkie
You need to understand that Yorkies will never stop. If they get the chance, they will keep on going even when their body needs them to stop.
For that reason, there is a high possibility that you could end up overworking your dog. Over-exercising your dog may leave it with injuries and could stress its entire body system.
When it comes to dog exercise, it's not always a one size fits all. The amount of exercise each dog needs depends on a lot of things. Every dog breed, and indeed every individual dog, has different exercise requirements.
We already covered how much exercise a Yorkie should get on average, but you also need to make sure not to over-exercise your dog. but it is hard to give an exact amount that is too much, since it is so different for every dog.
That's why you need to be aware of the signs of an overworked dog. This way you will be able to recognize when your dog has had too much exercise and it is time to stop.
Signs Of An Over-Exercised Dog
The following are all signs that could indicate you are giving your dog too much exercise.
Your dog is extremely thirsty
Your dog seems confused and lacks focus
It is stiff and seems to have sore muscles
It lags behind when it normally leads the way
It is panting excessively
It is limping or lame, and is reluctant to exercises
It is overly sleepy
You can also consider using a dog exercise calculator like this one, if you are not sure how much exercise your dog needs.
How Much Exercise Yorkies Need: Conclusion
As you probably know, Yorkies are highly energetic dogs. And they have a high level of intelligence. For that reason, Yorkies need adequate physical exercise, as well as mental stimulation.
Both physical and mental exercise ensures your Yorkie remains healthy. At the same time, it helps to reduce the chance of boredom that could lead to destructive behavior.
How much exercise do Yorkies need?
Ideally, you want to provide moderate exercise and mental stimulation every day, and high intensity exercise at least a few times per week.
When you provide all three types of exercise, you will have a happy, healthy and well behaved Yorkie.