What do they say? Two things in life are certain: death and taxes?
Well, there is a third certainty.
Your Yorkie will not be happy the first time you put a collar or harness on it.
And it will probably let you know how unhappy it is in an overlay dramatic fashion.
But eventually, your pup will love its harness and leash, because they signal that it is time for a walk.
How do you get from point A to point B as smoothly and painlessly as possible?
Keep reading to learn how to leash train a Yorkie puppy in the most effective way.
How To Leash Train A Yorkie Puppy
We strongly recommend using a harness to attach the leash to your Yorkie, not a collar. Collars can cause permanent damage to their delicate necks.
However, it is a good idea to have a collar to begin leash training, since your Yorkie will accept a smaller collar much faster than a larger harness. Just make sure you don't pull on the leash when it is attached to the collar and only use the collar for beginning training, never to actually go on walks.
Materials Needed
Step 1: Introduce The Leash
The first thing you want to do when leash training your Yorkie puppy is to introduce it to the leash. If your dog has never been out on a walk before, it is going to be unsure as to what exactly is going on.
My suggestion is to start with a looser collar, so that your Yorkie will not find it too uncomfortable at first. You do not want it to feel like it is being choked.
Just don't make it so loose that it swings off your Yorkie's neck. This can be dangerous, if your pup were to catch its collar on something.
Next, introduce your puppy to its leash. You should do this in the comfort of your own home, because there may be a lot of squirming at first. Let your Yorkie walk around the house while you hold the leash, until it gets used to it.
Do not pull on the leash, because the pressure from the collar can injure your Yorkie's delicate little neck. That's why you should not use a collar with these dogs. Use a harness instead.
You are using the collar here to help your Yorkie get used to the leash. Once it is, repeat this process with its harness. And once your Yorkie is used to wearing the harness and leash in the house, you can begin to act more like you would on a walk.
Step 2: Practice Indoors And Outdoors
Before taking your Yorkie for a real walk outside, you may want to think about doing it inside first. Practice makes perfect, after all. You can walk your pup around the house to give you an idea of how it may behave once it is outside.
If you have a garden, you may also want to try doing a few laps around it, before heading to the outside world. This should also help to teach your Yorkie that the leash is for outside purposes.
Step 3: Walking Without Pulling
So, you've finally made it outside with your Yorkie. But just as expected, it is pulling, squirming, and walking between your legs. This is because it is still untrained on how to walk on a leash. But there are plenty of ways to put a stop to it.
A time should come while out walking with your Yorkie where the lead goes slack. When this does happen, reward your puppy with a treat. This is going to teach your dog that you like a slack leash and it may be rewarded for it.
You can also use a training clicker, so your dog can associate its good behavior with the sound of the click. Learn how to train yorkie with clicker.
Whenever your dog walks nicely, make sure that you reward it, so that it knows that's what you want it to do.
Whenever your Yorkie starts pulling a lot, you should completely stop in your tracks. Then, when your pup notices the leash going slack, you can reward it. This also teaches your Yorkie that it isn't going to get anywhere by pulling.
Step 4: Walking By Your Side
When leash training your Yorkie puppy, it is important that you teach it the importance of staying on one side of you. If your Yorkie is constantly switching, and spinning between your legs, it can result in you taking a nasty trip.
Not something you want to happen in front of all the other dog walkers!
A way to prevent this is to keep the leash short so that your dog can't switch sides. It will mean your Yorkie will stay on the side that you have chosen for it and it should also reduce any pulls.
In the long run, you want to train your pup to walk on the leash correctly. Learning the "heel" command is vital for proper leash walking. It is one of the 7 basic commands for dogs, although it is easily the hardest one to teach.
Reward your Yorkie when it understands what side it should be on and make sure it keeps to this side. The more the training works, then the more you can loosen the tightness of the leash. If your Yorkie is still trying to switch then you can use a treat to lure it back to the correct side.
Are Yorkie Dogs Hard To Train?
Yorkies are known for being quite hard to train. This is because they are full of energy and curiosity, both traits that make it easy for them to become distracted.
But Yorkies are also intelligent, plus they love to please and they love attention. That means they learn quite quickly, when they are actually paying attention and motivated to learn.
The key is to remove distractions when training and to keep training sessions short. You should also make learning fun. This means no punishment for doing something wrong and tons of positive reinforcement (treats and/or effusive praise) for doing something right.
How Can I Calm My Yorkie Puppy?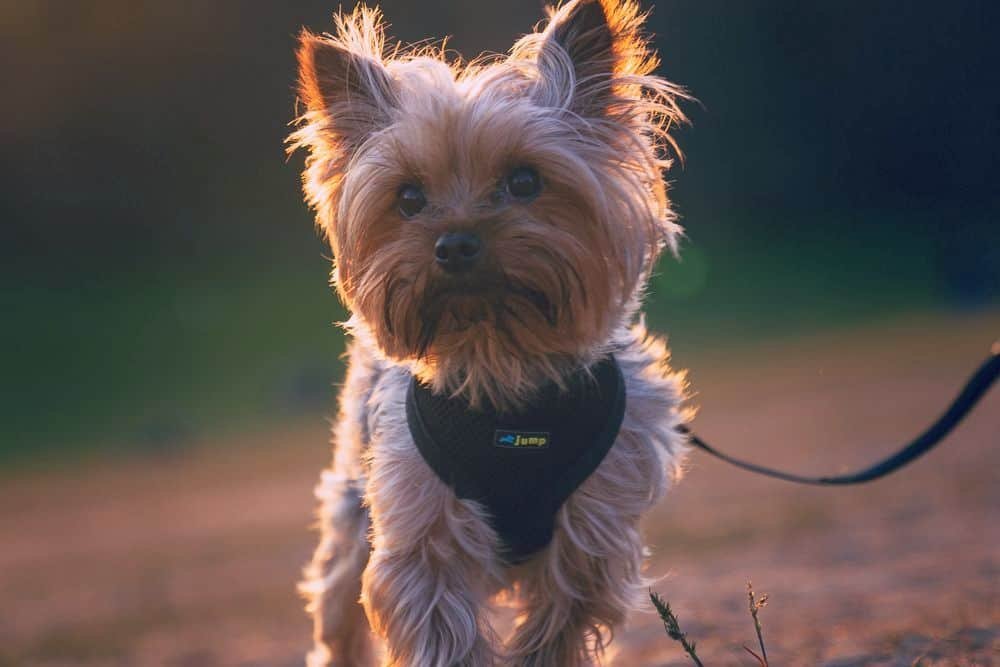 Yorkie puppies are well known for being playful balls of energy. The only way to calm down your Yorkie is to burn out off this energy. There are certain things you can do to reliably burn energy and calm your dog down.
The first and most obvious is to take your pup for a walk. A long walk of at least 30 minutes will fully burn these little balls of energy out.
Fetch is another way to wear them out and one you can do while sitting down. You can throw a ball for them in the garden or even from the comfort of your own sofa.
Another method for burning them out in the house is to play with their toys. If they have a variety of interesting toys to keep their attention, your Yorkie will also be able to play on its own, leaving you able to do whatever you need to do.
What Age Do Yorkie Puppies Settle Down?
Yorkie puppies are a very lively type of puppy. But like all other dog breeds (and all other animals, really), they do begin to calm down the older they become.
Yorkies usually calm down when they reach the age of two or three. This age is when they have fully left their puppy era behind them. However, they are still highly energetic dogs. They will be more calm, but they will still retain some of their hyperactive behavior.
That said, even if they stay hyper in their older years, they will wear down quicker. It will take less of your time to tire your Yorkie out and exercise will become a more effective method of doing. In other words, make sure your dog is still getting all of its regular walks!
Leash Training A Yorkie Puppy: Conclusion
We recommend having a leash, collar, and harness ready when your new Yorkie puppy comes home. Read our article "What Do I Need For My New Yorkie Puppy?" for a list of things you should prepare in advance.
Having everything ready to go means you can begin leash training as soon as you think your puppy is ready. The earlier the better, since young Yorkshire terriers learn new things faster and easier.
The key to leash training your Yorkie effectively is to do a lot of practicing at home first. You want to make sure your pup is used to the harness and leash before heading out. Even better, if it has also learned to walk properly by your side.
It is also a good idea to train your Yorkie to come when called before you start taking your dog outdoors. You never know when it might break free and you don't want to have to chase down a runaway Yorkie. They are surprisingly fast!