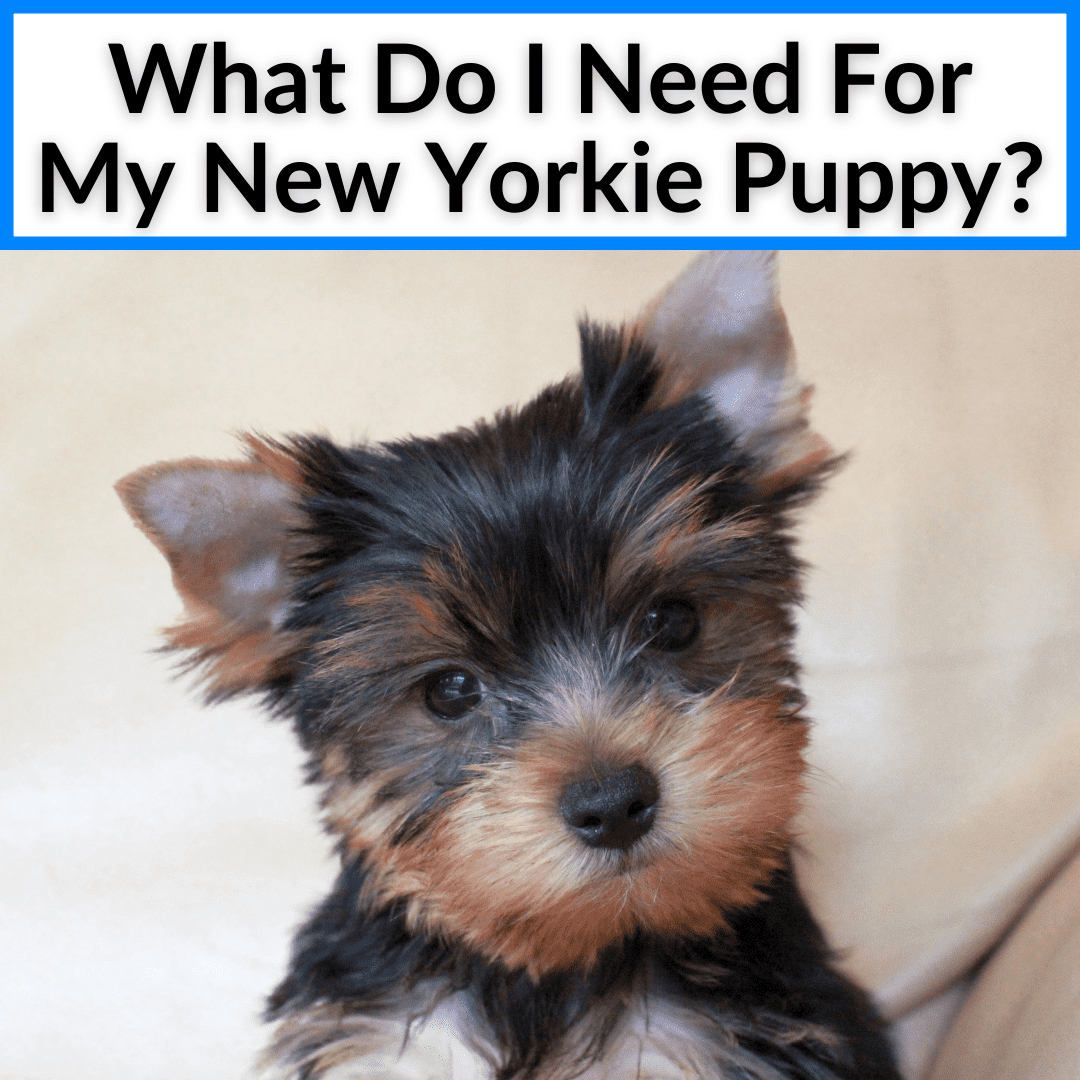 Few things bring as much joy and happiness into our lives as a new puppy.
But they also bring work and responsibility.
You can make your life a lot easier by preparing your home for your newest family member in advance.
There are a few things you should definitely have ready for your new Yorkie when he or she first arrives.
Keep reading for a list of things you'll need for your new Yorkie puppy.
Things You Need For A New Yorkie Puppy
Having the following items ready in advance of the day your new Yorkie puppy arrives will makes your life much easier. More importantly, it will help make your puppy's transition to its new home much smoother, too.
Toys
It may sound unnecessary for some, but this is one important thing to consider. Yorkies' baby teeth start to appear when they are about three weeks old. Then, in their fourth to sixth month, the baby teeth become adult teeth.
That's why toys are essential, especially with baby teeth. These cute little pups love to chew anything that catches their eye.
This can cause us as owners huge amounts of stress. Some of their favorite chewing victims are shoes, cables, slippers, and even furniture.
This means more expenses for you, because you'll need to replace all the things they destroy. I remember our puppy when I was a kid chewed up my favorite Lego toy. And sometimes, they get their little snouts on something irreplaceable. That's even worse.
What can you do? Not a whole lot. But you can provide them with plenty of safe things to chew on and hope those keep them so busy they don't notice your mouth-watering shoes.
Producers of dog's toys divide them into two categories: toys for young pups and toys for adult dogs. You want to make sure you get the right toys for your dog.
The main thing to consider is the size. The toy should never be smaller than the dog's mouth. You don't want him or her to be able to swallow it.
And, of course, any toys you get should be chewable. This means something they won't be able to destroy and, naturally, something that does not contain any harmful chemicals.
We have an entire article reviewing and comparing the best toys for Yorkies. If you (and, more importantly, your dog) prefer bones, we also compare and review the best Yorkie chew bones.
Food
It should come as no surprise that food is the most important factor in making your new Yorkie pup healthy and strong.
You need to ensure that you provide the best food possible for your Yorkie, and the correct amount for your Yorkie's age.
Most brands of foods have different categories, starting from very young, going through young, and on to adult. There can be more categories in between.
The main differences between the category come down to the nutrients a Yorkshire Terrier needs at a given age and weight.
If you're unsure what type of foot to buy for your Yorkie baby, it is always a good idea to get your veterinarian's advice. They can also guide you on the proper quantities you need to feed your pet.
Sometimes it is even a good idea to double check with a second vet, just in case. A second opinion never hurts.
For most Yorkies, you can get one of our top recommended dog foods for Yorkshire Terriers puppies. Our article on what to feed a Yorkie puppy has more.
If you ever run into the situation where your Yorkshire terrier puppy won't eat, this can become serious very quickly. They can not go without food for long. Your best bet is to contact your vet, just to be safe.
Bed
A bed is also essential for your Yorkie. Not as essential as food, since they can obviously just sleep on the floor or on a sofa, but if you're going to get a dog, you really should buy it a nice bed.
Especially if that dog is a Yorkie. This breed is naturally playful and aggressive. they have tons of energy and spend it quickly. This makes them tired.
They should have a comfortable beds where they can rest after training, walking, or simply playing. And it should be warm.
The standard place for a dog bed is the floor, but if your home isn't warm enough, especially in winter, we recommend not putting the bed directly on the floor.
You want to make sure everything is comfortable, including the temperature. Yorkies love to lay in bed and observe their surroundings, so they do spend a lot of time there.
You also want to make sure that you buy a bed that is easily washable. This means one that you can wash using a washing machine. Usually, the outer cover is removable, so you can simply wash that.
But that should be the only removable thing. The bed should not contain any small detachable items, because your dog might chew it off and swallow it. Remember that Yorkies are a curious breed, and love to chew everything around them.
Read our post detailing the best dog beds for Yorkshire Terriers and other small dogs.
Shampoos And Conditioners
Yorkie fur is different from other dogs. It will need extra care to maintain a perfect color and shape.
You're going to need to use the right type of shampoo for their coat, along with the right conditioner. Most of the dog shampoos and conditioners available are pretty low quality and just won't cut it. Human hair conditioners and shampoos are even worse.
You want to make sure you buying a shampoo that works well with the Yorkie hair structure. That is what groomers and vets recommend, as well.
We have an article reviewing and comparing the best shampoos for Yorkies.
We also have a second article covering the best dog conditioners for Yorkshire Terriers.
Another good option is to just make your own conditioner. You can easily mix up a recipe for homemade dog conditioner for matted hair, a different one for itchy, dry skin, another one to bring out the shine in the hair and so on.
You should bathe your Yorkie once every week or two. If you do it too often, their hair starts producing more oil than usual.
Vets generally do not advise bathing your Yorkies before their third month. When they are this young, it is best to use a dry shampoo instead of a wet one.
Brushes
What comes after bath time? Brushing.
Buying good quality brushes for your Yorkies is important, because it will make the brushing experience more enjoyable, both for you and your pet.
How often should I brush my Yorkie? If your Yorkie has long hair, you should brush it every day, in order to prevent the hair from matting.
Brushing also plays a vital role in your Yorkie's health, because it helps stimulate blood supply to the skin. It also helps spread the fat cover, which protects the hair and skin and nourishes them.
Read our article on the best brushes for Yorkshire Terriers for help in choosing the right dog brush.
Training Pads
Training pads are essential, if your Yorkie is a puppy. Vets say that for the first four months of your pup's life, the training pad will be your partner in training them where to poop and pee.
When I was younger, we trained our puppy in a room full of old newspapers. These pads make things so much easier!
And if you have an older dog that suffers from incontinence, these pads come in handy there, too. They are the best answer to the question: how to stop a Yorkie from peeing in the house.
The easiest place to buy them is on amazon. They have tons of different brands available, but we always just recommend the Amazon Basics puppy pads, because they work just fine and they cost less than most other brands.
Remember to never force your Yorkie to hold its bladder for too long. This causes discomfort and can also lead to possible health issues.
Treats
If you own any kind of pet, you should always have treats handy. But that goes for dogs even more than any other pets.
Treats are always great as a reward for when your Yorkie did something good. This is invaluable during any kind of training.
But apart from that, it just makes you feel good to be able to give your pup a little treat and see how happy it makes him or her. There are few thigs I love more!
Of course, you can always reward them with hugs and kisses, and they love that just as much. But it's nice to also give them a little something materialistic.
But you do want to make sure you only give them healthy treats. And they should be fairly small, too. Nothing too extravagant.
We have an entire article on the best treats for Yorkies that should help you find some great treats for your pup.
Cleaning Supplies
All the training pads and treats are not going to prevent every accident. There will come a time when your puppy pees or poos somewhere you don't want it to.
And someone is going to have to clean that up. Most likely, that someone is you.
That's why it is always a good idea to have cleaning supplies on hand. In generally, you can use whatever cleaning materials you usually use, but you'll probably want at least one specialized cleaner for pet stains and odors.
We always recommend an enzyme-powered cleaner, since it completely removes pee stains, along with any odors. The Rocco & Roxie Professional Strength Stain & Odor Eliminator is our favorite cleaner for small dogs like Yorkies.
Dog Collars, Harness, And Dog Leash
Dogs need to go for a walk, so you need a leash and a way to attach it to your dog. If you are getting a young puppy, you may not need to walk it for a while, though, so you do have a bit of time to get these things.
But why put it off?
We'd like to take a minute here and strongly recommend getting a harness, instead of a collar. Even the best collars apply pressure to your dog's trachea. With a small dog like a Yorkie, it is very easy for the trachea to suffer an injury.
In fact, throat problems due to frequent use of a collar are very common in Yorkies. Harnesses do not put any pressure on the throat and are a much better solution. They don't cost much more either.
Read our article reviewing and comparing the best harnesses for Yorkies for help in choosing one that fits such a small dog. And if you do get a collar, make sure you buy the right sized collar.
Other Things To Consider Before Bringing Home A Yorkie
Yes, Yorkies might be small in size, but don't be deceived. These dogs can be aggressive. They are full of energy and a contagious zest for life and need extra special care.
Before you consider buying and caring for a Yorkie, here are some some other things you need to consider.
Yorkies Need Your Attention And Time
Like all dogs, your Yorkie will need as much of your time and attention as possible. You'll need to spend lots of quality time together, with it sitting in your lap, curled up in your arms, or lying next to you.
They are active yet curious at the same time. And they do have a tendency to become a bit stubborn, which is why there is a belief that they're not a good choice if you have little children in the house.
But like any other dog, you can train them to be more compassionate and friendly towards little kids. In other words, a little bit of extra effort can make your Yorkie good with kids.
Yorkies Need Regular Grooming
Yorkies have a smooth and silky coat. But that coat needs care. You're going to need a brush to maintain your pup's beauty. These dogs need regular brushing to avoid tangles and matting.
Hair is everywhere when you decide to have one of these dogs, so make sure that you are 100% committed to grooming your Yorkie. Their long, silky, and fine hair needs regular care and brushing. That said, Yorkies shed far less than most breeds.
If you can't manage regular brushings (ideally daily), it is probably best if you keep your Yorkie's hair short. Even then, they still need to be brushed regularly, but not nearly as often.
You should also know that their anal and ear glands require an expert groomer, or a veterinarian, for regular checkups.
Yorkies Are Talkative And Vocal
You might not know it yet, but you'll figure it out pretty quickly once you bring your Yorkie home: these dogs tend to be "yappy." They want to let their opinions be known and will bark and yap a lot.
They are also territorial. If you have two dogs, make sure they are separated at first, until they get used to each other.
Do Yorkies do better in pairs? Generally yes, but it can sometimes take a while before they accept a second dog in the home. That said, this territorial trait has its good points, too. Yorkies can make for an efficient watchdog.
Training And Their Living Space
Yorkies are indoor dogs. Yes, you can take them out for a walk (you have to, in fact), but that walk should be kept short.
A Yorkie puppy will need some training, or it will chew up anything you have in your home. This training will take a lot of patience.
Yorkies Are Energetic
Yorkies are mighty because of their super energetic trait. It often seems like their energy is endless, but it's not. They do lose it.
When they feel that their energy level is low, they will sleep hard. Make sure that you are recharging, too. Once they are awake again, you had better be ready for action again, too.
Prepare Your House Before Bringing Home A Yorkie
We know you're excited to bring home your new Yorkie. But excitement is no excuse for not having your home prepared for the arrival of your newest family member.
The main thing to take care of is to clean your home thoroughly. By this we mean, pick up anything that Yorkies might chew on (so anything). If you don't want it destroyed, make sure it is not within reach of your Yorkie.
This also includes anything that might cause your dog harm. Power cables, or things it could swallow and choke on are good examples.
Some other things to prepare are carpets (it is unlikely your pet is housebroken) and edges of furniture. We'd remove carpets altogether for the time being and cover any furniture edges you don't want chewed up.
Carpets
If you are adopting a puppy, you will need to housebreak it. Until you do, it will poo and pee everywhere, including your carpet. Carpets are like grass and soil to Yorkies. Whenever they need to poop and pee, they will probably do it on your carpet.
Cables
If you're used to charging your gadgets on the floor, break this habit as soon as possible. When a Yorkie sees these cables, there's no doubt that they will become their next target.
No matter how many toys they have to play with, whenever they see a cable, it's an exciting new toy for them. And this includes your TV cable and any other cables you may have.
To avoid any problems, put your cables in a higher place as much as you can. You can also get cable guards to protect lower-lying cables. The good news is that it is only for a couple of months, until their permanent teeth come out.
Furniture
Just like cables makes for exciting toys, your precious furniture also makes for a great chew toy. Your best bet is to remove any furniture you care about from the areas where your Yorkie will be.
If that is not possible, protect the furniture as much as you can by putting some kind of cover on the parts your puppy can reach.
Dog Bed
Make sure you have a dog bed ready and set up before your new puppy arrives home. Remember that Yorkies want to be near you as much as possible, so consider putting your dog's bed near your bed.
Some people even like to share their bed with their dog, but we do not recommend this. Obviously, your puppy won't be housebroken, so you can imagine how that might be a problem. But apart from that, it's just not a good idea to sleep in a bed with your dog, no matter how cute and cuddly.
Things You Need For New Yorkie Puppy: Conclusion
To summarize, bringing a Yorkie home isn't a matter of just picking up a dog and bringing it back to your home. There are a number of things you need to procure beforehand. And also some other preparations you need to take care of.
Yorkies may be small in appearance, but their actions and playful traits aren't. They can be a danger to your precious possessions and also to themselves. A little preparation can save both.
And if you decide to breed your Yorkie, multiply everything above! Yorkies have multiple puppies. How many puppies can a Yorkie have? Generally 2 to 5, so make sure you're ready!